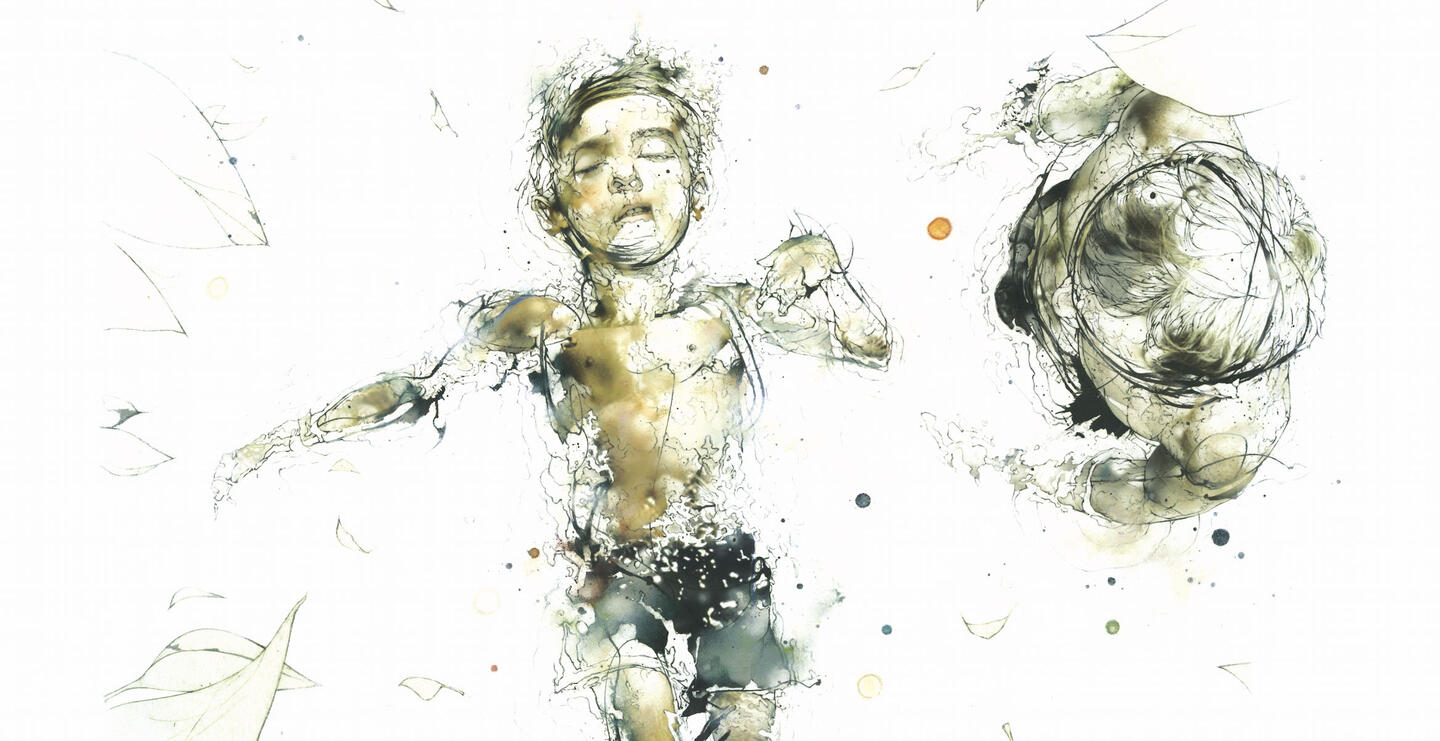 I volunteered at a summer camp for kids with disabilities—here's what I learned about real freedom
I first saw him across the parking lot through the haze of the summer sun, and as I walked toward him I could feel the fear rising. He didn't so much move as writhe beneath the straps that held him in his large power wheelchair, and all I could think was how good it would feel for him to be dipped in cool water.
"Hi, I'm Jace's Mom," the woman standing next to him said.
"Hi, I'm Brian," I said shaking her hand. Should I shake his? Could I? It was shriveled into a knot. I looked at him and tried to act natural—not shocked or surprised or any of the things you didn't want to look when encountering a person with a severe handicap.
"And this is Jace," she said.
"Hi Jace," I said, bending down to be on his eye level. I kept my hands on my knees.
His mouth stretched and his head swung back violently so you could see the tendons and veins straining in his neck. A deep groan came out and spittle ran down his chin.
I smiled, but there was a voice screaming inside my head. "What have you gotten yourself into? How could you ever care for this child?"
Wiping his mouth with a cloth, his mother said, "It's all right, honey. You're going to love camp."
I smiled, but there was a voice screaming inside my head. "What have you gotten yourself into? How could you ever care for this child?" Looking at him, you could tell he would need help with everything: eating, dressing, washing, having his diaper changed. I was not ready for this. I felt like pleading with his mother, telling her no, she couldn't leave.
Instead, I smiled and walked them to the cabin he would be calling home for the next few weeks.
•••
I had come to Bradford Woods, a summer camp for people with disabilities in Indiana, during a project rotation with AmeriCorps. My team comprised about a dozen 20-somethings, and each of us was assigned to assist in a cabin.
I was responsible for an assortment of characters. Many of them, like Jace, were confined to wheelchairs, though Jace was the least mobile. Ryan could speak through a heavy lisp, and when he became excited would laugh hysterically and shake his arms. Billy could speak quite clearly. He loved chatting with the fellows and flirting with the girls at camp; he was a self-described "good ole' farm boy" who insisted on wearing camouflage and referred to me as Little Buddy. Kelley, like Jace, had minimal mobility, but he could speak, though only in a whisper. Eric was in a chair but mobile; he pushed himself and had the muscular arms and shoulders to prove it. He had a Scandinavian last name, so I referred to him as Eric the Red.
Andrew was a rugged kid and a good athlete, and even though his left arm was short and gimpy, he could do almost anything with his right, including throwing a football in a beautiful spiral. He loved professional wrestling, and during our time together he led what became the cabin rallying cry. It resembled a deep dog bark—"Ow! Ow! Ow!"—only instead of a pen full of dogs, picture a pack of adolescent boys.
The last two boys in our cabin were Jon and Justin. Each of them had Down Syndrome. Jon was a real live wire, very social, and loved attention. Justin often seemed wrapped up in his own world. He carried with him a little book that he would not part with. It hung from his neck by a string. He had had it so long and it had been repaired so many times by duct tape that there was no way to tell what the original book was. It was difficult to converse with him; but often he would often admonish us in a husky voice while wagging his finger, "Be careful!"
•••
There were activities we did with the campers that I never knew were possible for people with severe handicaps, like swimming and exploring caves and intense games of basketball. The schedule was filled with arts and crafts and nature walks, campfires and sing-alongs, but a lot of our fun was more spontaneous, like mimicking "Royal Rumble" wrestling matches before bed and having Billy pull us in a wagon with his high-powered wheelchair. One night I got on the P.A. at dinner and used my Scoobie Doo voice. Some of the campers laughed so hard milk came out of their noses.
Suddenly, changing a diaper was not an impossible task, when it was one of my guys who needed it done.
My job was to assist wherever needed. Usually that meant helping the boys move from place to place. Sometimes it meant lifting them in or out of their chairs, cleaning them or changing a feeding tube. Most of my tasks were things I never thought I could or would do until I had to that summer. Suddenly, changing a diaper was not an impossible task, when it was one of my guys who needed it done. They would have a good sense of humor about the whole thing, laughing at my amateurish diaper-fastening skills.
When I think back about Jace and the other boys I worked with at Bradford Woods, I think of how much fun we had and how much they gave me. Judging by worldly standards, they had little to offer; some of them could barely move or speak or ended up saying the same thing over and over again. And yet they taught me with eloquence. They showed me the paradox of the Cross and the truth of St. Paul's words, "God's foolishness is wiser than human wisdom, and God's weakness is stronger than human strength."
As dependent as these boys were, they had a certain freedom. And as all truly free people do, their presence invited you to discover your own. I used to think that relying upon others somehow betrayed weakness. That changed when I worked at this camp. When you live alongside people with disabilities, the cloud of confusion that surrounds trust is fairly quickly eradicated, because their dependence on others is so naked. We who do not have visible physical handicaps can hide our dependencies. The boys I worked with trusted as a matter of course; they understood trust implicitly, and to work with them was to be invited into a world where we could do the same. By being at peace with their dependencies they did not have to expend needless energy asserting or defending themselves. In this way, they were the freest people I have ever met.
•••
Because central Indiana in the middle of the summer is a very warm, humid place, one of the most popular activities at camp was swimming in the lake. For weeks, every afternoon we would venture down the long, winding path that led to the waterfront. And every day for weeks I would ask Jace if he would like to go swimming. By then I could understand him just by watching him, but I could also understand him when he said yes or no. You had to listen for it within what sounded like a groan or a yawn, but once you had the ear for it, you knew what he was saying. I would ask him if he wanted to go in, telling him that he would have a life vest and that I was a trained lifeguard and would stay with him the whole time.
He looked so uncomfortable in his chair, his back never seeing the sun or catching a cool breeze. But he would decline, and so would remain on the beach under the shade of a tree with another counselor as the rest of us splashed around, practicing our strokes and wrestling moves.
And then one day after I asked the question and was waiting for the no, he said yes.
I asked again, and he said yes again. We brought him down to the beach and laid him on some towels. The other boys began to notice. After lifting off his shirt, I could see that his back was bleach white and bent at a severe curve. Even the light breeze must have felt good against his skin. We fitted a life jacket over him and then slowly brought him to the water's edge, accompanied by Justin, who followed us to the water, repeating, "Be careful!"
Who was I to push this? This wasn't the River Jordan, and I sure wasn't John the Baptist. 
Jace began shaking as we approached, and we assured him that we had him and that it would feel good. As we eased him in, he shivered and tightened up even more than in his normal, palsied state. His skin was all dimpled, and I began having doubts if this was the wisest move. Who was I to push this? This wasn't the River Jordan, and I sure wasn't John the Baptist. Why not just let him be, to relax in the shade and enjoy the soft breezes?
But as we went deeper and he eased in and felt our support, he relaxed, lifting his eyes and tilting back his head. He even laughed when I made a motorboat sound as I pulled him around. Eventually, he began to get used to letting himself be supported by just me and the water. It struck me then that he was trusting me with his life. Everything he had he was putting in my arms; and I knew there was nothing I would not do to keep him safe. I felt what parents must feel for their child: I would die for him.
As we waded out, he closed his eyes, feeling a sensation that must have been so foreign and thrilling. As I swam on my back, holding him, in his ear I told him that I had him, that he was safe and was doing a great job. He laughed at the splash from my kick. After a brief tour, we came in to where it was more shallow. He jerked when I separated from him, but I assured him he was O.K. The water was up to my waist, and I held him in a firm cradle. I tried to speak in steady tones, and as I did I lightened my grip. I slid my hands under his back, holding him up so he could still feel my touch even if it was just my fingers.
His eyes were like deep pools, deeper and darker than the water that surrounded us, and I looked into them, keeping his focus, letting him know that I was there. I smiled and assured him: You're O.K.; you're safe. "I got you, Jace," I kept saying, nice and easy, and as I did, I slowly removed my hands. I raised my arms to let him know. The others took notice.
"Brian, he's floating!" they shouted. "Jace is floating!"
"Yes," I said. "He is."
I was, too.