Disability without sentimentality: a stage actor's journey
"Cost of Living," a new play by Martyna Majok currently receiving its New York premier at the Manhattan Theatre Club, is notable for the fact that two out of its four characters have physical disabilities. Even more striking is that both characters are played by disabled actors. John, a wealthy graduate student at Princeton, has cerebral palsy. Ani is a quadriplegic, the result of a recent car crash. I am playing John. Ani is played by Katy Sullivan, a bilateral amputee. The show is about the scramble to survive, and how much that requires us to lean on each other.  
The fact that my character and I both have cerebral palsy is where our similarities end. John is a wheelchair user and has a pronounced speech impediment as a result of his cerebral palsy. I initially approached the role from a purely experiential, physical level. In my own life, I have encountered several individuals with John's particular physicality. Knowing the level of tension in my own body, and how that might manifest in someone like John, I began by attempting to fully embody what I perceived as John's reality. This meant "amping up" my own disability, resulting in an incredible amount of additional stress on my body.
Even more striking is that both characters are played by disabled actors.
This approach worked fine during the shorter rehearsal and performance schedule for an earlier version of the play. ("Cost of Living"began as the one-act play "John, Who Just Moved Here From Cambridge" in 2014 at New York's Ensemble Studio Theatre.) But at rehearsals for the full-length version, it very quickly became apparent that my physical choices were unsustainable. If I persisted I would most likely suffer serious, long-term physical harm. There were no understudies. I had to adjust. The show must go on.
In the play, Eddie is a truck driver struggling to rebuild a relationship with his estranged wife, Ani. Jess is trying to navigate day-to-day life with John as she works as his personal care attendant. I will never forget the eerily disturbing hush that fell over the audience the first time I rolled myself out on stage three years ago as John. A wheelchair is a powerful symbol. For many it is the key signifier of disability. I could use this to my advantage.
A hush fell over the audience when I rolled myself out on stage.
For the more recent productions, there was money in the budget to secure a motorized chair. This meant I could let the wheelchair do a lot of the literal and metaphorical work for me. Instead of severely contorting my body, I adopted a posture that is suggestive of a physical alignment characteristic of someone with cerebral palsy. I sit comfortably with my left foot slightly in front of my right on the foot rest of the wheelchair. I hold my hands in loose fists with my four fingers wrapped around my thumbs. My left hand rests on my lap, my right, John's stronger side, drives the chair.
I also requested to work with a vocal coach. Together, we worked to keep John's particular, idiosyncratic vocal patterns authentic without compromising my voice. We developed a pre-show vocal warm up and a post-performance cool down that I do every day to sustain vocal health.
My current approach to playing the role is really no different than what I imagine any actor would do. Initially I fell into the trap of playing the constraint—in other words, showing how "disabled" John is. With the benefit of time, I began doing less physically, and as a result could devote more time to focusing on the scene, and John's essential humanity.
There is an ongoing conversation in the disability community about how people with disabilities are portrayed on stage and in other media. I believe theater offers one of the greatest venues to change perceptions about disability. Theater is immediate; events happen in real time and demand participation. Unlike film or television, theater is an art of flesh and blood that creates community and serves as a place of inclusion and a forum for ideas.
Theater is immediate; events happen in real time and demand participation.
Since most audience members are unused to seeing a wheelchair user on stage, there are those who are still taken aback when I first take the stage. Some question if I am actually disabled when they see me walk out for the curtain call. In post-show conversations and press interviews, one question keeps coming up: "Who do you think the real disabled characters are in this play?"
There is an expected answer to this question. Something along the lines of, "We're all disabled in some way." That answer could assuage the anxiety and fear felt by non-disabled viewers. But it lets them off the hook from actually having to confront and deal with the difficulties of my reality as a disabled individual.
Walking to the store or to the subway is a different experience for me. Since I was a child I have faced ridicule, physical and emotional assault and daily micro-aggressions. Culturally and historically, I come from a long line of people who have faced genocide, forced sterilization, mass institutionalization and various forms of discrimination since the dawn of time.
Does saying "We're all disabled" invalidate my experience, and the experiences of members of my community? The "real" disabled characters in the play are John and Ani, embodied by the disabled actors who portray them.  
Since I was a child I have faced ridicule, physical and emotional assault and daily micro-aggressions.
"Cost Of Living," at its best, offers an unapologetic, unsentimental window into the daily reality of the millions of people like John and Ani. Their experiences, while quite different due to their contrasting socio-economic backgrounds, illuminate some harsh truths: unemployment rates for the disabled community are more than double the national average; healthcare costs can be financially debilitating; and the stress on family units asked to manage and cope with a family member who has a disability, either from birth or acquired, can be immeasurable.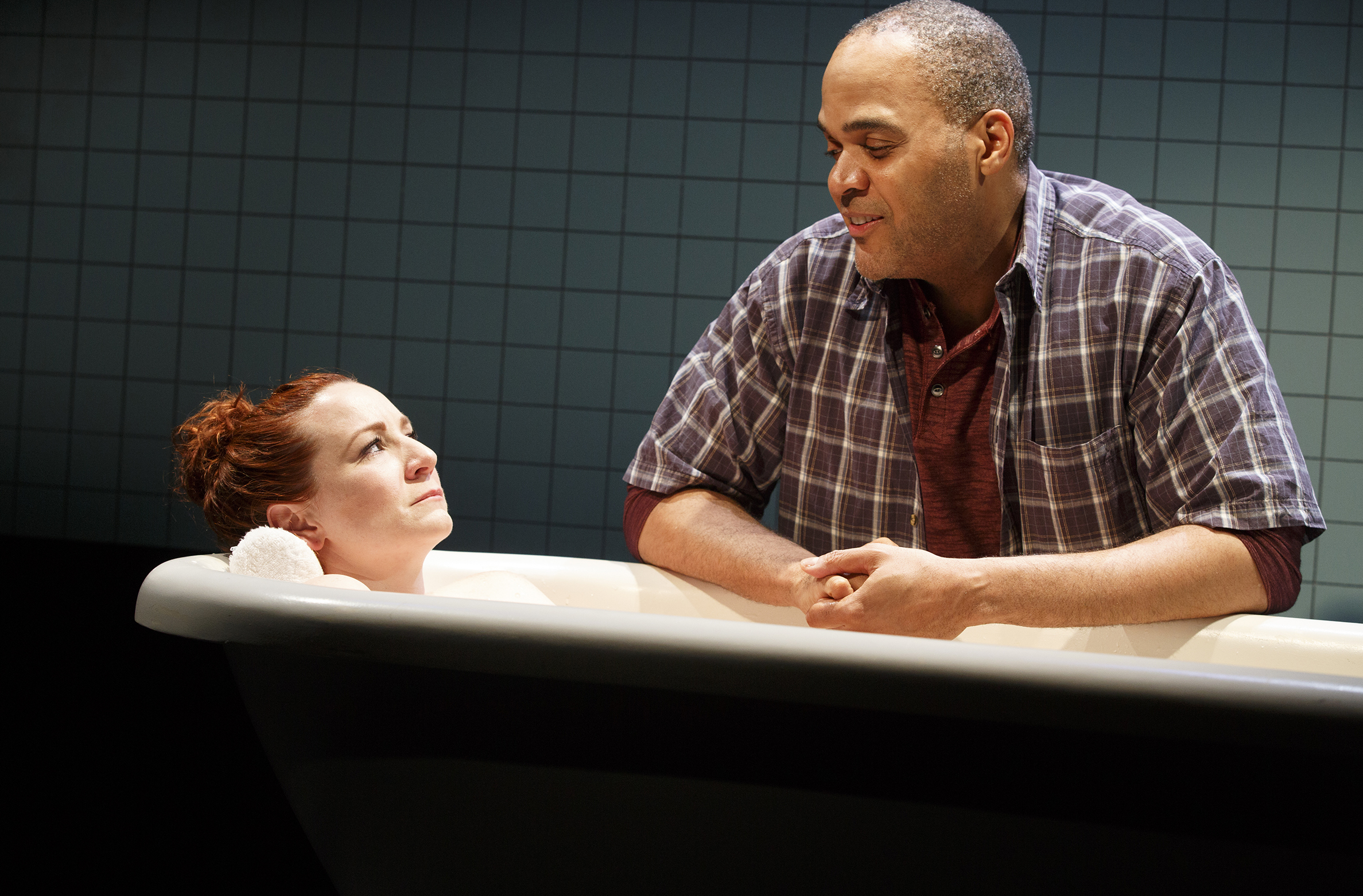 Disability in many ways is a reminder of our collective vulnerability and eventual mortality. People go to the theater, as they have from the time of the ancient Greeks, to experience catharsis, and hopefully practice empathy by being shown an experience that is different from their own. If this still rings true today as it did then, then people are merely trying to connect and make sense out of what they have just seen on stage. That's what good theater does and should do.
Well crafted and well told stories about the "disabled experience" are still new, and too few-and-far between. "Cost Of Living" may be the first new, original play written with physically disabled characters, expressly to be played by physically disabled actors, to receive a commercial production by a major New York theater since "Children of A Lesser God" in 1980. (Recent Broadway revivals of "The Glass Menagerie" by Tennessee Williams and Deaf West's revival of "Spring Awakening" featured disabled actors, but their casting was a concept layered onto the production.)
There is much work to be done. I hope that more plays, and as a result, more opportunities for disabled actors and theater artists will emerge. As they do we may not find any answers, but with each attempt the questions we ask of our audiences and of ourselves will become clearer.
"Cost Of Living," presented by the Manhattan Theatre Club in partnership with the Williamstown Theatre Festival, runs through July 16 at New York City Center.