During a trip to England last week to serve on a panel at the University of Cambridge about disagreement in the media, I visited two famous churches in Westminster.
One, of course, was Westminster Abbey, which dates back to the 13th century and is home to coronations, royal weddings and stunning Anglican worship services. Its towers jut into the air, offering tourists like me a dramatic photo opportunity with Parliament and Big Ben in the background.
Advertisement
Then I walked about 15 minutes west from the River Thames to Westminster Cathedral, the largest Catholic Church in England, which opened its doors in 1903 and is downright modern compared to the abbey. The cathedral's neo-Byzantine architecture and its many glittering mosaics are beautiful, but on the whole it pales dramatically in both scope and scale to its Protestant counterpart.
Together, the two structures offer a helpful insight into how Catholics see themselves in this predominantly Protestant and increasingly secular country. Whereas Anglicanism is the official faith and draws most of the attention, Catholicism is smaller and perhaps more nimble in U.K. society, present but operating sometimes under the radar.
Catholicism in England and Wales is without question a minority faith.
There are about four million Catholics live in England and Wales, comprising 5 percent to 8 percent of the total population.
According to a 2010report from the BBC in anticipation of Pope Benedict XVI's visit to the United Kingdom, about four million Catholics live in England and Wales, comprising anywhere from 5 percent to 8 percent of the total population. (For comparison's sake, Catholicism in the United States is also a minority religion, but it is the largest one, comprising anywhere from 20 percent to 25 percent of the total population.)
Folks I talked to all seemed to agree that the relatively small size of the church affects how Catholics operate in the public square, cautious not to rock the boat but increasingly mindful of the prophetic role it can play on difficult challenges facing society.
Philip McCosker, head of the Von Hügel Institute, a Catholic research center at the University of Cambridge, said one area in which Catholicism is contributing in the public square is its promotion of Catholic social teaching, the umbrella term for the church's collective views on social justice.
"People are starting to talk about the common good. There are a certain number of policy-makers and parliamentarians for whom that has become a known currency," he told me during a March 10 conversation in his office. "On ethical things, linked to Catholic social thought, there has been some impact."
He believes the potential for Catholic social teaching to affect society is not being fully tapped, either in the United Kingdom or elsewhere, and that is something his institute hopes to change.
"I think Catholic social thought is ripe for a kind of rethink," he said. "It was created for a very different time, a non-globalized world, different challenges. And I think as a tradition of thinking, it's become quite ossified, with these very abstract terms, like 'subsidiarity,' which don't capture people's imagination." (Subsidiarity is a term from Catholic social teaching that says societal challenges are best addressed at the lowest levels of social agency possible.)
"To put it very crudely, Catholic social thought, it's just too boring," he continued. "Everyone agrees that its principles are very good and very useful and ought to be applied in all sorts of different contexts, but it's become a sort of club that experts talk to each other about, rather than a way of talking about the Christian view of the world and the Christian narrative."
To that end, researchers at his institute are looking at how its basic premises can be applied to modern challenges. For example, they are studying how Catholic social teaching might address intellectual property issues, such as patenting genetically modified seeds or even human genes.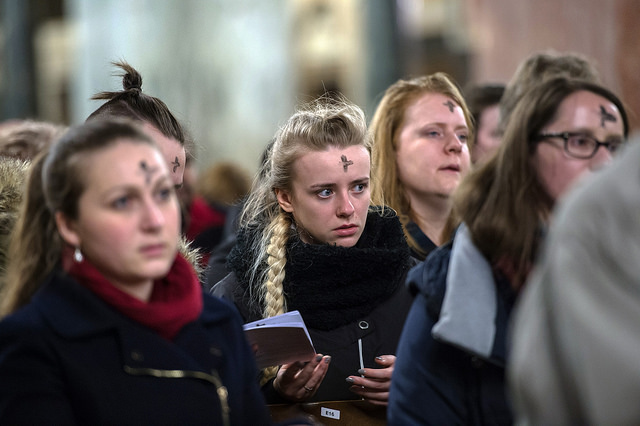 On the whole, Mr. McCosker said, he believes Catholics have been accepted by British society, but perhaps at something of a cost.
"Now that Catholics have been accepted...in the university establishment, as being as good as and indistinguishable from everyone else, they often don't rock the boat by focusing in on what is distinctive about Catholic identity," he said.
Challenges facing Catholics here were formal until well into the 19th century, when laws prohibiting the faithful from practicing freely were repealed. But anti-Catholic sentiment continued for generations, with some saying the animus continues into today.
Still, the church is increasingly vocal on many fronts. Take business ethics, for example.
Back in 2011, just a couple of years after the financial crisis that started in the United States and spread its way across the globe, a former Goldman Sachs banker who thought the church could contribute to the conversation approached Cardinal Vincent Nichols.They created a framework for ethical business principles, the basic premise of which is that when businesses are clear about their mission and see themselves as part of their communities, both workers and employers can be successful.
"The underlying argument is that if you're clear about your purposes, if your purpose is broad-based and ethical, in fact you'll be profitable," Cardinal Nichols explained during a March 7 interview conducted in his Westminster residence. "A key question the blueprint approach proposes to businesses is: 'What is your relationship to the society in which you operate? And how do you understand that?'"
But in order for the endeavor to be successful, and to get buy-in from the business community, organizers decided early on to incorporate it separately from the church. Today, it stands on its own, called A Blueprint for Better Business. When asked why, the cardinal told me it was, in part, because there is still some suspicion of the church in the United Kingdom.
"If it was Catholic, they didn't want to be part of it," he said. "That's the way it is in this country."
Still, that has not stopped the cardinal and other Catholic bishops from speaking out publicly on a range of complicated issues, including standing up for other religious minorities in the country and challenging the government on the child refugee crisis facing Europe.
And Cardinal Nichols was eager to point out at the end of our hourlong conversation that Catholicism in England has its bright spots.
On Ash Wednesday, he told me with a smile, "10,000 people came to the cathedral for ashes. Every time with Mass."