Like saints and poets, Frederick Wiseman looks at life moment by moment
These days, it's hard to sit still. With the pandemic, its economic fallout, waves of civic unrest, not to mention a polarizing election, 2020 gave us many good reasons to be in constant search of distraction—to be twiddling our thumbs and glancing anxiously over our shoulders, all at once.
Small wonder, then, that so many of us retreated online, to colorful digital worlds like TikTok and Animal Crossing. Cut off from our communities, yet still barraged by bad news, binge-watching and world-building became our sources of sanity. But, despite the respite we found in virtual landscapes and endless entertainments, I wonder how these habits have changed us. Has the trauma of the past year cost us the ability to be present in the moment at hand, to be still?
When describing Wiseman's documentaries to the uninitiated, it is tempting to begin by establishing what they are not.
Entertainment itself isn't a vice. The need for recreation is human: We labor, we are tired, we must rest. But perhaps what our era needs more than 15-second TikTok videos and yet another rewatch of "The Office" (yes, I did that too) is art that can truly refresh, art that can restore and challenge, art that can help us find stillness again. Art, for instance, like the films of Frederick Wiseman.
When describing Wiseman's documentaries to the uninitiated, it is tempting to begin by establishing what they are not. They are not entertainment—at least, not in the way that a sitcom is entertainment. They aren't especially story- or character-driven. They aren't action-packed or flashy or brief (most are two or three or even four hours long). They don't feature interviews or voice-overs or, with little exception, music, unless music happens to be playing in the locale being filmed.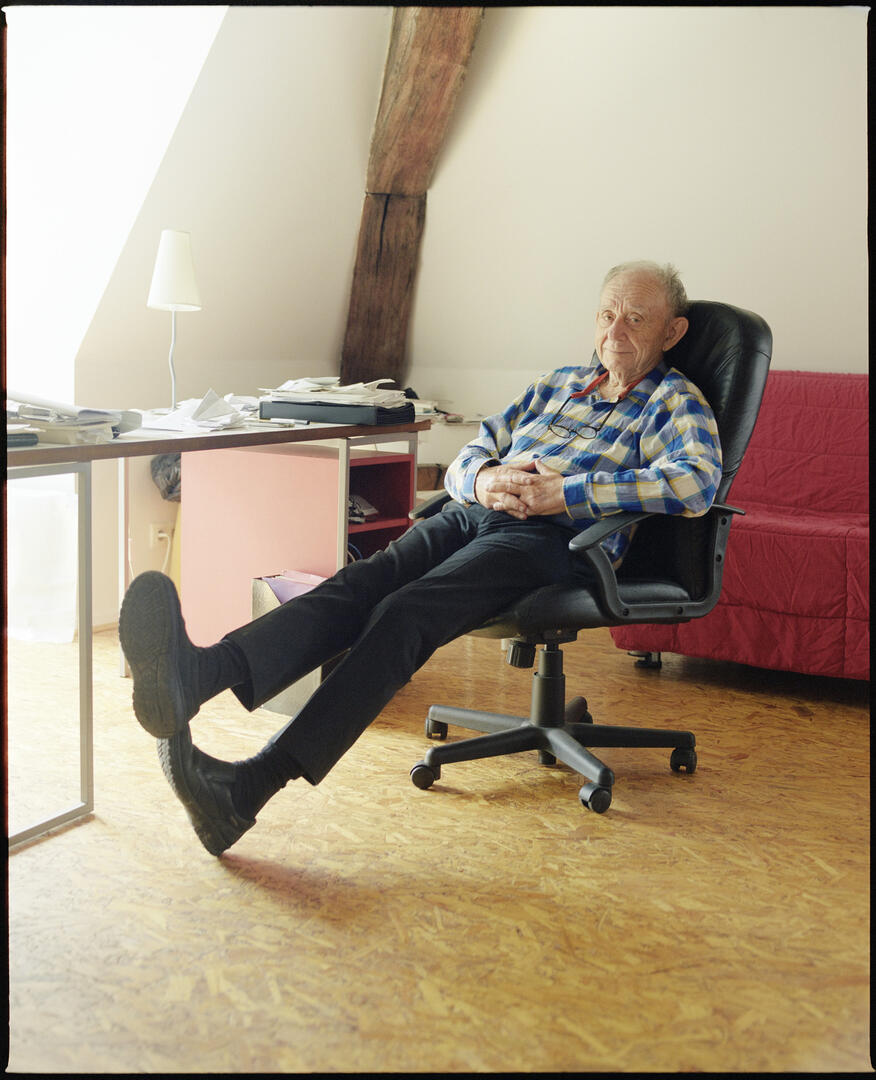 Lest this paint too drab a picture, let me also say that Wiseman's meditative and expansive documentaries are anything but dull. He has the ability to make a garbage truck's route feel thrilling (more on that in a moment). But make no mistake: These films contain no ginned-up drama à la reality TV. Rather, Wiseman's patient, deliberate lens on everyday life reveals glory in the stuff of the mundane, the glory that is always there so long as we have the patience and courage of heart to see it.
An Attitude of Wonder
Wiseman debuted as a filmmaker in 1967 with "Titicut Follies," a stark depiction of a Massachusetts mental hospital so alarming to viewers that it was banned until 1991. Now well into his 90s, Wiseman has made 45 documentary films, each depicting everyday life in a particular location—department stores and welfare offices, nuclear bunkers and monasteries, hospices and zoos. This dossier is impressive enough, but Wiseman's greatest feat is something far more ethereal, something found in every single one of his films: a sense of stillness achieved not just through long shots and hefty running times but through an underlying attitude of wonder.
After all these years, Wiseman has his process down to a science: He and a skeleton film crew (91-year-old Wiseman still holds the boom mic himself) encamp on the chosen locale, capturing hundreds of hours of film from which Wiseman will later string moments into scenes and scenes into vignettes and vignettes, somehow, into a narrative. The result? Documentaries that are dense yet meditative works of art, one part nature film, one part human drama and several parts magic.
Frederick Wiseman's patient, deliberate lens into everyday life reveals glory in the mundane.
Wiseman's latest film, "City Hall," illustrates his ability to take the stuff of C-SPAN and spin it into gold. Released late in 2020, "City Hall" reveals the wealth of services that Boston's municipal government lavishes on its residents. Wiseman follows city employees as they trim trees, guard the elderly against phone scams and inspect decrepit apartments for rats. He encamps in meeting halls and conference rooms during countless gatherings, never appearing on screen himself or even alerting viewers to his presence. Here, as in all his films, Wiseman is a transparent eyeball.
In one of the film's tenser scenes, a group of well-dressed cannabis entrepreneurs fields questions from residents of the poor neighborhood in which they plan to open a dispensary. One resident asks the entrepreneurs point blank how they, personally, intend to give back to the community. "We already don't have police available in the evening hours," another says, dubious of the entrepreneurs' security plans. "There's a lot of trauma in this neighborhood." Wiseman lets these people speak for themselves. He doesn't insert his own thoughts with voiceovers or contextualizing placards. Instead, he bookends intense scenes like these with dreamy shots of pristine brick streets in wealthy neighborhoods—moments that are, on the one hand, chances to come up for air, and on the other, subtle commentary on Boston's well-documented income inequality.
One of Wiseman's chief virtues is patience. He is fond of lingering when our attention might be tempted to wander.
One of Wiseman's chief virtues is patience. He is fond of lingering when our attention might be tempted to wander, or when things turn uncomfortable and we might want to look away. The tenacious viewer, aware that Wiseman chose each scene over hundreds of others, is always rewarded—sometimes with humor, sometimes with pathos, sometimes with the simple satisfaction (and the lowered blood pressure) that comes from keeping still.
In one sparkling sequence, Wiseman makes magic of a moment as mundane as they come. Garbage men pick up bags of trash and toss them into the back of a trash truck. As the scene continues, the truck is tasked with digesting heftier and heftier objects—a bulky box spring, a weighty mattress. It is surprisingly thrilling to watch the truck's hydraulic jaws snap big things in half. But I doubt I was the only viewer who felt concern for the truck when an entire metal grill was lifted into its maw. In this scene, Wiseman gives us the chance to experience the world as children do, as something wondrous and unfamiliar (and slightly frightening). Stopped in our tracks, we wonder if a mere garbage truck can chomp a propane grill into pieces. (Spoiler alert: It can.) If you had told me, before I watched this film, that any filmmaker could have me cheering for a garbage truck, I would not have believed you. But it happened.
No Caricatures
When it comes to Wiseman's human subjects, he has the rare gift of capturing their humanity in all its raw, troubling glory without resorting to caricatures. In one sequence, his careful editing contrasts a man's buffoonish attempts at dismissing a well-deserved parking ticket ("I didn't even know anybody lived down there!") with a tired new father's humble petitions for the same ("I know I was wrong").
Marty Walsh, Boston's mayor at the time of filming (President Biden recently tapped him for secretary of labor), is also painted humanely. As much as "City Hall" is a portrait of the city of Boston, it is also a portrait of Walsh, whose ongoing appearances throughout the film become something of a punchline. (My husband, seeing Walsh suddenly appear yet again toward the end of a scene, cried, "He's everywhere!") After the last few years, it's healing to watch a civic leader enact his duties with grace—let alone serve Thanksgiving dinner to a gathering of Goodwill employees. But Wiseman lets Walsh be a person, too. He includes one scene in which Walsh admits to making arrogant mistakes on the campaign trail. In his portrayal of people as well as places, Wiseman demonstrates the irreducibility of life.
"City Hall" becomes especially captivating viewing when paired with Wiseman's other most recent film, "Monrovia, Indiana" (2018). The cynical viewer may be tempted to dismiss the depth of "City Hall" as an accident of location—after all, there's always bound to be something interesting going on in a city the size of Boston, even if it's just a herculean trash truck. But no viewer will remain able to doubt Wiseman's skill after watching his compelling portrait of a town the size of a postage stamp (population: 1,610).
When it comes to Wiseman's human subjects, he has the rare gift of capturing their humanity in all its raw, troubling glory.
"Monrovia" features much of what you would expect to see in a small town: church meetings, cornfields, working farmers. But here, too, Wiseman refuses to be reductive. He takes the time to provide a rich and complex account of the town's character. On the surface, the stakes at a meeting of the Monrovia Town Council may appear to be low. But feelings run high—as they do everywhere when it comes to hometowns—and when one council member declares she hopes Monrovia never quadruples in size, we might be tempted to laugh (even quadrupled, Monrovia's population would be less than one percent of Boston's). But we may also wonder at the vehemence of her response, at how it feels to know a place so well and to love a place so much that you can't bear to see it change, even if stasis will kill it.
As one watches more of Wiseman's films (I have seen about a dozen of them), one begins to realize the deep respect he has for his subjects. He dedicates the same attention (and screen time) to a Monrovia Lions Club meeting as he does to a mayoral assembly in "City Hall," even though one meeting's agenda includes a billion-dollar budget and the other the allocation of a single park bench. And this is why Wiseman's films are an exercise in stillness. You don't get the impression that he is always looking over his shoulder, waiting for something more important or even more interesting to come along. His contentment is one reason he has been able to build up such a formidable and fascinating body of work. He behaves as if whatever is in front of his lens is the most interesting thing in the world. And, often, that is just what it becomes.
Wiseman looks, and he teaches us to look, too.
This is not to say that any of Wiseman's films are accidents of circumstance. Over the years, Wiseman has described his films as works of fiction, explaining that he carefully constructs a narrative for each, choosing what to film, what to keep and what to leave on the cutting room floor. Last year, after the release of "City Hall," The New York Times dubbed Wiseman "The Great American Novelist." Inasmuch as a novelist weaves a compelling story from the stuff of real life, helping us see our world in new ways, The Times may be right.
I lived in Boston for four years. Before that, I lived in southern Indiana, just minutes away from Monrovia. I thought I knew both of these places well. But examining them through Wiseman's lens showed me that I hadn't really been paying attention at all. Had I ever paused to admire the austere Brutalist beauty of Boston City Hall? Had I ever appreciated the leafy verdance of the Indiana cornfields, whose presence had made me feel like a bumpkin? Had I even taken the time to appreciate either locale as places in and of themselves, as more than mere extensions of myself?
This is why, even (and especially) in times of great trouble, we must take the time to be still. If we don't take the time to be still, to truly notice each other and our surroundings, we become weary and harried, like the characters in Thornton Wilder's haunting play "Our Town." Late in the play, a young woman dies and asks to revisit moments from her childhood. As she watches her family hurry through their daily routine, she laments, "We don't even look at each other!" Distraught, she asks the play's narrator if anyone really looks at life, moment by moment. "No," he replies. "The saints and poets, maybe. They do some."
Wiseman looks, and he teaches us to look, too. His films evoke the sort of wonder that can make us see our own lives with fresh eyes, to ask ourselves what he would find if we invited his camera crew into our world.
I was thinking of this the other day when I paused outside my apartment door to watch birds clustered on a telephone wire. I saw them silhouetted against a clear blue sky and wondered, Is this a Wiseman moment? (As if in response, one of the birds immediately relieved itself.) But this was the wrong question to ask. Every moment is, and invites us to be present. And that is enough.