The stunning (and underappreciated) Mexican influence on American art
When the bloody Mexican Revolution in 1920 finally came to a tenuous close, after ten violent years in which it is estimated that 10 percent of the population of 15 million had lost their lives, the new government set about creating a new image of the country. President Alvaro Obregón and his Minister of Education, José Vasconcelos, commissioned artists to produce monumental public images of a new Mexico, fired by revolutionary ideals but grounded in indigenous cultural history.
Some of these artists, in particular "los tres grandes," the Three Great Ones—José Clemente Orozco, Diego Rivera and David Alfaro Siqueiros—are well known. But not until a revelatory exhibition at the Whitney Museum of American Art, "Vida Americana: Mexican Muralists Remake American Art, 1925-1945," has the extent of their achievement and its influence on artists in the United States been fully appreciated. (Though the Whitney is closed due to the coronavirus, the museum has extensive images and video from the exhibit available online.) "Largely excluded from the predominant canonical narrative of modern art that emerged in the United States," writes Barbara Haskell, the exhibition's chief curator, "the muralists' legacy and enduring impact shapes a more expansive view of modernism." And it was a two-way street, with the U.S. also affecting the muralists' art.
In the early 20th century, American artists were intoxicated by the way Mexican muralists transformed their people's struggle for justice into narrative imagery.
The show's opening gallery, "Romantic Nationalism and the Mexican Revolution," is alone worth the visit. Here are iconic pieces by Rivera ("The Uprising"), Orozco ("Zapatistas") and Siqueiros (a hauntingly dark "Zapata")—all from 1931. But we are also offered Alfredo Ramos Martinez's "Calla Lily Vendor" (1929) and his imposing "The Malinche," from about 1940, which portrays a woman revered as Mexico's "First Mother" but in the guise of a young girl from the province of Oaxaca.
If you don't know the sculpture of Mardonio Magaña (1865-1947), you will now not soon forget her formidable, solid celebrations in wood or stone of peasant figures. And as the romanticized vision of a spiritually more authentic life in rural Mexico spread abroad, European and American photographers and filmmakers of distinction—from Paul Strand, Edward Weston and his Italian disciple Tina Modotti to Sergei Eisenstein—hastened to document it. Throughout the gallery the work is characterized by immediate, vigorous legibility, bold (if often quite refined) color and form, and a singing sense of its subjects' simple dignity.
Orozco had been included in an exhibition presented by Gertrude Vanderbilt Whitney at the Whitney Studio Club in 1924. In 1927 he was the first of the "Three Great Ones" to move to the United States—the new regime of President Plutarco Calles was less supportive of them—settling first in New York and then in California. There in 1930 he completed his first mural for the Frary Dining Hall at Pomona College, in Claremont. He chose the Greek myth of Prometheus, who stole fire from the gods, as a theme that resonated with the Mesoamerican deity Quetzalcoatl. (In the exhibition it is digitally reproduced, half-size, on a sheet of vinyl.)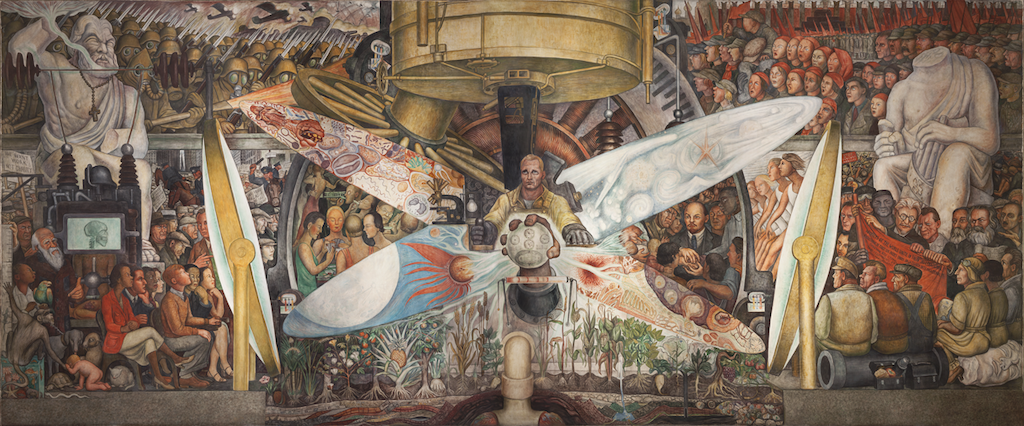 The tumultuous fresco became a sensation and the artist a household name, "almost as essential to smart dinner conversation as backgammon," according to Time magazine. The young Jackson Pollock, traveling from Los Angeles to see it, pronounced it "the greatest painting done in modern times." (His indebtedness is immediately evident in "The Flame," from 1934-38, hung nearby.) Equally impressive is Orozco's later "Christ Destroying His Cross" (1943), an inversion of traditional imagery to portray a savage deconstruction of the redemption story. But the revelation in this gallery is the profound influence Orozco had on other American artists such as Everett Gee Jackson, Charles White and, in particular, Jacob Lawrence, represented by ten panels from his "Migration Series" (1940-41), which he credited Orozco for inspiring.
Siqueriros's arrival in Los Angeles in 1932, according to Reuben Kadish, one of his later collaborator-assistants, "meant as much then as did the Surrealists coming to New York in the Forties." The artist's immense "Tropical America"—one of three murals he did in Los Angeles—is evoked in a large reproduction of a black-and-white photograph. (The original was destroyed.) Centered on a crucified indigenous figure beneath an American eagle, it fairly trumpeted his radical political and artistic commitment. (In 1940 he was part of a failed attempt to assassinate Trotsky.) In the same gallery is his emblematic "Proletarian Mother," from 1929, hung with strong work by artists who worked with him, including Philip Guston and his prescient, powerful tondo "Bombardment" (1937-38), a chilling denunciation of the ravages of war.
But it is in a later gallery, devoted to the Experimental Workshop that Siqueiros opened near Union Square in New York in 1936, that we see the full extent of his revolutionary art in "our marvelous dynamic age"—among other things pouring and dripping paint on canvas tacked to the floor! Jackson Pollock was his prize student, struggling in paintings such as "Composition with Flames" (1936) to accompany the master's ferocious proto-Surrealism in "Echo of a Scream" (1937), "Self-Portrait with a Mirror" (1937) or "War" (1939).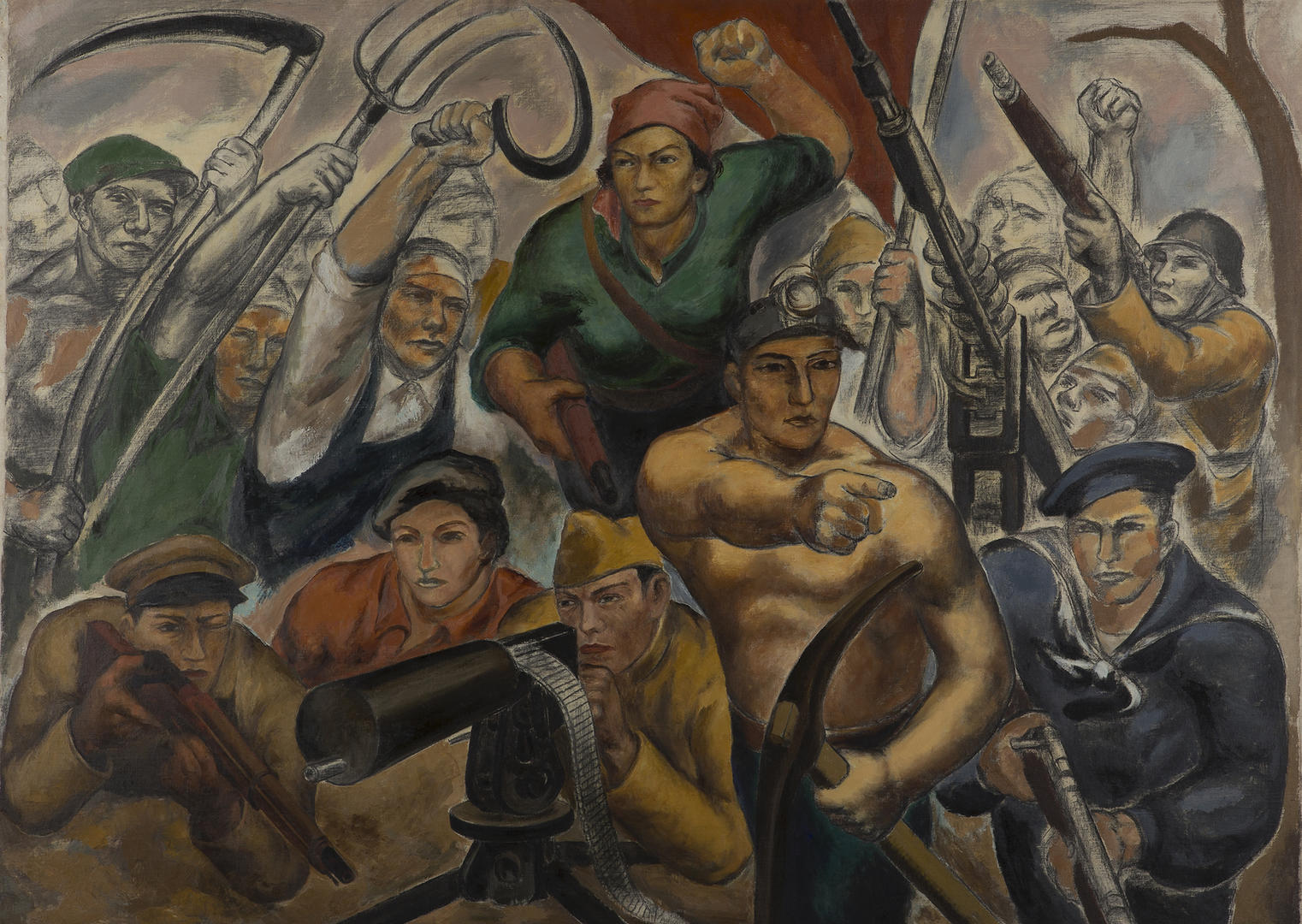 American artists, especially in the African-American community, were intoxicated by the muralists' transformation of their people's struggle for freedom and justice into communicative narrative imagery. In a gallery entitled "Epic Histories"—beautifully centered on a vitrine displaying the Museum of Modern Art's 1933 publication of "Frescoes of Diego Rivera"—there are two major mural panels by Aaron Douglas painted for the groundbreaking Hall of Negro Life at the Texas Centennial Exposition in Dallas in 1936. Most impressive is the great Charles White's early mural, "Progress of the American Negro: Five Great American Negroes," from 1939-40, weaving Sojourner Truth, Booker T. Washington, Frederick Douglass, Marian Anderson and George Washington Carver into a heroic national landscape. Next to it the selections from Thomas Hart Benton's "American Historical Epic" (1920-28) come off as sincere enough but sentimental. (Popular during the Great Depression, Benton faded afterward, but is now being given a second look.)
The political charge of the Mexican muralists also carried over to a number of urgent social issues of the time. In a series of 23 paintings, Ben Shahn's "Passion of Sacco and Vanzetti" in 1932 scathingly satirized the trial and execution of two working-class Italian immigrants (a key painting is on view)—and won high praise from Rivera. William Gropper's "Youngstown Strike" and Philip Evergood's "American Tragedy," both from 1937, dramatized police brutality against unionized laborers on strike. (The Evergood painting, often called the "archetypical work of Social Realism," dealt with a strike at the South Chicago Republic Steel Plant in which 10 strikers were killed and 100 injured.)
As incidents of lynching mounted—doubling between 1929 and 1933—artists such as the American Hale Woodruff and the Mexican Jesús Escobedo responded vigorously, none more terrifyingly that Escobedo's "Discrimination 'KKK'" (1940), a lithograph that shows three figures being burned at a stake, with Nazi figures in the foreground. (In a separate small gallery there is also a film installation showcasing the Abelardo L. Rodriguez Market in Mexico City, the major urban renewal project there in the 1930's, with murals cataloging the injustices suffered by rural and city workers.)
"Vida Americana" is without question grand, revelatory and often deeply moving.
The star of the show is Rivera, and Haskell does her best to suggest his stature. First she shows his masterpiece, "Detroit Industry," with panoramic photography and digital touchscreens. Commissioned in 1932 by Wilhelm Valentiner, the director of the Detroit Institute of the Arts, and with support from Edsel Ford, Rivera was to paint two large panels on the city of Detroit's history and industry but finally produced a 27-panel mural cycle decorating all four walls of the museum's central courtyard. (Of the two largest panels, the North Wall shows the manufacturing process of the Ford company's famous 1932 V-8 engine at its River Rouge plant, the South Wall the process of making the exterior automobile parts.) Notably respecting the handsome neo-classical architecture of its site, using multiple vanishing points, teeming with figures (including Edsel Ford himself), and fairly exulting in the description of industrial machinery, the cycle takes its place with the grandest decorative schemes in the history of art. No wonder that a raft of artists, with the support of the W.P.A. of Franklin Delano Roosevelt's New Deal, rushed to adopt his subject matter and style. (A whole gallery of them appear in the show.)
Rivera and his collaborators worked night and day on "Detroit Industry" (he lost 100 pounds), and in the same year he was commissioned by the Rockefeller Corporation to create a fresco for the ground floor of 30 Rockefeller Center. The theme was to be "man at the crossroads, uncertain but hopeful for a better future." Sketches for the mural were approved in January 1933 (and are on view in the exhibition), but as work progressed the artist charged his theme with a heightened contrast between violent capitalist society and virtuous communism—and then famously added a portrait of Lenin, probably as a defense against critics like Siqueiros, who had denounced him as a sell-out to the capitalists.
Nelson Rockefeller told him to remove the portrait, Rivera refused, and in May he was dismissed from the project. Ten months later, and to no end of controversy, the mural was destroyed. But Rivera had his revenge, in 1934 painting an immense (16' x 37 ½'), still more polemical mural, "Man, Controller of the Universe," for the Palace of Fine Arts in Mexico City. In a real visual coup Haskell has a digital reproduction covering a whole wall of the exhibition. The pivot between the noble revolutionaries to the right and venal capitalists to the left could not be stronger—though mitigated on both sides by worthy representatives of each society.
"Vida Americana" is without question grand, revelatory and often deeply moving. Yet it raises questions to which at least partial answers would only come after 1945. Communism has been revealed as a dehumanizing ideology. "Man" controls the universe in only the most mechanistic of dreams. And the Catholic Church in Mexico, for all its unfortunate alliance with the pre-revolutionary aristocratic elite, scarcely deserved the fierce persecution it suffered in the 1920s. (No mention is made in the show of the Cristero Rebellion of 1926-29 against that repression, much less of the immortal martyrdom in 1927 of Miguel Pro crying out "Viva Cristo Rey" as he was executed by a firing squad at the express order of President Calles.)
Nevertheless, the exhibition is visually grand, historically revelatory and emotionally gripping. Before closing because of the pandemic, the Whitney had planned to keep the show up through May 17, after which it is supposed to travel to the McNay Art Museum in San Antonio, Texas, to be on display there from June 25 through October 4. Whatever may happen in coming weeks, there is fortunately a splendid catalog, edited by Barbara Haskell, to record what will be remembered as an historical and cultural landmark.