Review: Kanye's infatuation with the prosperity gospel (and himself)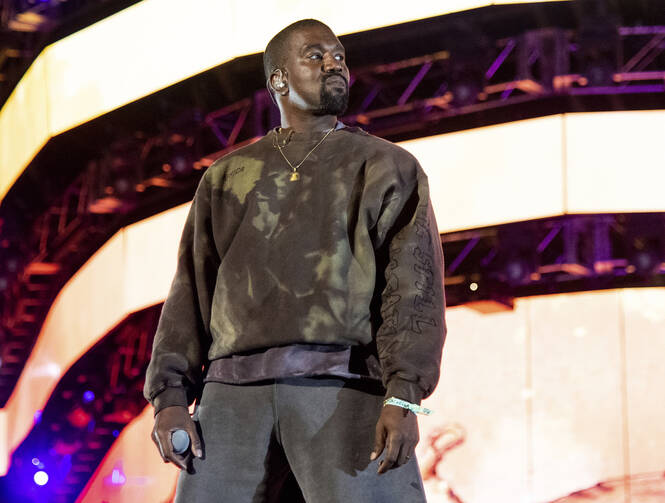 This April 20, 2019 file photo shows Kanye West performing at the Coachella Music & Arts Festival in Indio, Calif. West has unveiled his "Jesus Is King" IMAX film featuring a gospel choir performing at artist James Turrell's dramatic Roden Crater in the Arizona desert. West showed the 35-minute film off to fans at an event Wednesday night at The Forum in Inglewood, Calif. (Photo by Amy Harris/Invision/AP, File)
Ovid famously quipped, "Let others praise ancient times; I am glad I was born in these." This is what I tell myself and more or less believe every time Kanye West makes headlines. He fascinates just as easily as he repels. He gets canceled, and I cancel him, too, before going back for more. He releases a new album or movie or starts a church, and I listen and watch, spellbound by the audacity. But like that meme of a person applying clown makeup, I end up feeling like the joke is on me.
This month, West released his highly anticipated ninth studio album—and first gospel record—"Jesus Is King," to a flurry of fanfare and commentary. Not only is this album a departure (there is no swearing, for example), it could also mark a permanent shift: West has said he will not make secular music again.
While he seems sincere and the album is at times sonically impressive, his understanding of his own redemption is still limited by Kanye's seeming adherence to the prosperity gospel. Part of me winces at "Jesus Is King," as though it were a decaying tooth. But if I'm honest, another part of me is drawn to the rot.
Chris Richards of The Washington Post wrote that "Jesus Is King" amounts to a "morally superficial" "convolution of eighth-grade church-camp poetry," the implication being that West is a charlatan hawking bromides and performing piety. These are some of the main questions underpinning the album: Does it have to be theologically sophisticated to be good? And does West have to be a "good Christian" for the songs to slap?
There are reasons to be wary of West's reinvention.
There are reasons to be wary of West's reinvention. We know that West defended his support for Donald J. Trump as recently as October, echoing his previous statement that slavery was "a choice." He has said that God rewarded him this year with a $68 million tax refund. And in an October 2019 interview with Zane Lowe of Apple Music, West declared himself a liberal but also said his red MAGA cap was "God's practical joke on all liberals." None of these things seem to evoke Christian love.
West has no moral authority nor, as Richards points out, any real ideology, beyond an unwavering belief in himself, "the greatest human artist of all time," as he claims.
It's up to listeners to decide if West's political foolery and hypocrisy put them off the album. When I listened I found a few good songs. (My favorites are "Hands On" and "Use This Gospel.") But many are short and aimless and never cohere. And some moments on the record remind you that this is the same person selling luxury "Archangel T-shirts" ($60) and "Jesus Is King Dove Crewnecks" ($170) on his website. There is one line in the song "God Is" that goes: "King of Kings, Lord of Lords, all the things he has in store/ From the rich to the poor, all are welcome through the door."
(I can't help but think of the Gospel verse, "Again I say to you, it is easier for a camel to pass through the eye of a needle than for one who is rich to enter the kingdom of God.")
If, as the writer Ursula K. Le Guin said, "The artist deals in what cannot be said in words" and "the artist whose medium is fiction does this in words," then musicians, especially hip-hop artists, are charged with doing both at once. West was a producer before he became a musician in his own right, and all of his best songs go beyond the textual, saying what words can only ever try to convey. When he is at his most virtuosic, the music and lyrics work together—like the horns and rotating cast of soloists in 2010's "All of the Lights."
With its choir and synths, 2016's "Ultralight Beam" stretches its hands toward divinity, reaching into the night sky, taking a bite of the moon and sipping stratus clouds as an aperitif. "You persecute the weak," cries the vocalist Kelly Price, "because it makes you feel so strong." The song meets an ideal of Christian art propounded by Leo Tolstoy in his 1897 book, What Is Art?: "A means by which humanity progresses toward unity and blessedness." On "Jesus Is King," there are glints of this sanctitude and depth of feeling: the ohhhhs of "Use This Gospel," the electronic seesawing of "Hands On." Though I've already forgotten much of the album, these standouts are ringing in my ears.
West's new film, also titled "Jesus Is King," is an assemblage of musical numbers, many shown to us in something resembling "Tondoscope": crisp circular frames that leave most of the screen dark and blank, recalling Gust Van den Berghe's 2014 film "Lucifer." Van den Berghe said that he chose the framing style "to create a paradise." In West's film, each song is preceded by a Bible passage. When West appears at all, it is in silhouette.
West is not the only person who has produced a gospel album in 2019. Kirk Franklin, who was featured on West's "Ultralight Beam," released "Long, Live, Love" this past spring. His 2015 song, "Losing My Religion," cuts to the pulp of the tooth—the foundational Christian message about serving the poor and dispensing with self-possessed piety: "Religion is a prison but the truth sets us free/ Helps us believe that the world we're in now is not the world that will be." This is the truth that Kanye West never articulates.