How should art address addiction? These two films give us a clue.
How are artists to address the signs of the times? How are they to do so when those signs are tragic, scary and painful? With surging rates of opioid addiction and overdoses, we are experiencing one of the greatest public health crises our nation has ever faced. In a recent feature article for America John W. Miller reports from the front lines of this crisis and explores how churches might play a role in finding a solution. But I am curious: How might artists play a role?
Should filmmakers make the pain of addiction bearable to watch? Should they render the horrendous beautiful? Since the opioid crisis began to emerge in the mid 1990s, there have been many compelling character arcs involving addiction in acclaimed movies and television shows.
Think of Christopher Moltisanti sticking a needle between his toes on "The Sopranos" or Nurse Jackie popping pills on the job. In the aughts we saw the complexities of the war on drugs play out on "The Wire"; then we watched Walter White cooking meth on "Breaking Bad." Reese Witherspoon ("Wild"), Christian Bale ("The Fighter") and Anne Hathaway ("Rachel Getting Married") were all nominated for awards in the past decade for their portrayals of addiction in film.
Should filmmakers render the horrendous beautiful?
Last year, two of Hollywood's most in-demand young actors—Timothée Chalamet and Lucas Hedges—took on similar roles as addicts in well-received performances. Felix Van Groeningen's "Beautiful Boy" tells the true life story of David Scheff (Steve Carell) and his son, Nic (Chalamet), who became addicted to drugs, including crystal meth. And Hedges stars as an addict to painkillers in "Ben Is Back," a film written and directed by his real-life father, Peter Hedges. Neither film is perfect, but both show us ways in which our culture grapples with the wider drug crisis.
Van Groeningen's film is based a pair of memoirs:Beautiful Boy: A Father's Journey Through His Son's Addiction, by David Scheff, and Tweak: Growing Up on Methamphetamines, by Nic Scheff, published simultaneously in 2008. The method of adaptation resulted in a film that at times feels disjointed, cramming two distinct stories into one neatly packaged product.
David Scheff is a successful writer and a devoted father who struggles to know how to love and support his suffering child. He is on a journey to understand what is going on with his son. We want to empathize with him but find it difficult. He is detached and melancholic, and there is not enough for the viewer to grab onto.
David is a stark contrast to the reclusive Nic, who comes of age reading Charles Bukowski, sketching in his notebooks and listening to "Territorial Pissings" by Nirvana. When shifting to Nic's perspective, the film becomes darker and more erratic. He is on a seemingly endless loop of relapse and recovery. Because of the nonlinear plot, his cycles are hard to follow and grow tiresome.
The direction of the film is weak and excessively sentimental. Van Groeningen cuts back and forth through time, using heart-stirring music over montages of a young Nic growing up. The director recreates the feeling of watching home videos. But the viewer is acutely aware that her emotions are being manipulated.
The movie begins to sing only at a pivotal moment about 45 minutes in, when the two viewpoints finally cohere. The father and son sit in a booth at a diner and confront Nic's addiction.
"You're just embarrassed because I was, like, this amazing thing. Like, your special creation or something, and you don't like who I am now" said Nic, looking up at his dad.
"Yeah?" David ask with desperation, "Well who are you, Nic?"
"This is me dad, here. This is who I am."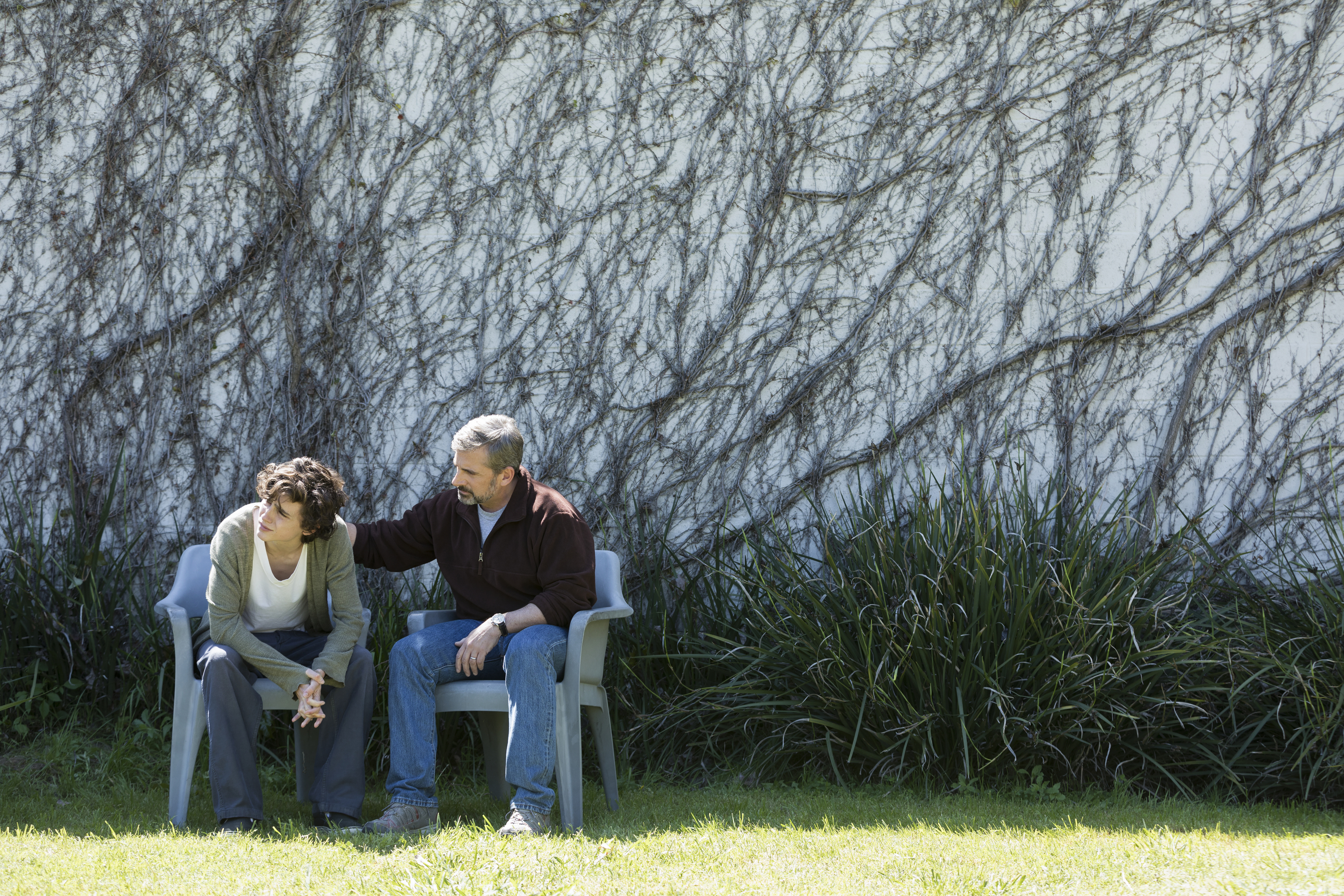 We return to this diner at the film's climax, when we have just about given up. David has turned to tough love on the phone with Nic's mother, telling her, "He's going to die even if we do [help].... I'm done." The film cuts to Nic in the same booth in the diner, writing. He walks into the bathroom, unpacks his paraphernalia and shoots up into his arm. His body is then sprawled across the tiled bathroom floor, wracked by convulsions before going limp. His pain and suffering are rendered like a painting: a 21st-century version of Jacque-Louis David's "The Death of Marat."
"Ben Is Back" has an art-historical moment of its own. On Christmas Eve, a recovering Ben (Lucas Hedges) arrives back at home on his mother's doorstep. The film is told over the course of about 24 hours, a narrative structure that keeps the audience engaged. We don't know if we trust him or not, whether he is clean or not.
In the film's best moments, we connect deeply with the characters. Ben's mother, Beth (Julia Roberts), is a stand-in for the audience; she doesn't know if she can trust her son, and neither do we. She wants to, she has hope—we do, too—but she is frustrated with the system. More than that, she is angry. In one scene she confronts her family's pediatrician, Dr. Crane, after running into him at the mall: "When Ben was 14 he had a small snowboarding injury and you prescribed painkillers. When I asked, you told me they weren't addictive and kept upping his dose and he got hooked and it f— up his life. You can pretend you don't remember, but I won't forget. I hope you die a horrible death. Merry Christmas."
She is furious with the injustice of the crisis, and we connect to her anger. The filmmaker Hedges cuts to the core of the epidemic. He does not look at Ben's situation as a random phenomenon or a personal trial to be overcome, but instead holds doctors, pharmaceutical companies and the health care industry accountable for criminal negligence. He does so without compromising the emotional integrity of the film, folding this critique into Beth's character arc.
The role of the artist is to grapple with the human condition.
In the film's final scene, Beth finds Ben's stiff, cold body on the floor after an overdose. Just as she seems to be overcome by grief, about to give up trying to resuscitate him, Ben inhales and the screen fades to black.
Here suffering is rendered in a way that is familiar. As in Michelangelo's "Pietà," a body is draped in his mother's arms. This is an image Catholics are familiar with, one most of us have meditated on. We empathize with her grief and her pain. The grieving mother is an archetype in Western art, perennially relevant because of humanity's predisposition to suffering.
The role of the artist is to grapple with the human condition. The choreographer Martha Graham understood this, as she demonstrated in "Lamentation." The German printmaker, painter and sculptor Käthe Kollwitz achieved this with her self-portraits, including "The Grieving Parents," a memorial to her son Peter. In "Ben Is Back," Peter Hedges takes the universality of this archetype and applies it to the opioid crisis.