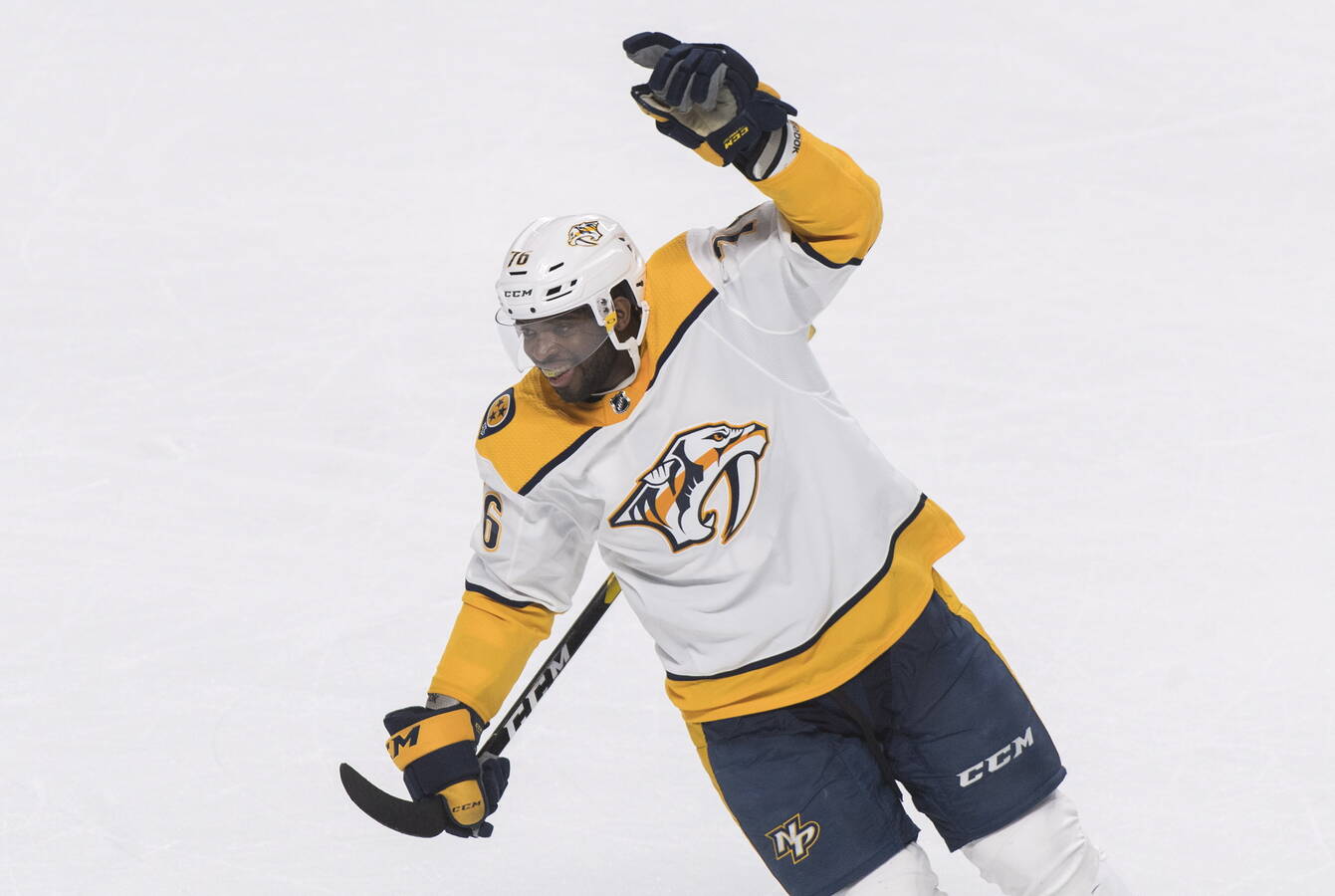 Meet the most Catholic team in the N.H.L.
The National Hockey League, some might argue, is the most symbolically Catholic of all major league sports—an observation that might not be immediately apparent to those who mainly see it as a venue for pugilistic Canadians to knock out one another's teeth.
There is plenty of evidence for the sport's Catholic ties. Its trophy, the Stanley Cup—which fans and players alike will swear on a Bible is the hardest to win in professional sports—takes 16 victories over two tough postseason months and is called, with no sense of blasphemy, the Holy Grail. The penalty box is known as the Sin Bin, though confession there is usually a more profane rejection of the transgression, and absolution comes only if the sinner escapes the Bin without a goal being scored on their team. Either way, much prayer happens there.
In Canada, where hockey is the national winter sport, the Montreal Canadiens, one of the country's seven teams, are nicknamed "La Sainte Flanelle," or the Holy Cloth. In 2012, the Archdiocese of Montreal placed an ad in two French-language newspapers asking people to pray for the Canadiens to make the Stanley Cup playoffs. (The team did not.)
In Nashville, the Catholic culture of the management has infused the team with a commitment to community engagement that could make even Pope Francis a hockey fan.
Despite its explicit Catholic attributes, N.H.L. players are not known for wearing religion on their sleeves the way players do in other sports leagues, like the National Football League or the National Basketball Association. "Most N.H.L. players don't begin an interview with 'I'd like to thank God,'" said Chris Junghans. Mr. Junghans is the executive vice president and chief revenue officer of the N.H.L.'s Nashville Predators. "I'm not saying that thanking God is a big-headed thing to do, but hockey players are just not as public with things like faith."
Unless they are playing in Nashville, where the Catholic culture of the management has infused the team with a commitment to community engagement that could make even Pope Francis a hockey fan. It also helps that Nashville, while still the headquarters of the more than 15-million-member Southern Baptist Convention, has been transformed into a diverse city, where the Catholic Church is growing thanks to immigration, the low cost of living and a robust economy. From 2007 to 2014, the country's share of Catholics living in the South grew from 24 to 27 percent, and Nashville, where the Catholic population was once overwhelmingly Irish, has also seen a surge of Latino immigrants. In 2014, Latinos in the city numbered more than 66,000, which is nearly 17 times their number in 1980.
Mr. Junghans, who played baseball at the University of North Carolina at Charlotte, is a Catholic. The Nashville Predators' co-owner and governor, Tom Cigarran, is a Catholic. The team's head of television broadcasting, Bob Kohl, is a Catholic and a graduate of Marquette. Mr. Kohl credits Sean Henry, the president and chief executive officer of the Predators, with the Catholic vision that makes the team unique. "Sean lets you follow whatever your passion is," Mr. Kohl said. "Our community relations will put out ideas for people to engage within the community, and I'm very active with the Knights of Columbus in my church, and so a lot of my stuff is helping with the parish fish fry; I help coordinate our diocesan seminary dinner, and I am more involved in Catholic charities—but people do everything from stuffing diaper bags to going out cleaning up neighborhoods, and everybody buys into it."
What the Nashville Predators employees—from superstars to the locker room attendants—are buying into is the idea behind what Sean Henry refers to as his favorite quote: "It's always the right time to do the right thing."
"It hangs on my office wall, and it's from Martin Luther King," said the affable Mr. Henry, who grew up in West Islip on Long Island, N.Y., where he was an altar server at Our Lady of Lourdes, the parish his father, a carpenter, helped build. His sister, Lynn, is a member of the Sisters of St. Joseph in North Merrick, N.Y.
"The best way to engage with your community is by helping other people," said Mr. Henry. 
"I grew up in a family of six," said Mr. Henry, now 52 and a father of four. He had a small-town Catholic boyhood. "I went to public school, but on Wednesdays, you got out of school early because you had to go to catechism. In fourth grade you got to be an altar boy, and I did it, but my motives were selfish, as I knew you got tips when you did weddings. In the summer you'd wake up early and go swimming and you'd play street hockey and basketball, and on Sundays, you'd go to Mass. It wasn't like being formed—it was just the way life was."
He got his start in sports working as a busboy for a concessions company that served Yankee Stadium and eventually wound up directing marketing and sales for the Tampa Bay Lightning in 1999, then one of the N.H.L.'s most desperate franchises. When the team won the Stanley Cup in 2004, the Lightning posted an annual profit of $3.8 million—the first profit in their history. Under Mr. Henry's marketing savvy, the team's arena—then the St. Pete Times Forum and today the Amalie Arena—became ranked as one of the best sporting venues in the United States by Venues Today magazine. At the Forum, Mr. Henry built the first-ever all-inclusive club for fans to get food and drinks included in their ticket, with personalized service to their seats.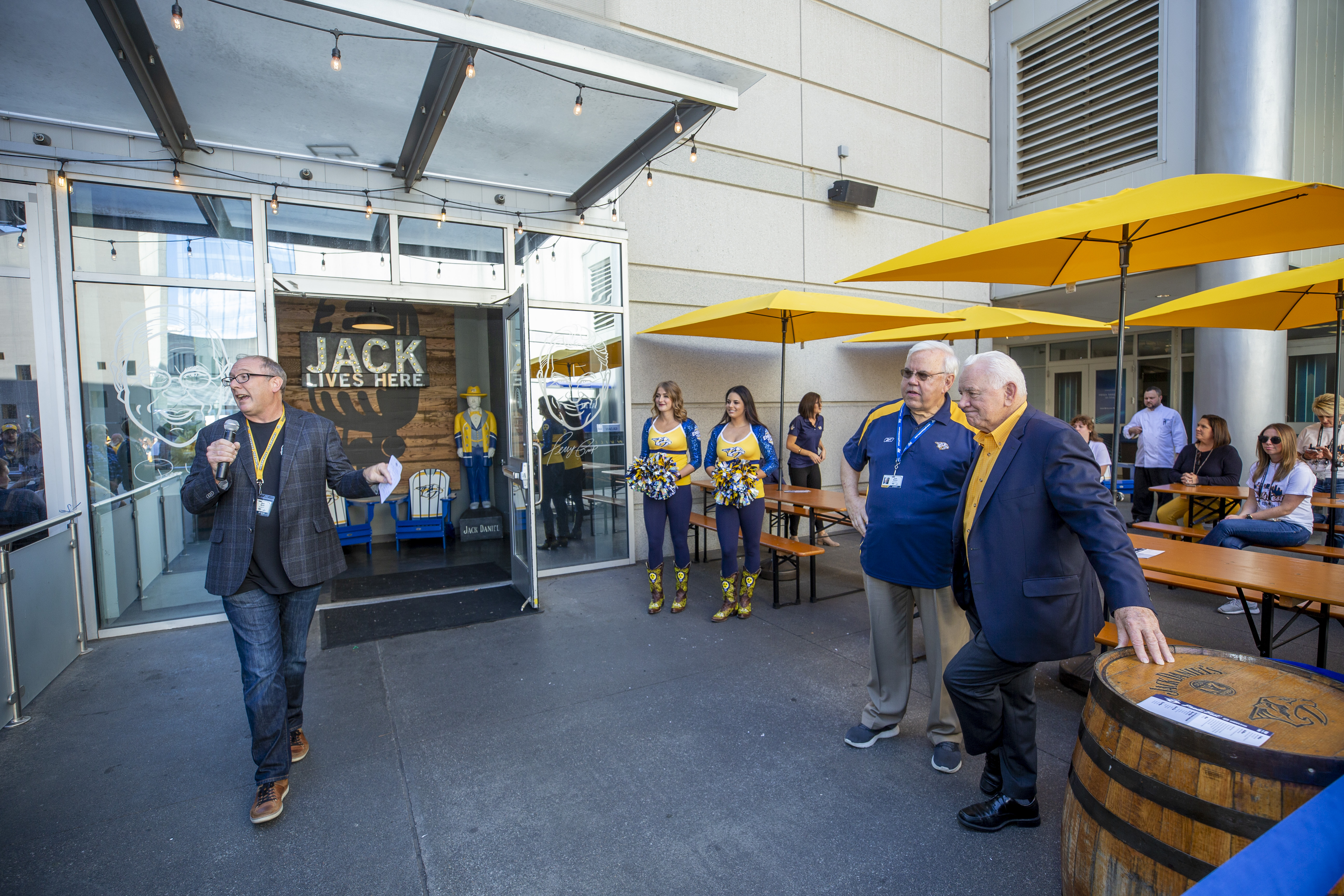 In 2010, he moved to Nashville, which had been plagued by rumors that the team was going to move to Kansas City, Mo., or to Hamilton, Ontario, where hockey-mad Canadians were already plunking down cash for season tickets. Nashville businesses were skittish about committing to the Predators, as were the fans. Mr. Henry knew that the team needed to connect with the city if they wanted to bring the Predators back from exile, and the influence of his Catholic culture kicked in.
"The best way to engage with your community is by helping other people," said Mr. Henry. "We asked all of our employees to devote 40 hours to community service each year. And we wanted to know what it was that they were doing—not because we're Big Brother—but because we wanted to know what was important to them."
At first, employees were skeptical about the mission and the reveal. But when a Predator staffer who spent weekends repairing bicycles so that Nashville's kids would have access to inexpensive transportation told Mr. Henry what he was doing, things took off. Mr. Henry gave the employee a grant; the Predators announced the need for used bikes. "He went from a dozen bikes a month to hundreds," said Mr. Henry. "When you share your story of what you're passionate about, the team can get behind it and make it bigger and better. It was like magic. The culture changed immediately, and our business success followed from that."
An emphasis on community service is an ingrained part of the team's culture. The team's governor, Tom Cigarran, a former health care executive, builds schools in Haiti. Mr. Junghans volunteers his time with baseball teams, from high-end travel to community recreation. Mr. Henry's passion is AMEND Together, a partnership the Predators entered with Nashville's Young Women's Christian Association in 2014 to combat domestic violence.
Mr. Henry acknowledges that his vision is inspired by the ministry of engagement preached and practiced by Pope Francis.
Initially, Mr. Henry had low expectations, thinking the Y.W.C.A. wanted a jersey to auction rather than a sustained partnership. He listened to the statistics on domestic violence presented by the Y.W.C.A.: Tennessee ranks fourth in the country for the rate at which men kill women in domestic-related homicides. In Nashville, there is a domestic violence call to police every 20 minutes. Thanks to Mr. Henry's involvement, AMEND Together has grown into a multi-sport juggernaut. Vanderbilt University's football coach, Derek Mason. and his team went through AMEND training. The Tennessee State men's basketball coach, Dana Ford, was on the AMEND board until he moved to Missouri State in March 2018. The former Vanderbilt basketball star and professional player Shan Foster serves as an AMEND director.
"Sean Henry has been one of the biggest advocates of ending this culture of violence against women and girls," said Mr. Foster. "He has donated commercial space, he has gotten his entire staff on board, we've done community forums that he hosted, completely free, and even after all of that, he pledged a half a million dollar gift to Y.W.C.A. and AMEND Together and encouraged other community and business leaders to get behind this."
Mr. Henry committed $500,000 over the course of five years to AMEND, and in the 2016-17 season, the Nashville Predators paid their first $100,000. For Mr. Henry, his philanthropic work, including the Nashville Predators Foundation and the Nashville Predators Youth Hockey programs, is just as important as selling out arenas or winning the team's first Stanley Cup. The foundation's grants and programs funded more than $1 million in programs and donations to over 400 local organizations in the 2016-17 season, and the Predators' Hearts of Gold program generated more than 6,000 community service hours donated by employees, players and staff.
"It's the most special environment that I've ever been involved with," Mr. Henry said. "And I've been fortunate enough to work with many great organizations."
The Predators also go beyond civic boundaries. They addressed the controversy around professional athletes protesting during the national anthem the same way they handle everything else: through dialogue. "We met with the players about the national anthem issue and asked them what they wanted to do," Mr. Henry said, "and the guys all said they would stand for the anthem, but if somebody wanted to do something different, they were cool with that as well." He added that P. K. Subban, who is black and grew up with immigrant Caribbean parents in Toronto, encouraged the team to further "engage the community."
The Predators started Blue Line Buddies to try to connect with communities that have negative issues with the police, along with the police themselves. "We pick two police officers and two kids and we bring them to each home game," Mr. Henry said. "Before the game they meet with P. K. and a few of our players, and then they have dinner in the restaurant. And during the game the kids are sitting with the police officers, and they get to know each other. The cops and the kids maintain contact throughout the year, and it has really changed lives and communities because everyone sees each other as people and not as stereotypes."
Mr. Henry acknowledges that his vision is inspired by the ministry of engagement preached and practiced by Pope Francis. "You can issue edicts," he said, "or you can have a conversation—and conversations work much better."
The Catholic executives on the Nashville Predators say there is no secret handshake around the N.H.L. to identify other Catholics. They add that they do not care about a person's religion—it is the actions that matter. Mr. Henry said, "We built the culture in which guys can show their passions."
Mr. Henry said that the N.H.L. has conference calls six or seven times a year and its 31 clubs are "asked to share their best practices with each other, so we can build together." The N.H.L. has no official chaplain policy, but individual teams can invite their own in, on approval of management and coaches. Hockey Ministries International, a lower-case "e" evangelical Christian organization, currently has chaplains serving a few N.H.L. teams. More often than not, a priest from Father Ryan High School will show up at the Predators game in a team jersey.
There is one hockey-fan priest from Father Ryan High School who likes to ask Mr. Henry which of the team's players are Catholic. Mr. Henry said he really does not know, and the priest just smiles and said, "Well, they all act like all are."
As for the Predators, they would not mind if Pope Francis took a shine to hockey—and chose the gold jersey of Nashville's team as his jersey. "He should adopt us," said Mr. Junghans. After all, the Predators, inspired by their Catholic leadership, have adopted the pope's vision of engaging with their world to make a cold sport much, much warmer.
Correction, March 13, 2019: A previous picture caption misidentified an individual in a photo. The photo depicts Bob Kohl, Senior Director of Broadcast and Entertainment for the Predators, not Chris Junghans, who is the executive vice president and chief revenue officer for the team.