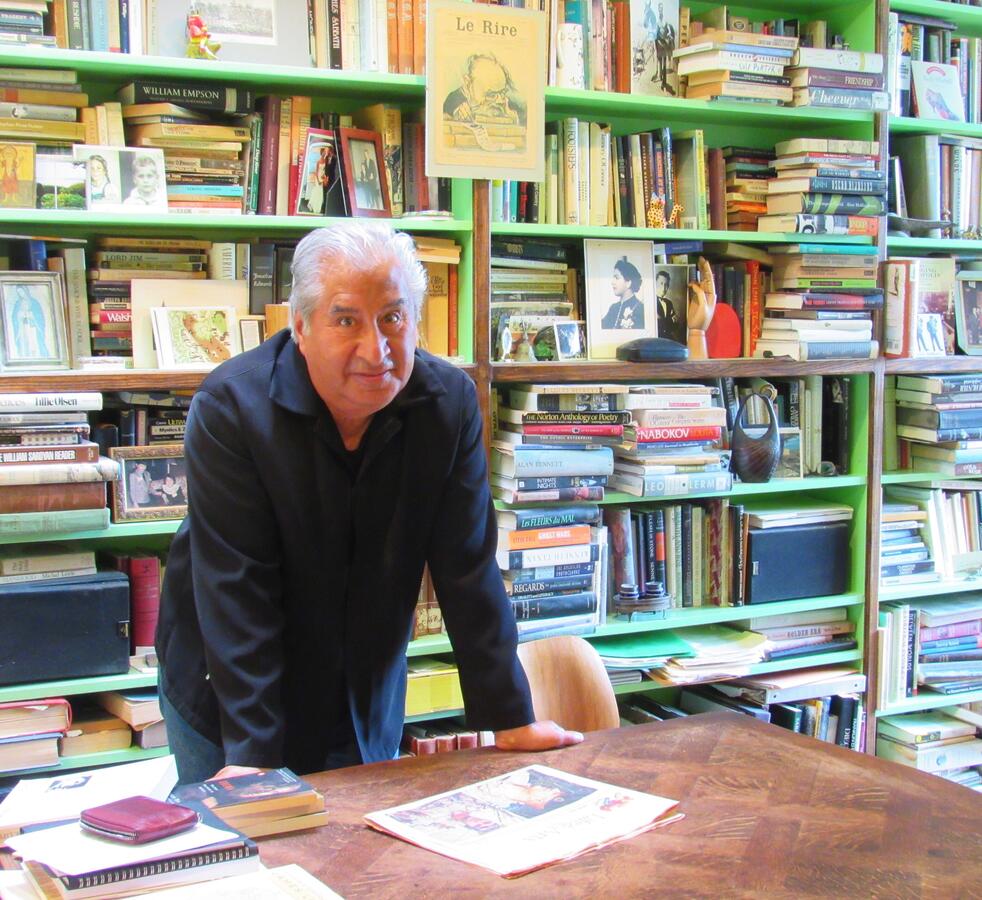 Why the writer Richard Rodriguez refuses to be put into a box
The city of San Francisco sits atop the steep hills of northern California. Founded by Spanish colonizers in 1776 and named after St. Francis of Assisi, it is home to over 800,000 people. In August, the weather in the city famously changes from one moment to the next—chilly to warm, sunny to cloudy and back again. Throughout the city's streets, more surprising than the climate is the number of men and women experiencing homelessness. I was shocked by how many people were gathered in groups of 10 or more, block after block, something I had never encountered before. As I drive through these streets, I see cars with windows left open or signs that read "no valuables here"; I later learn that many of the individuals experiencing homelessness survive by breaking into cars to rummage for items to sell for food.
This reality of deep poverty seems especially jarring against the backdrop of the city's architecture, a fascinating mix of modern and Victorian buildings. All along San Francisco's hills are beautiful and pristine homes, towering Queen Anne houses with large bay windows and exuberant colors.
In Hunger of Memory, Rodriguez outlines his opposition to affirmative action and bilingual education.
It is in one of these homes that I first meet the Mexican-American writer Richard Rodriguez. He lives in a stunning three-level gray-and-white apartment building in the Pacific Heights neighborhood of the city. He welcomes me into his home and gives me a tour of each apartment in the building, all of which are unlocked and empty except for the one he shares with his partner, Jim, on the second floor. "I have lived in this lovely Victorian house since 1982—just shy of 40 years," he says. "Lots of lovely ghosts here since my beloved landlord and several other tenants died here over the years. The house doesn't seem empty to me—or cold."
It is in this home that Rodriguez wrote his autobiography, Hunger of Memory: The Education of Richard Rodriguez, published in 1982. It was his first book and tells the story of his journey from the first grade at Sacred Heart School in Sacramento to becoming one of the most recognizable Catholic Latino writers in the United States. Upon its publication, the book was extremely well received by critics and, in 1983, won the Anisfield-Wolf Book Award for nonfiction.
Rodriguez has also found critical acclaim with Days of Obligation: An Argument With My Mexican Father, which was nominated for a Pulitzer Prize, and Darling: A Spiritual Autobiography. His essays have also been published in First Things, The New York Times, Mother Jones and Time magazine.
In Hunger of Memory, Rodriguez outlines his opposition to affirmative action and bilingual education on the grounds that it prevents assimilation. "Bilingualists simplistically scorn the value of assimilation," he writes. Assimilation, he insists, allowed him to "be able to think of myself as an American, no longer an alien in gringo society," one who had "the rights and opportunities necessary for full public individuality." This is a position readers have criticized; many have accused the author of betraying his own culture.
For me, as a Latina, Rodriguez felt like a contradiction in terms.
I read Hunger before meeting the author. For me, as a Latina, Rodriguez felt like a contradiction in terms. Despite being a brown, Catholic, gay man, who spoke only Spanish for the first six years of his life, he has spent much of his career arguing against programs created to help communities like ours. I wanted to put him into a box, but upon meeting him I quickly realized that part of his charm is his refusal to play to people's expectations of who he should be.
***
Richard Rodriguez was born in San Francisco on July 31, 1944, to Victoria and Carlos Leopoldo Rodriguez, Mexican immigrants. They arrived in the United States from western Mexico in the 1930s; his mother from Jalisco, his father from Colima. His parents had very different relationships with Mexico, he tells me. "My mother loved everything about Mexico—the landscape of Jalisco, the family cow, the taste of Mexican ice cream, the sound of Mexican music, men singing," he says.
His father, on the other hand, is what he describes as an "anti-Mexico Mexican." Carlos Leopoldo was an orphan, raised by his uncle during the decades of anti-Catholic persecution in Mexico. In the late 19th century, President Benito Juarez passed legislation that repressed the Catholic Church in Mexico. In 1917, the government revised its constitution: The Catholic Church was banned from primary education, monastic orders were outlawed and clergy members were denied basic rights.
In 1926, President Plutarco Elías Calles enforced the "Calles Law," which placed further restrictions on the Catholic Church and religious orders. During Calles's presidency, from 1926 to 1929, there was the Cristero Rebellion. Over 40 priests were killed in Mexico between 1926 and 1934, including Blessed Miguel Pro, S.J.
He would not define his adolescence as a gay one but a Catholic one.
Rodriguez tells me that his father and uncle hid priests in family closets during this time. "One day, [my father] came upon a young priest he knew hanging from a noose, from a tree in the garden," he tells me, adding, "My father decided that day to leave Mexico. He was nearly 20 when he boarded a ship and ended up in San Francisco."
His family left San Francisco when he was 6. They moved to Sacramento, almost two hours north of San Francisco, after doctors suggested the warm and dry climate would help alleviate the symptoms of his brother's asthma. Sacramento, he says, is the city that he truly considers home. Growing up there, he was an altar server and loved attending Mass. "I can't even begin to describe how wonderful my life was and how mysterious it was," he says. "I would be called out of class to go to a funeral in the middle of the morning." During one such service, he had to help carry the casket because there was no one present. "It was the first time I'd carried death and I didn't know how heavy death would be."
He tells me that despite knowing he was gay at a very young age, he would not define his adolescence as a gay one but a Catholic one.
Catholicism has played a significant role in Rodriguez's life and work. In Hunger, he dedicates a chapter, "Credo," to his family's faith, where he describes the way his parents' faith shifted when they left behind their Mexican church for an Irish-American one in the United States. "I cannot overstate the influence of the Irish on my life and the lives of my family," he tells me. "All the nuns who taught me English and then introduced me to the idea that I was an American, albeit a Catholic, were Irish—and the priests, too. Ireland played a very large part in my Americanization and my Catholic formation."
"One must join the company of generations of tongues in order to voice oneself apart, in whatever tongue."
Along with the influence of the church during his adolescence, he describes himself as a young boy who explored the world around him alone. He would go to boxing matches and lectures, including one where he heard Malcolm X speak. It was during these moments, Rodriguez tells me, that he began to form his voice as a writer. "That's how I came to be, the loneliness, the embarrassment of being an immigrant child, the intensity of it," he says.
Rodriguez began writing for his high school newspaper. He later attended Stanford University, Columbia University and the University of California, Berkeley. On the first of our two afternoons together, he tells me that he has navigated two identities, two Richards: the Richard at home who spoke only Spanish, and the Richard in the public world, the one encouraged by nuns to speak only English to better his education.
This dual reality he grew up with, different languages for different contexts, informs many of his positions, including his thoughts on bilingual teaching in the American education system. "I don't think American education has taken seriously how difficult it is for working-class kids to achieve a public voice," he says. "Teachers don't do a good enough job impressing on students that their job as students is not to express themselves—their job is to make themselves understood by strangers."
Why can't language do both? I ask. Why can't language allow us to learn how to express our thoughts and feelings while also preparing us to talk to others who are not like us? Rodriguez tells me, "This desire you express for students, particularly students of color, to express themselves as strangers, because that is how they are seen, is a great, and I mean that word exactly, romantic dream.
Hunger was rejected eight times before it was published by Bantam Books.
"The problem is that the language—any language the young would use—already was crafted by centuries before them, by the dead of their own race or nation, villains and saints both. One must join the company of generations of tongues in order to voice oneself apart, in whatever tongue. Speaking thus becomes an act of socialization, even if it is the declaration of separation."
***
Hunger was rejected eight times before it was published by Bantam Books. Upon its publication, it was hailed as a success by critics. But for his family it was a source of humiliation.
Rodriguez admits that when the book was first published, he never thought his family would read it. The family's humiliation was two-fold. "One, that I presented it at all, that I was talking about my relationship with my parents in public," he says. "Two it was the boy, the immigrant, working-class boy talking about his embarrassment at their foreignness."
His family hated the book, Rodriguez says, because it presented their lives for all the world to see—especially the white world. In "Mr. Secrets," the book's last chapter, Rodriguez recalls a letter his mother wrote to him prior to Hunger's release: "Write about something else in the future. Our family life is private," she said. "Why do you need to tell the gringos about how divided you feel from the family?"
For most of Rodriguez's career he has challenged the ways in which communities of color use language in America.
He had to tell Hunger, he says, because he was finishing a story. "What I realized in grammar school was that I was becoming a public person. I was getting a public voice, a voice that my father didn't have. I was getting the voice of Richard Rodriguez.Ladies and gentlemen, Richard Rodriguez.
"I was getting that voice," he goes on, "and everything that I did in school with writing and reading was giving me this voice. It was becoming an American voice, all these books that I was reading, from Faulkner to F. Scott Fitzgerald to Joan Didion. They were teaching me how an American sounds and what an American says—the impersonations that we have with our voice."
Last year, Rodriguez spoke to students at Duke University about the various ways Latinos identify themselves. While he spoke, he refused to use just one term to describe the Latino community, choosing instead to use several like Latina, Hispanic, Latinx. For most of Rodriguez's career—and his life—since Hunger, he has been dedicated to challenging the ways in which communities of color use language in America. These challenges often fall squarely into what is sometimes called respectability politics. ("Respectability politics" refers to the expectations of members of marginalized communities that their fellow community members conform to mainstream societal norms.)
No easy answers to these questions of language and identity arose during our time together, yet the more we spoke, the more I realized how pivotal Rodriguez's voice is for Latino readers attempting to understand our role as American citizens in the 21st century. His next projects include an essay about the relationship Americans have to monuments like tombstones and civil war statues. Later this year, he will give a speech on Catholicism in Chicago.
Richard Rodriguez cannot be placed into a box, as hard as readers, including myself, may try.
"My admiration for African-Americans is that they found their voice in mimicking the slave owner's voice," he says during our last conversation, referring to African-American Vernacular English. According to Rodriguez, it is by embracing linguistic assimilation, by accepting English as the dominant language in America, that Latinos can truly achieve any kind of radical change. "Real revolution in language is taking the stranger's tongue and using it better than he."