Why telenovelas are a powerful—and problematic—part of Latino culture
The first telenovela my parents watched was Telemundo's "Guadalupe." Its outlandish plot will be recognizable to anyone familiar with the soap opera genre. Guadalupe, the title character, is the illegitimate daughter of Ezequiel Zambrano and the unknown heir to the Zambrano fortune. Over 210 episodes, my parents watched as she discovered who her family was, fell in love and went from working class to rich. It was 1993, and my parents had arrived in the United States from the Dominican Republic two years earlier. They spoke no English, and telenovelas were the only television dramas they understood.
Like soap operas in the United States, telenovelas began on the radio, with 30-minute daytime segments geared toward housewives in Latin America. By the 1950s, the genre made the jump to prime-time television. Themes included murder, incest and adultery; and almost all were Cinderella stories, each featuring a female protagonist from a poor family who met and fell in love with a wealthy man. Some of the earliest telenovelas included Peru's "Simplemente María," about a single poor mother who becomes a seamstress and launches a successful fashion business; and Mexico's "Los Ricos También Lloran" ("Rich People Cry, Too"), the story of Mariana Villarreal, a homeless woman who moves to Mexico City and eventually falls in love with—and is in turn saved by—a wealthy man.
For immigrants like my parents, who arrived in the United States with nothing, telenovelas allowed them to feel connected to the countries and cultures they had left behind.
Shows like these served as the backdrop of my childhood. They included the Mexican-produced telenovelas "María Mercedes," "Esmeralda," "El Privilegio de Amar" and "Lazos de Amor." I watched these shows with my mother, aunts and uncles, none of whom knew much about "Sesame Street" or "Mister Rogers" but who knew and loved characters like María Hernández or the Soñadoras.
One of my favorite shows was "Luz Clarita," which aired for six months in 1996 and 1997. Every night my mother, my sister and I would sit on our couch and follow the story of Luz, a Catholic orphan who, despite the obstacles she faces, stays strong in her faith and in her journey to find her birth mother. She is taken in by the de la Fuente family and becomes, as her name suggests, a symbol of "clear light" for them. My sister and I were such fans of the show that my mother would buy us Luz Clarita merchandise, from pens to a clear plastic bag printed with the iconic Luz Clarita pose: sitting in her Catholic school uniform, knees pulled up and head perched on her knees.
For immigrants like my parents, who arrived in the United States with nothing, telenovelas allowed them to feel connected to the countries and cultures they had left behind. They were stories that allowed us to escape and see, even if only on the screen, what economic mobility and success could look like for Latinos.
•••
Since the 1950s, telenovelas have become one of the most successful forms of entertainment in the world. Ilan Stavans, the editor of a book of essays called Telenovelas and son of the well-known telenovela actor Abraham Stavans, says that the genre has experienced significant changes since it was first created. He points out that there are now "all sorts of genres of telenovelas."
"There are telenovelas that make fun of telenovelas," he tells me, "there are novels written by prominent writers that are in the form of telenovelas, there are video games that use telenovelas."
During the 1990s and early 2000s, the telenovela phenomenon also grew thanks to international syndication and broadcasting. Many of the series now air in far off countries like Poland, Russia and China. "Los Ricos También Lloran," for example, is one of the most successful series to air in Russia. Eyder Peralta of National Public Radio described the popularity of telenovelas in East Africa on an episode of "All Things Considered" in 2017. "They're imported from Latin America and dubbed into local languages," he noted, and for many Africans, telenovelas feel authentic.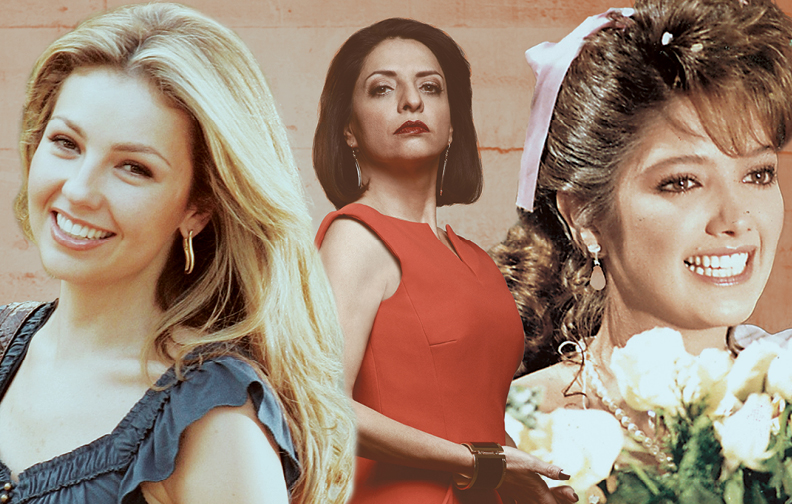 Telenovelas are also exerting more influence on American television. One of the most successful telenovelas of all-time is "Yo Soy Betty, la Fea," which aired in Colombia from 1999 to 2001 and was adapted by ABC in 2006 as "Ugly Betty." Betty, played by America Ferrera in the U.S. version, is a braces-wearing, unfashionable secretary who falls in love with her boss, undergoes a makeover and saves the fashion magazine where she works. Another example is Telemundo's "La Reina del Sur," starring Kate del Castillo. Based on the novel by Arturo Pérez-Reverte, it is the story of Teresa Mendoza, a Mexican woman who becomes the most powerful drug trafficker in southern Spain. Since its premiere in 2011, the series has drawn in millions of viewers and has been adapted for English-language viewers by the USA Network as "Queen of the South."
•••
For almost 20 years, my mother and I have watched telenovelas together. Since our "Luz Clarita" days, we have seen "Alguna Vez Tendremos Alas," "Salud, Dinero y Amor," "Tres Mujeres," "Amigas y Rivales," "Salomé," "Rubí" and many others. All the protagonists in these shows were light-skinned Latinos. It was not until 2015 that we saw black Latinos starring as protagonists in Telemundo's "Celia," which stars Jeimy Osorio as the Cuban singer Celia Cruz. The series, which also features the Afro-Latino actors Aymeé Nuviola and Modesto Lacén, follows the singer's journey as she becomes one of the most successful salsa singers of all time.
It was not until 2015 that we saw black Latinos starring as protagonists in Telemundo's "Celia," which stars Jeimy Osorio as the Cuban singer Celia Cruz.
With predominantly light-skinned female leads, telenovelas promote a Eurocentric idea of beauty. In addition to a lack of diversity, they have been criticized for sexist characterizations. For most of the genre's history, telenovelas have portrayed female protagonists as damsels in distress who require male saviors.
Marjua Estevez, an Afro-Latina editor at Billboard, said that while these shows were played in her home when she was growing up, she never fully embraced the genre because they did not speak to who she was. "They are traditionally anti-black/racist," Ms. Estevez said in an email, "which erases a monumental proportion of what we call Latin America and ahistorically perpetuates the theory everyone looks/is the same around Spanish-speaking worlds."
M. Tony Peralta, a first-generation Dominican artist and founder of the fashion company The Peralta Project, adds that many view telenovelas as the only way Latinos can tell their stories. "I think that telenovelas have ruined storytelling in Latino communities," he said in an email, wondering, "Why aren't there any Latino sitcoms on Spanish television?"
Mr. Stavans argues that the problem lies with the creators of telenovelas. "These telenovelas in Latin America have been produced for the working class by the upper class," he says. "It's a vision that the upper class has of who should be in television." He adds, however, that Brazil is getting diversity right, noting that the telenovelas coming out of that country offer a variety of ethnic and racial backgrounds. These include "Xica da Silva," the story of a slave in colonial Brazil who rises to freedom and becomes rich and powerful.
It is perhaps no surprise that telenovelas often embody the anti-blackness and misogyny ingrained in Latin American society. Mr. Stavans, however, is hopeful that if the genre begins to change, then it can help to challenge the way women and black Latinos are viewed not just in Latin America, but in the rest of the world as well. "If there is a place in the Hispanic world where change can happen that can really have an impact on how people act, it is through telenovelas," he tells me. "So if telenovelas change, I think society changes. If telenovelas don't change, change in society is slower."
Sign up for Convivir, a new newsletter from America Media.
Each week, it will highlight news, culture and trends related to Latino Catholics. To receive this important expert analysis in your inbox, sign up here.