Lessons from Notre Dame's Father Hesburgh for a divided country
Theodore Hesburgh, C.S.C., Holy Cross priest, civil rights leader and president of the University of Notre Dame from 1952 to 1987, knew how to create a spirit of encounter, even among people who disagreed with each other.
Several years into serving on the United States Commission on Civil Rights in the late 1950s, Father Hesburgh and other members of the group could not agree on what legislative recommendations they should make to Congress and President Eisenhower.
The group's first project had been to investigate voter registration and election practices in Montgomery, Ala., where black voters had long been disenfranchised by poll taxes, literacy tests and violence. The commission also oversaw the rollout of integration in Nashville after the Brown v. Board of Education decision and held hearings to learn about housing discrimination in Atlanta, Chicago and New York City.
In 1959, after two years of fact-finding, it was time for the commission to deliver civil rights recommendations about voting, education and housing to Congress. Members of the group had proposed 12 recommendations on reducing discrimination and promoting equality, but not every member of the commission was on board with these proposals. They had arrived at a stalemate.
"Civil rights are important corollaries of the great proposition," wrote Father Hesburgh, "that every human person is a res sacra, a sacred reality."
Hoping to break the impasse, Father Hesburgh organized a working retreat at Notre Dame's Land O' Lakes property in northern Wisconsin. On a commission of Democrats and Republicans, former politicians and university presidents, Father Hesburgh was the only non-partisan, a political independent. And he was able to find something everyone could agree on: fishing.
Outside on the beautiful, secluded lake, members of the commission softened and found common ground. When it grew dark, they came up to the residence and sat around a table on the screened-in porch. There they voted on the 12 recommendations. Eleven were agreed upon unanimously; the 12th received just one dissenting vote.
"Civil rights are important corollaries of the great proposition," wrote Father Hesburgh in the report delivered to Congress, "that every human person is a res sacra, a sacred reality, and as such is entitled to the opportunity of fulfilling those great human potentials with which God has endowed every man." The 600-page report and recommendations would become a template for the Civil Rights Act of 1964, the Voting Rights Act of 1965 and the Fair Housing Act of 1968.
This is just one of the stories of bridge building told in the documentary film "Hesburgh," created by Patrick Creadon, Christine O'Malley and Jerry Barca.
"It's very, very easy to be polarized. It's easy to lob grenades over the fence at people you don't know," said Mr. Creadon, the film's director, at a panel discussion after a screening of the film at America Media's headquarters in New York. "It's a lot harder to take the time and have the empathy to get to know your adversaries."
"He wasn't superhuman. He was a very human person."
In addition to showcasing Father Hesburgh's contributions to the civil rights movement, immigration policy and Catholic education after the Second Vatican Council, the film also illuminates a deeply human and pastoral side that Father Hesburgh shared with his family, students and faculty.
On the panel, which also featured Matt Malone, S.J., the president and editor in chief of America Media, Jason Grumet, the president of the Bipartisan Policy Center, and Anne Thompson of NBC News, Mr. Creadon described Father Hesburgh as kind, curious and a people person. "With those tools he went out and lived an extraordinary life," said Mr. Creadon. "He wasn't superhuman. He was a very human person."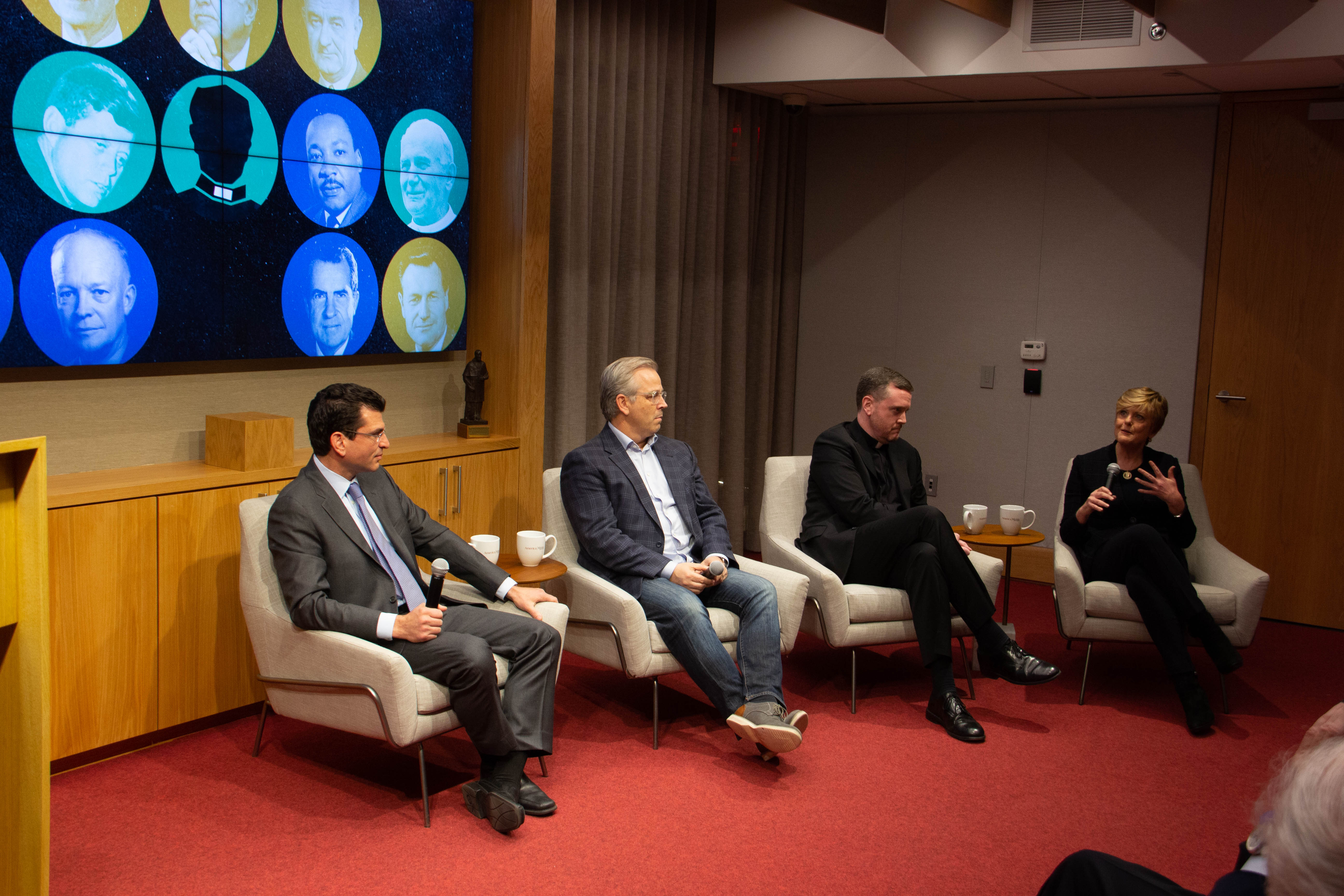 The film, while clearly nostalgic for a time of better public discourse, also strikes a prophetic chord with some of Father Hesburgh's public statements.
"Let's solve this before it becomes military," Father Hesburgh, who served on President Jimmy Carter's Select Commission on Immigration and Refugee Policy, once said about immigration policy and the U.S.-Mexico border. Decades later, troops have been sent to the border and migrants seeking to enter the United States are repelled with tear gas.
Though he was steadfast in his own positions on justice issues, Father Hesburgh did not shy away from engaging with opposing views on campus. He even allowed Governor George C. Wallace, a proponent of segregationist policies, to speak at Notre Dame after clashing with him over voter suppression in Alabama.
"The singular characteristic of Father Ted that I saw throughout this film was fearlessness," said Father Malone. "I presume that comes from his faith, that it comes from his relationship with God."
"The singular characteristic of Father Ted that I saw throughout this film was fearlessness."
While the film praises Father Hesburgh's legacy and presents a hopeful vision of the future, it does not ignore Father Hesburgh's more controversial moments—like his decision to expel student protesters during the Vietnam War.
Throughout the film, which features historians, family members and politicians, including the current Democratic speaker of the House, Nancy Pelosi, some of the most memorable interviews come from students and Father Hesburgh's longtime driver, Marty Ogren. It is Mr. Ogren who best captures the pastoral approach Father Hesburgh took with students.
On his way to the airport, Father Hesburgh once stopped to talk to a student who was crying. Her father had died. On top of her grief, she worried about how she would afford to return to Notre Dame the following year. Father Hesburgh talked with her for a long time and told her not to worry about tuition. That was how he treated people, even when he was busy, Mr. Ogren recalls in the film.
Father Hesburgh led Notre Dame through many difficult transitions. Under his leadership, Notre Dame went from being known as a football school to an impressive academic institution. It transitioned—along with other Catholic universities—into a modern university with academic freedom, admitted female students and introduced a lay board of trustees.
"Creating a lay board of trustees and allowing women in, they seem like obvious decisions now," said Anne Thompson, Notre Dame class of 1979. "Back then, they weren't very popular, and he took a lot of flack. But he believed that we would go forward together."
"Hesburgh" premiered at the AFI DOCS film festival in July 2018. The Hesburgh team will is planning a 50-city theatrical release from March through May of 2019.