Why does U2 irk so many people? A look at their struggle for pop hits and social justice
"Three things are needed for beauty: wholeness, harmony, and radiance"—Thomas Aquinas, James Joyce's translation
"They only want you to be the one thing," Mick Jagger once told the novelist William Gibson. He was referring to his own acting career. It is odd to imagine a celebrity icon millionaire presumably so close to the heart of rock and roll speaking so wistfully of thwarted ambition, as if he once had a dream and is now resigned to the reigning system that forbids its fulfillment because these are the rules, so to speak. What's to stop the lead singer of the Rolling Stones from auditioning for a role in a play somewhere remote or funding a production of "King Lear," casting himself, and putting it on Youtube? And who are "they" exactly? Are "they" real or an abstraction, a phantom, a dagger of the mind?
Housed within our sacred traditions, we find many a healing mantra of redirection for this neurosis: The true jihad is the inner jihad. Consider whether the light in you is not darkness. Everything seen by the eyes is burning. But the one I hear in my head when I get to worrying over who might not be on my side comes as a tune: "There is no them." It's a sneakily straightforward four-word phrase that could easily be a bit of graffiti, harmless-seeming enough, but if we apply it to the partisan divide relentlessly asserted by a split screen in a 24-hour news cycle, it's about as countercultural as it gets.
Bring "There is no them" to bear upon the concept of international borders or, say, the difference between an American soldier and an Afghan civilian, or a police officer and a black human being suddenly decreed a suspect, and you might upset someone. Express this article of faith out loud in certain contexts and you might even discover a degree of aggression projected upon yourself. As is the case with so many other lyrical one-liners ("We get to carry each other"; "What you thought was freedom was just greed"; "Can't you see what love has done?"; "Dream up the world you want to live in."), "There is no them" arises in my mind unbidden out of the everlasting opus of U2, those four alarmingly thoughtful Irishman who have banded together to create, record and perform music for over 40 years.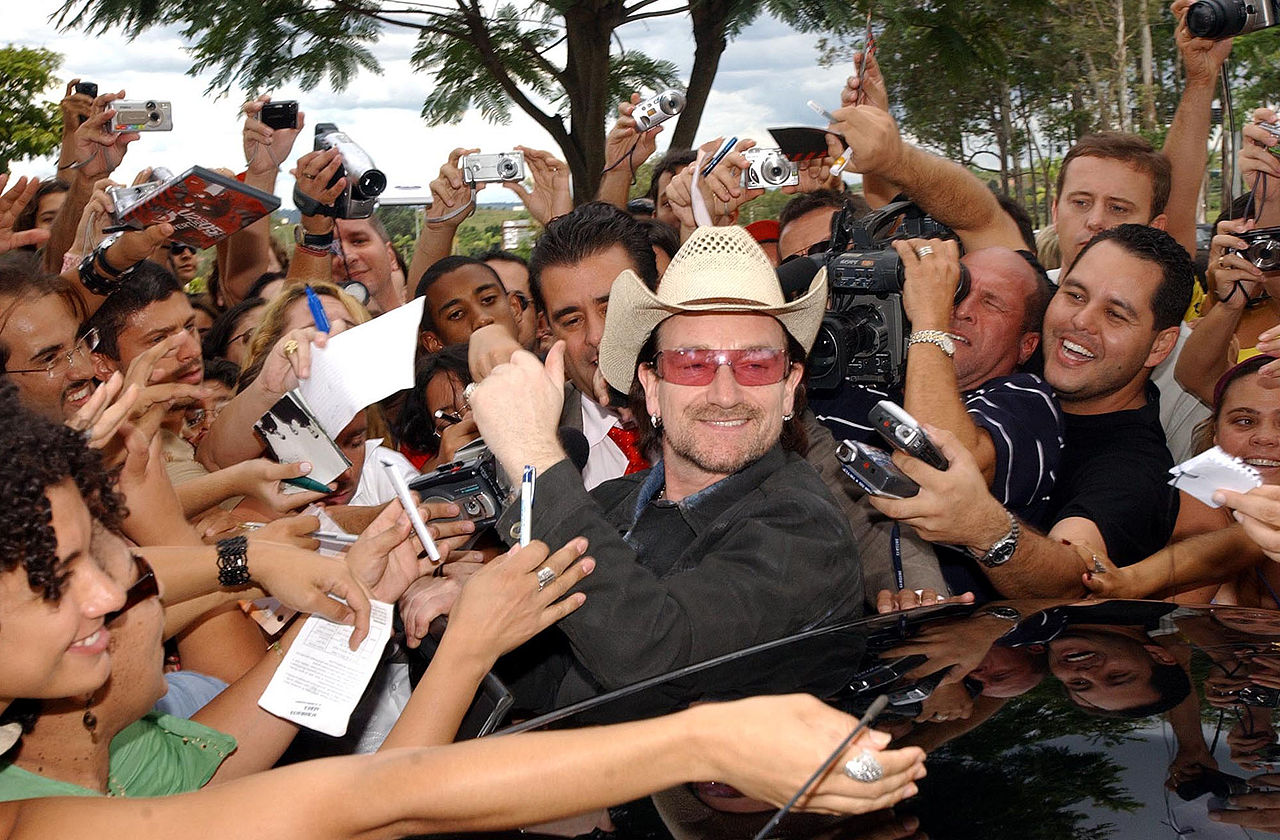 What to do with U2? They are admittedly millionaires. From the very beginning, there have been those who find them insufferable, as if their earnestness is an embarrassment to us all. What's that about? Well, Jagger's observation might prove helpful here. We like to know where to put people. The placeholders are mind-numbingly familiar. Keep religion out of politics (or vice versa). Are you an artist or an activist? Sacred or secular? These divisions doubtless serve someone's marketing scheme quite well, but we know—our hearts and minds tell us—that it does not really work this way. We love what we love. One revelation speaks to another. Our alleged boundaries dissolve upon contact with the way our consciousness really operates.
I know this feelingly. As a native of Nashville, I would like to pretend that the life of Martin Luther King Jr. and the beloved community that fostered him entered my radar through my judicious study of civil rights history and culture. This would be a lie. It was MTV and U2's decision to craft and promote what proved to be a radio hit called "Pride (In the Name of Love)," commemorating King as one more pioneer of human seriousness (one more in the name of love) along a trajectory of individuals who chose to give their lives as gifts to others, an international parade of conscience. At 14, I still loved Duran Duran, but now I would stand in a grocery aisle reading Rolling Stone and learning about Flannery O'Connor and Walker Percy as Bono name-dropped them in an interview. Something new was getting through by way of this Irish arts collective. My own country was coming alive to me. In time, U2 would turn me on to Leonard Peltier and Desmond Tutu and Edna O'Brien and, in no small way, the fact of the rest of the world.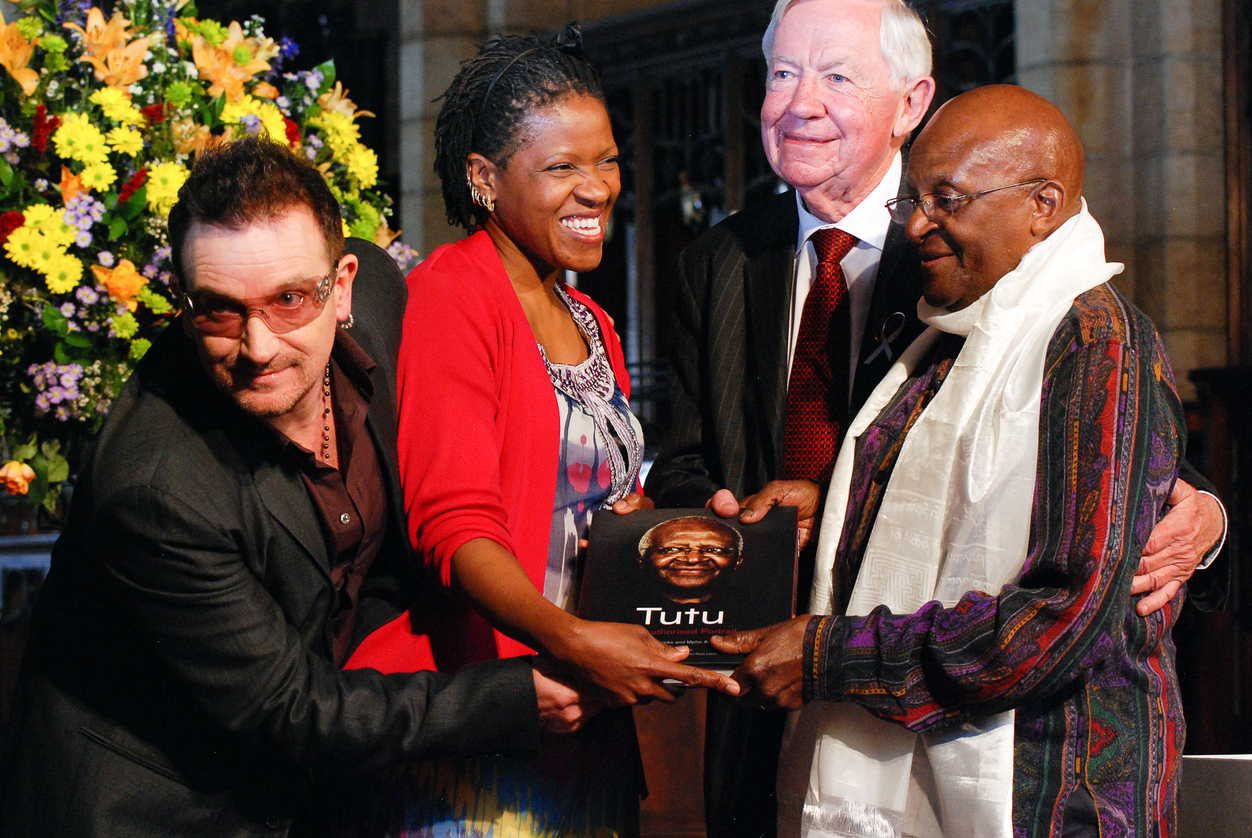 They are indeed aging rock stars. But they are also a mass media movement of thoughtfulness, artfulness, candor and curation. In the pop music of the 1980s, there was a moral alertness afoot concerning mass starvation, the environment and nuclear proliferation, and U2 were inarguably at the heart of it. I wonder if the fact that they are still at it is too much to bear for some, that they are still wrestling out loud with and awash in the contradictions of wealth and consciousness. It is as if their urgency is an embarrassment to the rest of us somehow, an indictment to the degree that we have given up on the conspiracy of hope, or worse, consigned ourselves to the realm of naïveté or nostalgia.
This tension was on display when I watched them headline the Bonnaroo festival this year. Like no other popular act, it is as if U2 auditions anew with every performance, making an argument—a sales pitch—for the value of the exchange they are entering into ("Even Better Than the Real Thing" is like a mission statement in this regard), but the stakes felt higher this time. This was a younger crowd who likely knew some of the hits and for whom "The Joshua Tree" qualifies as a classic, but the majority did not know the words and the customary call-and-response upon which U2's operation oft depends was in no way guaranteed.
Despite the risk, U2 overcame resistance from the moment they took the stage. With no images or flashiness to accompany them, they opened with "Sunday Bloody Sunday," enlisting the crowd in their communal conjuring ("We can be as one tonight….") and inviting the thousands, in view of armed violence in London and Kabul, to cry, "No more! No war!" And when they followed it with "New Year's Day," it occurred to me that these two songs alone, released in 1983 and Pete Seeger-like in their prophetic heft, would be enough to confirm their status as a sacred act among us, worth celebrating and studying from then on out.
But this is the thing. U2 never stopped. Is it possible to seek total global pop domination for decades on end, to really believe your work is worthy of it, and to remain somehow soulful, sane and socially righteous all the while? Definitely, maybe. Either way, they are determined to find out for themselves. They refuse to think of themselves as a nostalgia act. Do we wish they would? Would we prefer that they stop standing up for their loves and shelve their creative selves?
I sure don't. They have gone before me my whole life long, championing and amplifying thoughtfulness at every turn. I think of them as a celebrity cheerleading section—a pep band, if you like—of freedom movements the world over, celebrating those who hunger and thirst after righteousness, those among us (Lord, I want to be in that number) they occasionally refer to as "comedy people."
A word of explanation: This vision of comedy—divine comedy—is behind a healing truism that Bono has offered in words of appreciation for opponents of fascism everywhere, both structural and that fascism of the heart Bruce Cockburn refers to as "fascist architecture of my own design," the self-seriousness that can't and won't see. Only comedy of the deepest and relentless kind can overcome it. We might recall here that the title of the album "Achtung Baby" is drawn from Mel Brooks' "The Producers," which featured the attempt to tickle the catastrophe of totalitarianism with theater. "Ze Führer has never said baby!" the Nazi playwright in the film protests. Too true, because death and denial can't afford to.
Speaking for the more excellent way of comedy, Bono posits this: "Laughter is the evidence of freedom." In his praise of doctors, nurses, teachers and aid-givers, alongside poets, playwrights and other artisans of hopefulness, he often resorts to that ancient sense of unexpected play, that life-giving spirit of an imagination that speaks truth to power. U2 accesses and transmits it again and again. Bono saw it in Nelson Mandela, a man who spent years of incarceration not giving into the script he had been given. Upon meeting him, he observed, "There's comedy in those eyes."
But amid the laughter, U2 is also a band who mourns, a band who offers prophetic critique, a band who asks us to look hard at what we are doing. All of this is on offer in "The Joshua Tree" as love letter to the United States, celebrating its promise ("God's Country") while skewering its foreign policy ("Bullet the Blue Sky"). Like all of their songs, they have contexts out of which they originate, but they take on new significance with every news cycle. When I beheld them in Louisville recently, "Red Hill Mining Town" seemed to become a kind of refugee song, the cry of an asylum seeker ("You're all that's left to hold onto…I'm still waiting").
Interspersed between the songs, Bono offered commentary that challenged all manner of dualistic identity on the part of the audience. Given the strides the United States made in bringing lifesaving medicine to the African continent in the George W. Bush administration, he argued that anyone who pays taxes should view themselves as an AIDS activist. Most interestingly, the song "Exit," a meditation on love and murder, had Bono assuming a character who was equal parts Hazel Motes of Wise Blood and Robert Mitchum's character in "Night of the Hunter." As the band transitioned into "Mothers of the Disappeared," it was if the character was waking up to himself, no longer lost in a shame spiral of death and destruction, knowing himself to be a part of the human whole.
"There is no them."
This returns us to "There is no them." This doctrine of no sides was on my mind in Louisville that evening because Louisville was itself the host to one of Thomas Merton's most famous realizations. On the corner of Fourth and Muhammad Ali (formerly Walnut Street) he experienced a laugh-out-loud epiphany. Without warning, he suddenly found it strangely impossible to view passing strangers as at all random, beneath him, or, in any meaningful way, separate from himself: "I was suddenly overwhelmed with the realization that I loved all those people, that they were mine and I theirs, that we could not be alien to one another even though we were total strangers. It was like waking from a dream of separateness, of spurious self-isolation." He knew all at once with deep certainty that "The whole illusion of a separate holy existence is a dream."
I think something like this is the gift of vision ("Vision over visibility," as their song "Moment of Surrender" puts it) that U2 brings to our world. Because I saw them on June 16, I can't help but mention that this vision is also deeply akin to that of their Irish compatriot James Joyce, whose Ulysses also seeks to sacramentalize every day by way of that one day—the 16th of June, Bloomsday. It is through that day that we are invited to imagine every day, every beautiful day, as a gift that we must not let slip away through lack of due reverence.
With great reverence, we might say, comes great responsibility. And to call it social responsibility would be a redundancy, because in U2's vision, like that of the great commandment, the false distinction between love of neighbor and love of self is collapsed. It can be glimpsed, this essential self, this divine image within everyone, this soul. But it will not be proven or preached. It can only be shown and sung—testified to, witnessed and proffered as a way of seeing. Or as Merton puts it: "I have no program for this seeing. It is only given. But the gate of heaven is everywhere."