In Netflix's "The Keepers," a nun's unsolved murder tears apart a Catholic community
Founded in 1965, Archbishop Keough High School in Baltimore seemed like the ideal place for post-Vatican II optimism to blossom. The School Sisters of Notre Dame ran the all-girls school with a strict sense of order, but students were excited and proud to be there. It was a place of empowerment and hope, where the phrase "Women of a New Age" was not merely a line in the school song but a rallying cry.
"It was supposed to be women reaching their full potential," one graduate says. "It was supposed to be a safe place." Behind the campy black-and-white yearbook photos of laughing students carrying piles of books and racing up stairways brewed a campus scandal and a horrifying crime. Sister Cathy Cesnik, one of the most beloved teachers in the school, went missing one night in 1969. When her body was found two months later in a garbage dump, the students and community were torn apart. The case remains unsolved.
"The Keepers," a new Netflix original series, is a masterful, methodical journey into the continuing mysteries of this heartbreaking case. Nearly 50 years later, the wounds remain fresh in Baltimore—and the director Ryan White's method of slowly unfolding the complex, sometimes contradictory real-life tale makes for painfully suspenseful viewing. This is not an easy show to watch. But once started, it is difficult to look away.
The series begins with the longtime investigative journalist Tom Nugent stepping precariously through an attic littered with boxes of files and published stories. He did not write about Sister Cathy until the mid-1990s, when the unsolved case was resurrected by the horrifying testimony of "Jane Doe," a Keough graduate who claimed that she was shown Sister Cathy's corpse as a morbid warning to keep quiet about the sexual abuse she says she suffered from a priest at the school, Father Joseph Maskell.
Nugent says there was an official story about what happened to Sister Cathy, and then there was "the world beneath that was actually being lived, and to get at that mystery, I think, is our greatest journalistic responsibility." But "The Keepers" captures what happens when a tragic story is not fully told by professional journalists or the police. Gemma Hoskins and Abbie Schaub, two of Sister Cathy's former students turned amateur muckrakers, emerge as the heroes of the series. The women are clever, determined and down-to-earth. They are, admittedly, a teacher and a nurse in over their heads as they try to navigate the decades of labyrinthine cover-ups, false leads, vanishing evidence and contradictory stories.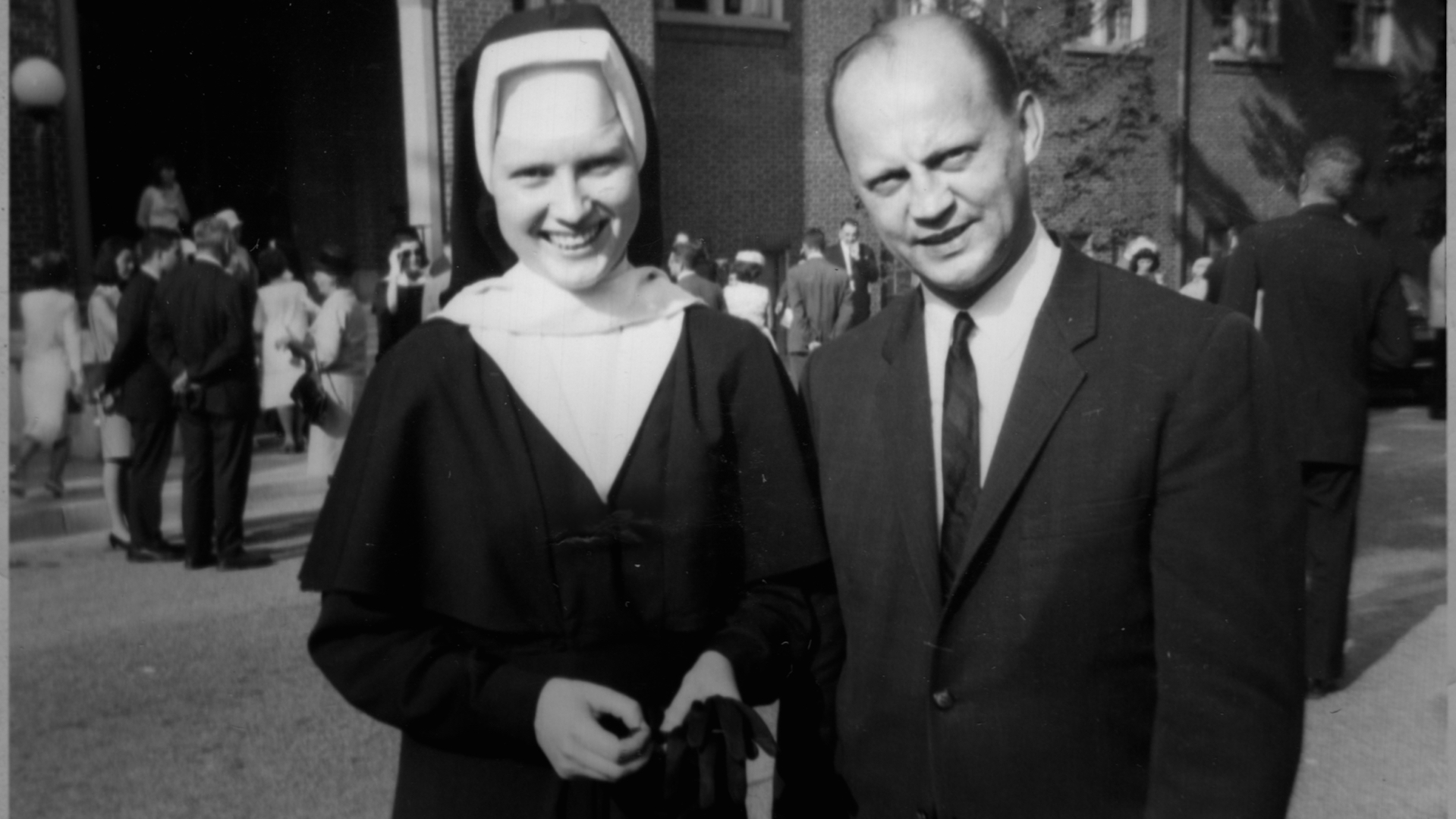 But they are dogged in their search. They cold-call people involved with the case who could hang-up in their ears—or far worse. They travel to interview abuse victims. They create intricate maps on kitchen tables that include the names of suspects written on coffee filters, a fitting symbol for how far Sister Cathy's case has seeped into their domestic lives.
Yet "The Keepers" shows that it could be no other way. We all want to believe that the teachers we loved were special, but it appears that Sister Cathy truly was memorable. One former student said that the school had a handful of young nuns, but Sister Cathy was the "stand-out beauty of them all—physically beautiful, and her spirit was beautiful." The student half-jokes, "It was like, why would you be a nun?"
"The Keepers" shows it was Sister Cathy's calling to become a nun, a calling the series develops against the background of the "quintessentially Catholic city" of Baltimore, home to the first diocese in the United States. In the years leading up to Vatican II, Baltimore remained a uniquely Catholic place, where each neighborhood had its own parish. Families left their row houses and postage-stamp lawns on Sunday mornings and walked to church. Baltimore was not simply a place where Catholics lived and went to school together; it was a Catholic community, where private devotion and prayer were made public through ceremony and sacrament.
This was the world in which Sister Cathy entered the convent of the School Sisters of Notre Dame. Her fellow postulants described her as very spiritual and uniquely kind. One former nun describes the Great Silence of the nighttime hours, when they were not supposed to speak—except that the nun was ill. Sister Cathy knocked on her door, asked if she was O.K. and then sat on the edge of her bed. Sister Cathy held her hand and said she was going to be all right.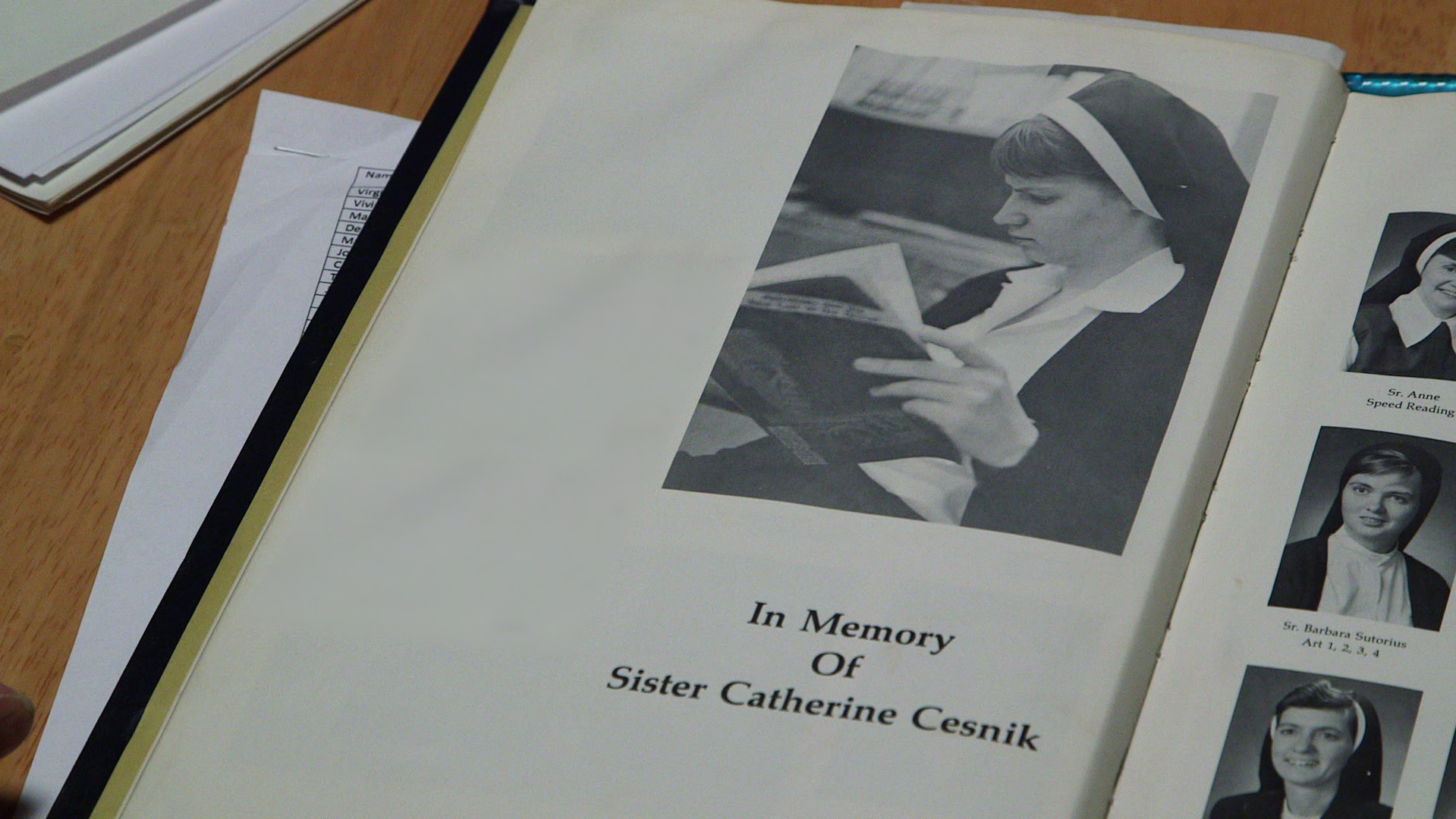 Sister Cathy "had compassion for the earth, and that was one of the reasons we entered the convent," says Cecelia Wambach, a friend and former nun. "The Keepers" captures how the Vatican II spirit traveled to American dioceses and orders. "This was the role of us as religious, to be a part of changing the world," says Wambach. Sister Cathy was drawn to teaching. Students called her upbeat, happy and approachable. She loved poetry and playing the guitar. "Sometimes she would give you advice, and sometimes she would just listen...she had a way of soothing your soul," says one former student.
Her opposite, then, would be Father Joseph Maskell, a priest whose name has long been associated with the case—a priest dogged by accusations of sexual abuse. Shuffled from parish to parish and later to various mental facilities, Father Maskell is portrayed in the series as a heartless predator—a man who assaulted Jane Doe in his counseling office at Archbishop Keough and then rushed her back to class. Father Maskell's history is not news to Baltimore residents—the Archdiocese of Baltimore has been paying settlements to his accusers since 2011—but reading a news report pales in comparison to hearing women describe the abuse in detail on screen.
The women tell stomach-turning, anger-inducing stories of sexual assault.
"Detail" is an understatement. The women tell stomach-turning, anger-inducing stories of sexual assault, so much that viewers might wonder how this could be possible. Unfortunately, as "The Keepers" implies, the same elements of Catholic community that brought people together enabled secrets to remain. This was a world where children said the rosary during the Cuban Missile Crisis, where young men were told it was an "honor and a privilege" to be an altar boy. A world where the word of a priest was as good as the word of Scripture, and to disobey—no matter how uncomfortable the situation—was nearly an affront to God.
Early in "The Keepers," Jane Doe is identified as Jean Hargadon Wehner. Her real name was known for years before the series, but her brave testimony on camera feels like a necessary step in the process of her healing. Amazingly, she remained a faithful Catholic—even becoming a eucharistic minister. All of the people depicted in this series—alums of the school, local reporters, family members and abuse victims—are consumed both by the trauma of these years and how that trauma rattled their faith.
Yet the faith, battered and nearly broken, remains—a testament to how "The Keepers" respects its subject matter. While the series unlocks the church's sins in the abuse crisis, it also documents the faith of women in this community as a shining light, a faith guided by the memory of Sister Cathy. Her memory is best survived by seeking justice.
"The Keepers" has more than its share of surprises; the second half of the series has more shocks and turns than any fictional detective story could successful employ. To its credit, "The Keepers" never feels convoluted or forced. The series stays honest to the decidedly Catholic world that influenced Sister Cathy to devote her life to others. In one scene, Tom Nugent says the working-class Catholics of Baltimore of that era "are living for that glorious moment when their little daughter puts on a veil and goes for her first Communion." His words feel like a lament. Is that world gone? "The Keepers" is a story about a time when the sacred trust of faith was broken and how that rupture continues to reverberate years later, staining the soil of our communities and tainting our souls.