"Anne of Green Gables" becomes a gothic nightmare in Netflix's "Anne With an E"
It is the dark and unsettling tale of a poor orphan. Abused as a young child and then traumatized in an institution, the plain and wounded girl finally finds a place that feels like home. But as soon as she lets down her guard, the people she believed could offer her the love she longs for break her trust. Our heroine takes flight and wanders into the night with nowhere to lay her head.
Ah, the story of Jane Eyre, you might say. I know that bleak tale of woe and moor-wandering!
But you would be mistaken. It is "Anne With an E," the new retelling of L. M. Montgomery's whimsical Canadian classic, Anne of Green Gables. Anne Shirley, an orphaned, bookish dreamer who brings new joy to the home of an elderly brother and sister, came alive in the eight novels penned by Montgomery in the early 20th century. One of the most popular literary heroines of all time, she was most famously brought to the screen in the charming adaptation by Kevin Sullivan in 1985. After a disappointing film remake in 2016, the emergence of this series, written by Emmy award-winning Moira Walley-Becket (a producer on "Breaking Bad"), has been eagerly awaited by Anne-lovers everywhere.
"Anne with an E" falls prey to the war on whimsy, the tired modern tactic of reworking the classics in order to make them "realistic."
The series, first released on CBC and now on Netflix, is a state-of-the-art production with breathtaking cinematography and music. The casting is stellar, particularly R. H. Thomson and Geraldine James as Matthew and Marilla Cuthbert. Amybeth McNulty certainly looks the part of our quirky heroine—in fact she fits Montgomery's description far better than Megan Follows, star of the 1985 series—but she is not Anne Shirley from the classic book.
The failure is not due to McNulty's acting; it happens because the writers have missed the entire point of Anne. "Anne With an E" turns the innocence and joy of a beloved children's book into a gothic nightmare.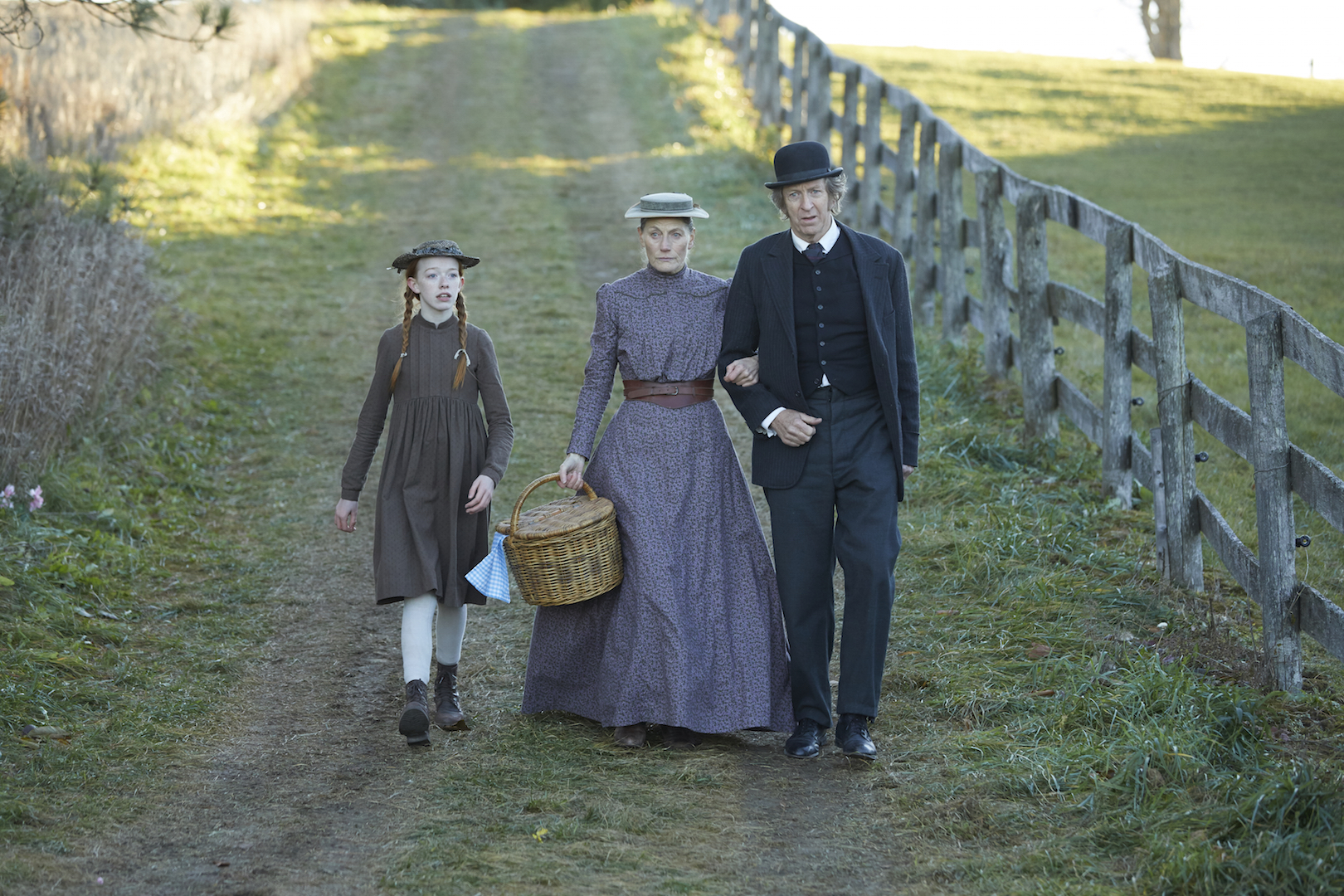 The new series is full of Jane Eyre references (even the episode titles are drawn from Jane). The filming reminds one of Cary Fukunaga's 2011 version of "Jane Eyre," with its beautiful candlelit scenes, in which each frame could be a painting by Georges de la Tour. The new series makes Anne's early years like those of young Jane, abused by the family she lived with. It turns Anne's orphanage into Jane Eyre's Lowood, and even the kind Reverend Allan of Montgomery's book is warped into a grim Mr. Brocklehurst, who sternly lectures Anne about lying. The result certainly is not Montgomery's Anne but a clumsy mix of painfully melodramatic additions that feel awkward next to the handful of excellent scenes that bring life to the original tale.
This Anne is not the unconventional, determined schoolgirl envied by the town's mean girl, Josie Pye, for her confidence, power to enchant and unbreakable sense of self. McNulty's Anne's painful past has not taught her compassion. Instead, her desperate fear of being unloved makes her self-focused and sometimes even cruel—particularly to the hired boy, Jerry, who she believes is threatening her place in the lives of the Cuthberts. This is not the Anne who teaches Marilla to laugh. In fact, because of the flattening of strong comic characters like Rachel Lynde, "Anne With an E" gives us very little opportunity to laugh at all.
The first episode ("Your Will Shall Decide Your Destiny") is a triumph, apart from some cringeworthy dialogue that tries too hard to modernize the themes of the tale. But Episode 2 ("I Am No Bird, and No Net Ensnares Me") begins a downward spiral that takes all the magic out of Avonlea and replaces it with melodrama. This series presents a vicious, bullying and cruel Avonlea in place of the little safe-haven town that welcomed Anne—a place of light and security. "Anne With an E" presents a world in which there is no such thing as a safe haven. Even the final scene of the season presents Anne opening the door of Green Gables to a criminal playing the part of a respectable boarder, who wishes her family harm. Anne simply moves from one nightmare to another.
Because all the whimsy that animates the original tale is removed, drama is necessary to keep the plot moving. But as the story loses the heart of the characters and setting, the plotline feels dull, even with the addition of house fires, pedophilia, a hysterical menstruating Anne, a town scandal over a sexual discussion, an attempted kidnapping, violent thugs, a lesbian aunt and an attempted suicide.
"Anne with an E" falls prey to the war on whimsy, the tired modern tactic of reworking the classics in order to make them "realistic." We must trade in the innocent, beautiful and hopeful for the dark, broken and edgy (just think of what Peter Jackson did to The Hobbit). A world in which an orphan finds the beauty of home—where she undertakes hilarious re-enactments of Tennyson's Lady of Shallot, takes her first taste of ice cream and mistakenly dyes her hair green—is sadly considered unworthy of our attention. But if you cannot enjoy the simple delight of Avonlea or the triumph of a fairy tale, then, in the words of Anne herself, "how much you miss."
A story of an abused child and the trauma she would carry the rest of her life is a story that needs telling. But it is not Anne's story.
After a childhood of loneliness and neglect, would an orphan girl be the vivacious, open-hearted and confident young woman depicted in the books? It is unlikely. But what an impoverishment to remove every unlikely joy to make a story more believable. It might be more believable that Harry Potter's abusive upbringing would render him incapable of being the compassionate, courageous hero of the wizarding world and more like Voldemort, his orphan foil. A tale that highlights the damage done by the neglectful Dursleys might be a tale with merit, but it would not be Harry Potter. A story of an abused child and the trauma she would carry the rest of her life is a story that needs telling. But it is not Anne's story.
L. M. Montgomery, a neglected child herself, knew that Anne's perhaps foolishly hopeful story has great value. G. K. Chesterton famously wrote: "The baby has known the dragon intimately ever since he had an imagination. What the fairy tale provides for him is a St. George to kill the dragon...that there is something in the universe more mystical than darkness, and stronger than strong fear."
We all know the world is painful, that suffering and loneliness can be unbearable and can break us. We know there are evil people and communities that will victimize their most vulnerable members. But we often fail to remember that we can persevere and foolishly seek beauty and goodness in a dark world. And that by doing so, we courageously make the world a brighter place. This is our Anne Shirley, who jaunts into a world of fairies and wood sprites not only to escape the pain of her past but out of sheer wonder and love for the true and the good. No matter what pain and brokenness we are suffering, we can follow her to Avonlea to remind ourselves why we keep fighting for a world of innocence and joy for our children, even when the quest seems impossible.
"Anne With an E" leaves behind that world of Avonlea and replaces it with a darkness in which belief in heroines and safe havens is not hopefulness but merely foolish naïveté. This unfortunate adaptation reminds us that now more than ever we need unrealistic, ridiculous Anne Shirley, with all her whimsy and infectious joy.