"Frantz" may be the most Christian film you will see this year.
In Erich Remarque's World War I novel All Quiet on the Western Front and the following film, Paul, a 19-year-old French soldier, in the midst of a bloody battle, tumbles into a shell hole only to be followed by a young German soldier, whom Paul, frantic, stabs and then breaks down as he watches his "enemy" die. Overcome with guilt, Paul, sobbing, apologizes and tries to save him, to no avail.
In another battle, my father, bringing his German prisoner back to the American lines, had to huddle with his prisoner in a shell hole through the night as shells and bombs fell around them. Although my father's gun was empty, the prisoner and my father shared stories and pictures of their families until the battle stopped.
In the film "Frantz" a young French soldier in the midst of battle tumbles into a trench and comes face to face with a young German soldier; they face one another frozen with fear.
One year later we are in a small German town, Quedlinburg, which is recovering slowly from the double wounds of defeat and shame. A young woman named Anna (Paula Beer) in a dark dress walks through town and into a cemetery. There, in an almost daily ritual, she leaves flowers on a grave marked "Frantz," although she knows it is a memorial, not a grave. The body was too ruined to find and return. She and Frantz were to be married, but now she lives with his parents, sharing their sadness. That the "grave" is not a grave sets the tone and purpose of the film. The director François Ozon said, "I've been wanting to do a film about lies," which gives a subtext to every conversation as young Anna, the central character, must ask herself—and her confessor—how much truth she must dig for and how much she must lie for the greater good.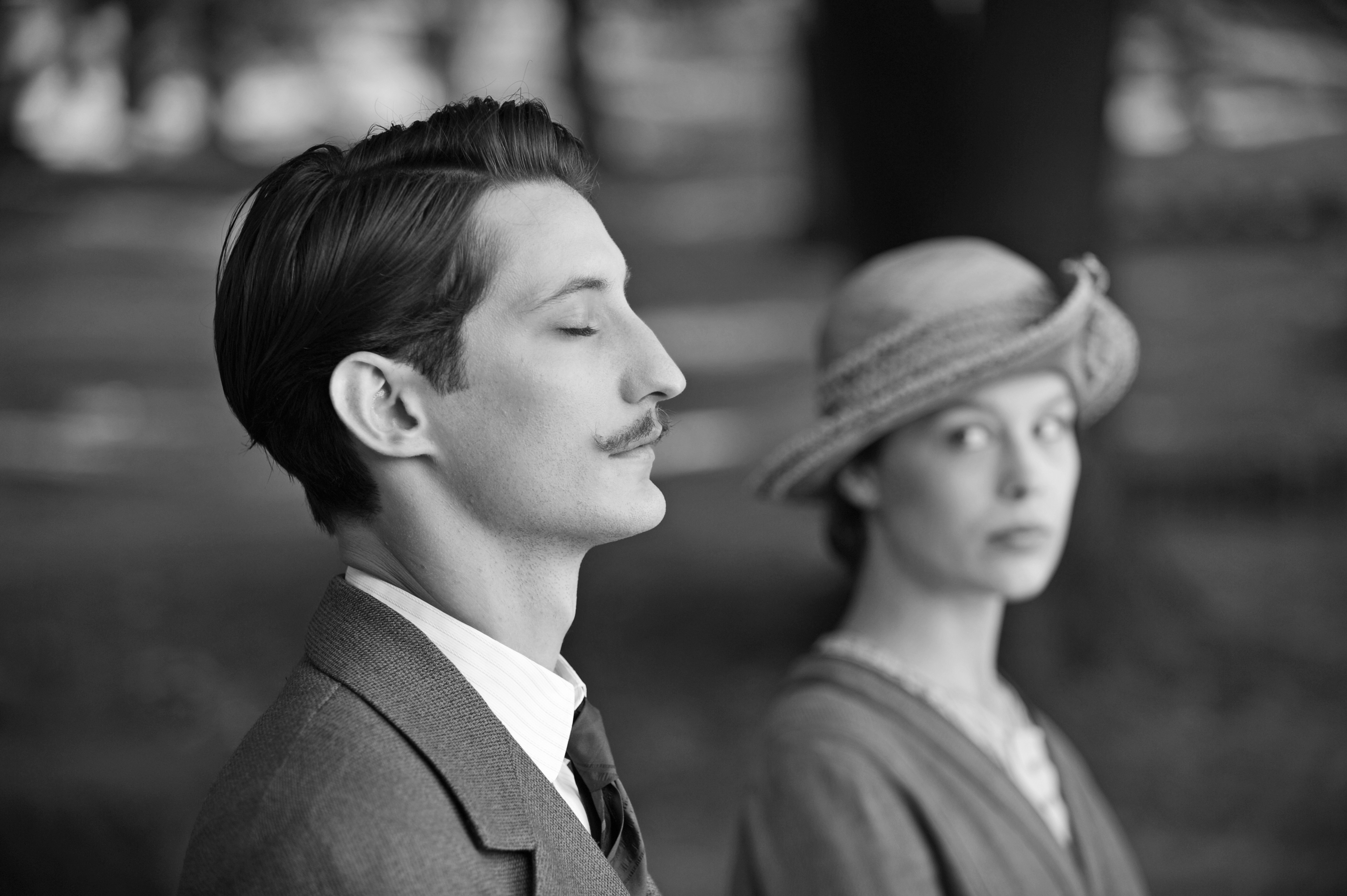 One day someone has been at the grave before Anna and left flowers of his own. The other mourner is Adrien (Pierre Niney), a young Frenchman who has traveled to this remote town to honor his German friend whom he met before the war when both were living in Paris. He tells his story with halts and hesitations. Is he improvising? And yes, he wanted to see the parents to express his sympathy at their son's loss. But the war was only months before, and the men downing brews in the Quedlinburg pub are inspired by the presence of an uninvited Frenchman to stand and sing a German marching song.
As Adrien recounts his and Frantz's visits to the Louvre and their shared skill as violinists, Adrien and Anna even play a duet at the piano. Frantz's parents come to accept Adrien, and Anna asks herself whether she is drawn to him because he represents her lost lover or because he is taking her lover's place. Before long Adrien breaks under the pressure: he had come to speak to the family of the deceased, not to woo his fiancée. He confesses to Anna that he and Frantz had not been old friends; they had met only once during the war. He asks Anna to explain this to the family and returns to France.
François Ozon has based this film on Ernst Lubitsch's 1932 "Broken Lullaby," which itself was based on a play by Maurice Rostand. Now the film shifts from the pacifist tone that had inspired it to the story of a resourceful young woman who rejects marriage offers from a local older man and takes off alone to Paris in search of Adrien, who had not left her his home address. Ironically, just as the Germans in the pub had sung their marches, Anna enters a Paris pub where they stand and sing "La Marseillaise."
The film slowly evolves into a Christian parable about the struggle for peace both between nations and within the individual soul of a young man struggling to become a moral person. Adrien, we eventually learn, killed Frantz in the war because he was an "enemy," but came to love him as he died. Adrien came to Germany to plead forgiveness for his "sin" but lacked the courage to confess it. Anna, consulting her priest confessor, respects Adrien's secret.
She finds that Adrien is a concert violinist who lives with a controlling mother in a country mansion, visited by a local girl whom the mother says he must marry. For the first time Anna and Adrien kiss. Then Anna goes off to lead a new life of her own. She likes Paris and will stay there. Perhaps she will be there when Germany invades again.