I hated the book The Shack. My mother gave me a copy back in 2008 while I was studying to become a priest. I read it in Spanish to justify the lost time as a vocabulary building exercise.
In the movie adaptation, out in theaters on March 3, Sam Worthington portrays Mackenzie (Mack) Phillips, a grieving father struggling to come to terms with the abduction and murder of his youngest daughter. Angry with God, he has begun to distance himself from his faith and his church. During a snowstorm, he receives a letter inviting him to spend a weekend at the shack. It is signed "Papa," a term of endearment his wife and daughter use to refer to God. Unable to shake the urge to figure out who is messing with him, Mack drives out to the shack to find Octavia Spencer (God the Father), Aviv Alush (God the Son) and Sumire Matsubara (the Holy Spirit) waiting to see him.
Advertisement
Since my mother gave me the book, it only seemed right to watch the movie with her. And while a few details in the film are different from the book, author William Paul Young stated during a roundtable interview on Feb. 11, "I don't think that anyone that loves the book will be disappointed in the movie." I was more worried about the reverse.
 If you want to preach, I prefer you to preach directly and own it. 
"How can you like this movie? It's like being assaulted by an oversaturated Thomas Kinkade painting for two hours," I say to my mom after watching.
"I love Thomas Kinkade!"
"I know. I bought you a throw pillow embroidered with one of his paintings when I was in high school. I'm complicit in crimes against good taste."
"You have trouble trusting."
It is a line I don't hear much, yet I know my mom is not wrong. After several years as "Father Eric," I haven't had to wrestle with that accusation in a while.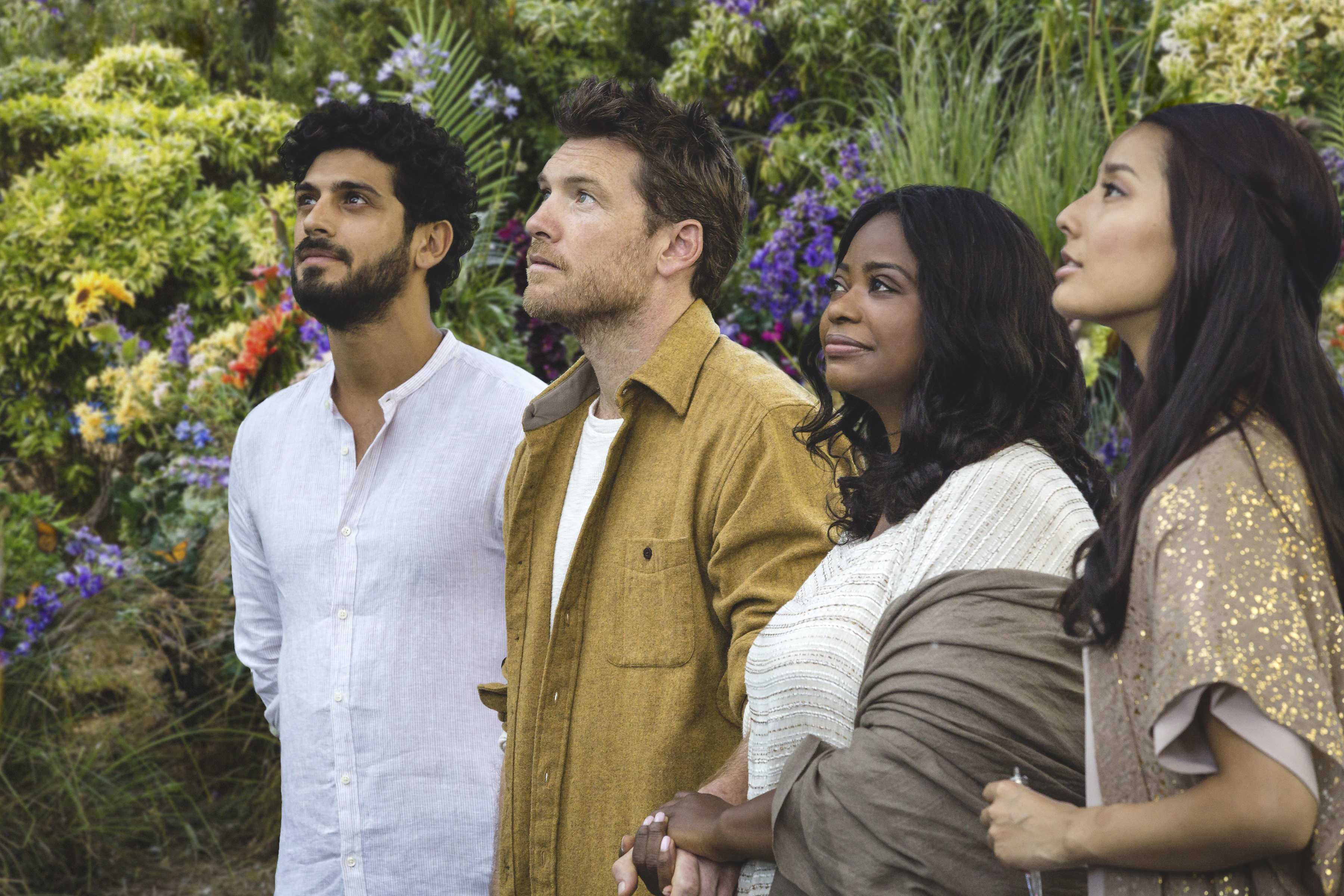 We both agreed that, as portrayed in "The Shack," the Son of God is quite handsome and the Holy Spirit would probably stop traffic. There was no denying that we both wanted to be held in that folksy heartwarming embrace of Papa. We rolled our eyes when Jesus and Mack decided to race each other on the lake. Cheesy Christian C.G.I.—Lord have mercy! And we both cried at multiple points throughout the movie. But my tears annoyed me; my mom found hers cathartic.
As I expected, "The Shack" reminded me of "Touched by an Angel" on steroids, complete with the rage that is a dangerous side effect. The manipulative music tugged at my heartstrings…and annoyed me. The beauty of the garden and the scenery tugged at my heartstrings…and annoyed me. The utterly predictable plot resolutions tugged at my heartstrings…and annoyed me.
I don't want to feel manipulated into certain emotions. If you want to preach, I prefer you to preach directly and own it. Many religious depictions attempt to show the confusion and doubt that are inherent in a faith journey. Very few succeed without seeming contrived or forced. They feel like they want to jump to the conclusion. "The Shack" is no "Silence."
At the end of the movie, the narrator says: "I'm sure there are some who wonder if everything really happened as Mack recalls…or if any of it happened at all. You'll have to decide for yourself I suppose."
Not once did I feel that the movie really wanted or would let me "decide for myself."
As we talked, I asked my mom, "Doesn't that bother you?" She just laughed.
It really does come back to that trust issue. My mom and I—like a billion other Catholics—recite the same creed. But like many of my peers, I trade in irony, cynicism and suspicion. I swim in a world awash with alternative facts and spin. I watched "The Shack" ready to hate it all over again because I do not trust that breed of evangelical, Hallmark-esque Christianity. I have never believed that I am actually free to choose in those narratives.
I want to say that I am too sophisticated and educated to fall for this schtick. But I have become overconfident in my own cleverness; "The Shack" did hit me. It is really hard to be above it all for the entire two hours. Remaining above the fray is exhausting work—I don't know how true hipsters keep it up. I am also starting to think that it's hurting me. Perhaps it is hurting my generation and hurting our nation.
I still dislike the movie and the book. But my conversation with my mother about the movie helped me realize the downsides of always leading with suspicion. Vulnerability and humility are dangerous but important virtues to practice in a time when authoritarian figures and aspiring demagogues are preying on our divisions and lack of trust. These people rise to power when mistrust is high. It sets up a vicious cycle; their very existence exacerbates the mistrust because they truly cannot be trusted.
So how can we build new networks of trust and vulnerability at a time when we need to resist liars and spin doctors? In my conversation with my mom, she never questioned my take on the movie. I am the one that tried to poke clever but gentle holes in her viewpoint.
She won in the end. Her patience and willingness to truly listen earned my trust and meant that I kept thinking about our discussion without dismissing it; I couldn't dismiss it. She demonstrated trustworthiness before we established the criteria, before we agreed on "the facts." It is a risky tactic, revealing ourselves as vulnerable and listening before the other agrees to similar terms, but it may be our only hope. It is the reason Mack went out to that shack…and it annoys me.