Do social justice documentaries just preach to the choir?
One of the four little girls killed in the infamous 1963 Birmingham church bombing—an event that has become synonymous with America's civil rights struggle, and its racism—grew up in the house next door to Angela Davis, who would herself become an icon of the "resistance," to borrow a word now back in vogue. Davis knew the other victims, too. But her childhood proximity to murder wasn't so remarkable: violence is essential to the black experience, she says. And anyone who would question that statement "has no idea what a black person has gone through in this country."
It is a young Davis who speaks those words, and an older Davis who joins Henry Louis Gates, Jelani Cobb, author Michelle Alexander (The New Jim Crow), the saintly Bryan Stephenson and other academics, activists, civil rights leaders and politicians in providing the intellectual ballast of "13th," the Oscar-nominated documentary by Ava DuVernay ("Selma"). A disorderly mess of a movie, it is built on a disturbing but hardly outlandish proposition: that the 13th Amendment, ratified on Dec. 6, 1865, protected citizens of the United States from slavery and involuntary servitude with one exception—"those convicted of a crime." By using that "loophole," the United States has been able to wage a campaign of criminalization against its African-American populace and practice de facto slavery. Through targeted prosecutions, mass incarceration, sanctioned police violence and an exploitation of convict labor, this nation has created two distinct and inherently chaotic universes.
That the United States has 6.5 percent of the world's population and 40.2 percent of its prisoners only helps DuVernay's hypothesis. So does the fact that African-Americans are incarcerated in state prisons at about five times the rate of whites. And that the war on drugs has been designed specifically to marginalize blacks (its designers have admitted as much).
It is not as if the audience does not already know all this—the audience for "13th," as is the case with so many social-issue documentaries, will have come for validation, not revelation. But having so many abuses and offenses and contemptible practices catalogued under one roof, as it were, creates a sense of a house not just divided but falling in upon itself.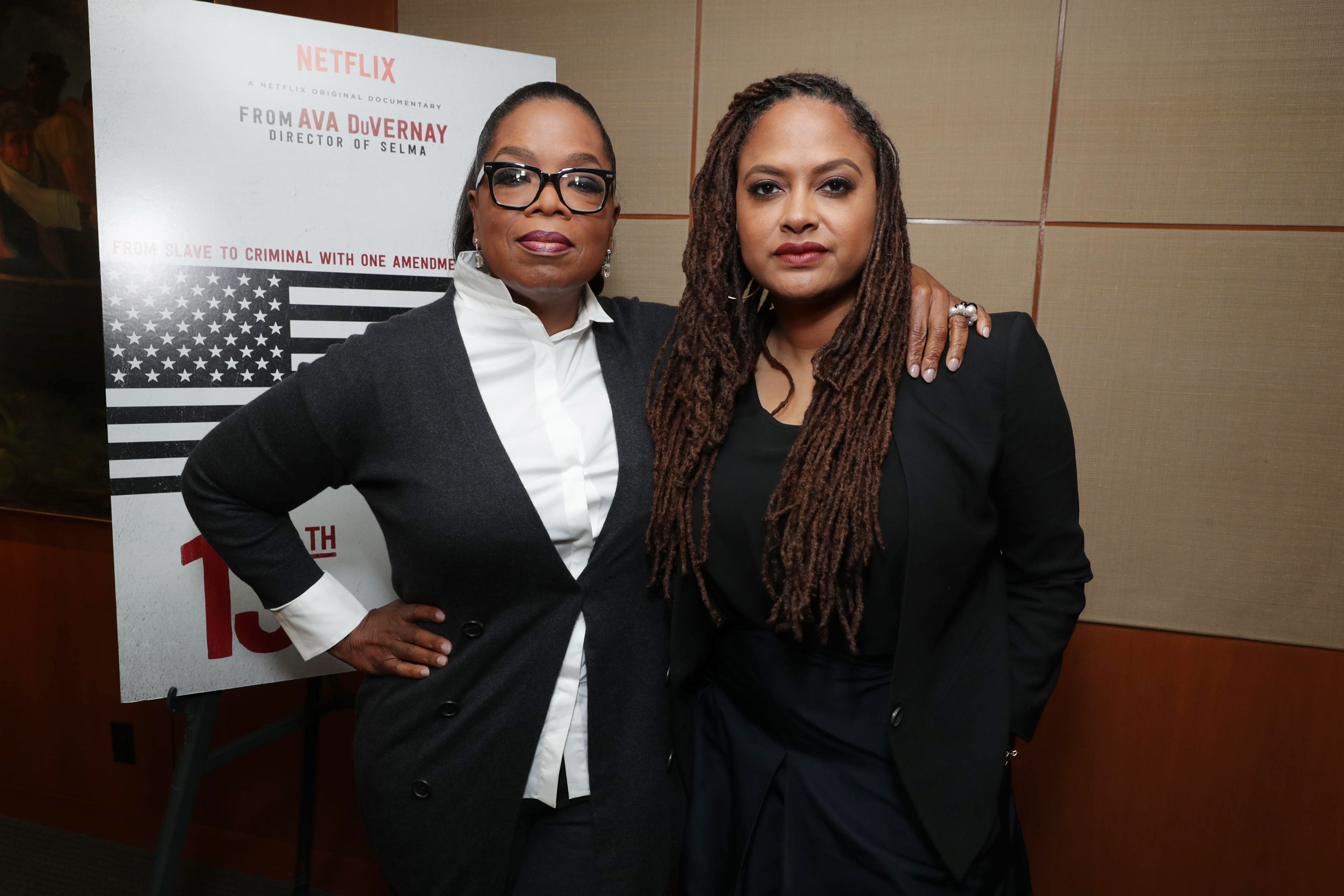 DuVernay, a former publicist, knows about timing. Here she is both its beneficiary and victim. She is a black filmmaker at a time when Hollywood is, at long last, searching its soul about being an exclusionary, racist industry—the clips she uses from D.W. Griffith's "The Birth of a Nation," arguably Hollywood's first blockbuster, is an extreme but telling example of the film industry's power over public opinion and perception. (It was Griffith, says Jelani Cobb, who invented cross-burning; the Ku Klux Klan got it from him.) She also made "13th" when few were anticipating the presidency of Donald J. Trump.
But DuVernay's bashing of Hillary and Bill Clinton now feels a little less than urgent. "13th" lacerates Bill Clinton, who in 1994 signed an omnibus crime bill that did so much to hurt black communities and further militarize police forces. DuVernay seems to take great glee in revisiting Hillary Clinton's notorious statements about "super-predators," which she made when young blacks were being portrayed as perpetrators of "wilding" and as "wolf packs," as the headlines so feverishly put it at the time of the Central Park Five case. Of course, the man who called for a reinstatement of the death penalty in the furor over that case—and has continued to call them "guilty" even after they were exonerated—is now our president. All this makes a clip of Mrs. Clinton declaring, in last year's campaign, "We will reform our criminal justice system from end to end," too sad for words.
DuVernay's bashing of Hillary and Bill Clinton now feels a little less than urgent.
There is little to argue about regarding the content of "13th." DuVernay's "witnesses," who are black and white, liberal and conservative and occasionally infuriating—Trump supporter Newt Gingrich, for instance—make their case clearly, if without much spontaneity. All the conversation seems scripted, the ideas pre-packaged and well-rehearsed. One character's observations and recitations of history flow neatly into the next. What ends up missing is the clumsy eloquence of the thought process.
And as a filmmaker, DuVernay is her own worst enemy. The effect of the camera work in "13th" becomes a parody of itself—subjects are captured in arty postures and framed in such deliberate and indulgent ways that the movie feels like a radicalized fashion shoot. By the time DuVernay gets around to making some potent points about the importance of the cellphone camera in the campaign for civil rights, it has become ironically clear she does not know how images are supposed to work. She does, however, know what's chic.
In one of the many inexplicable setups, Angela Davis is shot in what seems to be a ruined church. Why? To make the point that the roots of the civil rights movement were in Southern churches? That is a connection the viewer has to make on his or her own, and it represents a missed opportunity throughout the film. The word "Christian" is never uttered, either regarding charity or, more relevantly, hypocrisy. It is abundantly clear in "13th," just as it is on the news, that those who wear their Christianity like a flag pin are often the ones most likely not only to ignore the teachings of Jesus, but actively work against them.
What is Christian about executive orders against refugees, or making the lives of the transgendered more difficult, or polluting our God-given environment, or ignoring science? Or, as regards "13th," applying regular maintenance to the systemic racism that infects our country? DuVernay would have addressed all this, we suspect, if history had not thrown her a curve. As it is, her movie, for all its good words and bad pictures, lacks the fierce urgency of now.