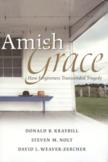 Amish Grace
by Donald B. Kraybill, Steven M. Nolt, David L. Weaver-Zercher
John Wiley & Sons/Jossey Bass 256p $24.95
A year ago this month, in a one-room schoolhouse in the small Amish community called Nickel Mines (Lancaster County, Pa.), an otherwise peaceful and idyllic setting was pierced with the ring of gunfire. The shooter, the father of three, was allegedly angry with God over the death of his (newborn) first daughter nine years earlier. The boys were told to leave; he had come for the good Christian girls. After several shotgun blasts and rapid-fire pistol shots, five of the 10 girls lay dead, the others critically injured. Then he took his own life.
The story made international headlines. But what most captured world attention was the Amish families and neighbors expression of forgiveness even in the midst of their profound grief. And more, they offered grace and support to the killers family. The authors of Amish Grace are, respectively: a senior fellow at the Young Center of Elizabethtown College; a professor of history at Goshen College; and associate professor of American religious history at Messiah College. Each has written extensively about Amish life, visited the site after the tragedy and appeared as regular commentators across the broadcast media. Their book provides striking and fresh insights into a religious culture, a faith and a people who live by the JOY dictum: Jesus first; Others next; then Yourself.
Amish Grace is divided into three parts. The first takes the reader from the beginning events and draws upon many interviews with locals (using first-name pseudonyms), their stories and experiences in the aftermath of the murders. These are often gripping and open a window for the English, as they call us, to witness--and perhaps learn from--what community really means, as lived out by deeply faithful people. Included as well are responses and comments from writers, legal scholars and others. Inevitably, incidents such as that at Nickel Mine (re)focus attention on our culture of violence and the issue of gun control.
Arguments for and against gun control, the authors note, drew more on the shooting than on the forgiveness that flowed in its wake. But the idea of forgiveness packed great ideological wallop as well, particularly for people who saw acts of retribution they could not support.
Part Two, an overview of the Amishs practice of forgiveness, rooted in the Anabaptist tradition, explores broader understandings of forgiveness and includes specific stories over the past several decades. Recognizing the states obligation to mete out justice (that worldly process), they eschew personal revenge. In this part, we read as well about Amish spirituality, practices, religious texts, their story-telling and the education of their children.
Part Three presents the books theme for deeper reflection and study. We need to construct cultures, the authors stress, that value and nurture forgiveness. In their own way, the Amish have constructed such an environment.
You can purchase Amish Grace on amazon.com.
This article also appeared in print, under the headline "October Selection," in the October 22, 2007, issue.