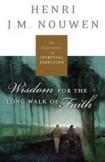 Spiritual Direction
by Henri J. M. Nouwen, With Michael J. Christensen and Rebecca Laird
HarperSanFrancisco. 192p $22.95
Advertisement
I owe a great deal to Henri J. M. Nouwen. His writing, which I first discovered in the 1970's, helped clarify the spiritual life for me. I continue to read and profit from his books, and recommend them to others.
Oddly, I felt a certain trepidation about this posthumous work on spiritual direction, assembled by Nouwen's colleagues and admirers. Would it have the same character as Nouwen's own work, I wondered?
That fear was put to rest once I opened the book. It is Nouwen's unmistakable voice. Nouwen's own writings on spiritual direction, spiritual formation and prayer have been assembled seamlessly, and to me the book works as though it had been written as a whole. The focus is spiritual direction (implying a kind of instructional work for directors and those they guide); yet this book is actually a call to prayer. Nouwen is again inviting us to dwell in the heart of God.
What is so remarkable about Henri Nouwen? First, there is his vulnerability and willingness to share his weakness with the reader. I...don't always have wonderful thoughts or feelings when I pray, he writes. But I believe that something is happening because God is greater than my mind and heart. The larger mystery of prayer is greater than what I can grasp.... I especially noticed his confession about writing, which he recommends as a spiritual practice. Writing often is the source of great pain and anxiety. It is remarkable how hard it is to sit down quietly and trust our own creativity.... Even after many years of writing, I experience real fear when I face the empty page. Why am I so afraid? Sometimes I have an imaginary reader in my mind who is looking over my shoulder and rejecting every word I write down.
Nouwen understands anxiety as his besetting problem. When he overcomes it and makes the gift of himself (to God, to the page, to the rest of us), he experiences a deep spiritual satisfaction. He gives way, he trusts God, he knows that he is loved and that God has something good in mind.
At the same time, Nouwen carefully distinguishes the psychological from the spiritual. Prayer is not introspection, he insists. Praying turns us not inward but outward to God, takes us out of self and allows us to move beyond dangerous self-preoccupation. Nouwen pinpoints our tendency to hide our defects from God, and the foolishness of doing so. He shows how our willingness to be authentic before God is true prayer.
I must commend the editors, who are authorities themselves, for letting Henri Nouwen's identity emerge so fresh and clear. Michael J. Christensen, Ph.D., studied with Nouwen at Yale Divinity School and is now on the board of directors of the Henri Nouwen Society. Rebecca Laird, M.A., is a certified spiritual director, ordained inister and currently the associate for spiritual formation at Central Presbyterian Church in Summit, N.J. And because spiritual direction is a practice on the rise in Protestant circles and for the Catholic faithful, a good treatment of this topic is most welcome.
If you have been reading Henri Nouwen all along, you will recognize some passages: stories about Jean Vanier, about Adam, his friend at L'Arche, an old Hasidic tale, a Talmudic legend, a tale from the Taoist philosopher Chuang Tzu and many more (10 of Nouwen's oft-told parables, and their sources, are collected in an appendix by co-editor Christensen). But there is nothing old hat about them. Rather, they remind us about the things we already value in Nouwen's work.
Along with rich storytelling and moments of sharp insight, Nouwen offers a structured and highly disciplined approach to spiritual direction, not so much anchored in method as in meditation and surrender. He speaks often of discipline and explores it under three aspects: the discipline of the heart, the discipline of the Book and the discipline of the church or the community of faith. He rebukes our tendency to over-intellectualize; yet his mind is well organized and clear. These chapters both explain the spiritual life and encourage us. And every chapter ends with time-tested exercises for use by the pilgrim in faith.
What struck me most in the pages of Spiritual Direction? My own recognition that prayer is always a return. Nouwen convinces me again that we are dogged by our own arrogance. The more one knows intellectually about the spiritual life, the more books or lectures one has absorbed, the greater the temptation to think, Oh, I know about that; I've done that. What does this book have to teach me? In fact, Nouwen's gift is to shatter the barriers between God and ourselves, inviting us to come home again like prodigals.