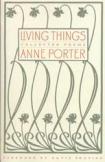 Living Things
by Anne Porter, Foreword by David Shapiro
Zoland Books. 180p $15 (paperback)
Advertisement
It may well be a curse rather than a blessing to be described as a religious or spiritual poet todaynot simply because in a secular, or post-secular, age such labels are anathema, but because such designations may raise expectations of simple-minded pious jingles that are a far cry from the real thing. Nonetheless, here is Anne Porter who, if anyone, deserves to be called a religious poet, for she sees the world, in all its aspects, as whole within a providential design. In her verse there pulsates a probing, praying spiritual intelligence as well as a poet's sensibility and graceful generosity.
Anne Elizabeth Channing, born in 1911 into a prominent, wealthy Boston family that numbered William Channing, Universalist preacher and transcendentalist thinker, among the clan, early on developed a keen interest in poetry and nature. The sense of her own spirituality was enhanced by the discovery of the works of St. Francis of Assisi. Education at Bryn Mawr and Harvard preceded her marriage to Fairfield Porter in 1932, a marriage that endured until the painter's death in 1975. Devoting herself to her husband and five children, Anne wrote poems on the side, publishing some in Poetry, others in anthologies from small presses. Not until 1994 would she have her first volume published, but 1994 was a year of less significance than 1954: some graceful confluence of Franciscan influence and contact with Dorothy Day had brought Anne Porter into the Catholic Church on June 9, 1954.
Living Things offers over 100 of Porter's poems, all 76 that appeared in An Altogether Different Language (1994), which was shortlisted for a National Book Award, and 39 new poems. The new poems come first. Reading this collection from beginning to end lets the newer work enrich and deepen the older, enhancing the reader's appreciation not for Porter's development, but for discerning and valuing this poet's integrity and vision. The cumulative impact is dazzling.
In reading Porter's work one discerns that though there are favorite subjects, like children, nature or aging, the poet embraces all subjects in prayerful thanksgiving and praise, one as inseparable from another, as the natural from the supernatural. In the music of her iambic verse can be heard the chant of the centuries.
Porter is not a poet of experiment or innovation. Indeed, simplicity pervades her verse (in the Zen-like simplicity of The Pear Tree, for example). Stanzas and lines tend to be regular, only occasionally accented by rhyme or repetition; shorter forms predominate; punctuation infrequently marks the verse, not as an affectation but as a way, perhaps, of capturing the vitality of the speech act itself.
The excellences of Porter's verse include a knack for simile. In Stella Rapkowski, an old woman praying moves like the hand of a clock from Station to Station; in Living Things, Our poems/ Are like the wart-hogs/ In the zoo/ It's hard to say/ Why there should be such creatures; and in Native Americans, the description of Jesus, dependent on metaphor as well as simile, is breathtaking: Older than the sun/ And younger than the dew,/ Poor as the larks/ He came into the world. Further, Porter demonstrates a fine ability to construct a resonant, apt image: in A Parade in the City, the parade leaves behind a sudden emptiness of lost astonishment; and a remarkable ability for imaginative transposition of poetic self/speaker: in The Swallows' Flight, she is one of the migratory birds; in A Year of Jubilee, she is one of the temple congregation listening to Jesus read from the scroll of Isaiah. Remarkable, too, is Porter's sharp eye for detail, as in The Master of Mary of Burgundy, where the beautiful intricacy of detail is set off by the simplicity of language, making the poem a glittering analogue of the book itself.
Not all the poems in Living Things are without flaw. The brilliance of so many (if the last stanza of Fire, And Torrential Rain isn't well-nigh perfect, then what is?) casts the shortcomings of others into the shadows. Generally speaking, Porter is not as successful with longer forms, though the exquisite, haunting elegy For My Son Johnny is certainly an exception. Sometimes sentiment, when not undercut with astringency, veers toward sentimentality. And In Chartres is a disjointed, disappointing performance, in which simple juxtaposition fails to generate a sense of connection and completeness.
A dozen poems in Living Things are simply stunning achievements, most of them animated by the Fransciscan spirituality that matters so much to Porter. The whole collection, both in the sweep and range of its subject matter and in its plainsong chant, is a spiritual exercise. All created things are embraced in sanctifying songs of praise. Everything, including pain, suffering and the deteriorations of old age, is integrated, as in The First of May, arguably her greatest poem. It begins: Now the smallest creatures, who do not know they have names,/ In fields of pure sunshine open themselves and sing. And it ends:
Now the smallest creatures, who know themselves by heart,
With all their tender might and roundness of delight
Spending their colors, their myriads and their voices
Praise the moist ground and every winking leaf,
And the new sun that smells of the new streams.
For Anne Porter, poetry is prayer, affirmation that in the midst of a fallen world there is love and hope, not in fullness or perfection, but in gracefully sufficient foretaste. Though Anne Porter is certainly far too modest and humble to accept such a characterization of her task, it just may be that her description of the artist in A Painter's Life as one who is transcribing a letter from the Lord, best sums up her own work. Certainly what Porter writes of Rembrandt's etchings in Five Wishes is the most fitting way to characterize her poems: Though they're as plain/ As Bethlehem's hay,/ A radiance fills them.