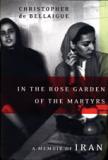 The first question that comes to my mind while reading de Bellaigue's blunt reportage from the Islamic Republic is: What about Kahra Kazemi, the photo-journalist who was brutally beaten, and possibly raped, by the Iranian secret police before dying of her injuries on July 10, 2003? She held a Canadian passport; de Bellaigue (married to an Iranian woman and living in Tehran) is British. How does he know the same fate isn't headed his way?
Well, if he is killed, he'll be missed. It's not often that you get a keen-eyed, witty, young and energetic observer who also happens to be a well-read student of Iranian history (with a degree from Cambridge in Persian studies) and a fluent speaker of Farsi. And de Bellaigue pays no attention to political correctness. Wondering why Iranians smile so seldom and actually seem to enjoy grief, he begins and ends his book with scenes from Ashura, the Shiite holy day that celebrates the martyrdom of Imam Husayn in Karbala. (By now most watchers of the nightly news will have seen the blood-soaked processions of Iraqi men and boys whipping and slashing themselves in memory of an event that took place in 680.) To be Shiite is to have a well-earned martyr complex. No wonder the Basijis (revolutionary volunteers) sacrificed themselves by the thousands, serving as human mine-detectors in the insane final stage of the Iran-Iraq war, when, after beating back the advance of Saddam Hussein's forces, Khomeini poured army after army into a doomed kamikaze attempt to seize Iraqi territory.
But de Bellaigue's account of the last few years in Iran is about more than sacred masochism. He travels the country, by taxi or car, to Khorramshahr, Shiraz, Isfahan (site of the rose garden in the title), Qom, Tehran, Mashhad, talking to everyone, from Iraq war veteranssome of them victims of poison gas attacksto radical artists to military doctors, clerics, seminarians, journalists, bureaucrats and ordinary people like the aging weightlifters in the houses of strength. He lets them tell their story, and whenever background is needed, he gives it.
The world they all inhabit is extraordinarily complex: an ancient culture as hostile to (Sunni) Arab imperialism as to the American variety, a failed revolution with nothing to take its place, a government awash in lies, hypocrisy and utter incompetence. Oh, and murder. De Bellaigue introduces us to riveting characters like Parastu Forouhar, a brave woman living in German exile whose liberal-activist parents were horribly butchered by government assassins and who is quixotically trying to win posthumous justice for them. Then there's the man who calls himself Hassan Abdolrahman, but who is by birth an American black named David Belfield. A convert to radical Islam, he can no longer return to the United States, because he is wanted for the murder of Ali Akbar Tabatabai, an Iranian counter-revolutionary whom Belfield, disguised as a mailman, shot to death in Maryland in 1980. (American moviegoers will have seen him playing the part of a sensitive physician in the film Kandahar.)
Midway through the book de Bellaigue says that he picked up George Orwell's Homage to Catalonia and was struck by the parallels between Barcelona in 1938 and Tehran in 1987:
Despite the widespread observance of Islamic rules that prescribe for women a subservient status, the men and women of the Revolution have achieved a kind of moral equality. (They manned the barricades together, they face Saddam and the Mujahedin together.) The oleaginous greetings of pre-1979 Tehran have given way to rigorous proletarian salutations: Don't be tired! God's power (be with you)! In the streets, black has become monolithically fashionablein honour of the War dead, in tenacious mourning for the twelve Imams.... There is less eyeliner and lip gloss, and the uptown salons have closed. The women's faces are like blank pages. A virtuous frown is the expression of choiceit speaks of piety, severity and benevolence.
Needless to say, soon afterwards the Revolution began, like Saturn, to devour its children.
Spain's leftist revolution was notoriously betrayed by the Communists, and the Iranian revolution has been betrayed by the mullahs. Muhammad Khatami is a toothless figurehead. A country blessed with well-educated, ingenious people, with rich traditions and fabulous oil resources has managed to concentrate all its energies on becoming a member of the Nuclear Club, even as its economy slowly disintegrates. Where will it all end?
After burying its million dead, Spain had to wait 36 years until Francisco Franco died in 1975 before it could return to normal life. Will Iran have to wait for the death of Ayatollah Khamenei, a far less dynamic figure than Franco, before it can breathe free? Nobody knows; but meanwhile it is good to have the Orwellian (in the best sense: wry, cogent, self-deprecating) voice of de Bellaigue speaking out amid the madness. Orwell was de Bellaigue's age back then, in his mid-30's, when he barely made it out of Spain alive. Given the vehementand not wholly irrationalanti-Western paranoia prevailing in Iran today, one can only wish de Bellaigue good luck.