A new dimension of Ignatian formation: laypeople training laypeople
Jim Caccamo, a retired educator and trained Ignatian prayer guide, serves as outgoing executive director of the Ignatian Spirituality Center (I.S.C.) in Kansas City. A former head of the Independent Review Board of the Diocese of Kansas City-St. Joseph dealing with sex abuse cases, Mr. Caccamo continues to serve on the Coordinating Board for Early Childhood for the State of Missouri and is a community adviser to the Junior League of Kansas City.
James Blumeyer, S.J., founded the I.S.C. at St. Francis Xavier parish in 2001. In 2018, the I.S.C. began a partnership at Rockhurst High School, establishing a retreat house space for lay faculty and staff in the old Jesuit residence. It will be starting a similar partnership with Rockhurst University in the fall. On April 9, I sat down with Dr. Caccamo in his office at Rockhurst High School to discuss these new trends toward lay formation. This interview has been edited for length and clarity.
In Catholic institutions, we find ourselves transitioning from a model where clergy formed laypeople spiritually to one in which laypeople train to form other laypeople. In your work, how have you been implementing the new apostolic priorities of the Society of Jesus to promote discernment and the Spiritual Exercises among laypeople now running Jesuit institutions?
Well, I've been doing it for a number of years. I made the Spiritual Exercises about 12 years ago and in the process continued my training to support laypeople moving closer to Jesus through Ignatian spirituality. I think it's a great way the church is moving, frankly. It's moving that way because there are fewer priests and, if you believe that we are working and moving toward the will of God, maybe this is the will of God: that laypeople are trained to work with other laypeople moving closer to Jesus and going more in-depth with their faith. I'm glad the priorities were set with a time limit of a decade, because it will take a decade for us to get where I think we ought to be.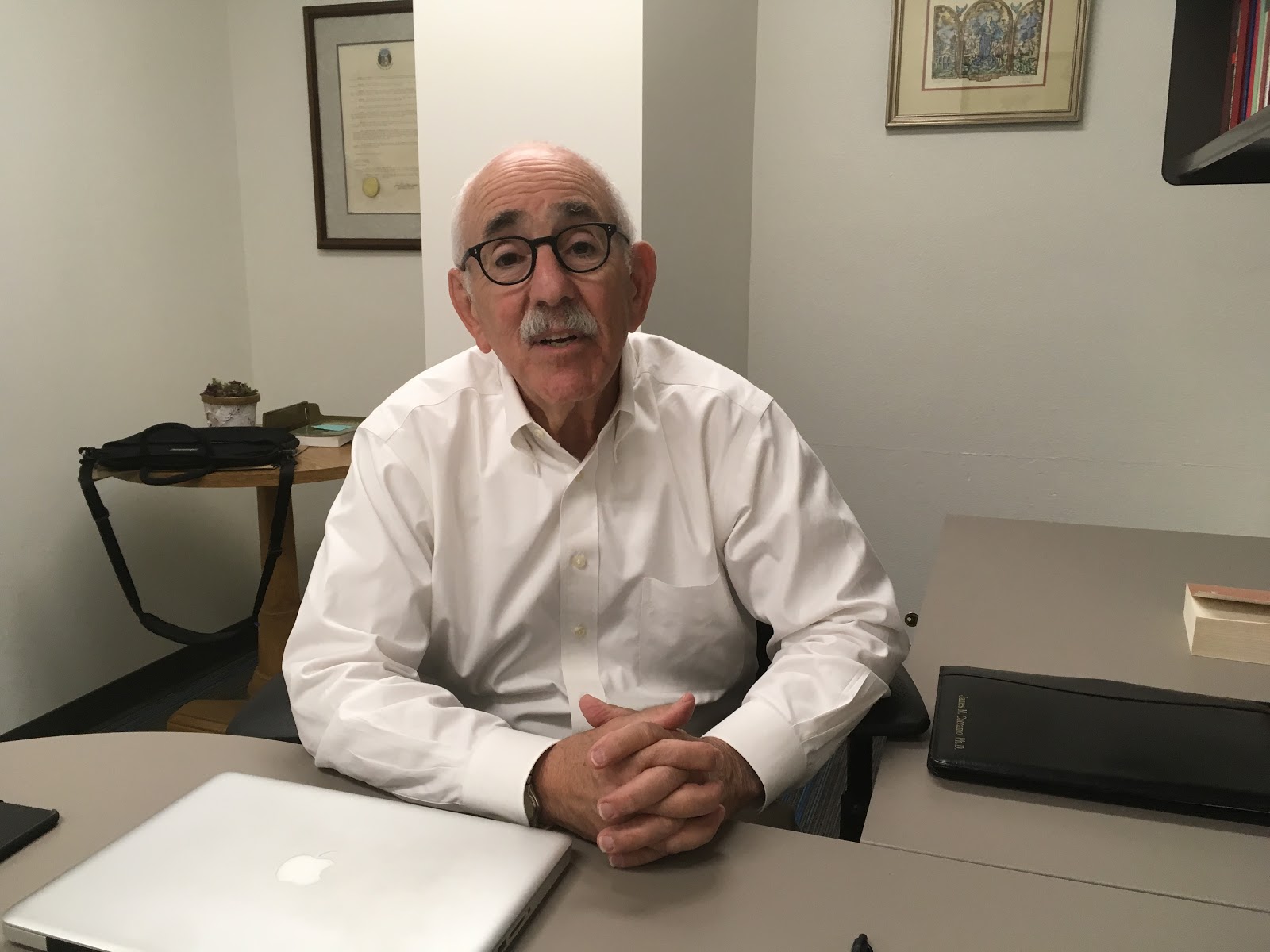 In our Catholic communities, we often find ourselves embracing new roles through the invitation of others who recognize gifts we didn't see in ourselves. What role has invitation played in your own spiritual development to become an Ignatian lay leader?
We all have opportunities to hear invitation. The problem is sometimes we don't listen or we don't see invitation. When I did the Spiritual Exercises, I did it because I was invited to do it: "Have you thought about making the Exercises? Have you ever thought about learning more about supporting others?" I'd be willing to bet that I had that invitation many times prior to me hearing it. And I heard it because God wanted me to hear it at that time, and I was in a time of my life when I was trying to discern the direction God wanted me to move in.
'When I did the Spiritual Exercises, I did it because I was invited to do it.'.
I think invitation has continued to play a marvelous role in my life. I was invited to be on the board of the Spirituality Center. Because I did that, I became known to other board members. When the previous executive director left, I was invited to consider applying to be the executive director.
In what specific ways do you see the Spiritual Exercises forming lay people for leadership in our Catholic communities?
I think becoming a friend of Jesus, a friend of God, actually changes people's outlook about who we are and what God is calling us to do. Some end up with a strong preferential option for the poor, some end up discerning and living a different lifestyle within the modern world.
As perhaps many people do, I had a life-changing incident when I was in college at a Jesuit university. I was walking with a friend of mine, we got jumped, I got beat up, and he got killed. I had a very good priest friend who happened to be there with me as I was recovering and he said: "Think about St. Ignatius, what did he say and stand for? Befriending Jesus in service to others." When you have an incident like that, you always wonder: Why God? Why me? Why did I live and he die? Why did this happen? I came to the conclusion for me—with help—that I was more strongly invited to listen, to live in service to others. And I decided, through lots of discernment, that it meant for me to be more life-giving.
'I think becoming a friend of Jesus, a friend of God, actually changes people's outlook about who we are and what God is calling us to do.' 
What do you find most important about Ignatian Spirituality for laypeople?
I think it's "who God is," in this sense: that God is forgiving, merciful, always there, in everybody, in everything. And to be able to work to see that. Just think of the time and energy we spend with a close friend. I look at my spouse, for example, and I realize: God loves me more, is more merciful, is more forgiving and so on.
In your new partnership at Rockhurst High School, faculty and staff faith formation has diversified this year into a menu of small group and individual options, including the Spiritual Exercises in Everyday Life. How would you describe this collaboration so far between your prayer guides and adult leaders in the high school?
It's a beginning and it's making a difference in the sense that faculty are making the Spiritual Exercises. As they complete the Exercises, I think they will change the way they live. Maybe not big changes, but they'll become different in the way they teach. Parents who are going through some of the programs we offer will understand more what Ignatius wanted and may even become interested in making the Exercises. So I think it's moving in the right direction.
'As they complete the Exercises, I think they will change the way they live. They'll become different in the way they teach.'
In our Catholic Church, priests and nuns once ran our institutions for very little pay, but laypeople now expect some remuneration for ministry unless they are semi-retired. What financial obstacles do you face in expanding this ministry?
I want to say money shouldn't matter, but it does. There should be a sufficient amount of money that compensates guides and teachers for their work. I think it's a matter of justice that perhaps the Catholic Church hasn't paid as much attention to. But I work with an all-volunteer organization. I am half-time and paid church pay; there's one other person, a program coordinator who is half-time and paid church pay. Neither of us actually works half-time; we work a lot more than that. Everything else is done by 55 trained guides, who lead the Spiritual Exercises, and by a whole cadre of other lay volunteers, who don't get any pay at all.
As you leave your position at the I.S.C. to spend more time with your family, what joys and challenges have you found in being the executive director of the I.S.C. in Kansas City?
I firmly believe I'm doing what I was called to do. And when I leave this, I'll be doing what I'm called to do. I spend time in discernment and I think that when you're doing what you're supposed to be doing, it's joyful. So I'm deeply grateful for what I've gotten over the last four years because it has been joyful. It hasn't always been peaceful, we haven't always agreed and volunteers are an interesting group to herd. But it's all worked; it's worked because this is what's supposed to happen.
Many people feel too busy to pray, but find themselves transformed by making the Exercises as they redirect attention from their problems to God. What's one powerful story of prayer you can share from your experiences of making and directing the Exercises?
When you guide a person in the Exercises and see the person growing closer to Jesus, when they are with Jesus through the passion and death, and when you see the joy in them at watching their very good friend come back in three days at the resurrection, it's very rewarding and grace-filled. I've been fortunate to see all of that. For me, I've learned it isn't sufficient to talk to God. However, it is sufficient to talk and listen to God. It may sound silly to say, but every now and again I hear him, and that makes daily prayer important.