Newborns in Gaza's hospitals are desperate. This Catholic medical group is trying to deliver life-saving care.
As the humanitarian crisis in Gaza worsens by the day, among the most vulnerable civilians within the strip are newborn babies and their mothers.
Following Hamas's Oct. 7 attack on southern Israel that killed 1,200 people, mostly civilians, Israel declared war on the militant group and has imposed a near-total siege on Gaza. In the month that has followed, more than 10,000 have been killed in the Palestinian enclave. According to the Palestinian Ministry of Health, women and children represent 67 percent of all casualties in Gaza.
A Nov. 3 report by the World Health Organization estimated that there are 50,000 pregnant women in Gaza, and over 180 women give birth each day with extremely limited access to maternal and neonatal health services. Food, water, medicine and electricity are running low. Many health facilities are closed because they lack sufficient fuel and medicine or are coming under Israeli fire. Doctors at the Al-Shifa hospital in Gaza City are desperately working to keep newborn and premature babies alive as fuel runs out and fighting intensifies in the surrounding neighborhood.
A limited amount of humanitarian aid is now entering Gaza from Egypt through the Rafah Crossing, but U.N. agencies say that many more truckloads of critical supplies are needed. Among the nonprofits waiting to bring supplies into Gaza is the Catholic Medical Mission Board, a nonprofit that provides medical aid to conflict- and poverty-afflicted areas. C.M.M.B. has partnered with VillageMD of Clinical Strategy, a company that supports independent primary care physicians, to distribute IncuPouches, a non-electric, low-cost alternative to incubators, to babies born prematurely during the ongoing war. VillageMD's vice president, Prasanga Lokuge, designed the first "incupouch" back in 2006, and when she learned incubators were being turned off in Gaza because of electricity shortages, quickly realized the product could save lives there.
While the situation in Gaza is perhaps the gravest it's been in decades, C.M.M.B. has recognized the need for humanitarian aid in the region for several years.
"C.M.M.B. has been providing assistance to partners in Gaza and the West Bank to the tune of $27 million worth of medical donations over the past five years," Mary Beth Powers, the chief executive officer of C.M.M.B., said in an interview with America. (Editor's note: C.M.M.B. leases office space at the America Media headquarters in New York City.) "It's been an area where the health system is not financed well enough, so external and humanitarian support has always been needed."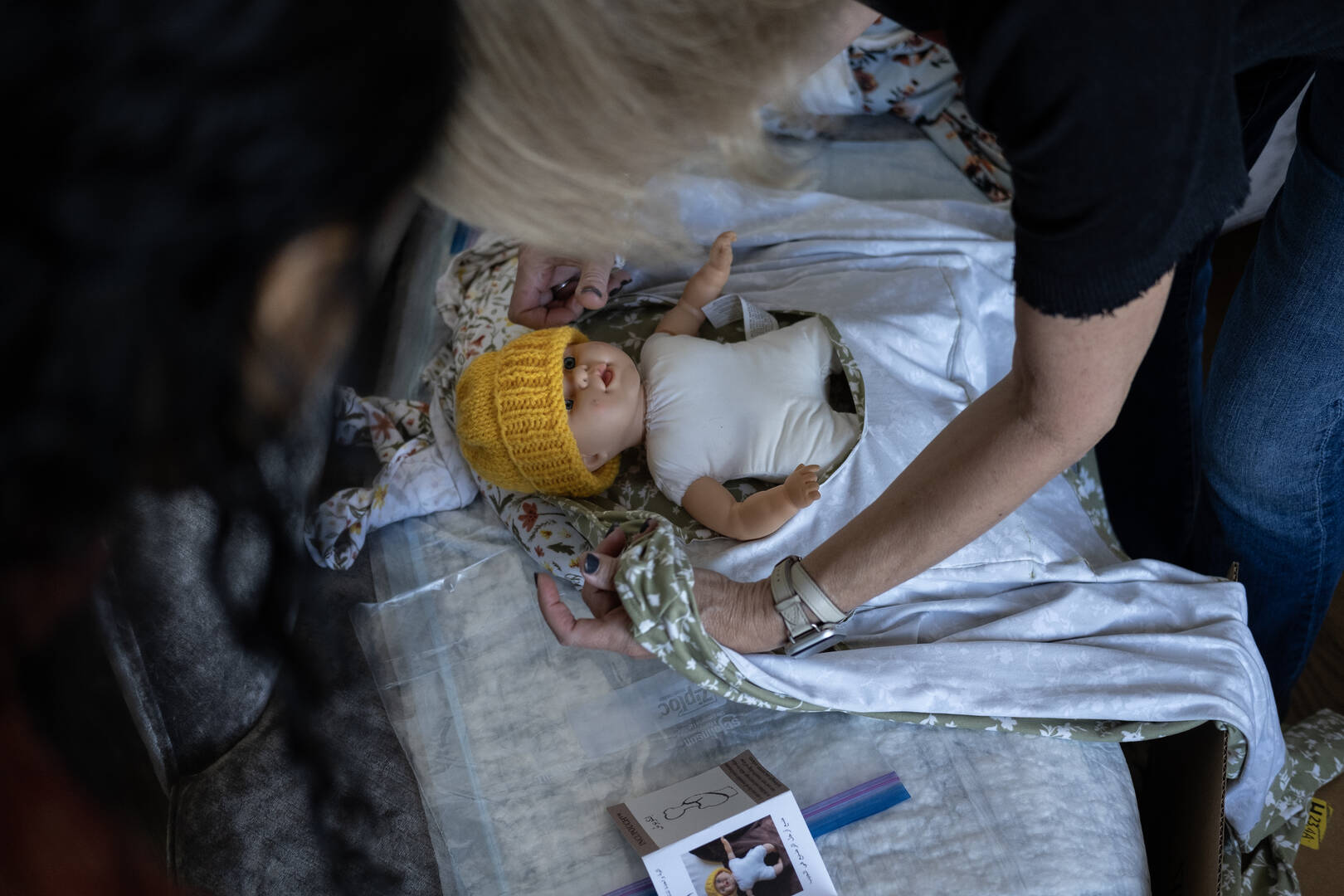 "We tested these IncuPouches in Vietnam many years ago, and they're an effective alternative [to incubators] and a great promoter of what's called kangaroo mother care or skin-to-skin care," Ms. Powers said. Skin-to-skin care is one of the most important ways that mothers can help stabilize the heart rate of their newborn, support the baby's growth and regulate the child's breathing, according to the Cleveland Clinic.
"Given that we knew that power was in short supply in Gaza, it seemed like the perfect intervention in that setting to try and keep preemies and small babies alive," she said.
Although the IncuPouches are sewn and ready for distribution, Ms. Powers noted that supplies have been trickling into Gaza at far too slow a rate.
"The humanitarian access is extremely limited. Few nongovernmental organizations are getting any support into Gaza at this point, maybe none. From everything I've heard, the only things that are really getting in are those trucks at the Rafah border, and they tend to be United Nations Relief Works trucks," Ms. Powers said.
"So, that's a big problem, that organizations like ours cannot ship in medicine, nor can we ship in those IncuPouches yet. So, we're pressing for greater humanitarian access to bring medicines and medical supplies into Gaza."
C.M.M.B. has experience assisting mothers and their children worldwide, including in South Sudan, where the group is working to combat the highest maternal mortality rate in the world, and in Peru, which is plagued by troubling newborn mortality rates. But Ms. Powers says that the situation for women and children in Gaza presents unique challenges.
"The two things that make this somewhat unprecedented are the attacks on medical personnel, hospitals, ambulances, things that are normally protected territory, and frankly, that's why people moved into the courtyards of the hospitals. That's very unusual," Ms. Powers said.
"The second thing that makes it unprecedented is just how difficult it has been to get anything in."
"There's one way in, and there used to be other ways that we would bring things in, via ship [for example], all those are closed down. The only way to get supplies in is through the Rafah Crossing. There's a limited amount of traffic going through every day, and it's heavily controlled. I understand all of those things from a security point of view, but we're talking about really basic supplies that are just not getting in. So there isn't enough fuel, there's not enough food, there's not water, all those things that are needed," she continued.
As C.M.M.B. awaits the green light for distribution of the IncuPouches, Thomas White, the Gaza chief for the U.N. Relief and Works Agency for Palestine Refugees announced on Nov. 14 that they will be forced to suspend operations within 48 hours unless more fuel is allowed into the Gaza Strip.
Ms. Powers also noted that pressing for legislation to mitigate the devastating effects of the conflict is necessary.
"It's also really important that we press our representatives in Washington to allow greater humanitarian access into Gaza so that necessary medical supplies can be distributed," she said.