Despite threats and government harassment, 11 Jesuits remain in Nicaragua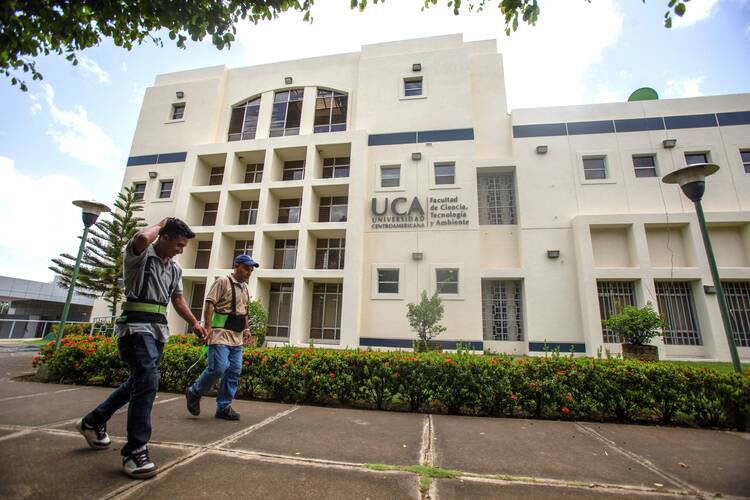 Workers walk past a building of the Jesuit-run Central American University in Managua, Nicaragua, on Aug. 16, 2023. The university suspended operations Aug. 16 after Nicaraguan authorities branded the school a "center of terrorism" the previous day and froze its assets for confiscation. (OSV News photo/Reuters)
After a series of government measures to confiscate property and complicate their mission in Nicaragua, 11 Jesuits remain in the Central American state to continue the work of the Society of Jesus. That is according to José Maria Tojeira, S.J., a spokesperson for the Central American Province of the Society of Jesus in El Salvador.
Those Jesuits who remain, he said, now face the "fundamental concern" of expulsion or detention if relations between the Society of Jesus and the government of former Sandinista comandante President Daniel Ortega and his wife and vice president, Rosario Murillo, grow any worse. The Jesuits themselves are not sure what may lie ahead after the recent moves against them, but the Ortega government has shown little hesitancy about arresting, imprisoning or exiling members of the local church, Nicaraguan media or their political opposition.
The Jesuits who remain in Nicaragua face the "fundamental concern" of expulsion or detention if relations between the Society of Jesus and the Ortega government grow any worse.
Noting that Jose Idiaquez, S.J., the former rector of the seized Universidad Centroamericana (U.C.A.), has already been barred from returning to Nicaragua after traveling to Mexico in 2022, Father Tojeira said two Nicaraguan-born Jesuits have both departed the country because of threats and harassment.
"Given practically the total absence of the rule of law in Nicaragua, anything can happen," Father Tojeira said, responding to questions emailed by America. "But the Jesuits continue in their jobs in the midst of these difficulties."
Father Tojeira seems confident that whatever happens next in Nicaragua, a Jesuit presence there will continue. "We will remain to work for a true democracy—participatory, inclusive, one that defends human rights, that helps to escape poverty [and] injustice," he said. The Jesuits who remain will continue the society's emphasis on "the importance of the development of free thought."
He suggested that the contribution of the Jesuits to Nicaraguan society will likely only become more important after the accelerating authoritarianism engineered by the Ortega-Murillo regime. Noting that Nicaragua already has one of the highest rates of poverty in Central America, he said, "Dictatorships generally impoverish countries more than they contribute to their development." What remains of civil society in Nicaragua, he said, "needs to be supported."
Two of the society's legal identities in Nicaragua have been nullified by the Ortega government—one connected to the U.C.A. and the other to the Compañía de Jesús Association. Properties connected to those revoked entities have already been confiscated by Nicaraguan government officials. They include the Jesuit residence near the university and another residence for students on scholarship at U.C.A., according to Father Tojeira.
José Tojeira, S.J.: "Given practically the total absence of the rule of law in Nicaragua, anything can happen."
But three other Jesuit entities registered with the Nicaraguan government remain active. Father Tojeira confirmed that "two schools and Fe y Alegría," a Jesuit education initiative for the most at-risk primary school students, "thus remain active and with Jesuits working on them."
The Central American province has denounced the multiple moves against Nicaraguan Jesuits initiated by the Ortega government this month and is exploring what legal recourse may remain to reverse judicial and other rulings against the Jesuits with the hope of restoring the Jesuit administration at U.C.A. and recovering seized property.
"We are studying possible complaints before international organizations, the United Nations and the Organization of American States, which watch over human rights, given the impossibility of making legal claims or demands within Nicaragua," Father Tojeira said, adding that other orders and organizations related to the Catholic Church in Nicaragua have endured similar hardship because of government orders or rulings by the Nicaraguan judiciary.
The academic fate of the students who attended U.C.A., now being re-established as a state university, remains uncertain. After 600 former U.C.A. students attempted to transfer to another private school in Managua, the Universidad Americana (U.A.), but school officials there last week suspended new student registration and pulled the dislocated U.C.A. students from U.A. classrooms, ordering them to re-register with the government school being created on the seized Jesuit campus.
According to Central American media, more than 1,600 former U.C.A. students are registering at Catholic and Jesuit institutions in El Salvador and Guatemala, including the Jesuit-run Universidad Centroamericana in San Salvador. That effort is being assisted by Jesuits in Nicaragua, according to Father Tojeira. He added that Nicaraguan Jesuits are also working to preserve the academic scholarships of former U.C.A. students who are unable to leave Nicaragua.
Government antipathy toward the Jesuits and the church in Nicaragua has been increasing since widespread anti-government demonstrations in 2018 resulted in the killing of more than 300 protesters by security and armed pro-government gangs. U.C.A. officials at that time had given sanctuary on school grounds to protestors fleeing sniper fire.
A campaign against the church in Nicaragua has been accelerating this year. It has already included the ouster and exile of Catholic priests and men and women religious and the seizure or administrative shutdown of Catholic institutions of higher learning.
In February, Bishop Rolando José Álvarez Lagos of Matagalpa was sentenced to more than 26 years in prison for high treason, undermining national integrity and spreading false news, among other charges. In June, the government confiscated properties belonging to more than 200 opposition figures who were forced into exile in February after being imprisoned by the Ortega regime.
Those taken from prison and forced aboard a flight to the United States on Feb. 9 included seven presidential hopefuls who had been barred from running in the 2021 election, lawyers, rights activists, journalists and former members of the Sandinista guerrilla movement. Bishop Álvarez declined to join the group of exiles, who were all stripped of Nicaraguan citizenship; he remains imprisoned in Nicaragua.
More than 3,500 civic groups and non-governmental organizations have been shuttered or expelled from Nicaragua since 2020.