A post-Roe field hospital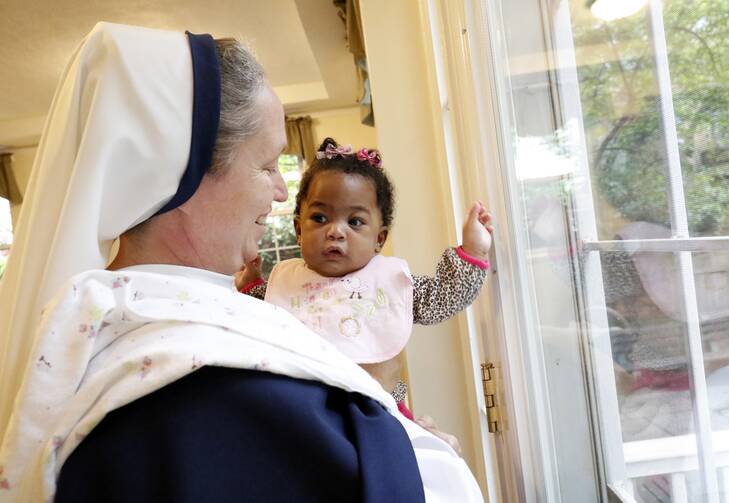 Sister Mary Elizabeth of the Sisters of Life holds 6-month-old Esther at the religious community's Holy Respite residence in the Hell's Kitchen neighborhood of New York City May 4, 2016. Holy Respite serves as a home and support center for pregnant women in crisis and new mothers. (CNS photo/Gregory A. Shemitz)
What have we done? Roe v. Wade was consigned to history on the solemnity of the Most Sacred Heart of Jesus last June. And thanks be to God for that. It was bad law, bad history, bad science and—well, it was evil. Abortion is the human rights issue of our lives, and it is justice that this Supreme Court precedent was undone. Not only has this allowed states to act to protect innocent unborn babies and their mothers, but it has also given a fresh perspective on abortion in America.
Most people who consider themselves pro-choice want to know that a scared girl has options. How about we pro-lifers do a better job letting people know what those options are? How about we demonstrate with our lives that we are about helping women and not condemning?
When our politics debates abortion, it often sounds like most of the women having abortions are upper middle-class and exercising empowerment, simply making another career choice. But abortion in America all too often involves Black and Hispanic girls whom Planned Parenthood has targeted since the beginning. If you're a Black or Hispanic young woman in New York City, for example, medical professionals are all too often on a search-and-destroy mission, even after you have actively chosen against abortion. Why would you do this to yourself? You're not ready. Do the responsible thing and make an appointment to terminate.
Culture says fertility is a problem to be suppressed. But sex actually makes more sense in marriage, and every girl and woman deserves to be loved, deserves a commitment.
And what message will they get from people of faith? One of my greatest fears is that a pregnant woman will walk into a Catholic Church or knock on the door of a rectory and no one will know what to say to her, where to bring her, and, more fundamentally, no one will look her in the eye with a gaze of love. There are beautiful efforts out there—the Walking With Moms in Need initiative is one important step—but the end of Roe needs to light a Pentecost-like fire of urgency under those who are pro-life to help reach moms and babies who are not necessarily in our churches and who need us the most.
Today, an eighth-grader or high-school student in America all too often has no idea what love is. She has no concept of who God the Father is because she probably doesn't know what fatherhood looks like. And if there had been men around the house, they might have looked at her wanting to use her. Maybe one did. Maybe more than one did. We all were horrified about the story of the Ohio girl post-Roe. Why was she pregnant in the first place? Because there was a man in her house who was not her father who raped her.
There are cycles of abuse and poverty—well beyond the material kind—that play into abortion in America. And the use and abuse of sex cannot be overlooked. "Humanae Vitae" and "Evangelium Vitae" told us so. The culture says more contraception. It says fertility is a problem to be suppressed. But sex actually makes more sense in marriage, and every girl and woman deserves to be loved, deserves a commitment. It's often a struggle in the best of circumstances for a woman to believe that about herself.
Now that Roe is gone, we have to be that field hospital Pope Francis talks about—to love those who have been hurt by abortion and those who have no idea what they are worth, boys and girls, men and women, all. It's not just the unborn babies who need to be saved. There are so many suffering under the lies of the sexual revolution that have become all too often the norm.
What have we done? We've ignored or abandoned the prophetic words of Paul VI and John Paul II, to name two saints. What we can do is realize that we have a treasure to share and mend some wounds by living the Gospel of Life in renewed ways. Agree to disagree on some things. But make sure that women know what they are capable of, that they are empowered to seek men in their lives who are in awe of them, who will walk alongside them and learn with them what love is, for perhaps the first time in their lives. The revolution of mercy begins when women know they are truly loved.