Marjorie Taylor Greene showed that the most brutal anti-Catholicism can come from Catholics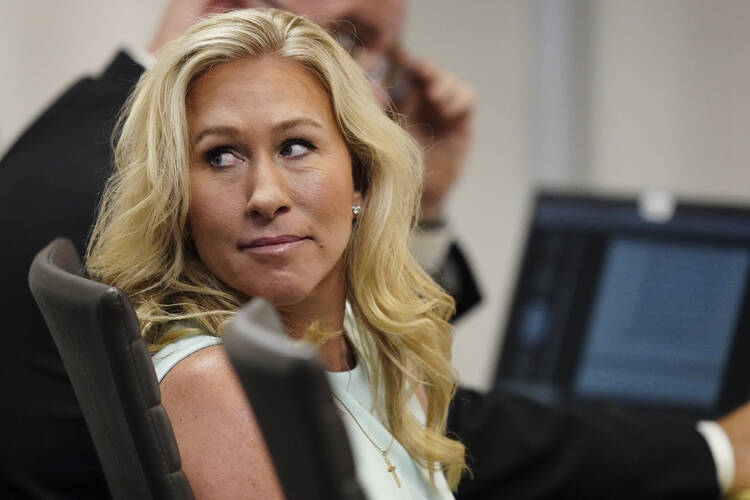 U.S. Rep. Marjorie Taylor Greene sits in the courtroom, Friday, April 22, 2022, in Atlanta. Rep. Greene is appearing at a hearing Friday in Atlanta in a challenge filed by voters who say she shouldn't be allowed to seek reelection because she helped facilitate the attack on the Capitol that disrupted certification of Joe Biden's presidential victory.(AP Photo/John Bazemore, Pool)
Listen to Bill McCormick, S.J. discuss this article on The Gloria Purvis Podcast:


For many Catholics, there was no real story in Marjorie Taylor Greene's recent interview with Michael Voris of Church Militant, reported by America's Michael O'Loughlin, and her statement afterward that she believes Catholic bishops are "satanic" and are "destroying our nation" through their support of migrants. Who cares if two people many Catholics already did not agree with were criticizing the church?
But that's not all that was happening. Two dimensions of Ms. Greene's interview stand out for me: a Catholic baiting a Protestant into attacking other Catholics; and that Protestant then revealing through her criticism of the bishops that she is a baptized Catholic herself, and one with strong feelings about the clerical sexual abuse crisis.
The Republican congresswoman from Georgia showed little love for the Catholic Church in the interview, claiming that "Satan's controlling" it and noting sarcastically that "the Vatican has a wall, doesn't it?" during the conversation about immigration. (The Leonine wall does not actually enclose the Vatican, which anyone can freely enter.)
Ms. Greene is a Protestant, and Catholics and Protestants in the United States have not always gotten along. But if this were a Protestant trashing Catholics, it would not be news. There is more to the story because it was actually a "Catholic" outlet giving anti-Catholicism a platform. (Mr. Voris identifies as Catholic, but Church Militant was instructed by the Archdiocese of Detroit not to identify itself as Catholic in 2012.) It makes one wonder if some of the primary anti-Catholics in the United States today are Catholics themselves.
It makes one wonder if some of the primary anti-Catholics in the United States today are Catholics themselves.
To be clear, Ms. Greene did not bring up the bishops during the interview. But once prompted by Mr. Voris, she had plenty to say. As a preface to criticizing the bishops for supporting immigrants, she said, "I thought we had a separation of church and state," which is a confusing statement from someone who constantly talks about bringing her Christian values to Washington. And given the anti-Catholic provenance of the line--the Catholic Church that has long been portrayed as a forbidding institution that seeks to dominate politics---Mr. Voris should have challenged her on it.
And Mr. Voris baits her into going farther, which she willingly does:
The bishops are also busy destroying our nation using taxpayer money to advocate for the illegal invasion across our borders. They dare to dress up Democrat vandalism and lawlessness as somehow "religious," which perhaps explains their distaste for me.
As the Church Militant website puts it: "In a clarion call to the mindset of U.S. bishops (who are always prattling on about unity and not causing division), MTG just let loose against calls for fake unity in politics."
Strikingly, Ms. Greene spent a fair amount of time in the Church Militant interview ostensibly explaining what it means to love one another, and how to preach the Gospel and the word of God. But she did not cite Scripture. Instead she went through a list of political talking points.
Marjorie Taylor Greene spent a fair amount of time explaining what it means to love one another. But she did not cite Scripture. She went through a list of political talking points.
Ms. Greene is entitled to her political beliefs. But it is clear that she thinks the bishops should be aligned not with the Bible, but with the Republican Party, and with her vision for the party at that. It is almost as if she believes the church doesn't have anything to offer in politics. Which brings us to my second point.
Clerical sex abuse and the church's diminished credibility
This story is not just about a Catholic commentator using a Protestant guest to criticize Catholics. That guest was actually baptized and married in the Catholic Church, and her past is relevant to an unexpected turn in the conversation. After arguing that the bishops should share her emphasis on "protecting our borders" and making the home countries of migrants responsible for them, she argued:
If the bishops were reading the Bible and truly preaching the word of God to their flock [Mr. Voris interjects here with "and not covering up sex abuse"], ... and not covering up child sex abuse and pedophilia, thatwould be loving one another, would have the true meaning and not the perversion and the twisted lie that they're making it up to be.
There is something disingenuous about Ms. Greene's and Mr. Voris's comments: Immigration and clerical sex abuse are logically two separate issues. But rhetorically they both tap into areas where some people have reached their limit in trusting the church.
Ms. Greene has claimed to reach those limits herself. In her press statement after the interview, she claimed that she left the church at least in part because of the sex abuse scandal:
With great sorrow, and unwavering faith in Jesus Christ, I stopped attending Catholic Mass when I became a mother, because I realized that I could not trust the Church leadership to protect my children from pedophiles, and that they harbored monsters even in their own ranks. 4/

— Rep. Marjorie Taylor Greene (@RepMTG) April 27, 2022
She also said, "It's the church leadership I was referring to when I invoked the devil."
This did not come across clearly in the interview, which was focused on Catholic services for immigrants. But there is no question Ms. Greene was able to lean into this reframing of her comments.
And Ms. Greene's clean-up effort is a reminder that while it is easy for Catholics who disagree with Ms. Greene's politics to downplay her criticism of the church, it is a dangerous game to play to decide whose criticisms of the church matter and whose do not.
The history of clerical sex abuse and coverup cannot be avoided. It is a horrible sin against its survivors, and a terrible stain on the church. It is going to come up whenever and wherever the church is criticized. In fact, if Mr. Voris were using his platform to do something about clerical sex abuse, I would have more respect for him. But instead the abuse crisis is being used as just another weapon against other Catholics.
So the interview ended up highlighting two doleful dynamics among U.S. Catholics today: vicious intra-Catholic division and the stains of the clerical sex abuse scandal. The problem with Mr. Voris baiting Ms. Greene into attacking the church is not that he is an outlier to whom we can all feel smugly superior. In fact, many Catholics in the United States regard other "tribes" of Catholics as their enemies, and some view some non-Catholics as closer to them politically and spiritually than other Catholics—or at least as convenient cudgels for those other Catholics.
Moreover, the problem of clerical sex abuse is a problem for the entire U.S. church. No one gets to blame another part of the church for it and move on.
That's why I did agree with one thing Mr. Voris said: that he is tired of cheap appeals to unity. Perhaps he should reconsider his own sense of unity with Ms. Greene.
[Read next:We're all responsible for the toxic discourse that lets Marjorie Taylor Greene and Father Altman thrive]