Podcast: Can Pope Francis negotiate peace between Russia and Ukraine?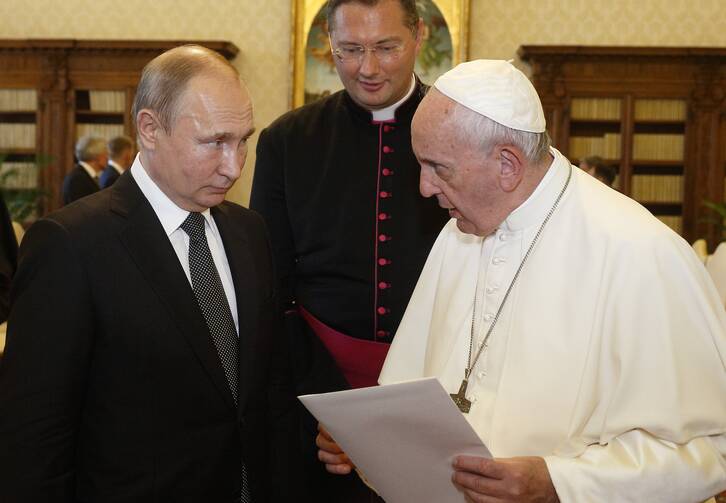 Father Visvaldas Kulbokas, center, serves as translator as Pope Francis and Russian President Vladimir Putin exchange gifts during a private audience at the Vatican in this July 4, 2019, file photo. Archbishop Kulbokas, now papal nuncio based in Kyiv, Ukraine, said he has no intentions of leaving the country. (CNS photo/Paul Haring)
As a 40-mile-long Russian military convoy makes its way to the Ukrainian capital of Kyiv, Pope Francis is fighting for peace from Rome. The pope warned against going down the road of conflict, appealed for negotiated settlements, and called for believers worldwide to fast and pray for peace in Ukraine on Ash Wednesday. It's not only the pope's words that speak here, but his actions.
On this "Inside the Vatican" episode, Ricardo da Silva, S.J., standing in for Colleen Dulle, and veteran Vatican reporter Gerard O'Connell discuss the actions Pope Francis has taken in the days since Russian military forces invaded Ukraine. The Vatican believes it can be a mediator for peace in this war, but it also has to negotiate through the often treacherous and sensitive terrain of interchurch politics as Putin moves to manipulate the split between Russian and Ukrainian Orthodox believers.
[Listen and subscribe to "Inside the Vatican" on Apple Podcasts and Spotify.]
When Pope Francis first called for peace between Ukraine and Russia, "I don't think any of the political analysts in the world could have imagined the transformation that we've seen in the geopolitical situation in the last six days," Gerry tells Ricardo. "The world has suddenly realized that we are faced with a dire threat to peace."
Last Friday, Pope Francis, without notifying the press, made a personal visit to Alexander Avdeev, the ambassador of the Russian Federation to the Vatican, who is also the personal representative of Russian President Vladimir Putin to the Holy See. He expressed his deep concerns about the war, especially for the elderly, the sick, and the hundreds of thousands of people who will be displaced. Pope Francis then asked the Russian ambassador for a cessation of fighting to allow for negotiations.
But, when Ricardo pushed Gerry for an answer as to whether the Vatican would be able to mediate in this delicate situation, Gerry said he had spoken to a senior Vatican official about this very possibility and the official's response was: "We are ready to mediate, but for mediation, you have to have the invitation of two sides. Now, Ukrainians have made very clear that they would welcome the mediation of the Holy See. No such indication has come from Russia."
Links from the show:
Pope Francis on the war in Ukraine: 'Let the guns be silenced.'
Pope Francis calls Ukrainian archbishop: 'I will do everything I can' to help.
Pope Francis speaks with Ukrainian President Zelensky: I pray 'for peace and a ceasefire.'
Pope Francis visits Russian embassy as invasion of Ukraine continues