The national eviction moratorium has been extended, offering millions temporary relief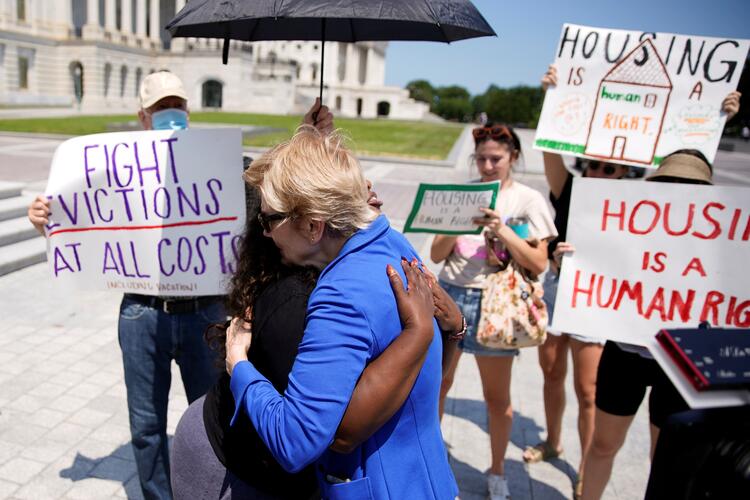 U.S. Rep. Cori Bush, D-Mo., and U.S. Sen. Elizabeth Warren, D-Mass., embrace July 31, 2021, in front of the U.S. Capitol in Washington after Warren arrived to support Bush, who spent the night there to highlight the midnight expiration of the pandemic-related federal moratorium on residential evictions. (CNS photo/Elizabeth Frantz, Reuters)
Millions of Americans behind on rent got some good news this week. On Aug. 3, the Center for Disease Control extended a national eviction moratorium through Oct. 3. The announcement came just a few days after July 31, the day the previous eviction moratorium had expired.
The Center on Budget and Policy Priorities estimates 11.4 million adults living in rental housing are currently behind on rent. According to The Associated Press, 3.6 million Americans would face eviction without the moratorium, which is expected to face legal challenges.
Like the first eviction moratorium, the new temporary order is intended to curb the spread of Covid-19. It temporarily halts evictions in counties experiencing higher levels of community transmission due both to low vaccination rates and the rise of the Delta variant.
"There was no way that there was going to be enough shelter space for all the families that would have ended up on the street."
"There was no way that there was going to be enough shelter space for all the families that would have ended up on the street," said Marisol Saldivar, a spokesperson for the Society of St. Vincent de Paul in Phoenix, noting that the summer heat has complicated outreach to homeless people. "We were fearful for the families having to live in their cars, if they had one, and had to deal with these extreme temperatures."
The extension of the moratorium until October will mitigate concerns about the impact of summer weather on people who would have been evicted, she said. But Ms. Saldivar added that the extra two months will also allow more requests for rental assistance to be processed.
In his Aug. 3 press conference, President Joseph Biden noted that billions of dollars allocated to rental and small landlord assistance have yet to be spent, and urged states to distribute those funds to landlords so renters can stay in place. "I believe that would take care of the vast majority of what needs to be done to keep people in their apartments now," Mr. Biden said.
St. Vincent de Paul is one of the assistance centers that is distributing federal funding through the Emergency Rental Assistance Program, Ms. Saldivar said. The program helps families who can document that a pandemic-related crisis led to their inability to pay rent, she said.
Due to the overwhelming number of requests, however, getting that government assistance into the hands of families can take time. "It's a lot of paperwork," Ms. Saldivar said. "Most families are behind 12 months on rent and that's looking like more than $9,000-$10,000 sometimes."
Once a person has been evicted, Ms. Saldivar said, it is much more difficult for those individuals to qualify for housing.
Some families have struggled to prove a Covid-related crisis, she said. Many employers laid off employees without providing documentation that connected those dismissals to the pandemic. Families can also prove a Covid-related crisis with a positive Covid test that chronologically matches the time of unemployment. St. Vincent de Paul helps families that are unable to prove their job loss was Covid-related crisis through private donations, Ms. Saldivar said. Unlike the government program, however, that assistance can typically only cover a couple months' rent.
In some cases, landlords refuse to accept back rent, Rob McCann, the C.E.O. and president of Catholic Charities in Spokane, Wash., told America last month. Some landlords, he said, want to clear out old tenants so they can drastically increase rents.
Ms. Saldivar reports a more positive experience in Phoenix. "We have worked with lots of landlords who are eager to work out payment plans," she said. "It's better to take that assistance funding and have something coming in than to have nothing at all."
During the press conference, Mr. Biden expressed concern about the impact of a recent 5 to 4 Supreme Court decision that did not overturn the moratorium but seemed to question its constitutionality. Justice Brett Kavanaugh, who voted to keep the moratorium in place, said he did so only because it was set to expire on July 31. Mr. Kavanaugh said he believed Congress would have to pass legislation for the moratorium to be extended.
Landlords from Alabama who had previously argued to have the moratorium lifted returned to federal court on Aug. 4 to plead for evictions to resume, according to The Associated Press. Legal experts are anticipating a slew of similar challenges to the extension. University of Michigan law professor Nicholas Bagley expects landlords to turn to the courts "to secure a preliminary injunction" to allow evictions to resume.
Once a person has been evicted, Ms. Saldivar said, it is much more difficult for those individuals to qualify for housing. Preventing a housing crisis before the eviction is much more effective than trying to solve a housing crisis once a person is on the street, she said.
"At the end of the day it is going to come to this point again, and there will be another scramble," Ms. Saldivar said.
In a July 30 letter to Congress, Catholic leaders urged Senators and Representatives to take action to extend the eviction moratorium "to protect vulnerable renters during the Covid-19 pandemic."
Archbishop Paul S. Coakley of Oklahoma City and the chair of the U.S. Conference of Catholic Bishops' Committee on Domestic Justice and Human Development; Donna Markham, O.P., the president and C.E.O. of Catholic Charities USA; and Mary Haddad, R.S.M., the president and C.E.O. of the Catholic Health Association of the United States, signed the letter advocating for the extension.
"The Catholic Church teaches that access to safe, decent, and affordable housing is a human right as well as a demand of the common good," they wrote. "We also know that housing is a key social determinant of health, which is especially important during a pandemic. Individuals and families without stable housing have less opportunity to protect themselves and others through social distancing, are more vulnerable to contracting coronavirus, and are more likely to need acute care if they become infected."
Material from The Associated Press was used for this report.
[Related: Homelessness is only getting worse, but we know the solution: a right to housing.]