'Heat kills': Catholic groups are working to help the homeless survive record summer temps
While Catholic organizations have stepped up their efforts to help those experiencing homelessness during this summer's heat wave, they are also preparing for what might be an even greater crisis: the day moratoriums on evictions are lifted across the nation.
The Centers for Disease Control and Prevention has prevented evictions to help curb the spread of Covid-19. But after an extension issued last month, the eviction moratorium is set to expire on July 31.
Dan Ponisciak, C.S.C., director of André House in Phoenix, said they are "extraordinarily concerned" about the ending of the federal moratorium—whether it ends this month as planned or is once again extended.
In Phoenix, the exact number of people on the streets is unclear because Maricopa County did not conduct its annual homeless count during the pandemic. "All we know is that number keeps going up every year," Father Ponisciak told America, adding that André House serves between 500 to 600 meals each night. "I would imagine it's gone up again. And it will go up really high when the moratorium ends."
Today, there are already too few shelter beds for the people who are experiencing homelessness, he said. But the situation could get much worse.
"We're going to have hundreds of families living in cars in Walmart parking lots all over eastern Washington."
Father Ponisciak is not alone is his concern. Rob McCann, C.E.O. and president of Catholic Charities in Spokane, Wash., told America he expects 4,700 families will become homeless once the moratorium is lifted.
"That will happen all on the same day," he said. "That's a humanitarian crisis. There's no capacity for that here in Spokane."
Catholic Charities agencies across the country have been operating rental assistance programs that use federal funding through the CARES Act. In Spokane, Catholic Charities has approached landlords, Mr. McCann said, and has offered to pay back rent for vulnerable families to avoid evictions.
"Here's what the landlords tell us: 'Keep your money. I want to evict these people the second the government allows me to because the housing market is so hot in Spokane,'" Mr. McCann said. "They know they can get rid of these 'deadbeats,' as they see them, and get new tenants. But even more importantly, they can raise the rent."
Mr. McCann estimated that rental rates have doubled over the past three years in Spokane.
"We're going to have hundreds of families living in cars in Walmart parking lots all over eastern Washington," he said, explaining that families experiencing homelessness park there because Walmart restrooms are open 24 hours a day.
Deadly Heat Waves in the West
This summer, a number of heat waves scorched the Western United States. In the Pacific Northwest, for example, the Associated Press reported that at least 112 people died in WashingtonState because of high temperatures. In Oregon, 116 residents died of the heat. Temperatures soared to record highs throughout the Southwest as well.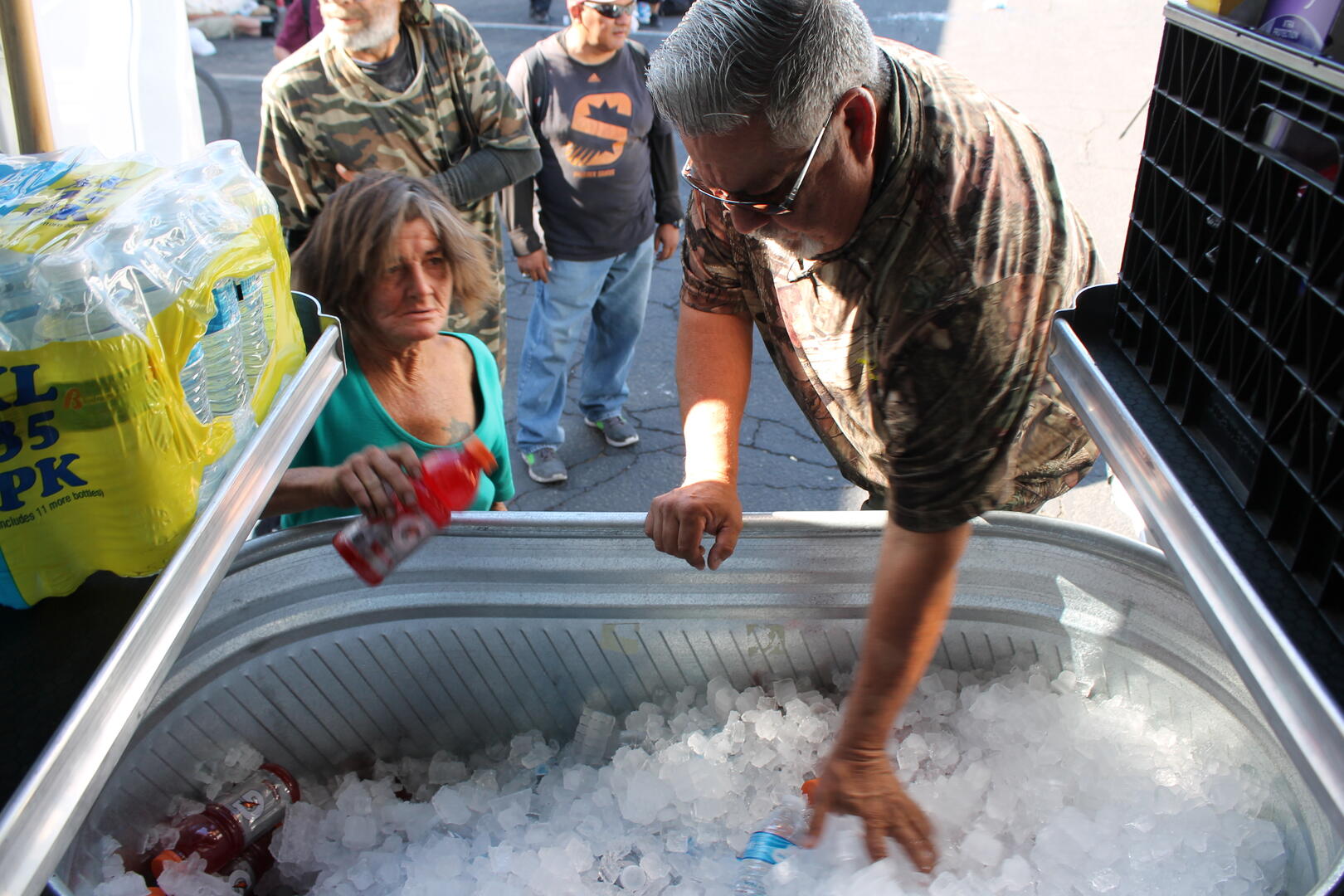 In Phoenix, the Society of St. Vincent de Paul set up an emergency shelter with 200 socially distanced cots to help prevent heat-related deaths. Providing relief has become more challenging because of the pandemic. Because of Covid-19 protocols, for example, one shelter that normally sleeps 275 now has room for only 80. Their dining service, which used to seat 300, now offers only to-go options. Vincentian home visits, which used to include indoor chats with those in need, now end on the porch.
"We want to maintain public safety but also realize that heat will kill people," said Marisol Saldivar, a spokesperson for St. Vincent de Paul. The society sends out water relief trucks starting at 5 a.m. every day to provide hydration for those in need, she said.
St. Vincent de Paul receives hundreds of calls each day requesting rent and utility assistance, Ms. Saldivar said. The relief efforts are complicated since fewer volunteers are available during the summer months. Many families take their summer vacations, and many seniors reside in Arizona only during the cooler months.
"But for vulnerable families, the kids are out of school and do not have ready access to food assistance programs," Ms. Saldivar said, adding the St. Vincent de Paul stockpiles food to help families get through the summer months. "We know how generous the community can be. It would be great if that generosity extended to the summer months."
"You try to put things in place so that fewer people die. The reality is that heat kills."
In Arizona, the deadly heat is not new this year. Last year, the state saw more than 500 heat-related deaths—an increase of 62 percent, which many ascribe to the closing of public spaces because of the pandemic.
"Things are better now than they were a year ago," Father Ponisciak said. "Everything was closed—libraries and other places of refuge. So there was less opportunity for people to get inside even if they wanted to."
At André House, the staff usually opens their dining room during the day to welcome people and allow them to get out of the heat. But they could not offer that service last year. They kept only the showers and restrooms open.
The intense heat came earlier this year, Father Ponisciak said. Many of those served by André House live in tents in the neighborhood surrounding the outreach. Last summer, the staff did a temperature check in those tents and found it reached 135 degrees. They also found the temperature of the pavement reached 150 degrees.
"That's just not survivable, when it comes down to it," Father Ponisciak said. "Midwesterners dread the winter. You know it's going to be cold and you know it's going to snow. Here, you start ramping up for the summer around March. You try to put things in place so that fewer people die. The reality is that heat kills."
At André House, they accompany people experiencing homelessness and refer to them as their guests, Father Ponisciak said. They strive to restore dignity and home for their guests, the first two things that many people lose when they are homeless, he said.
"We walk with people through their suffering and whatever they are going through. And in a few cases, we walk with them to the end."
"The most important thing we do is to welcome people, get to know their names, listen to their stories; and oh, by the way, we might be able to provide for some of their needs," he said. "We walk with people through their suffering and whatever they are going through. And in a few cases, we walk with them to the end. And we turn them over to God. Because we're the ones that are there. And there's nobody else."
Too often, Father Ponisciak said, society is quick to forget people simply because they no longer have roofs over their heads. He dispelled a common myth that homeless people move to cities with milder climates. "When you're homeless, you don't have money. You can't get from A to B," he said. "We don't find a lot of snowbird people experiencing homelessness. That's not a thing."
In Spokane, where Catholic Charities has built a number of buildings for those experiencing homelessness, Mr. McCann has had to address similar myths. "People tell me, you know, 'You built too many of these buildings for the homeless. You're going to start attracting homeless people,'" he recounted. "'The food is so good, they're coming from Alabama, Texas and Florida.' But we've done the math, and about 86 percent of those in our lunch line were born and raised within 75 miles of downtown Spokane."
Untreated mental illness and substance abuse issues are the two biggest drivers of homelessness in Spokane, according to Mr. McCann. Since 2009, in the wake of the recession, he has noted a growing vilification and criminalization of those experiencing homelessness, and how to provide outreach to the homeless has become an argument.
"There are people who are extremely mad at me for serving the homeless and building housing and building shelters," Mr. McCann said. "They say it publicly, and elected officials get elected by using the rhetoric that we need to stop doing [the outreach]. That's a new thing for Americans."
This summer is the first time Catholic Charities has launched initiatives to deal with excessive heat, he said. They opened air conditioned cooling centers in five different buildings—spaces that had previously been designated as quarantine dorms.
"When it comes to homelessness, the cooling centers have been a delicious appetizer on the deck of the Titanic," Mr. McCann said, referring to the looming eviction crisis. "We've had wonderful moments for a week or two where we saved people from the heat. And that's great. We're glad to do it. But the reality is the ship is sinking."
Read more from America: