Three myths Americans believe about abortion
At least in my circles of bioethics, moral theology and pro-life activism, the abortion debate is always red hot. We pay rapt attention to the news, science, law and ethical arguments related to the topic. But for most people this is not the case. While they likely have a generalized opinion about abortion, they generally and understandably avoid discussing or thinking about it.
But this may change, given that the Supreme Court has finally agreed to consider a case that may (as so many media outlets put it) "overturn Roe." At stake is a Mississippi law that bans most abortions after 15 weeks into a pregnancy. Far more people are now paying close attention—both to the issue itself and to public opinion. Indeed, in the year leading up to a decision on this huge case, partisans will misrepresent the data in an effort to bend people to their narrative.
While most likely have a generalized opinion about abortion, they generally and understandably avoid discussing or thinking about it.
Here are three myths that you are likely to hear over and over again from now until June 2022, and why they need to be busted.
Myth No. 1: Americans generally support our current abortion law. This myth comes from the fact that somewhere between 60 and 70 percent say they do not want Roe v. Wade to be overturned. But it is not exactly clear what people mean when they say this. According to remarkably consistent polling from Gallup, for instance, about the same number of people who say they support Roe also say they support banning abortion after 12 weeks. This is totally incompatible with Roe, which only allows restriction of abortion after viability—which is now around 21 or 22 weeks gestation.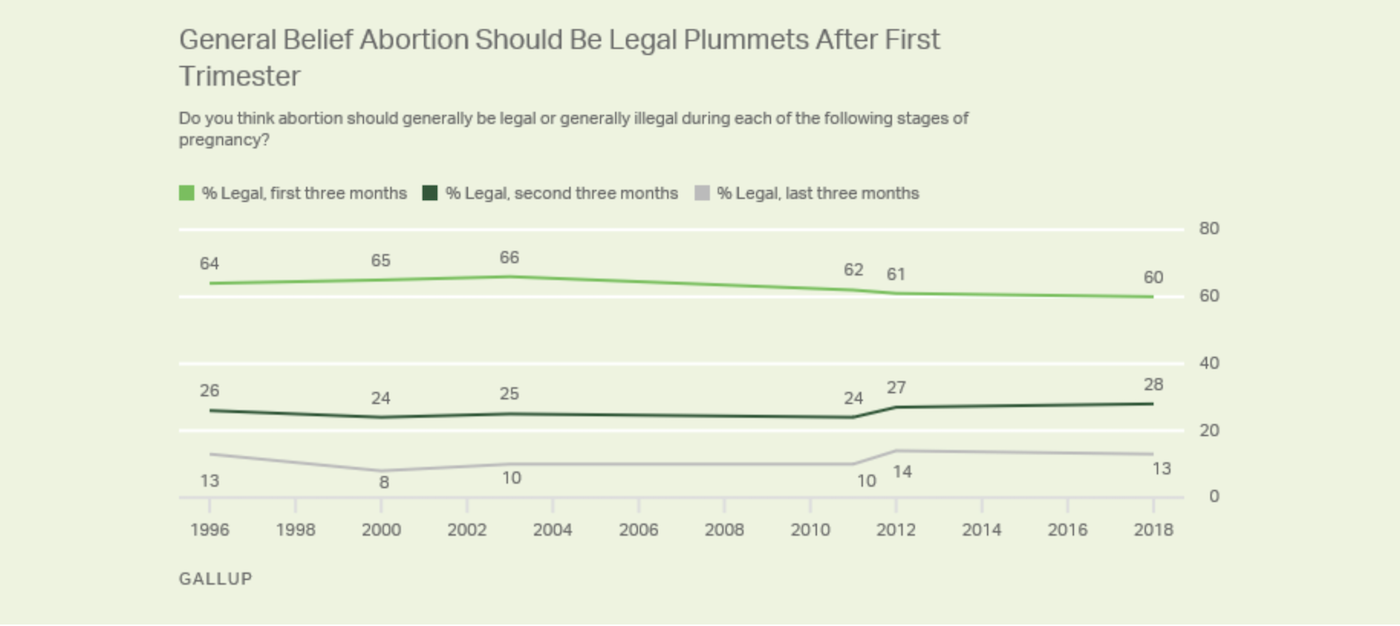 Most people simply do not know what the Roe decision said or did—or that it has largely been replaced by Planned Parenthood vs. Casey and its successors—and so it is in some ways unsurprising to find this tension. But the bottom line is that Americans strongly support making abortion illegal after 12 weeks (a position, it is worth noting, that is in line with many European abortion laws), or well before the threshold of the Mississippi law being challenged.
The idea that women support our current abortion laws at higher rates than men is false.
Myth No. 2: Women generally support our current permissive abortion laws while men generally want to impose more abortion restrictions. Despite being perceived as something close to common sense in many circles, this myth cannot last even with a quick glance at the data. In 2020, 53 percent of women and 43 percent of men identified as pro-choice; in 2019, 43 percent of women and 48 percent of men so identified. And abortion policy is much more complex than "pro-life/pro-choice." A 2021 Marist poll co-sponsored by the Knights of Columbus, for example, offered respondents these six different options:
Abortion should be available any time during pregnancy.
Abortion should only be allowed in the first six months.
Abortion should be allowed only in the first three months.
Abortion should only be allowed in cases of rape, incest or to save the life of the mother.
Abortion should only be allowed to save the life of the mother.
Abortion should never be permitted in any circumstance.
Let's call options 1-2 "more permissive" and options 3-6 "less permissive." Using this terminology, 27 percent of men and 22 percent of women were in the "more permissive" camp. Furthermore, 13 percent of men and 6 percent of women thought abortion should be available only in the first six months—while 24 percent of men and 26 percent of women thought it should be available only in the first three months. This tracks with previous data suggesting that women support restrictions on abortion later in pregnancy at higher rates than men do. The idea, then, that women support our current abortion laws at higher rates than men is false. It is quite likely, in fact, that women approve of the Mississippi law more than men do.
Myth No. 3: Opposition to our abortion laws, and the pro-life movement itself, is rooted in white supremacy. It is revealing that, until recently, Planned Parenthood received virtually no public scrutiny (outside of the far right) for having clear and explicit roots in white supremacy, while the pro-life movement is regularly smeared with this most powerful of accusations.  This seems to come from the popular but false idea that the pro-life movement began as part of the racist "Southern strategy" of the Republican Party that began in the late '60s and accelerated in the early '80s.
But as Daniel K. Williams has shown so brilliantly in his must-read history of the movement, pro-lifers were actually born in progressive circles, and the early movement was not only against abortion but also against the Vietnam War (and war in general). Furthermore, as I have written elsewhere, Black and Latino Democrats today are significantly more likely to support restrictions on abortion than are white Democrats. They often know firsthand, for instance, that vulnerable people of color have not been liberated by access to abortion and, indeed, many people of color feel coerced into what more privileged people think of as a "free choice."
Pay close attention to these myths and how they are explicitly or implicitly being used over the next year. They must be busted at every turn if our public discussion is to be an informed one.
More from America: