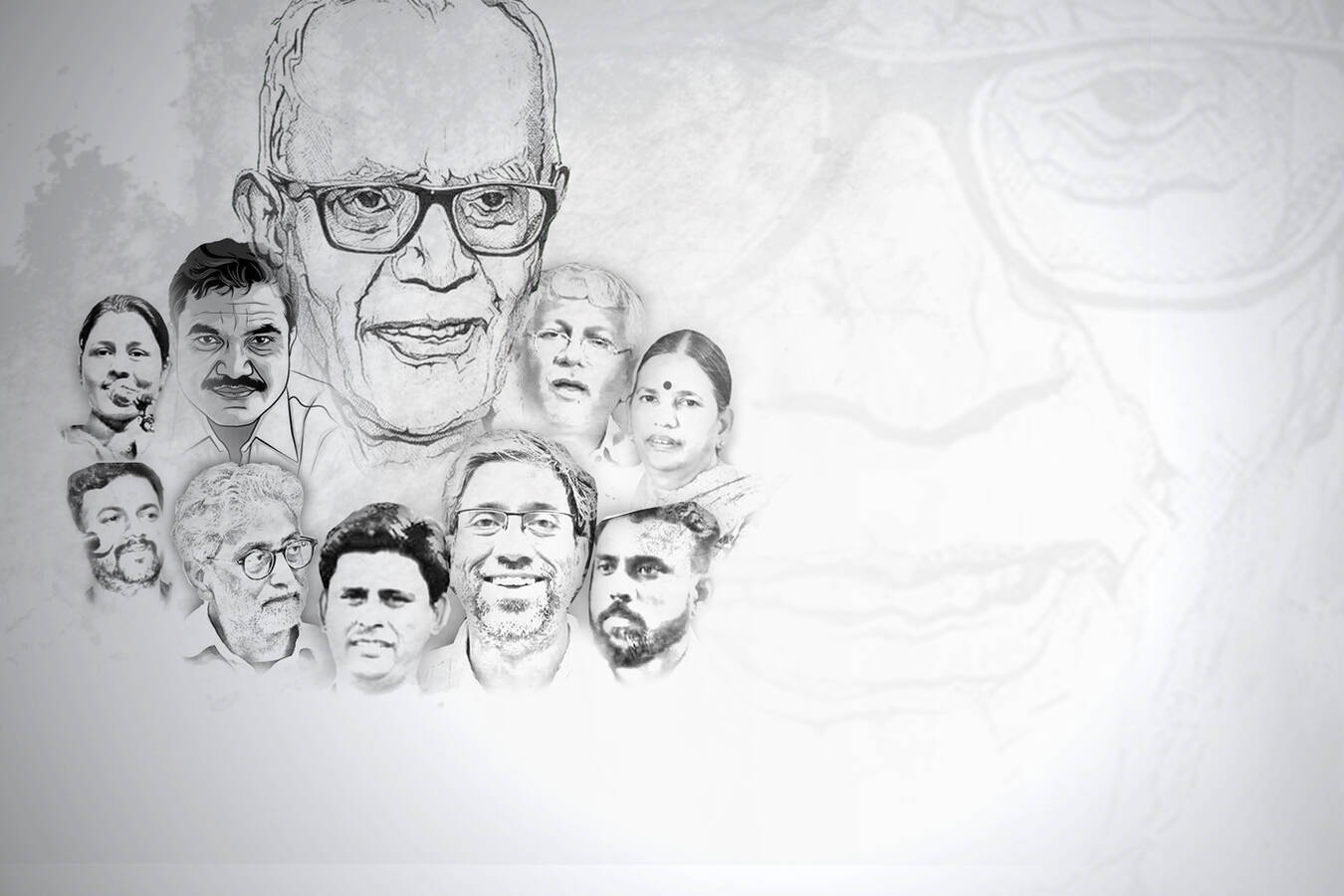 Who is Father Stan Swamy, the Jesuit priest (still) sitting in an Indian prison?
Almost six months after he was first detained and arrested for allegedly inciting violence and conspiring to overthrow the Indian government, Stan Swamy, S.J., the 83-year-old priest and human rights activist, was again denied bail in Mumbai.
The Jesuit priest was first arrested on Oct. 8, 2020, at Bagaicha, the Jesuit social center where he lived and worked on the outskirts of Ranchi, the capital city of the eastern state of Jharkhand in India. He is a member of the Jamshedpur Jesuit Province and is being held in Taloja prison, Mumbai, by the National Investigation Agency, India's counterterrorism task force.
According to the N.I.A., there is prima facie evidence to suggest that the octogenarian priest and the 15 other people accused with him are guilty of sedition and contravention of the Unlawful Activities (Prevention Act) (U.A.P.A.) of 1967. Father Swamy and others "hatched a serious conspiracy to create unrest in the entire country and to overpower the Government, politically and by using muscle power," said Special Judge Dinesh E. Kothalikar of the N.I.A.'s special court on March 22, 2021, when he rejected Father Swamy's application to be released on bail.
The Jesuits defended Father Swamy and denied any wrongdoing in a Holy Week statement given to America by the Social Justice and Ecology Secretariat of the Society of Jesus, which re-affirmed that "the Secretariat and the Society of Jesus remains firmly united in solidarity with our brother Stan and other human rights defenders," wrote Xavier Jeyaraj, S.J., secretary of the secretariat, who has known Father Swamy for three decades. "As Jesuit companions, we affirm that Stan engaged himself in defense of adivasis (indigenous people) and other deprived communities."
Lawyers for Father Swamy had applied for his release on humanitarian grounds because the priest had been operated on twice for a hernia, suffers from debilitating Parkinson's disease and lumbar spondylosis, and has lost hearing in both ears since his arrest.
"There will be no hesitation to conclude that the collective interest of the community would outweigh Swamy's right to personal liberty and as such the old age and or alleged sickness, of the applicant would not go in his favor," said Judge Kothalikar. "I conclude that the applicant has failed to make out a case for grant of bail."
Father Swamy is being held in Taloja prison, Mumbai, by the National Investigation Agency, India's counterterrorism task force.
Father Swamy, in a message sent from prison to "one and all," acknowledged the seriousness of the allegations against him and appeared unsurprised by the decision to deny bail. "Apart from the fact that the wheels of justice turn very slow, all 16 of us are implicated in serious cases where it is very difficult to get bail," he wrote. "Still our lawyers are trying their very best. So, we await 'the Ides of March.'"
"The Society of Jesus strongly denies and condemns such a statement by the learned court," wrote Father Jeyaraj. "We stand united with Stan and many other human rights defenders at this crucial juncture. We commit ourselves to continue our effort, both nationally and internationally, to bring truth and justice to light and advocate for the rights of vulnerable people in a peaceful, non-violent way." According to Father Jeyaraj, "What is happening in the country especially in the last few years are not stray incidents," he said. "It is indicative of a malaise and erosion of democracy in India."
The Jesuit priest-activist noted the low success rate of those held in India on similar charges. "Whereas arrests under sedition are increasing, conviction is just 3 percent. As for U.A.P.A., 5,922 arrests were made during 2016-2019, and only 132 were convicted," he wrote. "Our prisons are bursting at the seams. Consequently, we have a scenario of deprivation of even the basic amenities to prisoners."
The Jesuit Conference of India issued a statement upon learning of the court's rejection of Father Swamy's bail application. The conference expressed sadness at the court's decision and offered gratitude to Father Swamy's legal team, "who relentlessly worked for the release of Father Stan on bail," wrote Jerome Stanislaus D'Souza, S.J., the president of the conference. "We continue to hope and pray that justice will prevail, and Fr. Stan will be released soon and acquitted after a fair trial, as we have a deep faith in the Constitution of India and in the judiciary," he said. "We pray to God for strength and courage to bear this painful verdict."
Arturo Sosa, S.J., superior general of the Society of Jesus, Michelle Bachelet, the United Nations High Commissioner for Human Rights, Roman Catholic cardinals, bishops, priests and members of religious orders, as well as church and human rights organizations around the world, have pleaded for the release of Father Stan and those accused with him, vouching for their innocence and campaigning for legal reform in India.
Lawyers for Father Swamy had applied for his release on humanitarian grounds because of multiple physical ailments.
"Stan Swamy and the Adivasis he supports in an impossible battle for their own ancestral lands, are pawns pitted against the mammoth mining and power-generating companies in the mineral rich state of Jarkhand," wrote Christopher Sousa, the general secretary of the All India Trade Union Congress, in a statement issued on Oct. 14, 2020. "Falsely branding activists as extremists and implicating them in cases with serious sedition charges is the easiest way to condemn them so as to annihilate them and allow the vested-interests to silence them."
Under the banner #StandWithStan, in-person and online protests continue worldwide against the detention of human rights activists like Father Swamy and his 15 co-accused, many of whom are activists, educators and intellectuals who have long fought for the rights of people disregarded in India's caste system, especially the Adivasi and the Dalits, members of India's lowest caste. One online petition calling for the charges to be dropped against Father Swamy has collected almost 60,000 signatures.
International and local advocacy to release the 16 appears only to have strengthened the N.I.A.'s resolve to keep the accused behind bars. Legal professionals and investigative journalists who have conducted forensic studies of some of the evidence, such as computer hard drives and cell phones that were seized from the accused, argue that the evidence is tenuous and possibly planted, and will likely be rendered inadmissible should the case advance to trial.
Judge Kothalikar did not deny concerns about whether the evidence would withstand the tests required by the court. He upheld his decision nonetheless, arguing that it was not within the scope of the bail application to make judgments about the credibility of the evidence and that "any comments as to the evidence to be placed before the Court would amount to interference in the administration of justice."
With the rejection of Father Swamy's case by the special court of the N.I.A., the court of first instance, Father Swamy's lawyers can now appeal to a higher federal court in the hope that an independent judiciary body might be more objective about the facts and merits of the case.
Father Swamy has repeatedly denied any involvement in the violence in Bhima Koregaon, "a place where I've never been to in my life," he said in a video recorded days before his arrest in October 2020.
The case against Father Swamy
The charge sheet for Father Swamy and the others accused spans some 10,000 pages. At the center of the allegations is the accusation that Father Swamy and his co-accused incited caste-based violence that left several injured and led to the death of one person at a protest on New Year's Day 2018 in Bhima Koregaon, a village in the Pune district of the state of Maharashtra. Father Swamy's arrest followed a two-year-long period of interrogation, raids of his home and seizure of his personal property, including electronic communications devices.
"The NIA accuses him of personal links with the banned extremist groups," wrote Father Jeyaraj in a statement issued by the secretariat immediately after Father Swamy's arrest. In its most recent Holy Week statement, the secretariat also offered a critique of Father Swamy's prosecution under the U.A.P.A.
"The Act violates the established principles of 'a person is innocent until proven guilty' and the general rule of 'bail is the norm; jail is the exception'. The UAPA, by putting the onus of proving innocence on the accused, goes diametrically opposite to these legal axioms." The amended act, according to the secretariat, "simply arms the central government to designate an individual or an organization 'terrorist' and incarcerate anyone they find as undesirable with almost no possibility for bail. In the present Bhima Koregaon case, some have spent almost 3 years in the prison, without facing trial."
Father Swamy has repeatedly denied any involvement in the violence in Bhima Koregaon, "a place where I've never been to in my life," he said in a video recorded days before his arrest in October 2020.
His advocacy on behalf of the Adivasi—impoverished indigenous groups who live mainly in subsistence-farming communities—to help them secure their rights to land, labor, fair compensation and justice, Father Swamy suggested, may have led to the allegedly trumped-up charges against him and his co-accused.
Father Swamy had helped form a group called the Persecuted Prisoners' Solidarity Committee that sought "first to do a study of the nature of undertrial prisoners in all these states and then to have recourse to legal action so that justice can be done," he said. "I have filed a case against the Jharkhand state in Jharkhand High Court on behalf of about 3,000 young Adivasis who were languishing in the jail. It is this bone of contention with the state, and they wanted to put me out of the way, and one easy way was to implicate me in some serious cases."
The N.I.A. has claimed that Father Swamy not only incited discontent and violence with his speeches and writings against the Indian government but that he also had links to the Maoist Communist Party of India, a claim he also denied. "They started to put before me certain extracts, supposedly taken from my computer, extracts which were Maoists communicating with each other. And in some extracts even my name was mentioned," said Father Swamy. "I just denied and disowned every single extract that was put before me," except one which was "a call to all human rights organizations all over the country explaining what the P.P.S.C. was all about," he added. "What is happening to me is not something unique happening to me alone. It's a broader process that is taking place all over the country. We are all aware how prominent intellectuals, lawyers, writers, poets, activists, student leaders, they're all put into jail just because they expressed their dissent or raised questions about the ruling powers of India."
"I feel pained that he is called an anti-national, Maoist and conspirator to overthrow the government," Father Jeyaraj told America in an email. "We all knew Stan as a just man, who stood with the vulnerable tribals, defended their rights using constitutional and legal means, and lived a frugal life among them."
Even in prison, Father Swamy has found ways to keep his thirst for justice alive. "We 16 co-accused have not been able to meet each other as we are lodged in different jails or different 'circles' within the same jail," he wrote in a letter from prison earlier this year. "But we will still sing in chorus. A caged bird can still sing."
Editor's note: This story has been updated with more recent material.
More from America: