Interview: How the Jesuits are working to confront their history of slavery
Ayan Ali is a researcher with the Slavery, History, Memory, and Reconciliation (SHMR) Project of the Jesuit Conference of Canada and the United States. As we close Black History Month, I spoke with her about the focus of the SHMR Project, what she has learned from the research, and the importance of Black history.
Could you explain the work of Slavery, History, Memory, and Reconciliation Project and what you do as part of the project? 
The Slavery, History, Memory, and Reconciliation (SHMR) Project is an initiative of the Jesuit Conference of Canada and the United States to address the Society of Jesus's historical involvement in the institution of slavery. The Society of Jesus relied on enslaved labor globally, almost from their founding. In the United States, the forced labor of enslaved people facilitated the establishment and success of Jesuit missionary efforts and educational institutions until the abolition of slavery in 1865. Today, the SHMR project works both to share what the lives of people held in slavery to the Jesuits were like, and to connect with their descendants so we can work in partnership to address the persistent vestiges of slaveholding that manifest in Jesuit institutions.

Along with Research Coordinator Kelly L. Schmidt, my primary responsibility with the SHMR Project is historical and genealogical research. We conduct historical research with the goal of creating a more complete history of the lives of people enslaved to the Jesuits. Using archival records such as account books, sacramental records, census surveys, and booklets documenting the allotment of clothing to enslaved people, Kelly and I work to learn more about the lived experiences of people held in bondage by the Jesuits and present a historical narrative that centers enslaved people. We undertake genealogical research with the goal of tracing family lineages to the present so that descendants of people the Jesuits held in slavery can inform how Jesuit institutions should address this history.
We undertake genealogical research so descendants of people the Jesuits held in slavery can inform how Jesuit institutions should address this history.
Some may think of this project in terms of "Jesuit Slaveholding," but the project seems not to place the emphasis on the Jesuits, but rather the people who were enslaved to them. How does this shift in focus change the research? 
Most existing histories of Jesuit slaveholding prioritize the actions and voices of Jesuit slaveholders, and not the people they held in bondage. The SHMR Project works to address this historical bias by conducting extensive historical research with an intentional focus on the lives of enslaved people. Instead of focusing on the thoughts or actions of individual Jesuit slaveholders, we aim to share the untold stories of the adults and children whose forced labor ensured the success of Jesuit institutions from the colonial era until the abolition of slavery in 1865. Such a perspective enables us to highlight the pivotal role that enslaved people played in establishing a Jesuit presence in the United States. The resiliency and courage of bondspeople as they confronted their Jesuit owners emerges with greater clarity when enslaved peoples' actions are centered. Additionally, this emphasis on the perspectives of enslaved people enables us to begin to correct pervasive myths surrounding this history that obscure the extent of or violence intrinsic to Jesuit slaveholding.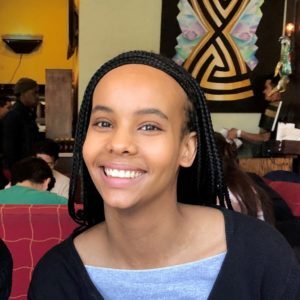 As someone engaged in day to day research on the history of Black people in the U.S., why is something like Black History Month important?
Black History Month is a time for celebrating the many contributions that African Americans have made to the fabric of our society. When Carter G. Woodson first created what was then called "Negro History Week" in 1926, he saw Black history as a mechanism for spurring transformational societal change. Believing that young African Americans were not being taught enough about their own culture and the accomplishments of their ancestors, Woodson's initiative aimed to help people better understand the critical role Black people have played in the shaping of America. Nearly 100 years later, Woodson's intentions behind Black History Month still ring true. The achievements of white historical figures are often centered in modern histories of the United States, while Black existence is reduced to experiences of slavery, segregation, and other methods of racial oppression. Little room is left for highlighting the lasting contributions made by African Americans.
American Jesuit histories often minimize the important contributions that enslaved people made.
This phenomenon is replicated in American Jesuit histories as well, which often minimize the important contributions that enslaved people made to the early history of Jesuit schools, churches, and parishes, or elide them completely. A major component of our work is to address these historical myths and biases by uncovering and sharing a more truthful history of enslavement to the Society of Jesus. By foregrounding the voices and perspectives of enslaved people and their descendants, we work to honor and uplift the Black Americans who played a role in the creation of Jesuit institutions and have been excluded from the historical narrative.    
Black History Month is often time to celebrate heroic figures in Black history. Are there any individuals or families that you have come across in your research that particularly inspire you?
I am continually inspired by the resilience and determination of the families we research. One story that continues to affect me is that of Matilda Tyler (born Matilda Hawkins). Born near Washington D.C., Matilda was forced to Missouri in 1829 from the Jesuits' White Marsh Plantation in Maryland and sent to labor at Saint Louis University (then Saint Louis College). In Missouri, Matilda married George Tyler; together, they had five surviving sons. Matilda and her children labored in slavery together at the college. Missouri law at the time allowed for enslaved people to purchase their freedom and so Matilda Tyler began making arrangements with the Jesuits to do just that. By August 1848, she had successfully purchased her freedom and that of her youngest son, Charles. The Tylers subsequently purchased the freedom of their remaining children and in January 1859, Saint Louis University signed legal deeds of emancipation for Edmond, George, Thomas, and Samuel.
One of the most striking parts about Matilda Tyler's story is how the Jesuits used the money earned from her payments for freedom. An 1847 entry in the Jesuits' treasury ledgers indicates that Matilda would be granted her freedom "if she pay $300 to be appropriated to St. Fr. Xavier Church." After contributing four deposits totaling $300 (about $9000 in today's dollars), Matilda was emancipated. One year later, Matilda, along with her son Thomas, received the Catholic sacrament of Confirmation at St. Francis Xavier Church, the same institution that profited from her bondage.
The Jesuits' treasury ledgers indicate that Matilda would be granted her freedom "if she pay $300 to be appropriated to St. Fr. Xavier Church."
 A main component of the project is genealogical research. Can you talk a bit about that aspect?
One of the major goals of the SHMR Project is to address the modern manifestations of American slavery. Rather than replicate the same injustices that undergirded race-based, chattel slavery, we work to prioritize the needs and voices of descendant communities. Decisions made as part of the reconciliation process should be made by and with descendants, not for them. Genealogical research is therefore critical to our work, as it connects us to descendant communities with whom we work in partnership to repair the historical harms done by slavery.
In a recent newsletter for the SHMR project, you wrote about how recent the history of slavery is. How is that clear in your work?
As part of my duties as a researcher, I create family trees that link living descendants through the generations to their ancestors who were held in bondage by the Jesuits. During the process, I have been consistently struck by the shapes of the family trees, which often resemble hedges more than trees with their low height and broad width. The shape of these trees make clear how little time has elapsed since the abolition of slavery. If slavery was in fact a distant memory, we would expect to see tall, long trees with many generations who had lived and died after slavery was abolished. But these short, flat trees demonstrate just the opposite. In some instances, only two generations separate a living descendant from a predecessor who was held in bondage and some even have lifetimes that overlap with an enslaved ancestor. 
Those familiar with the history of American slavery know that we are not far removed from its horrors.
Because no one alive today participated in or suffered under race-based, chattel slavery, some assert that slavery has negligible impact on contemporary society. While this rhetoric attempts to make recent history seem ancient, those familiar with the history of American slavery know that we are not far removed from its horrors and that similar systems of anti-Black exploitation continue to replicate themselves. The reality is African Americans have been free in this country for less time than they were enslaved and there are Americans still alive today who are the children of enslaved people.
(Note: You can sign up for SHMR's monthly e-newsletter here.) 
Why is it important for Jesuits and those who work in Jesuit institutions to know this history? Why is it important for any American to be more aware of this history?
History as a discipline is about using the tools of the past to make sense of the present and shape the future. Patterns of racial discrimination and persistent structural disadvantages do not occur in a vacuum; they exist in relationship to structural advantages for white Americans, advantages often codified in policy decisions over time, that originated in the institution of slavery. In order to move forward towards an America where one can live free from racial discrimination, prejudice, or preference, we must first acknowledge that slavery is part of our national story, our Jesuit story, the story of our schools and parishes, and is shaping the lives of African Americans to this day.
More from America: