Readers react to Trump's call with the U.S. bishops on Catholic education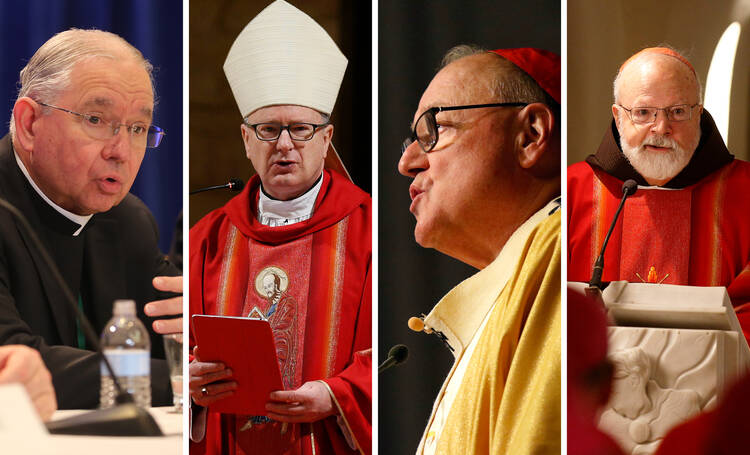 Archbishop Jose H. Gomez of Los Angeles, president of the U.S. Conference of Catholic Bishops, Oakland Bishop Michael C. Barber, chair of the USCCB committee of Catholic Education, New York Cardinal Timothy M. Dolan and Boston Cardinal Sean P. O'Malley are seen in this composite photo. (CNS composite; photos by Bob Roller, Paul Haring, Gregory A. Shemitz) 
On April 25, Cardinal Dolan, along with Archbishop José Gomez of Los Angeles, who is the president of the U.S. Conference of Catholic Bishops, and Cardinal Sean O'Malley of Boston joined a conference call with President Trump that was supposed to be about Catholic education, the Catholic news site Crux reported.
The reaction to that meeting, and to Cardinal Dolan's appearance on Fox News on April 27, elicited many strong responses from America's readers, as well as writers and commentators in other venues. America's editor in chief, Matt Malone, S.J., took up the topic of the bishops' conference call with the president in his "Of Many Things" column for the issue of May 11, writing,
Some Catholics have criticized the bishops for how they conducted this call: for not stressing immigration and the administration's xenophobia; for allowing Mr. Trump to over-stress abortion; for being too chummy with a president whose performance we have abundant cause to criticize. But I think the bishops got it right here. Yes, it is unfortunate that Mr. Trump chose to politicize the call, which is his wont, and some of the pleasantries sounded hyperbolic and tone-deaf, but the bishops made a good tactical choice.
Below is a collection of reader comments, tweets and commentary in response to Father Malone's column.
---
Father Matt, I respectfully disagree with your one-sided view of our bishops. Sadly, our Catholic schools have been losing money long before the pandemic. As you are aware, the cost of tuition has outpaced the cost of living for many Catholic families—especially our poor Catholic brothers and sisters. From looking at past trends, it appears our pastors and school administrators continued to turn a blind eye; that is, in their efforts to find alternative financial methods such as grants, fundraising, etc., to ensure poorer communities have the opportunity to attend Catholic schools. Do you think that impacts the numbers in the pews? Frankly, I find it hard to believe that the bishops still cannot understand people are leaving the church...the divisive politics, abusive priests, bishop corruption, etc. So, to justify the bishops' actions in selling out to this incompetent president, in my view, is short-sided.
Nancy Gonzales
---
---
We all sense President Trump's faults. The American people will soon have the opportunity to determine if he deserves a second term.
I won't judge Cardinal Dolan because I don't know what is in his heart. He is a pastor first. As such, if he believes he is encouraging the president to support Catholic values and education, I support the cardinal. Remember St. Teresa of Calcutta accepted donations from any source because she believed it would be used to do the work of God.
Lloyd William
---
While I too applaud any commitment to Catholic education, I think you are missing the point surrounding the criticism of Dolan's comments regarding the conference call with Trump, highlighted in his interview on FOX, which focused more on his relationship with Trump and how impressed he is with the president's response to the pandemic. He seems to be one of the very few who are impressed! Dolan has done the church no favors at a critical time. Thank God for the prophetic witness of Pope Francis.
Gary Dowsey
---
No. Time to think harder about the consequences of the unholy alliance developing between U.S. Catholic schools' (generally justified) self-narrative as underdogs and Trumps' victimhood complex. https://t.co/TDBNIdqIpe

— Susan Reynolds (@SusanBReynolds1) April 29, 2020
---
Thank you, Father Malone, for your perspective. It rings true. The bishops have spoken out against Trump's policy on immigration. But as you note he is the president. I would add that over 62 million Americans voted for Trump. To simply stand against him in everything makes no sense. He is not Hitler.
Rhett Segall
---
The only justification for the sycophantic attitude of the bishops to the president would be their understanding that that is the way to get anything from him. Such a pity that a more professional approach was not taken—simply outlining the importance of Catholic education for the country as a whole. They missed an opportunity to educate the president in the understanding of "pro-life" in its wider sense. What grated so much was the idea of lauding a man who has used anti-abortion as a political tool for votes, while demonstrating so many policies that are anti-life, as well as his personal ongoing derogatory and aggressive attitudes to anyone who disagrees with him, or who could be considered the "other."
Bridget Taumoepeau
---
I have not felt this depressed about an influential cleric's public remarks in the face of a national crisis since Cardinal Law's calling God's wrath down upon The Boston Globe for exposing the clerical sex abuse scandal! To praise this incompetent president and administration for anything in his response to this crisis is scandalous and insensitive beyond belief.
This particularly smacks of a toadyism that has become too characteristic of the comfortable relationship the cardinal has tried to sustain in bargaining away so many issues of justice to preserve some small gains.
As an active Catholic, a former priest, and someone who just cares about the institution of the presidency that is being attacked daily through lying and narcissism, the cardinal disappoints me beyond description.
Dave Pasinski
Fayetteville, N.Y.
---
Fr. Matt Malone, @Americaeditor, is right. https://t.co/GflQDRXZQA

— JD Flynn (@jdflynn) April 28, 2020
---
In a 2016 op-ed in The New York Times, Peter Wehner concluded with this paragraph: "The French philosopher and theologian Jacques Ellul wrote: 'Politics is the church's worst problem. It is her constant temptation, the occasion of her greatest disasters, the trap continually set for her by the prince of this world.' In rallying round Mr. Trump, evangelicals have walked into the trap. The rest of the world sees it. Why don't they?"
In its coverage of the November 2019 U.S.C.C.B. annual meeting, America included this quote from Archbishop Alexander Sample: "We are at a unique moment with the upcoming election cycle to make a real challenge to Roe v. Wade, given the possible changes to the Supreme Court...We should not dilute our efforts to protect the unborn."
How are those of us who work on any social justice issue supposed to make headway in a Congress with Catholic representatives like Steve King or with Donald Trump as president? Who will be elected if Catholic voters think there is not a continuum of life issues but one issue—abortion—when the bishops' own "Forming Consciences for Faithful Citizenship" contains nuanced discussions of why individuals must consider and weigh the imperfect choices they confront when voting?
Michael Koempel
---
I wonder whether the U.S. Catholic bishops have crossed a sort of Rubicon this week.
When their Roman predecessor, the general Julius Caesar, brought his army illegally over the Rubicon River, he set in motion the events that made him emperor. "The die is cast," he is reputed to have said as he marched his army toward Rome: there was no going back. What he had done could not be undone and it would change the shape of history.
I do not think that New York's Cardinal Timothy Dolan is in any danger of being crowned emperor (or, anything else). But I do believe that his public flattery of President Donald Trump from the pulpit of St. Patrick's Cathedral and on Fox News may prove to be a moment from which American Catholicism cannot turn back.