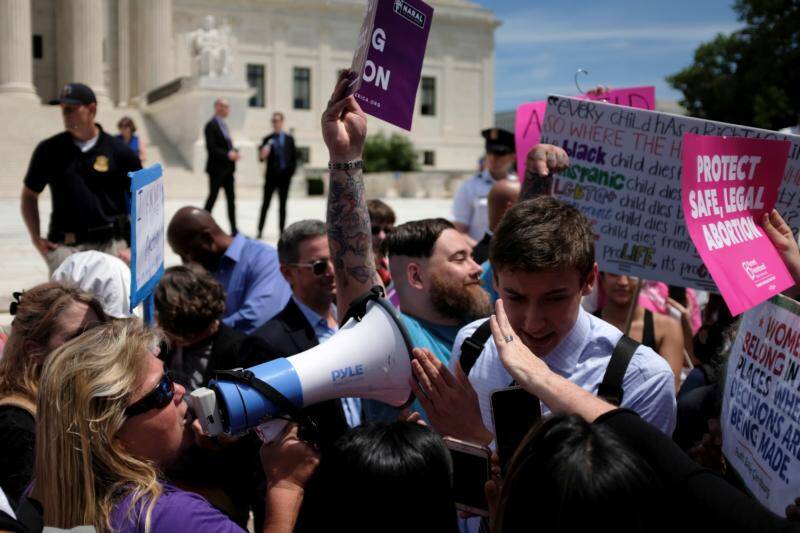 Changing state abortion laws show a nation divided. What does this mean for Roe v. Wade?
On June 12, Illinois Governor J.B. Pritzker, a Democrat, signed the Illinois Reproductive Health Act into law, "making Illinois the most progressive state in the nation for women's reproductive rights," according to his celebration of the event on Twitter. The law "ensures that women's rights in Illinois do not hinge on the fate of Roe v. Wade or the whims of an increasingly conservative Supreme Court," he wrote. "In this state, women will always have the right to reproductive health care."
The new law removes restrictions on abortion late in pregnancy and nullifies criminal penalties for physicians who perform late-term abortions. It repeals Illinois' partial birth ban, and it expands insurance coverage for abortion and contraception.
Describing it as "an extreme measure" that allows "for the abortion of unborn life at any stage of pregnancy and for any reason," the Catholic Conference of Illinois condemned the I.R.H.A. on May 28 as a "grave tragedy" and evidence of a "collective moral failing."
Just a few weeks before and about a thousand miles away in Louisiana, another Democratic governor, John Bel Edwards, signed into law a measure that makes nearly all abortions in his state illegal once fetal cardiac activity is detected, adding Louisiana to the list of mainly Southern states that signaled the desire to overturn decades of abortion policy in the United States over the course of just a few weeks this spring. Louisiana joins five other states—Mississippi, Georgia, Ohio, Missouri and Kentucky—that passed "fetal heartbeat laws" in 2019 which, if upheld by the U.S. Supreme Court, would essentially outlaw abortion after six to eight weeks.
While the sudden rush of limiting legislation has cheered many advocates within the prolife community, some worry that the rush to ban or restrict abortion could backfire.
Limits on abortion after 18 to 22 weeks of gestation in other states were passed this year, and on May 15 Alabama passed what is perhaps the nation's most controversial new abortion law, a near-total ban on abortion at any stage of pregnancy except in the case of a fatal fetal abnormality or lethal risk to a woman during pregnancy. The new law includes no exceptions for rape and incest. The Alabama ban makes terminating a pregnancy a crime punishable by 10 years to life in prison for the provider and is set to take effect in November but would only be enforceable if a Supreme Court decision overturns Roe.
Nationally abortion rates have been reaching historic lows and significant percentages of Americans continue to express support for restrictions on abortion as pregnancies approach fetal viability. While the sudden rush of limiting legislation has cheered many advocates within the prolife community, some worry that the rush to ban or restrict abortion could backfire. Others wonder how prepared U.S. communities are to step in to assist women with unplanned or medically problematic pregnancies should Roe be abruptly overturned.
Pro-choice blowback
Moves to restrict abortion have provoked a pro-choice blowback. The Catholic Conference of Illinois reported that the I.R.H.A. "gained steam" in response to pro-life legislation passed in the South. And Vermont joined Illinois in early June in declaring abortion a fundamental right.
Both states have followed the lead of New York, which expanded abortion access in January. In Maine, legislators voted to require public and private insurance companies to cover abortion and allowed medical professionals who are not doctors to perform the procedure. Other states are considering legislation that would similarly protect abortion rights should the Supreme Court overturn its own precedent in 1973's Roe v. Wade; these measures would nullify previous abortion laws that have been unenforced for decades and lift even the partial late-pregnancy limitations on abortion that are allowed under Roe.
What the flurry of new laws means practically speaking is hard to say. Unlike new state restrictions on abortion, which can only go into effect if the Supreme Court overturns Roe v. Wade, laws that would tend to expand abortion access go into effect immediately. But rates were already comparably higher in many of the states which passed "reproductive health" initiatives. New York has declared abortion a fundamental right and lowered barriers that had been set per Roe at 24 weeks, but the state's already liberal abortion laws meant it had the highest rate in the nation at 29.6 per 1,000 women in 2014.
Commenting via email on the "very positive trend" of state moves to limit abortions, Kat Talalas said she was pleased to "see so many states moving forward with pro-life legislation." Ms. Talalas is the assistant director for Pro-Life Communications at the United States Conference of Catholic Bishops' Secretariat of Pro-Life Activities.
"Even as new state laws face challenges, they reveal the powerful truth that 46 years after Roe v. Wade, abortion is far from being a decided issue in this country," she said. "We have great hope for the future of the pro-life cause, and if nothing else, these legislative victories and battles expand public consciousness and lead many to reexamine their views on abortion."
"Even as new state laws face challenges, they reveal the powerful truth that 46 years after Roe v. Wade, abortion is far from being a decided issue in this country."
Not all members of the nation's pro-life community perceived the new legislation as positively.
Charles Camosy, a bioethicist, author and professor at Fordham University in the Bronx, wonders if pro-life high-fives might be premature. Careful to note that he was not arguing about principle but strategy, he said, "I am pretty frustrated with the overconfidence" generated by certain victories at the state level. Mr. Camosy worries that the "overreaching" of some of the legislation has drained momentum just as the pro-life movement was strengthening in the American cultural mainstream.
"We don't even have to persuade most Americans anymore, they're already there," he said, citing Gallup polls that find more than 70 percent support for abortion restrictions after 12 weeks, limitations that would put the United States generally in line with abortion laws throughout Europe.
The broad expansion of abortion rights in New York, in fact, seemed to take many New Yorkers by surprise; the Reproductive Health Act pulled down barriers to abortion beyond the 24-week viability cut-off established by Roe v. Wade. Some New Yorkers and people around the country were shocked by what they perceived as an unseemly celebration of the new law.
In Albany a standing ovation followed the R.H.A.'s passage through the state House and Senate on Jan. 22, the 46th anniversary of the Roe v. Wade ruling. It was signed that same evening by Governor Andrew Cuomo, who ordered state office buildings and monuments, including the One World Trade Center spire, lit up in pink "to celebrate this achievement and shine a bright light forward for the rest of the nation to follow."
Virginia's thwarted attempt to pass a similar recoding of abortion rights was most memorable because of Governor Ralph Northam's ham-handed defense of the bill. During a radio interview, he seemed to approve the near infanticide of fetuses delivered alive during late-term abortions. A Knights of Columbus/Marist survey taken just days later found a sharp decline in the percentage of those who would describe themselves as pro-choice; many interpreted that decline as a rebuke to New York's pro-choice triumphalism.
The conversation shifts
After the passage of the New York law, "there was a real opportunity to make the discussion about late-term abortion," Mr. Camosy said, an opportunity that is perhaps being lost as pro-life supporters celebrate so-far-unenforceable near-bans on the procedure. Advocates pressing for unrestricted abortion rights "want to do things that everyone disagrees with," Mr. Camosy said, "but now we are talking about abortion being illegal to the point of conception and with no exceptions for the health of the mother or sexual assault."
After the passage of the New York law, "there was a real opportunity to make the discussion about late-term abortion," an opportunity that is perhaps being lost as pro-life supporters celebrate so-far-unenforceable near-bans on the procedure.
"Do you really want the story to be about 11-year-old girls who were raped by their uncles?" he asked. "This is not the conversation we want to have. I think it plays into Planned Parenthood's hand."
Even as new laws restricting abortion rights have generated headlines, they will not take effect without court challenges. The American Civil Liberties Union and Planned Parenthood Federation of America have promised vigorous resistance to Alabama's new restrictions and fetal heartbeat laws, which they describe as de facto bans on abortion. But those court challenges are exactly what some legislators hoped to provoke, as a way of pushing the issue of abortion back to the Supreme Court and giving the court an opportunity to overturn Roe v. Wade.
Kate Ott, a professor of Christian social ethics at Drew University in Madison, N.J., who has campaigned for abortion and L.G.B.T. rights, said people in pro-choice activist circles had long anticipated this spring's legislative action.
Pro-lifers, she said, have taken a page out of the playbook used by advocates of L.G.B.T. rights and same-sex marriage. "It was well known that pro-life, anti-abortion activists were going to use that exact same strategy to get to the Supreme Court and try to overturn Roe v. Wade," she said.
She sees the impact of both the Tea Party movement and President Trump's unexpected ascendancy in 2016 behind the sudden "perfect storm" of legislative moves against abortion. Despite supporting abortion before running for president, Mr. Trump campaigned on a promise to oppose Roe v. Wade, winning him the support of many pro-life activists. By the time the bitter confirmation hearings for Justice Brett Kavanaugh ended in late September 2018, it was clear that his elevation to the court had in many minds triggered a countdown to a Roe challenge.
"The current Supreme Court provides some hope that it is better disposed than previous courts to reconsider and overturn Roe," said Ms. Talalas. "Whether or how it might do so is anyone's guess. Should this happen, the pro-life movement will respond in much the same way that it has for the last 46 years: by working to ensure that women have life-affirming support and alternatives to the violence of abortion and to ensure that unborn children enjoy the same civil and human rights as every other human being."
But Steven Millies, the director of Catholic Theological Union's Bernardin Center for Theology and Ministry in Chicago, is not confident that a challenge to Roe v. Wade will materialize anytime soon. "[Chief Justice John] Roberts has tried too hard to steer the court through these partisan currents that have been swirling around them to simply overturn Roe instantly," he said. He believes a lengthy chipping away at abortion rights will be the more likely course set by the court.
"The argument is about the extremes, which tells me this is really more about a political fight, probably having more to do with the upcoming presidential election than it really has to do with abortion at all."
In fact, he believes this latest outbreak in the culture war over abortion is not really about a possible overthrow of Roe at all. "One of the things that is striking to me is that from a perspective of law and medical science, abortion is a Week 6 to Week 23 question," he said, "from about as soon as a woman can notice she is pregnant reliably down to Week 23, when a baby can survive on its own.
"It's a very narrow window that we would be discussing if we really were talking about abortion," Mr. Millies said. Instead, "we've got one side which is really focused on expanding the access to abortion into the latest part of the pregnancies, and you've got the other side, which is concerned with the moment when the fetal heart starts beating, with the moment of conception."
But, he said, "the argument is not about Week 6 to 23. The argument is about the extremes, which tells me this is really more about a political fight, probably having more to do with the upcoming presidential election…than it really has to do with abortion at all." Mr. Millies described it as the "same sad burlesque that this abortion debate has been for the last 40 or 50 years."
"The trouble is no one is thinking about how law needs to function in a pluralistic society in order to teach virtue, in order to communicate values either on the left or the right," said Cathleen Kaveny, author of Law's Virtues: Fostering Autonomy and Solidarity in American Society. Ms. Kaveny teachers both theology and law at Boston College. "They're all thinking of law as a political football, and they're trying to get it into one or other end zone as quickly as possible."
"So what's the purpose, what's the game?" she asks of the new abortion restrictions. "The purpose...is not to actually govern," she said, "but to get the issue to the Supreme Court.
"And what happens after that I think we are starting to see," she added, referring to the diverging of abortion policy state by state in anticipation of a post-Roe future. "New York is going to have one set of laws and Missouri and other states are going to have others, and so how do we live in a divided country like that?"
 
The Divided States of America
In a speculative future where Roe is overturned, Ms. Kaveny foresees a kind of "abortion tourism" as women travel from states with strong restrictions to others with expansive abortion laws, a phenomenon already familiar to people in Missouri and Illinois.
Just three weeks before Illinois's extension of abortion rights became law, Missouri Governor Mike Parson approved some of the strictest restrictions on abortion in the country. And continuing judicial and regulatory challenges to Missouri's lone remaining abortion clinic mean that the state could become the first in the nation without an operating abortion facility since the Roe v. Wade decision in 1973. Already, women from Missouri seeking to have an abortion have found it easier to travel to Illinois. The Chicago Tribune reports that more than 5,500 of the nearly 40,000 abortions conducted in Illinois last year were performed on women from out of state.
"The trouble is no one is thinking about how law needs to function in a pluralistic society in order to teach virtue, in order to communicate values either on the left or the right."
And women from all over the country have long come to New York, dubbed "the abortion capital of America" by New York magazine. Thousands arrive each year in particlular before the doors of Planned Parenthood's Margaret Sanger Clinic in the city's East Village, especially to obtain abortions in second and third trimesters. The phenomonen is so well established city council members voted on June 14 to allocate $250,000 to the New York Abortion Access Fund to assist out-of-state abortion clients.
"There will be a lot of abortion tourism and a lot of abortion through the mail because a lot of these are two-step pill programs—they're medical abortions not surgical abortions," Ms. Kaveny pointed out. "One of the characteristics of good law is that it can be effective. It's not clear to me that the grave restrictions [on abortion] are going to be effective, at least some of the more extreme versions."
America's editors have argued in favor of returning the abortion question to the states but said that laws restricting abortion must be accompanied by equally vigorous support for families raising children and women struggling with pregnancy. If these most recent laws are to be upheld and Roe overturned or limited, such laws would need to be modified in order to be practically and justly enforced, the editors said, adding, "But the legislative work of answering the challenging moral questions about abortion will at least be possible."
Mr. Camosy believes that "deeply important arguments" remain to be had about exceptions to abortion based on threats to maternal health, fetal viability or pregnancy caused by sexual violence, but "it would be so much better off if the pro-life movement just focused on where America already is," he said. "[Most Americans] want abortion restrictions with a sexual violence exception, and that would be a huge achievement," but pro-life activists celebrating abortion bans without exceptions "are making that outcome less likely."
But Ms. Talalas suggested that any backlash to pro-life laws "will likely be offset by an equal or greater backlash to extreme pro-abortion laws and bills."
"The majority of Americans strongly oppose state legislation which seeks to enshrine abortion up until birth or weaken existing protections for infants who survive an abortion attempt," she said.
A recent poll suggests that Mr. Camosy's concerns are worth heeding. In February, a Marist Poll sponsored by the Knights of Columbus found adult Americans evenly split on abortion with 47 percent describing themselves "pro-life" and 47 percent "pro-choice." But after weeks of headlines tracking states pushing substantial limitations on abortion, on June 4 an NPR/Marist poll found only that 35 percent of the adults surveyed described themselves as pro-life, while 57 percent embraced the pro-choice label.
"I've been in this debate long enough to know that it is cyclical," said Ms. Ott, speculating that pro-life strategies that result in victories in state legislatures or the Supreme Court will quickly be countered by pro-choice advocates pressing for their repeal. Recalling efforts in the past to find common ground that were unable to overcome strong disagreements over matters like sex education and contraception, she has little expectation that a cultural compromise on abortion is likely now.
"Most people don't like to say anything about abortion in any kind of context because they are afraid immediately they're going to get shot at."
The two sides even differ on how to interpret what could be understood as a positive development. Last year abortion rates declined to an all-time low since the procedure was legalized in 1973. According to the Centers for Disease Control and Protection, for women ages 15 to 44, the abortion rate—11.8 per 1,000 women aged 15 to 44—dropped 26 percent between 2006 and 2015, the most recent year for which data is available. (In 1980 the rate was 25 per 1,000 women—the highest figure the C.D.C. has ever reported. The Guttmacher Institute, a research and policy organization "committed to advancing sexual and reproductive health and rights," records a higher rate of 29 per 1,000 that year. It reports that the rate in 2014 of 14.6 per 1,000 women was the lowest it has recorded.) Abortion rights advocates say the reduction is attributable to improved sex education and access to contraception, especially long-term forms of contraception, fostered by the Affordable Care Act.
But like others in the pro-life commmunity, Carol Tobias, president of the National Right to Life Committee, attributes the dropping rate to new state-level restrictions on abortion and a growing public sentiment against the procedure. "We know the annual number of abortions continues to decline," she wrote in her introduction to the N.R.L.C.'s annual report on abortion in the United States.
"This drop in numbers can be traced to a number of factors," she said, "but among them are the efforts by National Right to Life and its network of state affiliates to enact protective laws that provide legal protection to unborn children and offer hope and help to their mothers. These legislative efforts are at the very heart of our work, and they are one of the keys to ending abortion in the United States."
As clinics closed and regulatory and legal restrictions increased, Texas indeed experienced a 28 percent decline in its abortion rate between 2011 and 2014, from 13.5 to 9.8 abortions per 1,000 women of reproductive age, according to Guttmacher. But critics of the new restrictions say women in Texas did not stop having abortions, but traveled to other states to have them or resorted to self-inducement methods not tracked in official tallies.
 
An 'Impoverished' Debate?
Coming at this latest civic reappraisal of abortion "from a seamless garment perspective," Mr. Millies said, "if this were really about a serious engagement with the issue, we would be talking prenatal care; we would be taking about giving access to health care; we would be talking about a whole range of issues that are a little bit more on point than these legal challenges right now."
"Even if pro-life demonstrators in the street get exactly what they want, what we know is that abortions will go on and it won't be fixed."
"For a debate of any moral issue in a liberal democracy, you need to get the people involved," said Ms. Kaveny. "That's part of what we need to do." But that is not happening on abortion.
Ms. Kaveny argues that most Americans fall somewhere in a "large muddled middle" when it comes to abortion "and apparently they haven't changed much over the last 40 years."
Describing the country's abortion debate as "deeply impoverished," Mr. Millies said, "like so many of the most important moral problems that we try to deal with through politics, there is no real way to change hearts and minds except to try to change hearts and minds. If we could win the pro-life argument on its merits, there'd be no need to worry about what the law is."
"I really wish that we could step back from the legal, political deadlock that's been created and have conversations in our communities," Ms. Ott said. "When you look at the actual stories and the data related to abortion, honestly, it doesn't look like what either side depicts.
"It's complicated. It's messy and it is definitely tied up to other issues that we seem unable to also have conversations about with regard to health care access, education, abuse and violence toward women, and economic equality toward women."
"If we could promote healthy births and healthy children, and parents who have stable prospects for employment and educating and caring for their children," Mr. Millies said, "we wouldn't have a lot of these problems. But instead we focus on this very narrow legal issue as though that will fix it.
"Even if pro-life demonstrators in the street get exactly what they want [in overturning Roe]," he said, "what we know is that abortions will go on and it won't be fixed."
That speculative day after an overturning of Roe would indeed mean new challenges. Many of the states where abortion restrictions or prohibitions would come into force are led by Republican governors and Republican-led legislatures that have been ideologically opposed to the kinds of social services some argue are critical in helping women confronting unplanned or difficult pregnancies to bring them to term.
Asked if the church should be pressing for the creation or restoration of social services and maternity support programs in states that outlaw abortion, Ms. Talalas said, "The Catholic Church makes the largest commitments to charitable causes of any private source in the United States.
"The church's many ministries help families in need receive access to compassionate, life-affirming services including housing, health care, education, food security and other material supports."
She reiterated points made by Archbishop Joseph Naumann of Kansas City, chair of the U.S. bishops' Committee on Pro-Life Activities. In late May, expressing support for the cascade of new restrictions being passed in the South, he said, "Every single human life has value." He called the trend of states passing abortion restrictions "a very encouraging move toward ensuring that our society cherishes unborn children and their most basic right to life."
"The pro-life movement has always had two critical goals," he added, "increasing support for mothers and children and eliminating the tragedy of abortion…. As we celebrate these pro-life legislative victories, we reiterate our commitment to supporting all mothers with the care and resources they need. The church stands ready to help and welcome them."