L.A. County Jail begins a mental health renovation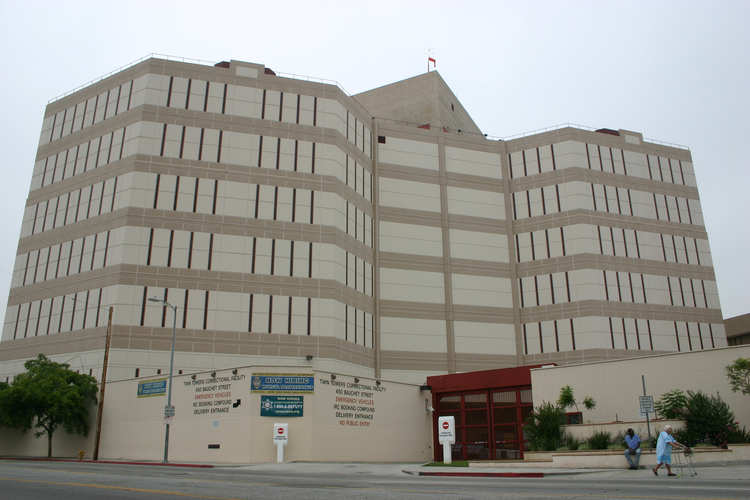 In May 2013, along with the adjacent Men's Central Jail, the Twin Towers jail ranked as one of the ten worst sites of incarceration in the United States, based on reporting in Mother Jones magazine: "Eyewitnesses, including several prison chaplains, have reported that attacks by deputies at the twin facilities are often unprovoked or brought on by the slightest infractions."
California is often imagined within the American tapestry as the fulfillment of our notions of the American Dream, a land of opportunity where all are welcome and progress reaches everyone. "Now more than ever, America needs California," Governor Gavin Newsom said in his inaugural address in January.
But amid its aspirations and achievements, the state also continues to lag behind in unexpected, often shocking ways. For instance, the county of Los Angeles, which has nearly double the inmate population of any other county in the United States, currently runs Men's Central Jail, a massive, 55-year-old, 4,300-bed institution ranked by Mother Jones in 2013 as one of the 10 worst places to be incarcerated in the United States.
The A.C.L.U. has described it as "a windowless dungeon in downtown L.A. that has been plagued by a long-entrenched culture of savage deputy-on-inmate violence." Last month County Supervisor Janice Hahn called it "a decrepit, outdated facility inconsistent with human values and basic decency." Fellow Supervisor Mark Ridley-Thomas agreed, saying, "The state of Men's Central Jail is nothing short of a violation of fundamental human rights of those individuals."
For years now, the county has been proposing to replace the facility. In June 2018 county supervisors finally approved $2.2 billion to build a replacement with the notable amendment that the new facility would be designed with a focus on mental health and rehabilitation. As reported by The Los Angeles Times at the time, 70 percent of the county jail's population were physically or mentally ill.
One study last year found that even as the numbers in California's jails had been going down, the number of county jail inmates requiring psychotropic drugs had gone up by 25 percent. In March nearby Orange County announced it would no longer allow U.S. Immigration and Customs Enforcement to hold detainees in its jails because the mental health needs of its inmates has gone up an astonishing 40 percent over the last three years.
In February L.A. county supervisors went a step further, voting to make the new facility—now known as the Mental Health Treatment Center—the responsibility not of the Los Angeles County Sheriff's Department but the Department of Health Services. It will be staffed by the city's Department of Mental Health with some L.A.S.D. deputies present to provide security.
Robert Garcia, assistant executive director of the Jesuit Restorative Justice Initiative, which does pastoral care and restorative justice work with inmates in the California prison system, welcomes the county's turn toward a mental health approach. A lot of the criminal acts that have landed county residents in the criminal justice system, he argues, are reflections of "traumatic experiences that inmates experienced in their youth and never got to deal with."
"It's trauma related to neglect, whether it be physical or emotional, or it could be abuse—physical, sexual or emotional," Mr. Garcia says.
County supervisors approved $2.2 billion in June 2018 to build a replacement with the notable amendment that the new facility would be designed with a focus on mental health and rehabilitation.
"There's that saying, 'Hurt people hurt people.' A lot of the symptoms that we see—criminality, delinquency, even homelessness—are based on trauma that's displaced. So having a mental health focus would be a step in the right direction. It'll start treating the problem rather than [its] symptoms."
At the same time, the idea of building a nearly 4,000-bed mental health treatment center is raising eyebrows. Dr. Ira Burnim, director of the Bazelon Center for Mental Health Law, which does policy, advocacy and litigation work around mental health issues nationally, calls the idea "insane, a very bad idea just preserving the status quo."
"Everyone seems to agree there are far too many people with mental illness in L.A. jails," says Dr. Burnim. But he says the fix is not more beds for mental health. "They don't need to be there; they're only there because there aren't the services in the communities that are needed. There's this kind of inertia [in Los Angeles] that I don't entirely understand."
The county has been cagey so far about whether or not the construction contract officials signed in June requires them to build just one large facility. Supervisor Ridley-Thomas assured The Los Angeles Times, "There is nothing here that is irreversible," but the actual details of the contract have not been revealed, and L.A. County officials did not respond to requests for comment.
If there is flexibility, Dr. Burnim suggests, the money would be better spent strengthening mental health services throughout the county, like creating more small, 16-bed-or-less crisis stabilization units for short term care; "respite apartments" where someone could come for a couple of weeks either to get help or wait while a member of their family does so; or diversion centers where people with mental health issues who are accused of things like criminal trespass (i.e., bothering people on the street) can be brought for services instead of being sent to jail. "If they want bricks and mortar, I can think of an array of small storefront-type places, or apartments or maybe just family home types."
A key to success, though, is to locate options throughout the county. Collecting services or housing for people with mental health issues in one or just a very few places, notes Dr. Burnim, "limits your freedom and flexibility. If you have a job across town or develop a relationship across town or want to live somewhere else, well, you can't. You have to stay in this one bed."
"Everyone seems to agree there are far too many people with mental illness in L.A. jails," but the fix is not necessarily more beds for mental health.
Dr. Burnim says the other major issue in Los Angeles is accountability. The "assertive community treatment" approach, in which teams of local service providers with different skills work together to help individuals, has become the standard of care. But Los Angeles, he finds, has "an almost totally unmanaged system: They provide guidance, they set up infrastructure, but they don't monitor performance intensively."
It is a characteristic of California's approach in general, he says. "The state has always had a relatively light touch, so there's a great range of performance; some people have very high regard for them," Dr. Burnim says.
"But I've also heard in L.A. of providers who say, 'We don't serve people who are involved in criminal justice issues' or 'We don't serve people who do drugs or refuse to take their medication.' Well, if your providers refuse to do that, it's no big surprise that those people end up in your jails."
In his inaugural address, Governor Newsom imagined a "California for all," and since then he has already begun to make changes in the state's criminal justice system, instituting a moratorium on the death penalty and shifting responsibility for the state's juvenile justice system from the Department of Corrections to the Department of Health and Human Services. The County of Los Angeles could be poised to make its own paradigm shift in corrections practice and care. But it remains to be seen whether its worthy aspirations will be married to effective practice.