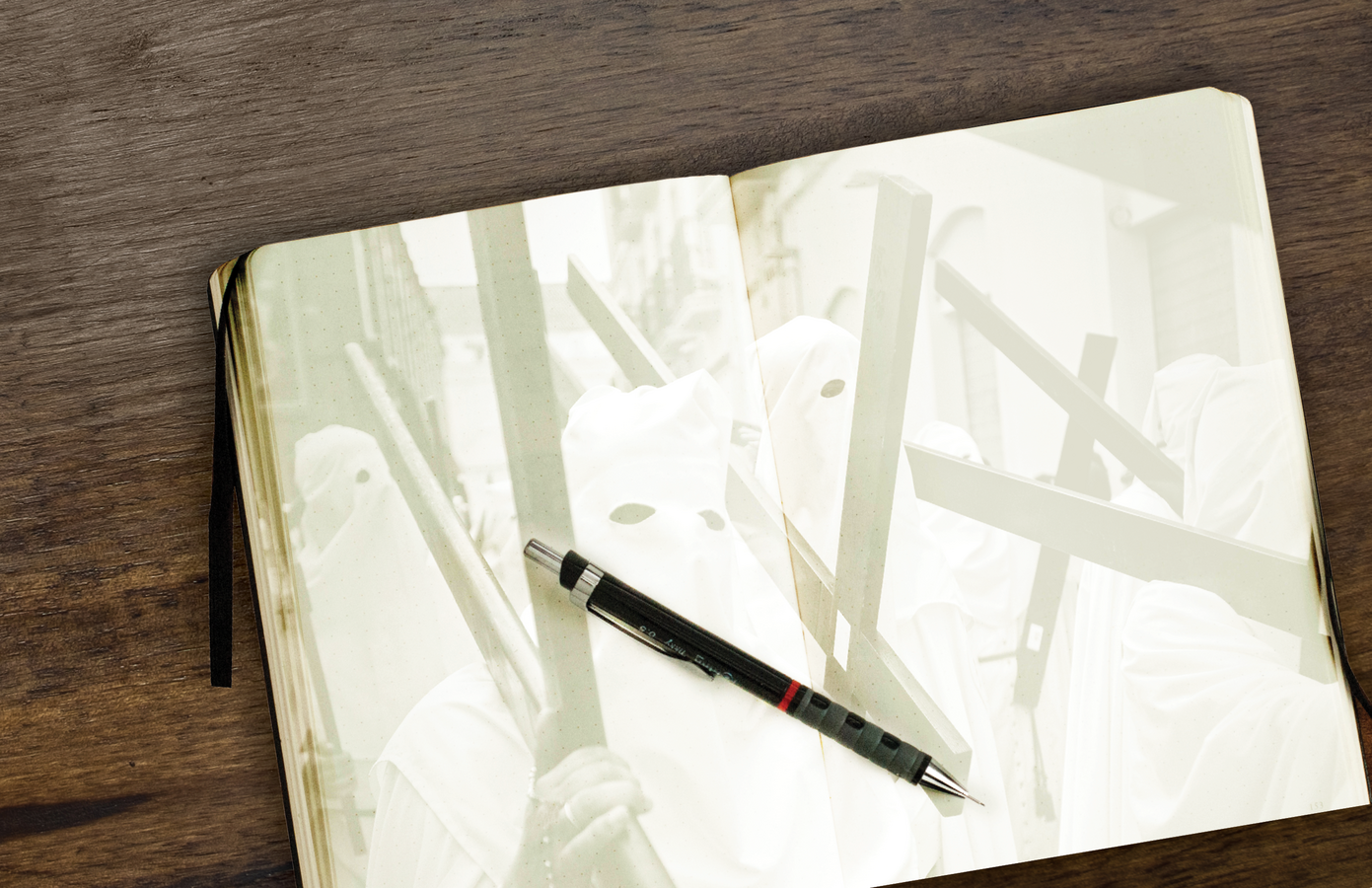 How a racist fan letter forced me to reckon with our nation's history of prejudice
It is one of those moments you do not forget: the first time you receive a friendly note from a virulent racist. Nothing quite compares to that nasty realization that you have been deemed recruitment-worthy by the foot-soldiers of the Ku Klux Klan.
For me, this first happened in the spring of 2015, a couple of years into my career as a freelance writer. I had recently written a piece for The Federalist on the failures of Democratic urban policy. The piece was a crowd pleaser, and I felt good about it. Shortly after it ran, I got a note from a reader who assured me that I was a gifted writer who had made some excellent points. Unfortunately, he said, I had not yet gotten to the heart of the issue. The Democrats had their problems, but bad policy was not the real scourge of American cities. They were simply ungovernable, he said, because there were too many black people.
I stopped on that sentence. My mouth was suddenly dry. I wanted to hit "delete" and consign this vile argument to oblivion. It was hard to look away though, so I read on to find a list of suggested books, ostensibly explaining the scientific basis for black violence and promiscuity. These books, I was assured, would truly open my eyes. At that, the reader wished me all success in my career and signed off.
I was rattled. Like most public writers, I was used to getting notes that were crude, crazy or even mildly threatening. Normally, I would say a quick prayer for these obviously troubled people and get on with my day. This time it felt different, precisely because the author wasn't insulting or obviously deranged. He could spell, punctuate and summarize the central argument of a book. He was also a raging bigot. Worst of all, he saw me as some kind of kindred spirit. Why in the world would he think that?
Over the next few years, I would come to a clearer understanding of what that reader saw in my work. He did not mistake me for a fellow racist, which I am not. Still, there were reasons he thought I might be persuadable. In order to appreciate those reasons, I had to think more deeply about the subtleties of prejudice and the power of political narrative. By the end, I would understand more clearly why racial reconciliation has proven difficult, even in a society that overwhelmingly wants to distance itself from the injustices of a prejudiced past.
A Topic of Debate
I have spent much of my life among my fellow political conservatives. For most of that time, I genuinely believed that racism was not a significant problem in the United States. I thought we had successfully overcome the sins of our troubled history. Of course, I did notice that racial prejudice continued to be a topic of heated public debate. But I assumed (like many political conservatives) that this was politically manufactured outrage with almost no basis in reality.
Today I see things differently. Many do not though, so it is worth recalling why this perspective seemed reasonable to me for so long. I know many people who are politically conservative who could benefit from deeper reflection on racial prejudice and its historical roots. At the same time, I know many people who are politically liberal whose ignorant or intemperate comments have served to polarize and not to persuade. This results in the further entrenchment of complacent right-wing views.
I genuinely believed that racism was not a significant problem in the United States.
Why was I so sanguine about the end of racial prejudice? One reason was simply that I knew a great many political conservatives, none of whom seemed at all racist. They never said racist things or showed noteworthy favoritism toward white people. They agreed unanimously that slavery and segregation were terrible things, probably the aspects of our American heritage least deserving of pride. Why would I suspect them of harboring racial prejudice when I saw absolutely no signs of this?
I was proud of our non-racist society, especially because I had lived and traveled in places where people did openly display racial bigotry. In Italy, I once conversed with an older gentleman who told me that he had not enjoyed visiting the United States because "there were too many blacks and Chinese." As a Peace Corps volunteer in Uzbekistan, I was scolded by Uzbek acquaintances for befriending an Armenian woman because, they said, "those people are dirty, and they steal." In the course of my travels and in my study of history, I had plenty of occasions to notice that racism is really quite a common human failing. Nevertheless, here in the United States I married a man of a different race without worrying for an instant that my conservative friends or family would be bothered. (They were not.) What a wonderful country!
In light of that experience, it was quite difficult to take seriously the hyperbolic left-leaning missives, lamenting the evils of right-wing racism. These warnings seemed especially shrill around 2008, when Barack Obama was elected president. Many people, it seemed, truly believed that racism was a primary explanation for conservative dissatisfaction with our 44th president. That seemed ludicrous to me. In such a polarized nation, was it really necessary to fall back on such damning explanations for political disagreement? I was especially amused by complaints that conservatives were "dog-whistling" to racist voters. The charge made me picture smoke-filled rooms filled with scheming strategists and pundits, debating effective strategies for pushing their readers' ugliest buttons. This sounded to me like the silliest kind of conspiracy-mongering.
Answering Painful Questions
A few years later, I started actually writing for right-wing political outlets. I was never invited into those nefarious smoke-filled rooms. But I did start to realize that things were more complicated than I had supposed.
It was discomfiting to realize that bigots really were out there, identifying me as a potential ally.
The racist fan mail gave me my first jolt. It was discomfiting to realize that bigots really were out there, identifying me as a potential ally. Things really began to shift, though, when I engaged in an extended research project on criminal justice reform. Initially, I became interested in the issue as a rare area of politics, in which productive, bipartisan conversations still seemed to be taking place. As I dug deeper into the history of criminal justice, however, it became increasingly impossible to ignore the relevance of race.
The justice system is one part of American life that has always been riven by racial tensions. As I read further on the subject, it struck me that there really has not ever been a point in our nation's history when black Americans could confidently believe that they would be viewed as equals in the eyes of the law. Criminal justice has always been a flash-point for racial tensions, from the lynch mobs of the old South through Jesse Washington, Marquette Frye, Rodney King, O. J. Simpson and now Tamir Rice, Philando Castile and Stephon Clark. As a conservative, I had long taken pride in our nation's vaunted legal tradition. Now I wondered: Might I feel differently if those faces were the ones I first associated with the arm of the law?
These questions are painful, throwing us into difficult reflections about predators and victims and how we recognize each category. I started thinking about cycles of violence and how they could arise between law enforcement and civilian populations, just as they arose between feuding families or warring ethnic and religious groups. These struggles, I realized, had deep historical roots; it was short-sighted how pundits always wanted to bring things back to an endless debate over "racist cops" and "black-on-black crime."
Writing about these insights in The Federalist, National Review Online and the National Catholic Register earned me more mail from racist readers. They were not fans anymore. But the most revealing responses did not come from extremists pitching racialist pseudoscience. Far more interesting were the responses from mainline conservatives of a more familiar sort. I was genuinely startled by how bothered some of them were. One acquaintance showed up to a social event with a list of talking points, anxious to rebut my latest essay on criminal justice reform. On another occasion, a reader sought me out at a parish talk to explain that my "social justice activism" was giving aid and succor to the left and that black Americans could improve their own neighborhoods quite easily by simply "not killing each other."
I do still believe that Americans, in general, want to have a harmonious, multi-ethnic society.
In these reactions, I now saw a kind of cultivated insensitivity. Why, I wondered, should it be so terrible to agree that black communities today suffer disadvantages, which are connected to our unfortunate history of racial injustice? In admitting that, one need not confess to personal guilt. Neither is it necessary to disavow love of country. All societies have sins and shortcomings that need to be addressed; indeed, we should want to address these precisely because we love our country. As I saw it, I was merely asking my right-wing readers to consider that historical injustice might have long-lasting effects. Why was that so offensive to some people?
The fact that they took offense made me wonder whether the problem might be worse than I had feared. I also started to notice subtler cues that had escaped me before. What kind of placement did right-leaning publications give to pieces about rioting black youth, as opposed to other violent events? Which parts of the famed "Moynihan Report" did they best remember, and when did they bring them up? I started noticing how certain writers cherry-picked their data in such a way as to reinforce right-wing assumptions about the heroism of law enforcement and the deep lawlessness of black culture. One day it occurred to me: Maybe that was what liberals meant by "dog-whistling."
Political narrative is easier to recognize when you are looking across the aisle rather than at those beside you. It was easy for me to recognize how progressives were prone to intemperate or hyperbolic statements, presumably meant to galvanize readers. Now I saw what should have been obvious: Conservatives do this, too. On their side, the goal is usually to persuade readers (or voters) that racism is overwhelmingly a historical phenomenon and that struggling minorities today have only themselves to blame for their problems.
Nothing quite compares to that nasty realization that you have been deemed recruitment-worthy by the foot-soldiers of the Ku Klux Klan.
Why are so many conservatives so ready to believe this? There are many reasons. Sometimes, they may just want to protect the reputation of people they are strongly inclined to admire. Most conservatives like the police, for instance. They warm to the "thin blue line" ideal of law enforcement as a bulwark against the ever-present threat of chaos. It is unpleasant to think about instances in which the police really have not been the good guys. Many conservatives also have warm feelings about certain historical periods, in which racial injustice was obviously very real. Racism was obviously still a significant force in the mid-20th-century United States, following World War II and before the civil rights movement hit its stride. Conservatives know this, but many still cherish the memories of this period, when our heroic veterans settled down in clean-cut suburbs to raise healthy families. Even acknowledging that their great-grandparents' racism was itself reprehensible, it is still more pleasant to think of that as a somewhat-incidental blemish on an otherwise admirable age.
Some motives are less benign. In our age of political tribalism, a regrettable number have been willing to think in racial terms, using skin color as a semi-reliable proxy for defining friend and foe. Some right-wing personalities (including, regrettably, our own president) have encouraged this in fairly transparent ways. It is especially easy to do this in economically desiccated places where people feel left behind. They may resent this especially in light of their ancestors' historical contributions as farmers, soldiers or builders of railroads. They feel these contributions entitle them to a certain sort of life, which others may not deserve as richly. It probably does not occur to them that these claims of historical entitlement should at least be set alongside more serious reflection on the duty to make amends for historical injustice.
It is common for right-wing narratives to treat racial prejudice as a freakish historical oddity, which we regret but prefer not to discuss.
Relatively few people descend to the dangerous extremes of my original bigoted correspondent. Still, it is easy enough to see how it happens. It is common for right-wing narratives to treat racial prejudice as a freakish historical oddity, which we regret but prefer not to discuss. Popular right-wing pundits like Heather Mac Donald will readily agree that racism is shameful and wrong and even that racist attitudes may surface now and again in particular misanthropic individuals. But they treat this as just an aberration, with relatively little significance. For a certain kind of contrarian, that is a veritable invitation to breach the taboo, re-envisioning U.S. history through a new racialist lens. Conservative writers like myself, as I did when voicing my former perspectives, can unwittingly lay the groundwork for that transition, even when that is not our intention.
Despite everything that has happened in the United States these past few years, I am still proud of the steps we have taken toward racial reconciliation. We have come a long way over the past half century and even further, since our nation's original founding. I do still believe that Americans, in general, want to have a harmonious, multi-ethnic society. But for that to happen, we may need to be less defensive, more generous and more open to contemplating the far-reaching effects that racial injustice can have. Conservatives need to relax their triumphalist impulses a bit and appreciate the tragic aspects of American history more fully. Liberals should be less zealous about wielding racial accusations as a weapon. All of us should recognize how hard it is to persuade people to be open-minded when they themselves are hurting. Correction is much likelier to be heeded when it is offered in a loving spirit.
St. Paul tells us that in Christ there is "neither Jew nor Gentile, neither slave nor free, nor is there male and female." Our earthly identities, however important they might be to our experience and understanding of each other, do not define our worth. And in order to understand these identities, we must first see each other as children of God. It has always been difficult for groups of human beings to understand and live with people unlike themselves. Through grace, perhaps we can learn to see the humanity that we all share.