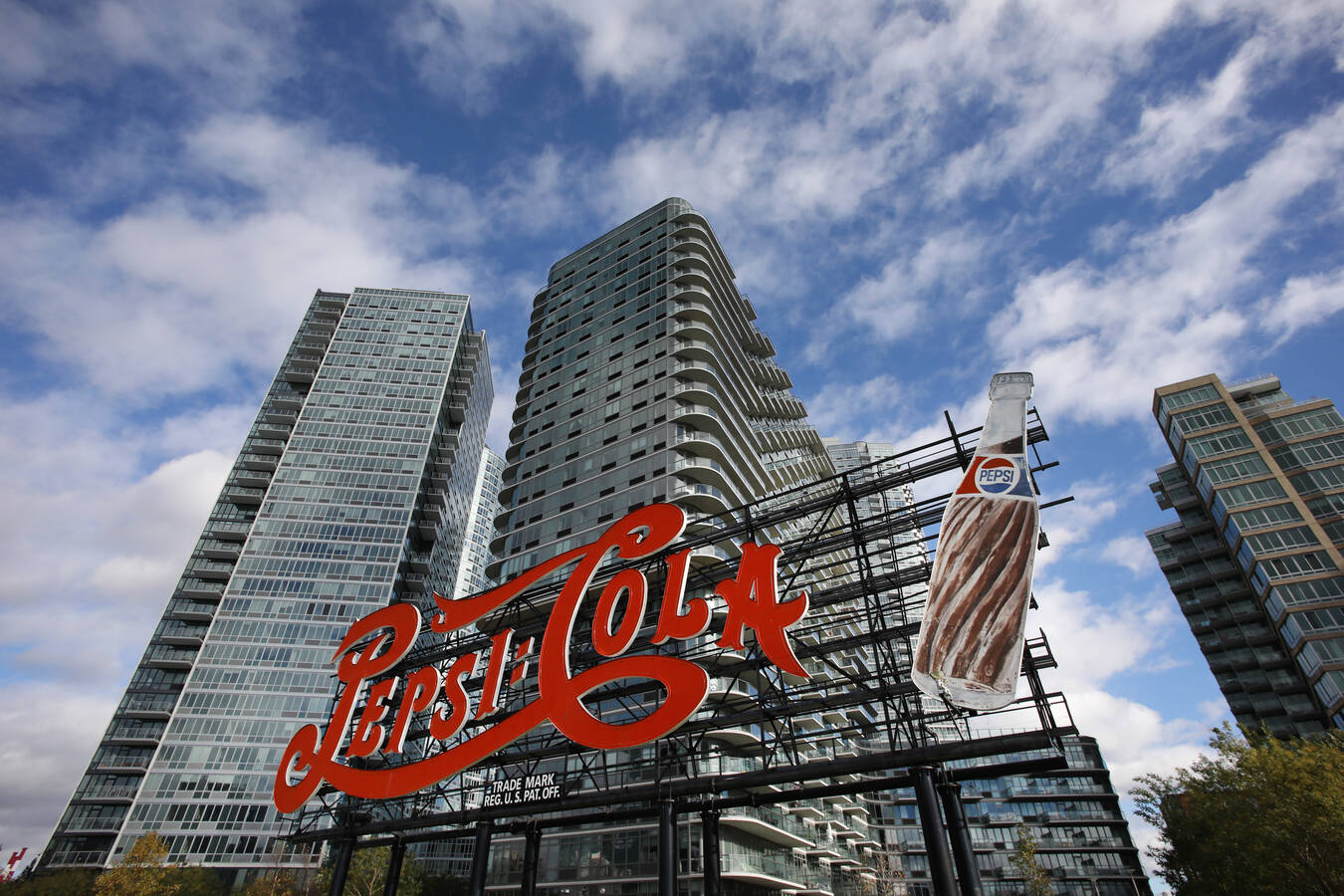 Amazon: A boon or a bust to a Queens community?
It's a tale of two Long Island Cities.
The impending arrival of e-retail behemoth Amazon on East River shores has one L.I.C. resident, Richard L., yearning for real community and contemplating the next New York City ZIP code he will inhabit. Another, Alfred Francis, is cheered by the commercial and social positives of a development that will bring thousands of jobs back to a neighborhood once bereft of them.
They are both right, of course, in their own way.
Both men are parishioners at the Church of St. Mary, which has since 1869 maintained a benevolent presence overlooking Vernon Boulevard and Long Island City's changing demographics.
The Rev. Christopher Turczany, parish administrator at St. Mary's, believes most members of the parish are reserving judgment for now but are concerned about how the Amazon flood of new residents and workers is going to be absorbed. Like them, he is also troubled that neighborhood groups had little say in the siting process, and by the apparent lack of planning for the medium- and long-term impact of such a large development.
"The people's reaction is [an acceptance] that something like this was always coming in terms of the development of the area," says Father Turczany. "It was needed and it was wanted, but I believe they had no idea that it would be a situation this gigantic."
The impending arrival of e-retail behemoth Amazon on East River shores has one L.I.C. resident yearning for real community and contemplating the next New York City ZIP code he will inhabit.
In a press release announcing the deal on Nov. 13, Amazon promised that "New York and Long Island City will benefit from more than 25,000 full-time high-paying jobs" along with $2.5 billion in a corporate investment "and an estimated incremental tax revenue of more than $10 billion over the next 20 years."
For his part, Richard, who declined to use his full name, is furious over the lack of any meaningful community consultation—as are many of his neighbors, one of whom canceled his Amazon Prime account in a small protest. "I don't think anyone in L.I.C. knew this was occurring until it was a fait accompli," he says.
Not that he expects it would have made much difference. He says he has seen time and time again in New York how city politicians in collusion with developers pretend to listen to community input before forging ahead with high-density projects.
Father Turczany is on his second tour of duty at St. Mary's; each posting has allowed him to witness many changes in the community. While some old-time Irish and Italian neighbors remain from L.I.C.'s working class, hardscrabble past, he says, in recent years the parish has been reinvigorated by new residents, bringing different expectations and small children into St. Mary's. "There are strollers everywhere," he says, and a new energy in the neighborhood. "It feels like we're starting all over again. The parish has to be reformed."
All of the newcomers have to be introduced to each other, he explains. "So many people are coming to the area, we have to build community again," he says. "People don't know each other, and the church can help with that."
"So many people are coming to the area, we have to build community again," he says. "People don't know each other, and the church can help with that."
All three L.I.C. residents agree the community's infrastructure, particularly its rush-hour transportation capacity, will need major improvements to absorb this newest neighbor after years of residential growth. The neighborhood population has leaped from just over 67,000 in 2013 to more than 80,000 residents today. The Amazonian arrival is expected to boost the residential figures above 100,000; condo units are being purchased over the phone sight unseen as another great New York neighborhood rush appears underway.
Like many veteran New Yorkers, Richard has already had enough of that. A refugee from the Upper West Side, he was hoping to find real community in Long Island City when he moved here three years ago.
But outside of the connections he and his wife made at St. Mary's, he says, so far he has not experienced that feeling of rootedness and community he sought in L.I.C.. He is not looking forward to seeking it out again in the wake of the Amazon deal. Like other neighborhood renters, he is worried that he will not be able to keep up with the cost-of-living surge that thousands of new residents are sure to create.
He says he and his wife "are among the many folks that have recently moved in but are likely moving out because of this." He predicts Amazon is "going to cause the community a huge amount of pain."
"Twenty-five thousand workers," Richard marvels. "They are going to absolutely bring the infrastructure here to its knees."
Nor does he relish the prospect of enduring years of inconvenience as construction begins on the Amazon site just to be priced out by the ensuing wave of new residents—and their dogs. Richard has read that Amazon allows its employees to bring their pets to work. He complains that too many dog owners in L.I.C. already don't pick up after their pooches. "The last thing we need around here is more people walking their dogs," he says. "In the summertime it's absolutely disgusting."
He also wonders how L.I.C.'s already congested number 7 subway line is going to handle the 25,000 extra people expected to descend on the neighborhood each working day. "Living here will become onerous, to say the least."
But Mr. Francis insists he is unconcerned. "Crowded? What crowded?" he asks in exasperation. "The subway is already crowded.
"It's already like being in Shea Stadium there," he says, betraying himself a resident of a certain age. "You have to just move with the crowd." He remains confident that the city will be able to address the transportation challenge and whatever other capacity problems are created by Amazon.
Richard asks some poignant questions that did not appear to have much concerned corporate and political leaders as they announced Amazon's HQ2 reveal on Nov. 13. How in the medium term will this transition be managed? What will the quality of life be for the current residents? Who will be able to afford to live in L.I.C. if rents skyrocket?
What exactly is a neighborhood for, Richard asks. For the people who live in it or for the businesses and politicians and developers who can profit from it one year and disappear the next? "It's going to be great for local landlords and businesses, but the people who are living here now are going to have to find some other place to live."
"One only needs to look at places like San Francisco to see where this all ends up," Richard says, "a homogenized community where wealth is served and anyone else who can't afford it is marginalized to the suburbs."
Mayor Bill de Blasio insists the move into Long Island City is the right one for Amazon and for New Yorkers. "This is a giant step on our path to building an economy in New York City that leaves no one behind," he said, announcing the deal on Nov. 13.
"We're going to use this opportunity to open up good careers in tech to thousands of people looking for their foothold in the new economy, including those in city colleges and public housing. The city and state are working closely together to make sure Amazon's expansion is planned smartly, and to ensure this fast-growing neighborhood has the transportation, schools, and infrastructure it needs."
Richard remains worried that depositing Amazon's "soulless infrastructure" into L.I.C. will ruin whatever sense of neighborhood its current residents have been able to create. "It's all about growth; it's all about the future, and who can argue with that, but that's not all we should be talking about," Richard says. "We should be talking about displacement and talking about the quality of life."
There are people just next door to the Amazon site in the nation's largest public housing complex struggling "with rats and no heat," he points out, "yet we can give $3 billion to the wealthiest company in the United States?"
"One only needs to look at places like San Francisco to see where this all ends up," Richard says, "a homogenized community where wealth is served and anyone else who can't afford it is marginalized to the suburbs."
For his part, Mr. Francis remains an undeterrable cheerleader for Amazon. He has lived in Long Island City for more than five decades, married his high-school sweetheart at St. Mary's and raised his family here. He remembers it in his youth as a bustling, working-class neighborhood with "thousands of kids on the streets" each day.
He says those protesting the Amazon plan are relative newcomers to the neighborhood, people who don't remember what it was like over many decades as Long Island City declined and its people struggled. He remembers how jobs and residents left and L.I.C.'s prospects dimmed, offering a litany of former industrial neighbors that left L.I.C. behind.
Though its iconic signage remains as a neighborhood curio, Pepsi-Cola is long gone, as are many other former job providers. Sunshine Biscuits, which once maintained the largest industrial bakery in the world in L.I.C., was one of the first losses in 1965, and Ronzoni pasta left in 1993 after 43 years in L.I.C.
But beginning in the late 1990s a series of high-rise residential towers rose along the East River, bringing new life and businesses to L.I.C.'s Vernon Boulevard as the once-industrial community transformed into one of the city's most desirable residential neighborhoods, spurred by tax abatements and incomparable Manhattan skyline views. That development has only accelerated in recent years as new restaurants, schools and a municipal library relocated to L.I.C.
"Being at St. Mary's has been a blessing in that it provided some sense of stability in the neighborhood," says Richard, but he wonders how the parish will fare with Amazonian newcomers. Will the tech giant's millennial workforce be drawn to the church? He suspects the big winners of the deal, outside of the developers and Amazon itself of course, will be L.I.C. landlords and bar and restaurant owners.
Changing communities is "part of living in New York," Mr. Francis says, but "what kept this whole neighborhood together was the church." He expects that St. Mary's will continue to play that role. "It's like the last hope for the neighborhood," he says.
The neighborhood's evolving demographics has meant good things for new residents and even old-timers like him, he says, "more stores and more conveniences…. It's like little Manhattan here." And more young families at St. Mary's. "It's not like it was before, you don't have the big families anymore. But in the end, he insists, "This is a positive thing.... I've seen a lot of benefits for the church."
For now, Father Turczany is electing to be optimistic as the Amazon project gets under way. "I'm positive that the area will grow." There will be "more jobs and better jobs" because of Amazon, he says.
"The area can only get better; we have to hold on to our values and steer the neighborhood in the right direction and build community, and, in the case of St. Mary's, build Catholic community," Father Turczany says.
"It is going to be challenging," he says, "but I'm going to be holding out hope."