How should Christians respond to the Kavanaugh hearing?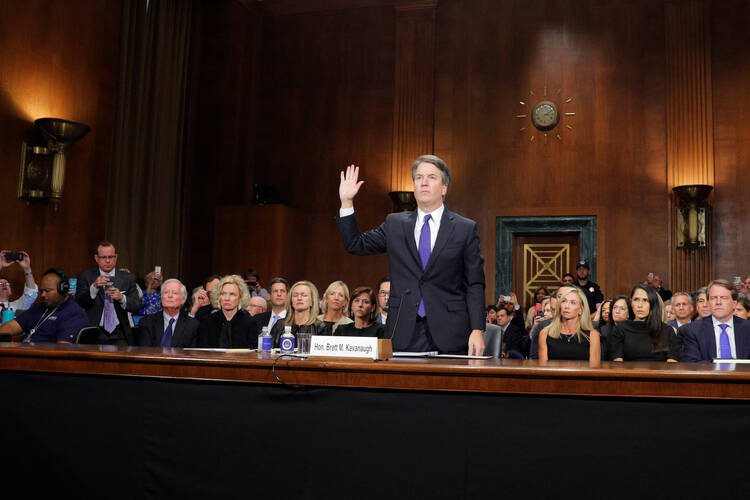 U.S. Supreme Court nominee Judge Brett Kavanaugh is sworn in to testify before a Sept. 27 Senate Judiciary Committee hearing on Capitol Hill in Washington. Kavanaugh followed Professor Christine Blasey Ford, who testified about her accusation that he sexually assaulted her in 1982, a claim he vehemently denied. (CNS photo/Jim Bourg, pool via Reuters)
Last week, the Senate Judiciary Committee held a hearing to determine the validity of Dr. Christine Blasey Ford's allegations of sexual assault against Judge Brett M. Kavanaugh. On July 9, President Donald Trump nominated Judge Kavanaugh to replace Supreme Court Justice, Anthony Kennedy. Following last week's hearing, the F.B.I. has decided to launch an investigation into Dr. Ford's allegations.
At the invitation of America's editors, Simcha Fisher and Bill McGarvey, two columnists for the magazine, discussed the hearing and more via email. The following text, which has been edited for length and clarity, is their correspondence.
Hi Simcha,
It's nice to "meet" you despite the unfortunate circumstances.
In the interest of transparency, I have to confess that a lot of what I will share with you here comes straight from the reactions I shared with friends via text both during and just after the Ford/Kavanaugh hearing. It was riveting to watch in real time and I find that 24 hours later my reactions remain the same.
I really think what we witnessed on Thursday was the death of a certain male prerogative that has been chipped away at—very intensely and imperfectly but long past due—over the past year. Judge Kavanaugh is understandably indignant about accusations he can't disprove but the indignation, anger and bluster he displayed in that hearing will work less and less effectively moving forward in U.S. political discourse. Women's voices and experiences are going to be heard and understood in ways that we have not seen previously in our culture.
Kavanaugh is incredibly bright and politically savvy, but I found Dr. Ford to be highly credible and genuine. Obviously, none of this would be sufficient in a court of law, but this wasn't a trial, it was a job interview. We know statistically that the number of women who make false sexual assault allegations is very small. We also know that the way she chose to cope with the incident—not discussing it with anyone at the time out of shame, etc—also fits the profile for experiences like this. The fact that she had spoken of this incident in therapy and with friends over the past six years also undercuts any notion that she is simply grinding a political ax.
What we witnessed on Thursday was the death of a certain male prerogative that has been chipped away at—very intensely and imperfectly but long past due.
No one should get any joy out watching Judge Kavanaugh's world collapse around him. My overwhelming sense was that he has been working tirelessly his entire adult life to become a Supreme Court Justice and he's incensed that someone dared to throw a banana peel at his feet when he was an inch from the finish line. These allegations clearly don't fit with the narrative he's constructed about his life: great husband and father, devout Catholic, hard working, first-class legal credentials. I think the narratives most of us construct for our lives suffer under the weight of our shadow selves. The reality is that all of his positive attributes can still be true without negating the possibility that he was capable of some seriously bad behavior as a young man. If the numerous accounts from classmates about his heavy drinking habits continue to mount and are credible I think we may have located the missing link connecting the two very different descriptions of Judge Kavanaugh presented on Thursday.
In her testimony, Dr. Ford admitted to wondering if coming forward "would just be jumping in front of a train that was headed to where it was headed anyway and that I would just be personally annihilated." The image that will linger for me from Thursday's hearing will not be of Dr. Ford's calm, rational and historic testimony. It will be of Judge Kavanaugh, red-faced with sanctimonious contempt and anger as the prosecutor Rachel Mitchell gamely tried to navigate his seething fury. It's as if he's realizing that the train he was once comfortably riding on is now hurtling down the track headed straight for him and the world he'd grown up in. 
---
Hey, Bill, 
You're absolutely right to focus on the conversations you're having with friends, rather than on the legal or political ramifications of this ongoing debacle because those conversations are the only thing that are in our control.
I mean, we can call our reps, but when's the last time you felt truly represented by an elected official? I can't even remember the last time I actually voted for someone, rather than reluctantly discerning the somewhat-less-horrible candidate. And frankly, I'm convinced that most of the Democrats are just as ruthlessly manipulative as the GOP right now, and no one actually cares about the truth. 
The truth for us regular citizens is that we are mostly powerless most of the time, as far as what happens in Washington. Maybe that's cynical, but it sure is how it feels. No one represents me. As a woman, it has been sort of darkly fascinating to see so many men suddenly get a glimpse of that familiar sensation of outraged helplessness that so many women endure without question. It's like the whole country is a teenage girl and Congress is an entitled frat boy. Ugh.
Anyway, as a Christian, I'm focusing on the conversations I have with people. Most victims of sexual assault never tell anyone, not 35 years later, not ever. So I'm trying to present myself as someone it would be safe and helpful to confide in. I don't know what else to do. 
Best, 
Simcha
---
Loved what you said about members of Congress, Simcha, and how they're finally getting a sense of the "outraged helplessness" that is a constant in many women's lives. That was on stark display in the footage of a woman confronting Senator Jeff Flake in an elevator. "Look at me and tell me that it doesn't matter what happened to me," said 23-year-old protester Maria Gallagher. This is not simply a passing political moment; it reflects a tectonic shift in U.S. social and cultural life. The deeply insular male experience you describe reminded me of something Hannah Gadsby addressed specifically to men in the audience of her Netflix special, "Nannette": "I am not a man hater. But I am afraid of men. If I am the only woman in a room full of men I am afraid. But if you think that's unusual you are not speaking to the women in your life!"
As a woman, it has been sort of darkly fascinating to see so many men suddenly get a glimpse of that familiar sensation of outraged helplessness that so many women endure.
I understand your frustration but I have to disagree with you in terms of political engagement. If I waited for candidates who perfectly reflected the diamond-like facets of all my political beliefs, I would never be able to engage politically at all. If that were the standard we would forever be on the sidelines waiting for our political savior to arrive. I think that's an abdication of our duties and responsibilities as citizens, not to mention as Christians who are called to work for a more just society. Trust me Simcha, I have no illusions that Democrats are somehow politically pure. They're politicians and the work of the "affairs of the cities" is messy to put it mildly.
It's not about Democrats or Republicans for me, it's about treating accusations like this seriously. I actually think both Ford and Kavanaugh deserve that. I like the way an old friend from college, who is now a lawyer, put it in a text earlier today. "If he didn't do it, damn, I think he would WANT an investigation. He wants his new title to be JUSTICE, for crying out loud!"
Best,
B
---
Hey, Bill - 
Yeah, that's 2018 for you. "Make America Strange Bedfellows Again," I guess! It stinks to see otherwise decent people making the deliberate choice to be callous in the face of suffering because they think it's somehow good for unborn babies to make rape jokes. But it's been heartening to see so many people wake up from their comfortable ideological slumbers and realize that Christians will never have a political home.
I totally agree that it's bigger than Democrats vs. Republicans. But anyone who truly wants change has to look hard at themselves. That's just how it works. Liberals could do themselves (not to mention women!) a great service by being more consistent about predators in their own ranks. I see Roman Polanski has a new film coming out. Bill Clinton is still thriving. Ted Kennedy was practically canonized. I don't look to politicians to reform society, but they sure could help by being more consistent. 
Part of the problem is that the imbalance of power between men and women is so ingrained, women themselves don't always recognize it as an injustice. Someone asked, "What would you do if men had a 9:00 curfew?" and I immediately thought, with joy and longing, "Oh, I would go for a walk!" How pathetic is that? We all have some awakening to do.