Toledo diocese prepares response after immigration raids break up families in Ohio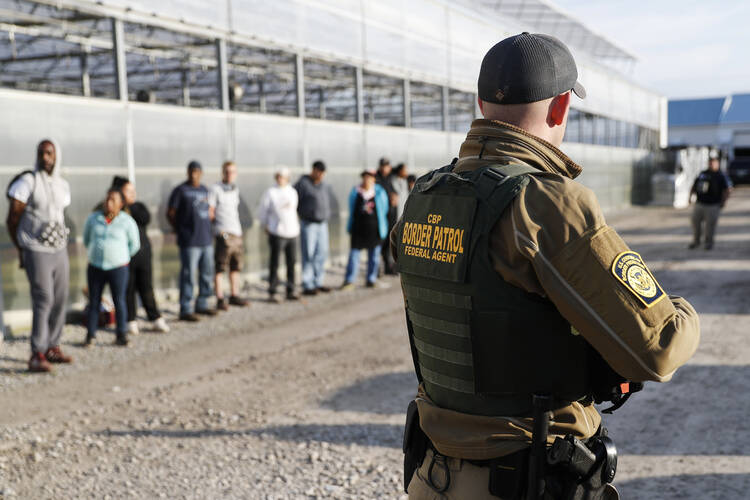 Government agents stand guard alongside suspects taken into custody during an immigration sting at Corso's Flower and Garden Center, Tuesday, June 5, 2018, in Castalia, Ohio. The operation is one of the largest against employers in recent years on allegations of violating immigration laws. (AP Photo/John Minchillo)
"Traumatized" is how Veronica Isabel Dahlberg described two small Ohio communities in the Diocese of Toledo hard hit after an Immigration and Customs Enforcement raid on June 5 at a Sandusky flower nursery. She described the experience of one teenage girl who spent hours zip-tied by ICE officers until she could prove her American citizenship, returning home after her ordeal to find that all of her friends and neighbors were gone. Her neighbors in a farmworker community were under detention, in hiding or in flight from ICE, she explained.
Ms. Dahlberg is the founder and executive director of Hola, a Northeast Ohio community organization. She said the last few days have been hectic for her small Latino advocacy group as its members seek to discover the status and whereabouts of people arrested at the flower nursery and the 200 or so children she believes have been left behind by their parents' arrests.
The ICE raids at two Corso's Flower and Garden Center locations provoked a panicked exodus from the Ohio towns of Norwalk and Willard as undocumented workers who had not been caught gathered what possessions they could, pulled their children from school and fled. "These trailer park communities where they had been living are just ghost towns now," Ms. Dahlberg said. It has been difficult, she added, to render assistance when so many people had "hunkered down" or gone into hiding in the aftermath of the ICE actions.
Cleveland Bishop Nelson Perez said he felt a deep sadness in contemplating the circumstances of the raid and the people swept up in it. "What are these children going to do?" he asked. "These individuals did not even have a chance to get their things in order."
A spokesperson for Catholic Charities in Toledo said the situation on the ground on June 7 was "confused," but she anticipates that the diocese will reach out with legal and other assistance to those detained in Sandusky and their families.
Many could be deported next week without having had the opportunity to arrange custody for their children, dispose of their property or arrange their finances in Ohio.
"This is just a horrific situation," said Catholic Charities' Deborah Boyce. She was especially concerned about the status of the detainees' children. "Some were left with baby sitters; some were left in child care," she said. "There is no good read on what's happening to the children. I have been told that family members have not been able to go back to their homes, and that's a very traumatizing situation, especially for young children." Some children were left only with the clothes on their backs after their parents were abruptly removed from their lives.
Ms. Dahlberg remains in a state of shock herself in the wake of the mass arrests; she knew many of the people swept up by ICE "as just the most peaceful, most gentle people; they could not be nicer."
"I've been walking around with a lump in my throat all day, trying to keep it together. I just can't wrap my head around this."
Ms. Dahlberg says she cannot fathom why agents armed with military-style assault weapons, accompanied by helicopters and K9 units, were necessary to round up "hard-working people who were caring for their families and paying taxes." She said that the agents who planned the raids made no effort to reach out to local social service agencies beforehand to deal with their inevitable aftermath—unsupervised and frightened children whose fathers, mothers or both were suddenly facing deportation—but somehow arranged to have local media accompany immigration agents as they swarmed the garden centers.
On June 7 she was calling local legislators to pressure ICE to reduce the pace of the deportation proceedings so that each person arrested at the Corso locations had the chance to meet at least once with an attorney. She feared many could be deported next week without having had the opportunity to arrange custody for their children, dispose of their property or arrange their finances in Ohio. Her group is trying to facilitate the reunification of the children in Ohio with their parents should the latter be deported to Mexico.
Approximately 200 agents, many heavily armed, participated in the arrests at the flower nursery, according to ICE; 114 people were arrested, though many more were detained on site until their citizenship or legal residency was established.
"If you have flowers growing at your home, I can guarantee you some of them came from these people."
ICE reports that the majority of those arrested were Mexican nationals. The investigation that led to the job-site blitz began in October 2017, as the agency pursued allegations, among other charges, of identity fraud and identity theft, false statements or claims of citizenship, and the employment and harboring of "illegal aliens."
Responding to Ms. Dahlberg's complaint that local social service agencies had been caught off guard by the raid, Khaalid Walls, an ICE regional spokesperson, insisted that "all appropriate notifications were made to stakeholders prior to and after the action." He did acknowledge that a "photographer" was allowed to accompany the raid, "consistent with longstanding law enforcement practice and in an effort to be transparent."
Mr. Walls declined to comment on the "militarized" style of the raid, described as the largest in the region in a decade. "Per policy, we do not discuss specific tactics," he said by email. "However, all aspects of the operation were conducted with the highest level of professionalism. Objective observers have characterized the effort as being executed with quiet [efficiency]. We share that sentiment."
Though at press time it was not clear that anyone other than undocumented workers had been swept up during the ICE actions, Steve Francis, the Homeland Security Investigations special agent in charge, issued a warning to employers in a statement released to the media. "If your business is operating legitimately, there's nothing to fear," he said. "If you are hiring illegal aliens as a business model, we will identify you, arrest you and prosecute you to the fullest extent of the law."
As Toledo's Catholic Charities prepared its response, the bishop of the Diocese of Toledo, Daniel Thomas, issued a statement on June 7. "Respecting the role of government and law enforcement, we recognize our current immigration policies are broken and are actively contributing to the suffering and separation of vulnerable families," he said. "No matter our political persuasion, when families are broken apart, as in this raid, we should all recognize that the common good is not served."
Bishop Thomas said the diocese, through its parishes in Sandusky and Norwalk and through Catholic Charities outreach, would begin "offering pastoral care and working directly with the families affected by this extreme action."
The raids were "just another example of what can happen when you have a broken immigration system."
He added, "The only way forward is, together, to strongly advocate for just, comprehensive and compassionate immigration policy reform. Only this can ensure the dignity due the family and the human person."
The raids in Sandusky are only the latest examples of the growing aggressiveness of ICE agents in seizing opportunities to remove undocumented people, even at the cost of breaking up families. U.S. bishops have repeatedly urged the Trump administration to adopt a more compassionate policy, particularly on the treatment of undocumented workers with children, many of whom were born in the United States and are U.S. citizens.
"The Trump administration wants to approach this as a criminal issue," said Bishop Perez, "but to me this is a humanitarian reality. How do we deal with this reality in a way that respects human dignity, how do we deal with it with compassion?"
Bishop Perez acknowledges that the people rounded up in Sandusky were living without documentation in the United States and breaking the law. "I understand that concern," he said. But to him the garden center raids were "just another example of what can happen when you have a broken immigration system."
"These people are not criminals," the bishop said. "They come here to work hard for their families.… Arresting them and pushing them out does not solve our immigration problem. To me this is a much bigger issue than whether or not they had fraudulent papers," he said. "They're working hard, providing for their families, contributing to the common good, working to keep houses beautiful for other people."
"If you have flowers growing at your home, I can guarantee you some of them came from these people," said Ms. Dahlberg.
She makes no effort to hide her contempt both for the strategy ICE agents used in initiating the raid—hosting a fake company-wide meeting complete with donuts for all the assembled workers—and the overwhelming show of force with which it was conducted. "What they did was outrageous and…abusive." They like to raid farmworkers, she said, "because it's easy to do—go in and overpower everyone and put on a big show, but it's devastating to the children and it's devastating to the community."
But her full derision is reserved for anyone who suggests that the Sandusky raids achieved anything more than traumatizing the farm worker communities in northern Ohio or who pretend not to understand how much the Ohio agricultural economy depends on undocumented workers.
"Ohio is a farm state; it's no secret," she said. Ohio's 73,600 farm operations produce almost $10 billion in agricultural products each year. Thousands of undocumented people from Mexico and other Central and South American states—husbands, wives, parents, teenagers and children—work in agriculture in Ohio, she said, not only in places like the Corso garden centers where beautiful flowers for suburban landscaping grow, but on Ohio dairy farms, the horse farms of the wealthy, and the growers of cilantro, apple, blueberries and other produce that land on kitchen tables across the country.
"Why is anyone surprised? Everyone knows it; nothing has changed," she said. "It has been this way for decades."