Millions could lose food stamps under new Farm Bill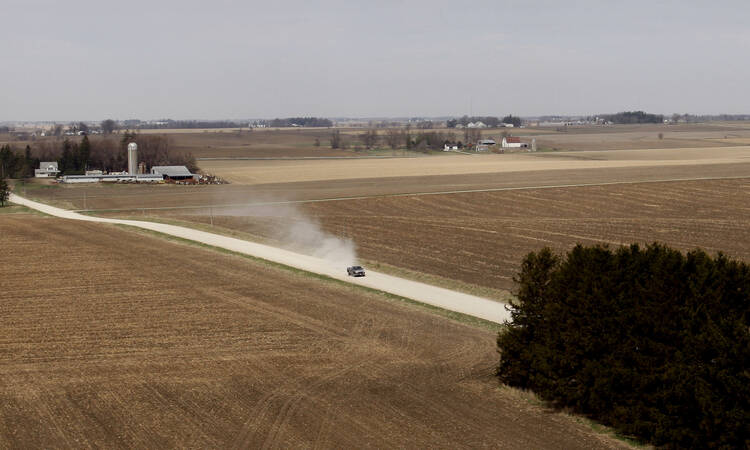 A truck travels along a dirt road near a grain farm in Hesper Township, Iowa. The 2018 farm bill was defeated on the floor of the House May 18. It could back for a second vote in late June, but Catholic and other rural life advocates see a need for improvements in the measure before then. (CNS photo/Bob Roller)
It may be called a farm bill, but about 80 percent of the Agriculture and Nutrition Act of 2018 is focused on food distribution, says Jim Ennis, director of Catholic Rural Life. If the farm bill hits the floor of the House of Representatives this week, new eligibility requirements for the nation's food stamp program will be a major focus of debate.
The bill proposes to spend $865 billion over the next 10 years, including $664 billion on nutrition programs (nearly 76.5 percent of all farm bill spending) and about $200 billion on commodity programs, crop insurance and conservation programs. "It really is a food and a farm bill," Mr. Ennis says. Stakes are high this year as near-record numbers of Americans continue to rely on federal food assistance programs despite the allegedly booming economy and as farmers seek to recover from a 52 percent drop in net farm income since the last farm bill passed.
House Republicans will be returning to a fight over raising work requirements for the nation's 42 million recipients of the Supplemental Nutrition Assistance Program after a previous effort to pass the farm bill (a new version is renegotiated every five years) flamed out last month during an internecine G.O.P. spat over immigration policy. The bill was held hostage by House members seeking tougher measures on immigration than G.O.P. moderates were willing to endorse. House Republicans are having another go at it this week, though the immigration debate is still rancorous.
Beyond that spat, the bill itself is riddled with problems of its own, according to Mr. Ennis. The money saved by the various cuts and eligibility tightening in the current farm bill do not amount to much savings overall, especially in a federal budget year characterized by a ballooning deficit following deep tax cuts for the nation's wealthiest. But the proposed changes to the farm bill, Mr. Ennis says, do reflect the lack of a critical rural voice in Congress, as reductions to important programs are hashed out "while no one is looking."
House Republicans will be returning to a fight over raising work requirements for the nation's 43 million recipients of the Supplemental Nutrition Assistance Program after a previous effort to pass the farm bill flamed out last month.
Democrats are united against the current version of the bill, which among other eligibility-tightening measures requires "able-bodied" SNAP recipients from 18 to 49, without dependents to work or seek job training for at least 80 hours per month within a month of receiving benefits. The bill for the first time adds work requirements for adults who are caregivers to children over 6 years of age and includes new work requirements for SNAP recipients aged 50 to 59.
A single violation would be enough to make a SNAP recipient ineligible for the program for a full year.
Critics say the additional eligibility requirements will save a few federal dollars by creating new bureaucratic hoops for low-income people to jump through each month, with the perhaps unspoken expectation that many would not be able to do so. In April, Catholic Rural Life joined the U.S. Conference of Catholic Bishops in opposing the changes to the program. In a letter to Congress, the bishops said: "By eliminating state options for broad-based categorical eligibility, the bill could cause as many as 2 million individuals to lose their benefits, and potentially remove state flexibility in 42 states."
In its review of the program, the Union of Concerned Scientists reports that about 40 percent of SNAP participants nationwide are children and roughly 10 percent are elderly. "Meanwhile," they write, "able-bodied adults without dependents…the population at the center of the highly contested work requirements—make up only eight percent of all SNAP participants."
Even at a time of low unemployment, a lot of working people still need the "lifeline" of the SNAP program, Mr. Ennis says. Despite the end of the Great Recession, a growing percentage of U.S. full-time workers finding jobs that pay only at or near minimum wage rely on the program to put food on their families' tables each month. "We have a lot of food insecurity in this country just now," Mr. Ennis says.
He thinks the eligibility changes will hurt working families just above the poverty line, especially the demand to meet work requirements within one month of joining the program. "That's putting significant pressure on folks who are already stressed out."
House members supporting the changes say they are attempting to prevent able-bodied Americans from becoming dependent on government handouts. But behind the rhetoric and ideology, Mr. Ennis is concerned the real issue is a Republican effort to cut spending any way they can as recent tax cuts accelerate the growth of the annual federal budget deficit.
In fact House Republicans seek to reduce spending on SNAP by a mere $2 billion a year, though the policy could affect millions of people. The average monthly household benefit is $259.
"Coming just four months after a tax-cut bill that will cost $1.9 trillion over ten years (including interest costs) and lavishes tax cuts on wealthy individuals and large, profitable corporations, the SNAP proposals would further widen the nation's economic divide," researchers from the Center on Budget Policy and Priorities charge.
Ironically, it may be families living in farming communities who will suffer the most if eligibility is tightened. According to U.S. Department of Agriculture figures, nearly 8 million residents of rural counties rely on SNAP at some point during the year. "Research says the economy has improved" since the end of the Great Recession, Mr. Ennis says, "but the rural economy has not bounced back." And when a company leaves a farm community, he says, rural workers have far fewer employment alternatives than their urban counterparts do and can have a harder time getting back on their feet.
Mr. Ennis is also not excited by changes to the subsidy program included in the current farm bill. The House bill opens major new loopholes allowing for unlimited subsidies that will continue to distort land prices and create an unfair playing field for family farmers, a statement released by Catholic Rural Life charges.
Even conservative analysts argue that rather than reforming a system that has disproportionately rewarded large-scale or wealthy farmers, the 2018 farm bill has created more opportunities for big commercial farmers to claim the lion's share of federal subsidy supports. Hidden in Sec. 1603 of the new farm bill is an exemption for "pass-through" businesses from the means-testing requirements of the subsidy program. CNN reports the change means "that with a simple accounting trick, billionaire farm owners would once again be eligible for lucrative farm subsidies." Another measure opens eligibility for subsidy payments up to $125,000 to farmers' extended family members—nieces, nephews, cousins—who merely have to demonstrate a vague relationship to the "family farm."
These expanded opportunities for subsidy abuses mean fewer resources for the majority of small, working family farms, Mr. Ennis complains. "We're trying to create a just and fair farm bill that benefits all farmers, not just the largest farmers," he says.
[Want to discuss politics with other America readers? Join our Facebook discussion group, moderated by America's writers and editors.]
Mr. Ennis is also troubled by deep cuts in funding and the reach of the conservation and land stewardship program hosted under the farm bill. The program had created significant incentives for farmers to incorporate conservation techniques into their farming, he says. The 2018 proposed reductions may mean more highly erodible land will be returned to production, and that will mean more loss of topsoil and more pesticide or nitrogen runoff into water resources.
The bill also cuts back micro-enterprise assistance and loans in rural districts, he says. Training and financial support for small-scale entrepreneurism in rural communities has been an important buttress against population and job decline in farming counties. As small-scale manufacturing leaves town and agricultural mechanization reduces labor needs, the viability of farming communities can become seriously threatened.
He sees such interventions not as federal handouts, but as hands up. "We need to invest in rural America," Mr. Ennis says. "It's the backbone of the nation."