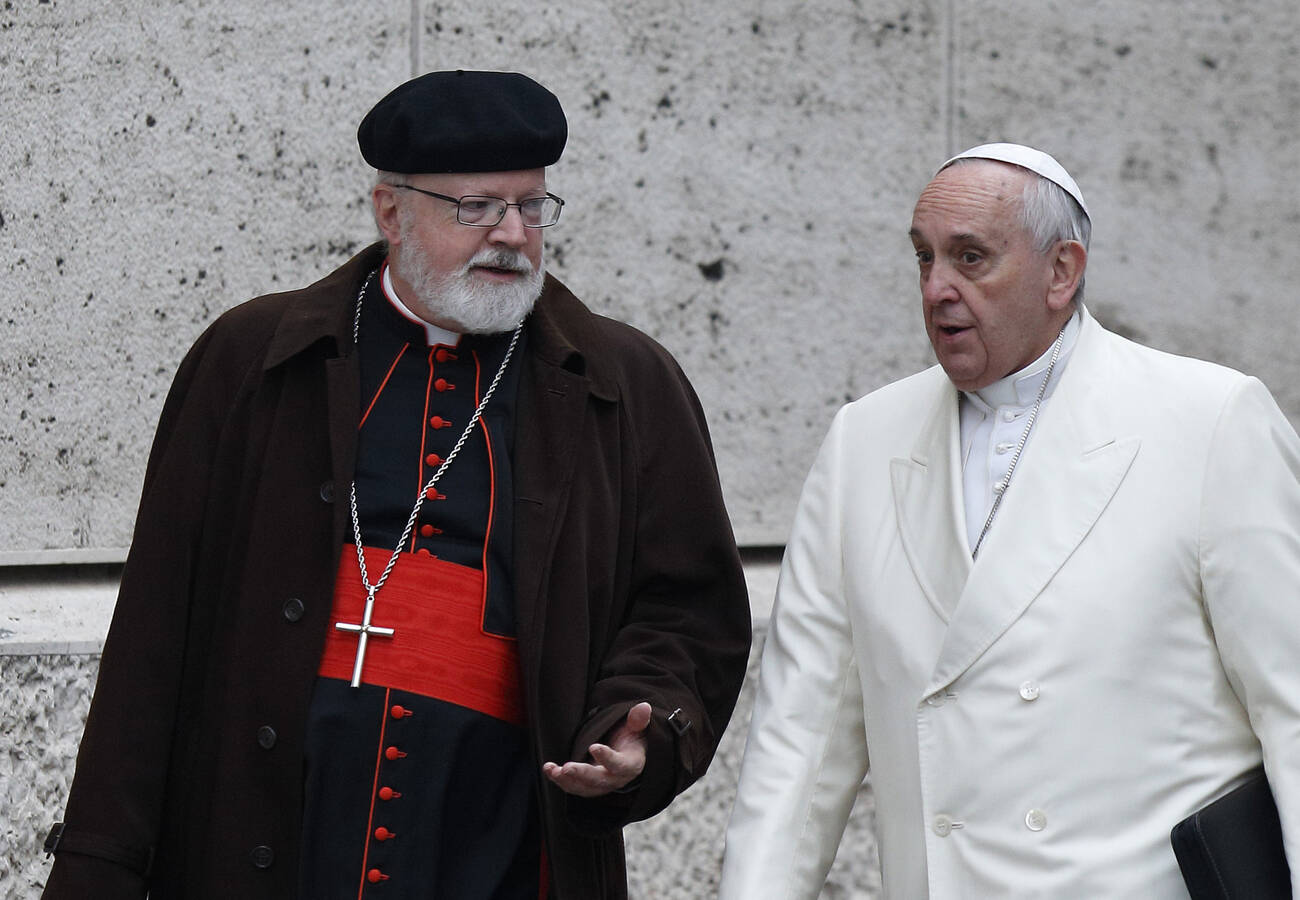 The pope and a cardinal show Catholics the right way to call someone out
"We become human at the point of many spears." A terrifying image put to words by Richard Wrangham, a professor of biological anthropology, describing the pitiless justice that communities inflict on those who threaten the safety of the group.
He said, in a recent interview about call-out culture with the NPR program "Invisibilia," that we like to think we become better people through self-reflection and wisdom, but it really happens mainly through the threat of punishment by the community.
This interview took on special poignancy as the astonishing recent events unfolded around Pope Francis, Cardinal Seán O'Malley and the sex abuse scandal in Chile. More on that in a moment.
Call-out culture is well-established—so much so that we are now seeing more and more calls to pull it back from an insatiable mob response and to make our call-outs productive rather than simply reactive.
As Catholics, we have a special responsibility to examine how we wield our spears.
As Catholics, we have a special responsibility to examine how we wield our spears. It is not only the safety of the community that we must consider but the souls of the people involved, including our own.
Let us look at what call-out culture yields when those spears are wielded without regard for individual souls. The "Invisibilia" interview centered on "Emily," a hardcore punk rocker, who made a name for herself as a fearless vigilante feminist, naming names, calling out abusers and misogynists in the punk rock world. One night, she even punched a guy in the face for singing along with her lyrics condemning misogyny. "Yeah, it felt good," she tells the interviewer.
And then her past caught up with her. Someone with a mutual friend from high school blew the whistle, revealing that, before Emily was famous, she was infamous for tormenting and bullying other women, sharing nude photos of them online, reveling in their suffering, cruelly hounding them for years.
She had done these things as a teenager. She was not that way anymore. But she still felt that it was just that she be punished for the evil she had done.
And she was. Before long, her career was over, her identity was destroyed and she became afraid to even leave the house. Reluctant to speak of herself at all, she identified herself as inhuman, a monster.
Cardinal O'Malley called out Pope Francis for his scandalous public rebuff of the Chilean victims of sexual clergy abuse.
The man who spearheaded her calling-out said that he has no pity for the enormity of her punishment. It is his own response to the episode that troubles him. He compares the sensation of inflicting vigilante justice to having an orgasm and says that he was "getting high off" the adulation he received.
The interviewer notes that many punk rockers who did worse than Emily were never called out and that most of Emily's victims never even got an apology. The call-out was messy, like burning down a house to fix an infestation.
Now let us return to Cardinal O'Malley, who in January called out Pope Francis for his scandalous public rebuff of the Chilean victims of sexual clergy abuse.
Cardinal O'Malley was appointed president of the Pontifical Commission for the Protection of Minors after years of working closely with Pope Francis. They know each other, and while their styles are very different, they have both made a reputation as being willing to stand up against a powerful establishment to defend the vulnerable.
I was thrilled beyond measure when Cardinal O'Malley held Pope Francis to account.
And so I was shocked when the pope, who has presented himself from day one as the voice for the voiceless, repudiated these victims so publicly, saying their accusations against Bishop Juan Barros were "calumny."
And I was thrilled beyond measure when Cardinal O'Malley held Pope Francis to account. "It is understandable that Pope Francis' statements yesterday in Santiago, Chile, were a source of great pain for survivors of sexual abuse by clergy or any other perpetrator," the cardinal said in a statement to the press.
Cardinal O'Malley's call-out and the respectful, persistent push-back from the victims themselves seem to have actually moved the wheels of justice forward. The pope has acknowledged his wrongdoing, both publicly and personally, to the victims; and he seems poised to make concrete changes so that such things do not happen in the future. Thirty-four Chilean bishops have offered their resignation, and many believe the pope will accept at least some of them. This painful episode in the Catholic sex abuse scandal is not over, but it is headed in a hopeful direction.
Let us contrast this ongoing call-out saga to what happened to Emily, the disgraced punk rocker. What made Cardinal O'Malley's call-out effective?
Righteous call-outs should be patterned after Cardinal O'Malley's rebuke of Pope Francis.
It came not from a stranger who happened upon some damning intel but from an insider. A rebuke from someone who knows you, sympathizes with your goals and understands your world is much harder to discount than a reprimand from someone already presumed to be your enemy. Fraternal correction begins at home, and our first goal should always be to root out injustice in our own communities—in our own selves—before we can hope to correct the errors of people we do not know or understand.
It was more concerned with defending the victims than in crushing the aggressors. Cardinal O'Malley did not seek to humiliate or damage the pope.The cardinal is a genuinely humble man who no doubt has bitten his tongue many times in the past, saving his powerful disapprobation for an emergency, when lives and souls were at stake. He spoke out specifically and earnestly in defense of the victims, knowing how Francis' careless words added to their suffering. I am quite sure he did not "feel good" when writing his admonishing letter.
It allowed for repentance and conversion from those who had done wrong. Repentance and conversion are the heart of our faith, and any call-out that does not seek or want conversion of sinners is not truly about justice; it is about revenge. Revenge destroys not only those who suffer it but those who deal it out.
This is how Cardinal O'Malley proceeded. There was an infestation, but the house still stands.
This is our model. These should be our standards when we feel the urge to call someone out. To correct an injustice, Catholics can do better than wielding spears. Fraternal correction must, sometimes, be public and painful; but publicity and pain must not be our goal.
Righteous, effective call-outs should be patterned after Cardinal O'Malley's: They should come from someone who understands; they must focus primarily on true concern for the victims; and they must leave room for conversion.