Archbishop Wenski: Ending T.P.S. will disrupt immigrant lives and communities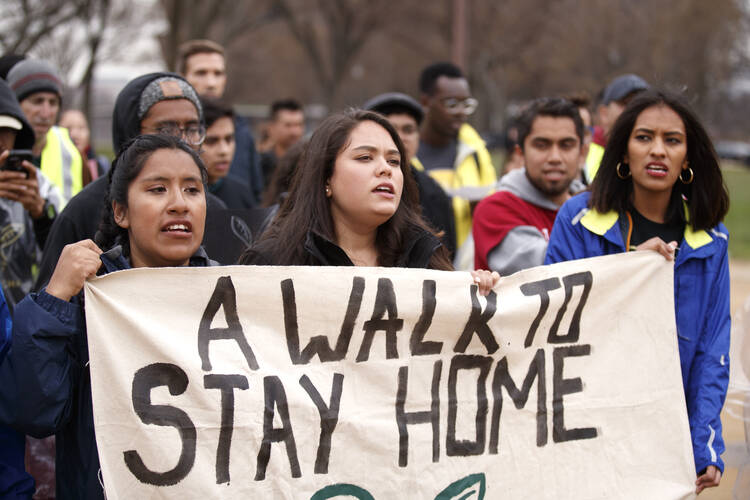 Undocumented youth carry a banner March 1 as they walk to the U.S. Capitol in Washington to conclude their 250-mile Walk to Stay Home. Hondurans are pleading for extension of Temporary Protected Status, which the Department of Homeland Security was expecting to determine on May 4. (CNS photo/Shawn Thew, EPA) 
Thousands of Nepalis who have been living in the United States legally since an earthquake rocked their home nation in 2015 became the latest casualties of what appears to be a determined effort by the Trump administration to reduce protected categories of immigrants. Secretary of Homeland Security Kirstjen Nielsen announced the termination of the Temporary Protected Status designation for Nepalis on April 26.
Her office determined "that the disruption of living conditions in Nepal from the April 2015 earthquake…that served as the basis for its TPS designation have decreased to a degree that they should no longer be regarded as substantial" and that Nepal "can now adequately manage the return of its nationals."
Homeland Security has given Nepalis living in the United States under T.P.S. 12 months to "arrange for their departure or to seek an alternative lawful immigration status in the United States." After that time they will be subject to deportation.
The decision was deplored by the Catholic Legal Immigration Network. "This is unconscionable," said Jeanne Atkinson, the network's executive director, in a statement released on April 27. "It's only been three years since the catastrophic 2015 earthquake that leveled neighborhoods and entire villages across Nepal and cost 9,000 people their lives.
The hundreds of Hondurans seeking asylum this week at the U.S. border in San Diego suggest that conditions inside Honduras have not exactly stabilized.
"By the Nepali government's own report, the massive undertaking of rebuilding the lost public and private infrastructure, including 750,000 homes, 4,000 government buildings, 900 health care facilities and more, is really just beginning," Ms. Atkinson said. "There is not sufficient water, food, health care or sanitation for Nepalis in Nepal, let alone to accommodate another 9,000 TPS holders and their families."
The Nepali T.P.S. holders join other groups that have lost protected immigration status in recent months—Salvadorans, Haitians, Liberians, Sudanese and Nicaraguans. In fact the Trump administration has so far denied T.P.S. extensions to just about every T.P.S. population as their designation came up for renewal. About 7,000 Syrian T.P.S. holders were granted an 18-month extension in January.
Next up for a reassessment on May 4 are 57,000 Honduran T.P.S. recipients.
The hundreds of Hondurans seeking asylum this week at the U.S. border in San Diego suggest that conditions inside Honduras have not exactly stabilized, but odds are not good that T.P.S. will be extended this time. Hondurans in the United States were first granted this special immigration status more than two decades ago. The contemporary asylum seekers, who arrived as part of a caravan of Central Americans seeking to enter the United States under a U.N. accord on the treatment of refugees, say that out-of-control gang violence and government repression have made life in Honduras untenable for them.
The U.S. Conference of Catholic Bishops have been strong advocates for continuing T.P.S. for the existing protected groups. T.P.S. offers temporary lawful status and work authorization to people already in the United States, whether they entered legally or not, from countries affected by conflict, natural disaster or other strife as determined by the Homeland Security secretary. Under previous administrations, T.P.S. status had been routinely extended; some groups have now legally lived, worked and raised children in the United States for decades under the program.
Miami Archbishop Thomas Wenski has frequently spoken out in defense of T.P.S. renewal. In April the archbishop escorted a group of Salvadoran bishops to Washington, where they made the case for renewing T.P.S. in conversations with legislators and their aides from both parties. "We tried to raise their awareness of this issue," Archbishop Wenski said. "Most of them seem to understand."
Thousands of Salvadorans, many of whom have lived in the United States for decades, have been ordered to repatriate by September 2019 after their protected status was terminated in January. Archbishop Wenski points out that the sheer size of the Salvadoran T.P.S. population makes their return "home" especially problematic.
"Some have houses here. They've started businesses, they have children who have been born here, they have spouses who are American citizens."
More than 200,000 Salvadorans, the largest T.P.S. community, "would be far too many people for the country to absorb," said Archbishop Wenski, pointing out that the virtual control of entire communities by drug and extortion gangs mean that El Salvador remains a perilous place for many. He said the nation's high unemployment is another significant concern. Worse, those who return after years working in the United States are presumed to have money and become targets of kidnapping and extortion rings.
In conversations on both sides of the aisle with members of Congress, Archbishop Wenski said, "I've tried to point out that it is not a question of sending people 'home.' After 20 years, there is no home there anymore [in El Salvador]; their home is here."
"Some have houses here. They've started businesses, they have children who have been born here, they have spouses who are American citizens," Archbishop Wenski said. "This will seriously disrupt their lives and the communities they are living in."
The Center for Migration Studies estimates that about 325,000 migrants from 13 T.P.S.-designated countries resided in the United States in 2017. They are parents to 273,000 U.S.-born citizens.
Like young people who have achieved status under the Obama administration's Deferred Action for Childhood Arrivals program, T.P.S. recipients are a conundrum, "neither fish nor fowl," under existing immigration law, Archbishop Wenski argues. That is why Congress needs to step in, he said.
Though individual members of Congress seem sympathetic to the plight of long-term T.P.S. recipients, so far they have not been able to come up with an agreement that will create a legal resolution for them.
Recent court decisions have undermined the Trump administration's efforts to end DACA. "And here we have a classic example of the law of unintended consequences," Archbishop Wenski said. He argues that while the court reprieves may be welcomed by DACA's dreamers and their supporters, the rulings have taken pressure off Congress to legislate a final resolution to the DACA problem.
Similarly, he said, only Congress can create a legislative fix for an issue that was "never contemplated" in the enacting legislation for T.P.S. in 1990: what to do with immigrants when their "temporary" status has extended for years, even decades, and the loss of T.P.S. comes to represent a serious upheaval. And that upheaval, he suggests, is not limited to the affected individuals and their families. Many communities scattered around the country have come to depend on the creative, entrepreneurial and economic contributions of concentrated pockets of T.P.S. holders. Their abrupt removal would produce serious local disruptions.
Homeland Security has been urging those denied T.P.S. extensions to make plans on their own to return, presumably with their families, to Haiti, El Salvador, Nepal and other states. But as T.P.S. is withdrawn, Archbishop Wenski does not expect to see significant waves of returnees to nations of origin.
"Most people will not self-deport," he said, "they will just return to the underground with their American citizen children."
Archbishop Wenski believes that Catholic citizens and other native-born will get behind efforts to regularize the immigration status of DACA and T.P.S. holders, confident in "their sense of fairness." Polling suggests he is correct. A CNN survey in February found that 82 percent of Americans believe the DACA program should be continued. But to finally get legislation passed that would regularize the status of dreamers and T.P.S. holders, he says pressure must continue to be applied on Congress, and the "human face" of the issue must continue to be held up before the public.
Asked if he were optimistic that Congress might act soon, Archbishop Wenski, who has long been pursuing a legislative fix, chuckled. "Optimism is a secular value, but hope is a theological virtue," he said. "So we should always be hopeful."