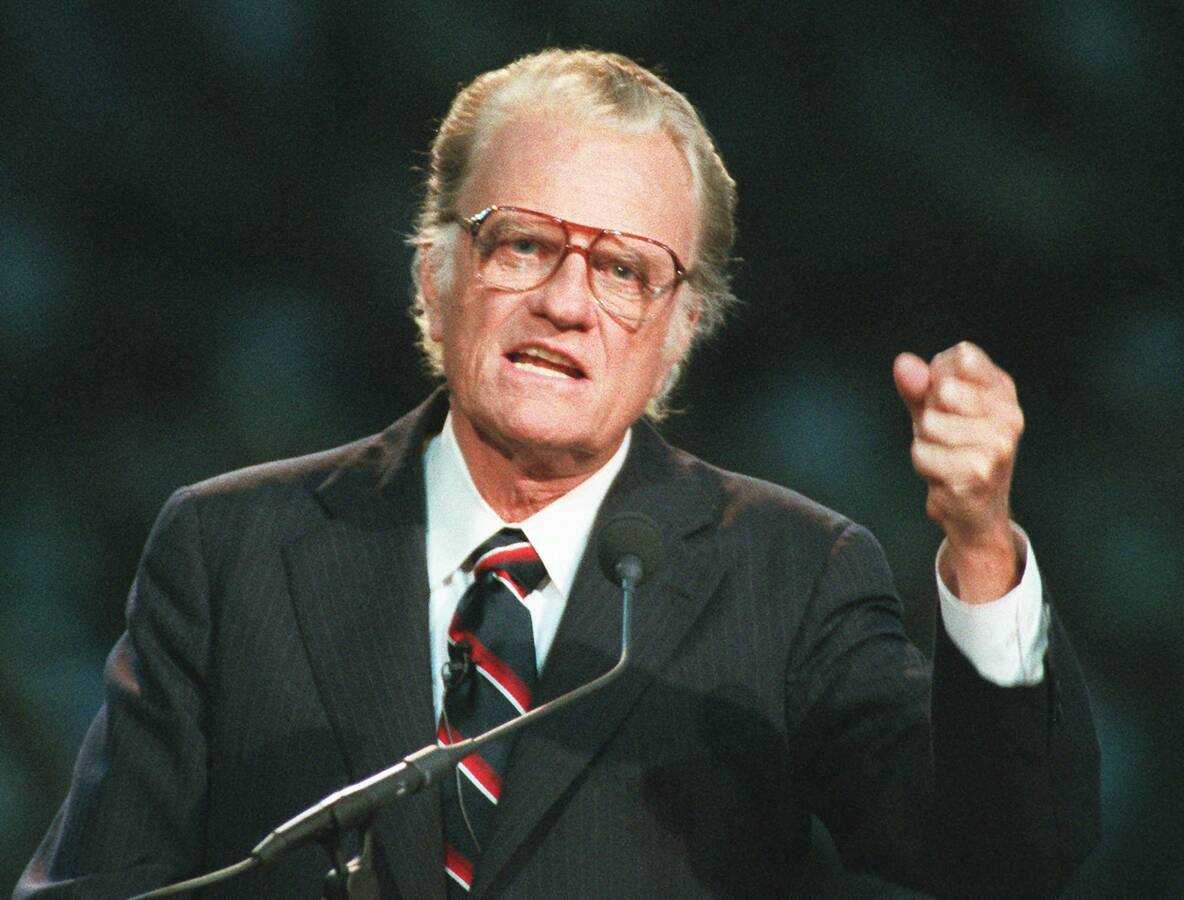 How Billy Graham shaped American Catholicism
Billy Graham died this morning, Feb. 21, in Montreat, N.C., at the age of 99. Given his long life, it is easy to forget how young Mr. Graham was when he first emerged in the public eye. At an age that today marks a point when many adults are just feeling confident in a career and starting a family, Mr. Graham was, at 31, leading his first major crusade in downtown Los Angeles. "Crusade" was the somewhat unfortunate name given to nightly religious services highlighted by a long sermon that included an invitation to the crowd to make a public decision to convert to faith in Christ. By luck, providence or charisma, that first big crusade was a hit, and went on for eight straight weeks. It is nearly impossible to imagine the American public remaining focused on one thing for so long today.
The success was in no doubt due in part to the influential newspaper magnate, William Randolph Hearst. Since the 1930s, Hearst had transformed from avowed progressive to reactionary conservative—even to the point of promoting Hitler in his papers in the years leading up to World War II—and he instructed his editors to cover Mr. Graham's Los Angeles crusade of 1949 and to actively promote it.
It did not hurt that Mr. Graham was handsome, with a thick head of wavy brown hair. He was tall and thin. He spoke commandingly and convincingly. One of his early biographers, William Martin, wrote in A Prophet with Honor: The Billy Graham Story:
Only the large expressive hands seem suited to a titan. But crowning this spindly frame is that most distinctive of heads, with the profile for which God created granite, the perpetual glowing tan, the flowing hair, the towering forehead, the square jaw, the eagle's brow and eyes, and the warm smile that has melted hearts, tamed opposition, and subdued skeptics on six continents.
Mr. Graham also had a rags-to-riches story that resonated with a generation raised during the Great Depression. Anyone who has recently watched The Crown on Netflix has been reminded of this. Actor Paul Sparks plays a young Graham meeting a young Queen Elizabeth in one episode during season two. At least twice, and once via Prince Philip's sneering disdain, the script mentions the evangelist's story of having sold brushes door-to-door. Even European royalty was captivated by this thoroughly American tale.
Then, in July 1950, still just 31, the young North Carolinian evangelist met with his first U.S. president, Harry Truman. After that short meeting, Mr. Graham made a mistake that he would not repeat: He stood on the White House lawn indulging eager reporters and his own ego, telling them all about his conversation with the president. Mr. Graham even demonstrated for the photographers what prayer he had shared with Truman looked like. Images of the young Mr. Graham on one knee on the White House lawn were in newspapers all around the world the following day.
Mr. Graham was puffing himself up. He made a show of what was supposed to have been kept in confidence. And he implied that President Truman had relied upon him for spiritual counsel, which was not true. Steamed about it, Mr. Truman called Mr. Graham "counterfeit." (They later made amends.)
The impression left on the public by Mr. Graham's display did not immediately dissipate. He was compared to Elmer Gantry, the infamous title character in Sinclair Lewis's famous novel about a cynical and conniving showman evangelist. Mr. Lewis's novel was published in 1927, but by the time Mr. Graham reached his prominence in 1960, Elmer Gantry had become a Hollywood blockbuster starring a handsome but slimy Burt Lancaster in the title role. This led to Lewis's novel reemerging into public consciousness, and for years, people would yell "Elmer Gantry" at Billy Graham as a taunt.
A Life of Influence
As a young man, I revered Mr. Graham and wanted to grow up to be like him. Born and raised in Wheaton, Ill., I attended a nondenominational Baptist church steeped in Evangelicalism. At 18, I enrolled at Moody Bible Institute, where my part-time job was in the publicity department writing press releases and cataloging details of the institute's regular "prophecy conferences" around the United States.
One of the press releases I wrote that year was on the occasion of Mr. Graham coming to Moody to speak at centennial celebrations of the founding of the school. I recall receiving the text of Mr. Graham's talk, designed in giant 24-point type, and having the job of photocopying it. I would not have handled a saint's relic more carefully. One year later, as a transfer student to Wheaton College, Mr. Graham's alma mater, I found myself often in the Billy Graham Center on campus.
I lost my fervor for being like Mr. Graham simultaneously with my falling away from Evangelicalism in general. But the man and his lifetime of work continue to fascinate me. And since I joined the Catholic Church a decade ago, I have been interested in reconsidering Mr. Graham, particularly how he defied his core audience by building bridges with Roman Catholics.
Before he began his ministry in the 1940s, Protestants and Catholics eyed each other suspiciously, believing and behaving as if representing different faiths. I grew up in such an environment, in one of the evangelical centers of middle America, even in the 1970s. My evangelical parents for a time held a Bible study in our home for Catholics and former Catholics, "witnessing" to them, encouraging them to "become Christians." I was taught to do the same, and served for a time in the Philippines as an evangelical missionary, charged with re-baptizing Catholics so that they could join the church. It was during that time that I began to fall in love with Catholicism.
Billy Graham risked a great deal with his core evangelical constituency when he began building bridges with Catholics.
In America's Pastor, the latest biography of the evangelist, historian Grant Wacker makes a strong claim for Billy Graham's historical importance: "Graham ranks with Martin Luther King, Jr., and Pope John Paul II as one of the most creatively influential Christians of the 20th century," Mr. Wacker writes. "One could make a case for others, too, such as Professor Reinhold Niebuhr, Bishop Fulton Sheen and Mother Teresa, but all of them spoke for a more limited constituency and for a briefer stretch of time."
Mr. Graham had a complicated relationship with Catholics and Catholicism. His own 1998 autobiography, Just as I Am (named after the hymn, which was slowly intoned during the "altar call" of every Graham crusade), detailed how he opposed Communism and was a friend to Martin Luther King, Jr. as well as to President Richard Nixon. It spoke of his opposition to abortion and of how he enjoyed the media attention he often received. But then there were also moments such as this one in the U.S.S.R. in 1988, when Mr. Graham remembered, "sitting on the floor talking with Cardinal John O'Connor of New York about the way Protestant-Roman Catholic relations had changed."
Protestant-Catholic relations did change in those years, in part because of the work of Billy Graham.
He risked a great deal with his core evangelical constituency when he began building bridges with Catholics. This started after his 1957 crusade in New York City at Madison Square Garden, the first time Billy Graham preached on national television, when local Catholic priests warned parishioners against attending. Mr. Graham responded by subsequently reaching out to prominent Catholics in every city as he prepared his next crusade, to stand with him as representatives of the Christian faith. The majority of evangelicals were unhappy with this. Some of a more fundamentalist persuasion began to disown Mr. Graham as a betrayer of the true faith.
But Mr. Graham was drawing crowds—thousands and tens of thousands of people each year—to faith in Jesus Christ. How could any evangelical argue with that?
Protestant-Catholic relations did change, in part because of the work of Billy Graham.
Martin E. Marty, the Lutheran historian who taught for decades at the University of Chicago and who, at 90, is of Billy Graham's generation, made some of his reputation by covering that famous 1957 Madison Square Garden crusade for The Christian Century, a magazine he then went on to edit for half a century. A young Lutheran pastor with his Ph.D. fresh in hand, Mr. Marty published an article that year, "A Tale of Two Cities," portraying Mr. Graham as someone with two audiences or "congregations." Mr. Graham held one congregation, Mr. Marty said, as that rare Christian celebrity who stands out as a figure in the secular media. The other congregation, Mr. Marty said, Mr. Graham had as an exhorter, a builder-up of the converted.
This was a challenge of the premise of success as it was then portrayed in the media and by Mr. Graham's organization. The evangelist was not creating converts so much as he was inspiring and re-inspiring the already converted, Mr. Marty said. Sitting there in Madison Square Garden at one of the crusade events, Mr. Marty thought to himself, as he told me 60 years later: "The event was described as a great missionary success at converting secular, pagan New York, and yet, when I looked around, I didn't see any of the thousands needing the song sheets. They sang along from memory Gospel hymns which we Lutherans, or Catholics, were unfamiliar with."
Partners in Prayer
Mr. Graham's early commitment to relationships with Catholics was muddled, at best. During the 1960 U.S. presidential election, for example, according to biographer William Martin, the evangelist made it clear to many that Richard Nixon was his man and that he was deeply concerned at the prospect of a Catholic president. Soon thereafter, however, Mr. Graham seems to have changed his perspective. He experienced a warming and openness to expressions of Christian faith that had been previously foreign to his Southern, fundamentalist, Southern Baptist roots. In Just as I Am, Mr. Graham would explain that ecumenical notions began stirring in him back at the very beginning of his ministry, before the Los Angeles Crusade. These took time to develop, he said, and he had to move carefully.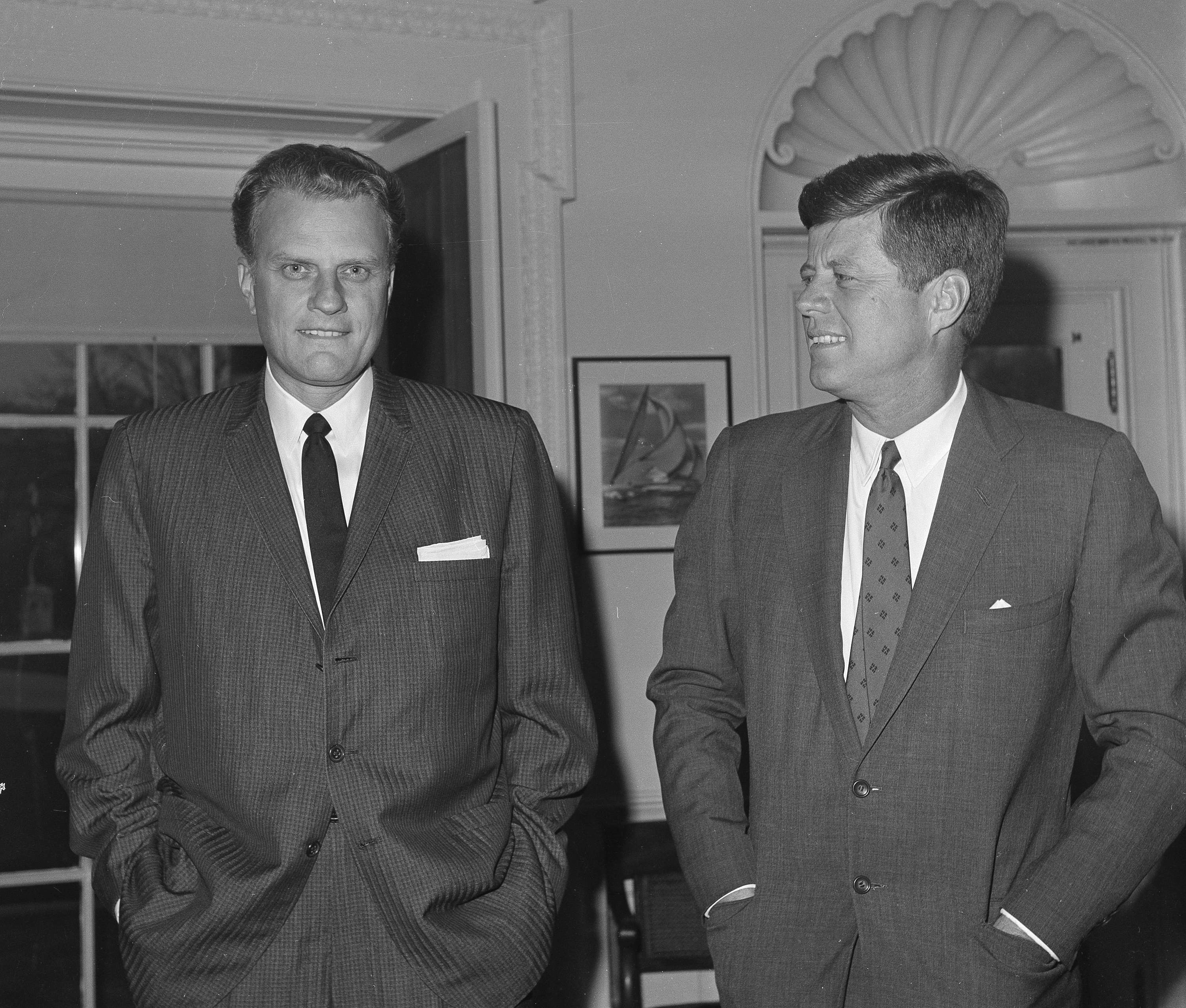 By 1961, Mr. Graham and President Kennedy prayed side by side at a Washington prayer breakfast. A few years later, in 1964, Cardinal Richard Cushing of Boston (who, as archbishop, had even endorsed a Graham crusade in Boston in 1950) met with Mr. Graham upon returning from Rome and the Second Vatican Council, declaring before a national television audience that Mr. Graham's message was good for Catholics.
Cardinal Cushing said, "God will bless [Graham's] preaching and crusade." Mr. Graham responded with gratitude, stating that he felt much closer to Catholics and Catholic tradition than he did to what was more alien to his message: liberal Protestantism.
Such an embrace of Catholic understandings of faith over liberal Protestant ones would give birth to the "Evangelicals and Catholics Together" initiative of Richard John Neuhaus and Charles Colson 30 years later. Their joint ecumenical document, published in 1994, used biblical and theological principles to rally around shared political issues such as the right to life. Catholic co-signers of the ecumenical document included George Weigel and Jesuit theologian and frequent America contributor, Avery Dulles, S.J.
Throughout the remaining four decades of his public preaching ministry, Mr. Graham was known for warm friendships with other prominent Catholics, including the Rev. Theodore Hesburgh, C.S.C., who even gave his permission for Mr. Graham to hold a crusade on the campus of the University of Notre Dame in its famous football stadium. Of course, Mr. Graham filled the stadium. Then there were notable and public friendships with Archbishop Fulton Sheen, Cardinal Francis Spellman, even Pope John Paul II.
Mr. Graham sought out the pope in 1981, requesting a private audience at the Vatican, something his core audience surely found strange. A photo op with the pope was never something desired by an evangelical leader in the past. Later, Mr. Graham proudly—and perhaps again somewhat indiscreetly—repeated John Paul II's private words to him: "We are brothers." The effect was powerful, and evangelicals and Catholics warmed to each other.
In 2000, John Paul II even sent official Catholic delegates to Amsterdam to participate in a large conference the Billy Graham Evangelistic Association was sponsoring on the subject of worldwide evangelism. One of those Catholic bishops who attended is quoted in a book by Mark Noll and Carolyn Nystrom, Is the Reformation Over? An Evangelical Assessment of Contemporary Roman Catholicism. This bishop remarked afterwards: "I wish I could get more Catholics to have such enthusiasm for their faith in Christ!"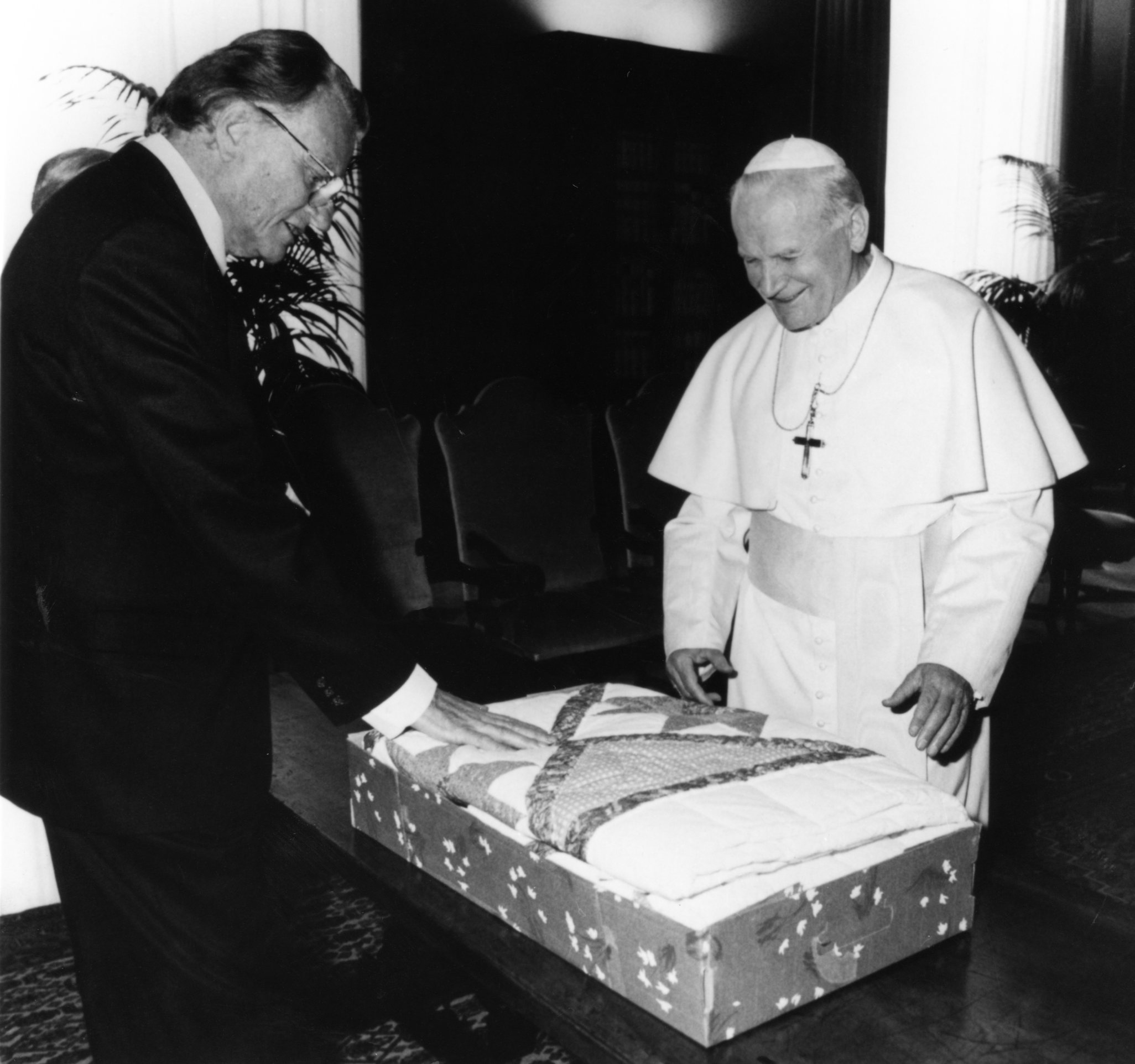 How interesting all of this is, and how easily we have perhaps forgotten it, living as we do in a new age, when it has become common again for many Catholics to focus on what is distinctive about our faith and tradition rather than what unites us with others. Evangelicals have likewise turned back from those bridges forged decades ago by Mr. Graham and others.
Many prominent evangelical pastors in the years since "Evangelicals and Catholics Together" appeared in 1994 have criticized it, saying that it went too far in claiming theological agreement between the two sides. And many priests today would be hesitant to align themselves with evangelical techniques like those once practiced by Billy Graham and endorsed by Cardinal Cushing in Boston. They likely would be hesitant to use Mr. Graham's language for faith, which they might find simplistic to the point of being misleading.
This story also cannot be concluded without some mention of how difficult Billy Graham's son, Franklin Graham, has made the situation. In the area of ecumenical relationships, as in many other areas, Franklin has slowly eroded the good will his father built up. Due to the effects of age and the Parkinson's disease which afflicted Billy Graham since 1992, Franklin's father had lost the ability to speak. For decades, Franklin has used his father's reputation to sanction opinions in politics and the culture wars that his father would not appreciate.
It is true that the way of becoming a Christian differs in Catholicism and Evangelicalism, and there are differences between how an evangelical feels confident of eternal salvation following a "decision for Christ," and what a Catholic reads in the Catechism about eternal security (see No. 1861). Still, referring back to the quote from the Catholic bishop who attended the conference in Amsterdam at John Paul II's request, there is something unmistakably important about unified Christians sharing an enthusiasm for faith in Christ across denominational lines.
Willing to Listen
I recently asked my old professor, Mark Noll, once of Wheaton College, now recently retired from the University of Notre Dame, to reflect on his personal experiences with Mr. Graham over the years. Noll said, "I met Graham only twice, I believe, at Wheaton when he sat down with faculty groups on a couple of occasions. I remember mostly that he was reserved and eager to listen and not nearly as full of himself as many celebrities, Christian or not, often are."
In Noll and Nystrom's Is the Reformation Over? they reflect as evangelical historians on Mr. Graham's influence on evangelical-Catholic relations. They point to how Mr. Graham's celebrity led to difficulties in the U.S. that were not always present in other parts of the world. For example, in Canada, the most popular evangelical television program from the 1970s through the 1990s was "100 Huntley Street" and featured regular sermons from a Jesuit priest, the Rev. Bob MacDougall, S.J.. The evangelical host of the show once explained: "If you changed the voices, it could have been Billy Graham. Literally tens of thousands of Roman Catholics opened their hearts to Jesus as a result of Father Bob."
This points again to what might be most important, whether one is evangelical or Catholic. Yes, there are differences. What continues to separate Catholics and evangelicals most of all is probably the understanding of Scripture. For Mr. Graham and those who have come after him, the Word is understood similarly to the sola scriptura approach of Martin Luther: to be preached from between the covers of their Bibles.
But for a Catholic, the Word is much more. The Word was present at creation, made incarnate through the Virgin Mary, and is mystically present in the church, its tradition and magisterium. But what Mr. Graham was about was the starting point, and only the starting point. The rest, he always said, was up to churches. Father Hesburgh of Notre Dame and Cardinal Cushing of Boston must have figured that, once Mr. Graham set people in motion, Catholic churches were as good a place as any to gather them up and make Christians out of them.