Canada considers practical demands of U.N. declaration on indigenous rights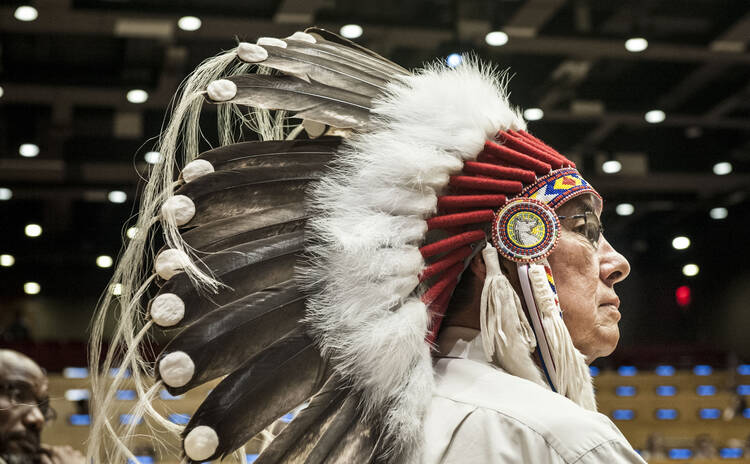 Grand Chief Wilton Littlechild, a Cree Chief from Canada, makes a ceremonial call to order prior to an event held on the occasion of the International Day of the World's Indigenous Peoples and the tenth anniversary of the United Nations Declaration on the Rights of Indigenous Peoples (UNDRIP) in August 2017. (Photo courtesy of UN Media Center)
"Mr. Speaker, you already know that I am a survivor of the residential school system where I spent 10 years incarcerated culturally, politically, linguistically, spiritually even," said Romeo Saganash, a Cree Member of Parliament, as he introduced Bill C-262. The legislation would push Canada to implement the United Nations Declaration on the Rights of Indigenous Peoples.
"Bill C-262 is my response and my extended hand to you, Mr. Speaker, for reconciliation and, of course, through you to all Canadians and to all parliamentarians in this place."
The bill comes two years after the Truth and Reconciliation Commission in Canada, where victims of residential schools spoke about their experiences. The residential boarding schools—where indigenous children were forcibly removed from their communities, families and traditions—were run primarily by churches.
Among the 95 calls to action that emerged after the commission to redress the legacy of the schools, two of them endorsed the full adoption and implementation of UNDRIP.
Though the U.N. declaration is a decade old, continuing obstacles to adopting it in Canada are not surprising. At the United Nations, Canada joined Australia, New Zealand and the United States in voting against UNDRIP in 2007. In 2010, led by the Progressive Conservative government, Canada endorsed the declaration as "aspirational" without accepting that it was legally binding or beginning a process for its practical implementation.
At the United Nations, Canada joined Australia, New Zealand and the United States in voting against UNDRIP in 2007.
Since then, a number of legislative attempts have been made to formally adopt UNDRIP, including a previous bill proposed by Mr. Saganash, a member of the New Democratic Party. After the Liberal Party replaced the Conservative federal government in 2015, Mr. Saganash approached the new government to try again.
The Liberals had promised to adopt and implement the declaration during the 2015 campaign, but the party has sent mixed messages since securing a federal majority. Last summer, Justice Minister Jody Wilson-Raybould, herself a member of the We Wai Kai Nation and the first indigenous person to hold her position, said the full adoption of UNDRIP into Canadian law was "unworkable."
She later clarified that position, explaining that the party was committed to implementing UNDRIP but that its integration into existing legal frameworks would be a challenge. In November, however, Ms. Wilson-Raybould said the Liberal Party would back Bill C-262 as a step toward the full implementation of UNDRIP.
"In my first meeting with the minister of indigenous affairs [Carolyn Bennett], just two years ago, I briefed her on the bill and offered that someone on their side could co-sponsor it, since it was a Liberal promise," says Mr. Saganash. "She refused at that time. So I've started from there, up to meeting with the minister of justice, where we discussed the bill again. At that moment, things changed. It's a huge step from the very first meeting I've had with them to now."
Much of the controversy around the bill stems from Article 19 in UNDRIP, which requires "free, prior, and informed consent" from indigenous communities "before adopting and implementing legislative or administrative measures that may affect them."
"Much of the wealth this country has comes from resource exploitation, and most of it is happening right around indigenous communities."
During the House of Commons debate of Bill C-262 on Dec. 5, Kathy McLeod, a Conservative Member of Parliament, expressed concern over the possibility that UNDRIP would give indigenous peoples the power to veto development of territories, lands and resources, which make up significant portions of provincial economies in Canada.
Mr. Saganash counters that the kind of consent called for in the U.N. declaration has already been practiced in Canada. "For example, the Cree in northern Quebec, where I'm from, signed the first modern treaty in 1975 with the James Bay and Northern Quebec Agreement," he says, an agreement that required the government of Quebec to negotiate with indigenous people before developing hydroelectric resources in the region. Many similar agreements have been signed in that region since.
"I don't think there should be any real concern because consent is law and practiced in Canada already," says Mr. Saganash. Adopting UNDRIP, he says, would implement nationally patterns that are already in effect. And concerns over a potential veto power are rooted in a general lack of awareness among Canadians about how UNDRIP is intended to function, he adds.
Mr. Saganash has toured nationally with Leah Gazan, a member of the Wood Mountain Lakota Nation and instructor at the University of Winnipeg, to explain Bill C-262 and UNDRIP, along with the social problems that continue to damage indigenous communities.
"It's not about just having a voice," says Ms. Gazan, referring to Bill C-262. "Many communities in Canada don't have clean drinking water and have been under water boil advisories." At the end of November, the Canadian government posted information about 95 long-term drinking water advisories (in effect for over a year) and 41 short-term advisories for indigenous communities across Canada, excluding British Columbia and areas within the Saskatoon Tribal Council. Ms. Gazan also says indigenous communities lack access to adequate toilets and housing.
"Those are basic human rights, things people need, indigenous or not, to be healthy," says Ms. Gazan. "Much of the wealth this country has comes from resource exploitation, and most of it is happening right around indigenous communities, directly impacting their environment and water. Yet they live in destitute poverty, in one of the richest countries in the world. Human rights violations have become a cultural norm in Canada."
Mr. Saganash says the education tour was largely successful, especially because it offered Canadians an opportunity to ask questions. "Every single place we stopped, whether indigenous or non-indigenous, came out with support for UNDRIP and Bill C-262."
Popular support for the bill was also propelled by church communities. Steve Heinrichs, director of Indigenous Relations for Mennonite Church Canada, organized an ecumenical pilgrimage over the summer to raise awareness about the U.N. declaration.
"For sure it was what we were praying for, and pushing, and expending a ton of energy toward," he says. But he was not altogether confident himself that the measure would make it as far as it has. "Above all, I want this bill to become law," says Mr. Henrichs. "But for us even to reach this stage, where the ruling party has said they will support the bill, was so wonderful for me to hear."
Mr. Heinrichs saw many people in Christian communities starting to become alert to indigenous struggles and take on activist roles for the first time during the pilgrimage, which is especially important given the role Christian communities played in the residential schools.
Though Bill C-262 has passed the first round of debate, it has a long legislative road ahead, including revisions at a study committee level and at least two more votes before it can leave the House of Commons and move on to consideration by the Canadian Senate.
In the meantime, activists and educators are calling attention to ongoing issues in indigenous communities and encouraging people to help their representatives understand the bill and issues at hand. "We didn't put ourselves in this situation," says Ms. Gazan. "We didn't violate our human rights. It will take the whole country to address this."
Though she, Mr. Saganash and Mr. Heinrichs all agree there are many more steps to be taken for reconciliation in Canada, they are united in the belief that Bill C-262 is an important one along the way.
Correction (1/03/2018; 4:09 p.m. ET): Steve Heinrichs is director of Indigenous Relations for Mennonite Church Canada, not the the Indigenous-Settler Relations Director for Mennonite Central Committee as originally reported.