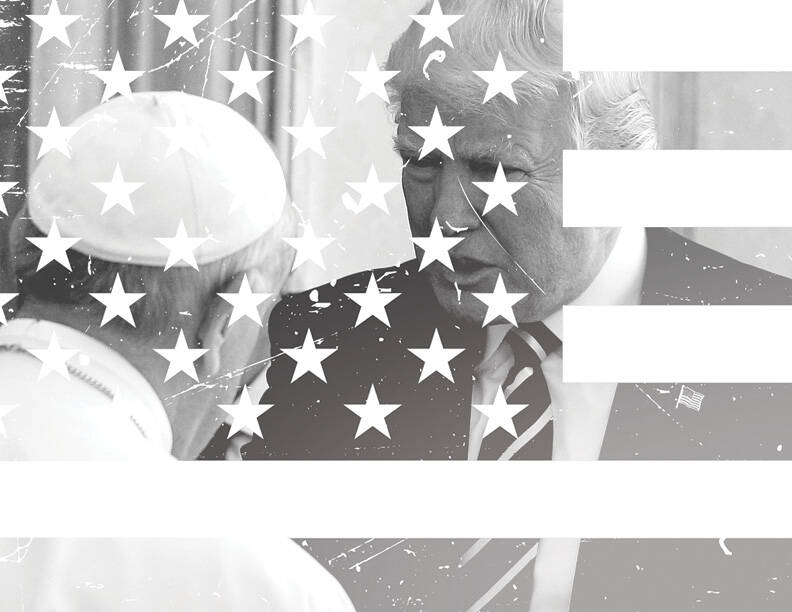 Meet these Catholics who voted for Trump and love Pope Francis
The first thing you have to know about Mary Ashcroft is that she thinks she is a little bit kooky. It comes up over and over in conversation. "Maybe I'm a little strange," she tells me, chuckling. "I'm a bit weird."
The second is that you could listen to her forever. Originally from an English village so ancient it appears in the Domes-day Book, she has a light, musical voice that burbles with laughter whether she is talking about her passion for classical music, which plays in the background as we talk, or the fear-based version of the church she experienced growing up Catholic long before the Second Vatican Council.
From the time she was just 6 years old, she knew she would become a nurse, thanks to the caring example of her mother. Ms. Ashcroft came to the United States in her 20s, looking for something less hierarchical than the British hospital system. She spent her career at Mount Sinai Hospital in Manhattan, where she ran the transplant unit. "I loved what I did," she says. "I love sick people. You could make a difference." Being a nurse, she says, "is the greatest thing I have ever done."
Now in retirement, Ms. Ashcroft volunteers three days a week as a school nurse at Cristo Rey High School in Harlem. She is also part of the "rosary rangers," a group of parish women who make rosaries for soldiers. She attends Mass daily and relishes the sound of Manhattan in the evening: "You wake up in the middle of the night and you hear the city breathe."
She looks back on a lifetime of rich experiences—like her marriage to her beloved husband (now deceased) and adventures like a journey up Mount Sinai (the real one) on camelback. "It was magic," remembers Ms. Ashcroft. "If you want to know where God is, he is there, right there, in the darkness of the night, in the brightness of the stars, in the songs of the pilgrims as they mounted Mount Sinai and the strange sounds of the camel's feet as they plodded along. It was extraordinary. I will never forget that moment."
"I have loved all of my life," she tells me. "I have been blessed."
Mary Ashcroft is a deeply spiritual woman, passionate about her faith; a gifted nurse, whose concern for others continues in retirement.
And she is a supporter of Donald Trump. "Donald Trump can be a rather coarse man," she said. "He's not articulate sometimes. But whatever he says, he might say it the wrong way, but it resonates with me."
She is not alone in feeling this way. According to post-election polling, somewhere between 45 percent (according to the American National Election Studies) and 52 percent (Pew Research Center) of Catholics who voted for president voted for Donald Trump. Mark Gray, director of polling for the Center for Applied Research in the Apostolate, told America in April that when it came to Catholics, the election had basically been "a toss-up."
In January of this year the Pew Research Center also reported that 87 percent of U.S. Catholics look favorably on the papacy of Pope Francis. Which is to say, not only did a considerable percentage of U.S. Catholics vote for Donald Trump in 2016, but many of them also have positive feelings for a pope whose positions often stand in contradiction to his.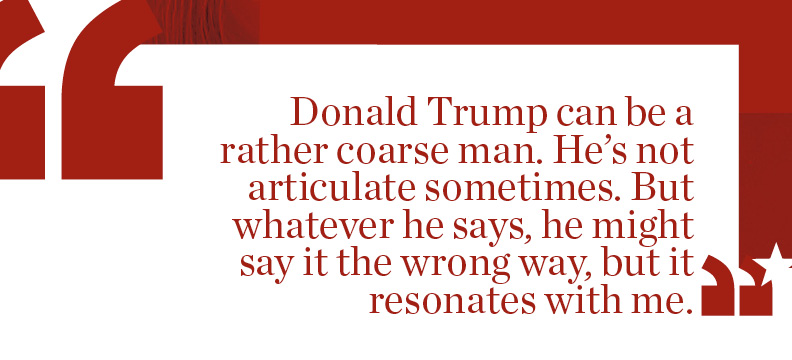 A Complex Choice
One might assume that many of the Catholics who support President Trump and Pope Francis made a sort of pro-life calculus, voting for Mr. Trump despite his divisive rhetoric solely because he was the candidate who had vowed to protect the unborn. But in talking with a number of pro-Trump/pro-Francis Catholics, as well as some priests serving parishes with sizable Republican communities, one finds other motivations at work. The voters I spoke with were not single-issue voters, and they showed a comfort with, even insistence on, complexity around a range of issues that are part of our national conversation.
Take, for instance, Doug and Jessica Adel. Married for 24 years, the couple lives in Sacramento with three children in their teens and early 20s, and both work for the Catholic Church. Jessica serves as the business manager of a local parish; Doug works as the finance officer for the Diocese of Stockton.
When it comes to faith and politics, neither is close to being a firebrand. Indeed, they do not much like discussing these topics in public at all. "We're both very devout," Jessica tells me; but, she adds, "we don't talk about God [publicly] that much."
For the Adels, the faith is more about witness and action. Doug, who grew up in a town of just a couple of hundred people in South Dakota, finds God in the example of others. "Working for the church in finance, you see the generosity of the people. These hurricanes that have just hit the coasts, the amount of money that has poured in, it's incredible," he said. And it is not just about the donations, he adds: "The commitment and time that people put in is very humbling."
Jessica has gotten a lot out of raising her children in the church, watching them serve as lectors and cantors. "Being there when your child is cantoring is such a beautiful experience. You just feel so good." Employment with the church has also unexpectedly put Jessica in the position of a minister. "My first week, there was a woman in our community who died of cancer. She was my age and her twins were the same age as my son. I didn't have any experience with funerals, but I sat with her husband." Working in a parish, she said, "you get the opportunity to help people emotionally at times when they don't know what else to do."
Both see Pope Francis as a source of renewal in the church today. Says Jessica, "People are really excited that he's a Jesuit and that his message is inclusive and different. I think he's been a very positive change." Doug agrees: "I think it would be difficult for someone to say they didn't like him or that he's not a good person. He's that other sounding board you're listening to, as Trump is making his comments, to inform our perspective."
For both Jessica and Doug, voting for Mr. Trump was more than anything about trying to create change in what they perceive to be a stagnant political system. "The government definitely needs change," says Doug. "I don't think the way it's been working in the last number of years has been good. You overspend and nothing gets done."
Some Trump voters see Mr. Trump's unpredictability as also forcing conversations the country needs.
Jessica feels much the same. "I think in general people believe there's a lot of government that doesn't get done, a lot of government that is just 'talking government' rather than working for the people. I felt like Trump was really different because he was so out there. He is not politically correct a lot of the time. Something was going to get shook up."
That is not to say they agree with everything Mr. Trump stands for or with his behavior in general. "I personally don't like his style at all," says Doug. "I would not ever look to him wanting to be a friend. [During the campaign] I was not a fan of his tweets and, for lack of a better word, his personality."
But they see Mr. Trump's unpredictability as also forcing conversations the country needs. "For 10 or 20 years politicians and the public have been saying our immigration policies need to improve," Doug points out. "But no one has done anything about it. Now someone says we're going to put up a wall [at the border with Mexico] and guess what, there's a lot more visible conversation."
He praises the ways the bishops have stepped up as well. "I see the church being a little more vocal about protecting the innocent. That gives you a different perspective to look at. But without him speaking we maybe have been silent for a while." Debates others equate with the loss of rights for immigrants are for the Adels the necessary path to strengthening legal rights and protections for people trying to come to the United States. "A change in the immigration laws may not be a bad thing for people coming in, it may be an improvement," says Doug. In raising the issues and having the arguments, they reason, we forge the means to long-term systemic change.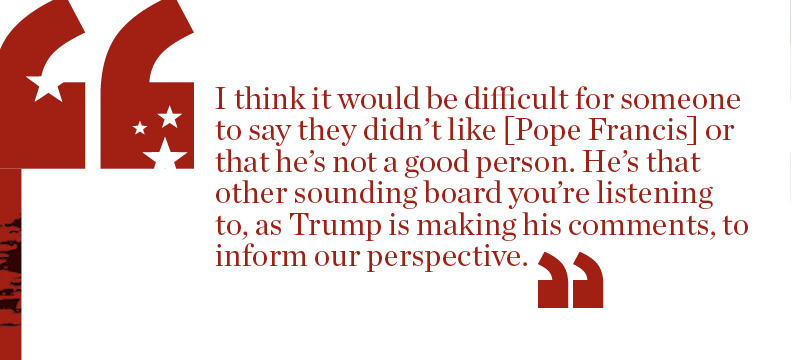 The Parish Perspective
The Rev. Bernie Pietrzak and the Rev. Jerry Boland, priests working at parishes in the suburbs of Chicago, see similar feelings among their parishioners. At St. Anne's in Barrington, a parish with over 3,800 families in the northwest suburbs, Father Pietrzak acknowledged that his parishioners by and large did not want Hillary Clinton to win, but he added, "I don't know that you'd get a huge crowd if Trump came out here to do a rally in Barrington. They're too bright for that, too thoughtful for that."
Most of Father Pietrzak's parishioners are moderate Republicans. The main concerns he has heard from them have been about high taxes and businesses moving out of the country. And many parishioners say they voted as they did to disrupt entrenched political divisions. "They see that we're broken as a two-party system. People recognize that inability to reach across the aisle anymore, and I think they have strong feelings about it, the bipartisanship that used to be in years gone by."
At the similarly sized Our Lady of Perpetual Help in Glenview, Father Boland hears much the same. "What I find is that people are struggling—I think we all are—to figure out what's going on in our country. And there is a lot of frustration towards government, and people that are angry about the economy and angry about lost opportunities.
"The coarseness of language, the divisive tone of political rhetoric [of Donald Trump]—you would think a person couldn't survive politically pulling those chains. But I think people right now are just very frustrated with the institutions of society."
"I think people right now are just very frustrated with the institutions of society."
Speaking About Policy
That is not to say change in the abstract was the only concern of Catholics who voted for Mr. Trump. Ms. Ashcroft, for example, could not countenance Hillary Clinton: "She supported partial birth abortion; I could not support that."
Ms. Ashcroft also supports some of Mr. Trump's policies. "I don't believe you can just walk across the border," she says. "If you believe that, you should go to England and see what's happening there with open immigration. I believe you have to look at the health of the people [coming]. And I don't believe all of them are being persecuted. We're all coming here for a better life." (Citizens of other nations in the European Union have the legal right to migrate to England, although that may change if the United Kingdom completes a withdrawal from the European Union.)
Ms. Ashcroft speaks to some of these issues with familiarity. Because of a small mistake regarding a travel visa early in her years in the United States, she was forced to leave the country for two years before she could come back permanently. The experience has left her with little sympathy for immigrants without proper paperwork being returned to their country of origin.
At the same time, Ms. Ashcroft supports the right of the young people known as Dreamers (brought to the United States as children by parents without legal status) to stay. "I think it's a terrible problem. These kids are now adults and they're working," she said. "I see this [at Cristo Rey] every day. The kids are scared. They've got to do something."
Elsewhere in New York City, Leona Leo, a retired judge and another Trump supporter, feels much the same. She wants "her wall," but she also emphatically supports a program to protect the Dreamers from deportation: "Want to talk more about immigration reform later? Fine. But for now, just do this. It's easy, just do this."
Ms. Leo talks about Mr. Trump as if he were a childhood pal; to her he is "Trumpy" and supporters like herself "Trumpers." But she follows The New York Times and CNN right alongside Fox News. "Nothing's 100 percent right," she says.
And she has just as much affection for Francis; his picture hangs in her kitchen, and she delights in talking about him. "He's a wonderful person. He loves everybody," she says. Her greatest frustration? No one seems to be listening to his message. "They still don't want to go to church," she tells me in one conversation. And in another: "They just want to be angry." After a moment she adds, with a quiet humility, "And I'm no better than the rest of them."
She views Mr. Trump's struggles so far similarly. "The Republicans are just cutting Trumpy's feet off," she says. "Supposedly they control Congress, but the Republicans are as Democratic as [Chuck] Schumer," the Senate Democratic leader.
She believes the press has done the president few favors—a point that each Trump voter I spoke with mentions. "He's obviously not a racist; I think it's ridiculous that they call him that," says Ms. Leo.
"When [Trump] talks about the fake media, I believe that 100 percent," says Doug Adel. "They can take a little thing and make it into such a worse situation just in the way they present it."
Like Ms. Ashcroft, Ms. Leo can mount vigorous defenses of Mr. Trump's positions, whether it is his desire to change the health care system—"it's a disaster no matter which side you're on"—or to reduce immigration. "There's only so much money to go around," she explains, not without sadness. She fears that every dollar of education money spent to help a child newly arrived in this country acclimate to the education system in the United States is a dollar unavailable for special needs or advanced placement students.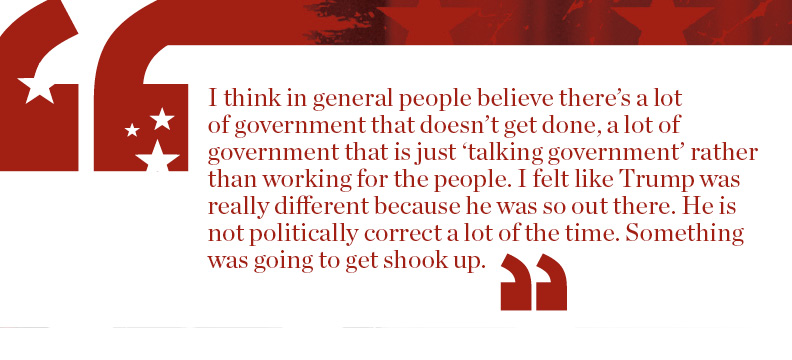 But she, too, fails to exhibit the willful denial and blind devotion often ascribed to Mr. Trump's supporters. Ms. Leo expressed horror over the president's pledge to remove transgender soldiers from service. She later stated: "All the people who hate gays don't know any.... [Trump] should just shut up with the tweets; that's my personal opinion. He says things before he's researched them."
Ms. Leo also has no problem with paying taxes: "You've been given and you give back. And thank God I can give back." She finds the president's promises about the coal industry false and manipulative. "You know, how long coal is going to last? Not long. It sounds political: 'I'll get all the people in West Virginia to vote for me.' It's on the way out and everybody knows it."
And even as she criticizes Muslims and other immigrants for supposedly coming to the United States and demanding change rather than trying to assimilate, she also offers admiration and friendship. Ms. Leo used to do volunteer legal work for Muslim women who escaped from abusive marriages: "I would help them get their green cards. I loved my Muslim women. They were so feisty," she said. "I remember taking one on the subway. She was so excited. 'Now I can go anywhere in New York!' she told me." She also praises Muslims for their religious devotion, wishing American Catholics might act likewise.
E Pluribus
Watching Ms. Leo and her fellow pro-Trump/pro-Francis voters shift like quicksilver between applause and critique of both Trump and others, one is reminded of a line from Walt Whitman. "Do I contradict myself?" he writes in his poem "Song of Myself.""Very well, I contradict myself. I am large. I contain multitudes."
But are we really in the realm of contradiction here? Or are we simply acknowledging nuance, that eminently Catholic notion that in all things there is both good and bad? Trump voters are often characterized as myopic, but in listening to Ms. Leo, Ms. Ashcroft and the Adels, we might do well to consider whether it is the imaginative arteries of our society as a whole that have grown narrow.
Still, there are sometimes sharp differences between the positions of Trump Catholics and those of the pope, whom many of them profess to respect. Facing those differences can be a challenge. "I have people coming up to me that are very angry at the pope about any number of issues," says Father Boland. "They say he should stay out of politics"—a position Ms. Leo echoes, pointing to recent comments by the pope on the shortcomings of capitalism. "No, no, no; stop, don't do this; you're alienating Europeans and Americans," she says.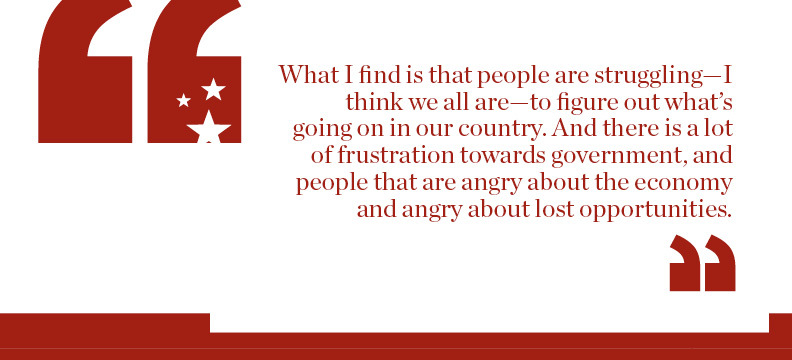 Father Boland tries to help parishioners see that the pope speaks as "a moral leader" and that topics like economics can, in fact, fall under his purview. He reminds them that Francis is "not a politician, he's not running for the Republican nomination." But Father Boland appreciates their struggle: "You get caught in this quandary, How can you be against what the pope said?"
Ms. Ashcroft acknowledges she does not always see eye to eye with the pope. But she does not mind his challenges, either: "Somehow Francis has a way of addressing things that doesn't rub you up the wrong way." She wonders if it is not the fact that the pope is "an action man"—a quality she also attributes to Trump. "Think about the washing machines he's putting around the Vatican, the showers and the toilets for the homeless. He acts, you know?.... [D]o you see any of those very wealthy actors with their large homes in Beverly Hills opening them up?"
Father Pietrzak is finding Francis and Cardinal Blase Cupich of Chicago to be valued voices in the broader conversation. "People admire and respect them," he says. "And because they're respected, people listen with a more open heart. That's a rich blessing in the time we live."
The Adels agree. "Sometimes it's easy to follow the crowd," Doug offers. "'Let's not let anybody come here because it's going to cost us all this money'.... But when you hear another side, it makes you stop and stand back and wonder what you're really doing." Says Jessica: "He's the pope. He sets the tone."
It has not been easy being a Catholic who voted for Trump, Ms. Leo says. "I think the church thinks that I'm not really following the Catholic viewpoint." She has felt looked down on by her fellow Catholics at times. She also has been startled by the comments of clergy, as when her favorite priest—she calls him "the most brilliant person I have ever met"—told people that he "hates" Trump, "and he doesn't like Trump people."
Her favorite priest told people that he "hates" Trump, "and he doesn't like Trump people."
"I once said to him, 'You're the only person I ever met who I would have married.' That's how much I love this priest.'"
"How can you do that?" wonders Ms. Ashcroft, who has had similar experiences. "How can you preach love and then come outside and spew hate?" She talks with frustration over the assumptions being lobbed at some Masses. "They're constantly ramming down our throats that we have to be kinder and open and give. And I think to myself, 'Come along. You don't know what we give.... They're presuming we're not kind."
This is not an isolated experience. Numerous people I reached out to for this article refused to be interviewed specifically because they said they were afraid of the blowback they or their families might experience if people in their parishes or workplaces found out they voted for Mr. Trump. Others have expressed apprehension that anything they might say will be taken out of context.
"We're part of you," says Ms. Leo, with obvious longing, to her fellow Catholics. "If you love us, then accept us."
All Together Now
Trying to figure out how to pastor in the midst of these divisions has been challenging for priests, too. "I have never prayed the Serenity Prayer more than I have [since Trump's inauguration]," says the Rev. William F. Kerze, pastor of Our Lady of Malibu, in Malibu, Calif. For as long as he has been there, some 22 years now, Father Kerze has known his parish to be welcoming to all points of view. He remembers looking up during a Mass early in his tenure to find the Supreme Court Justice Antonin Scalia sitting on the far right side of the church, and on the far left, in the same pew, the actor and activist Martin Sheen. "I just started laughing," he said.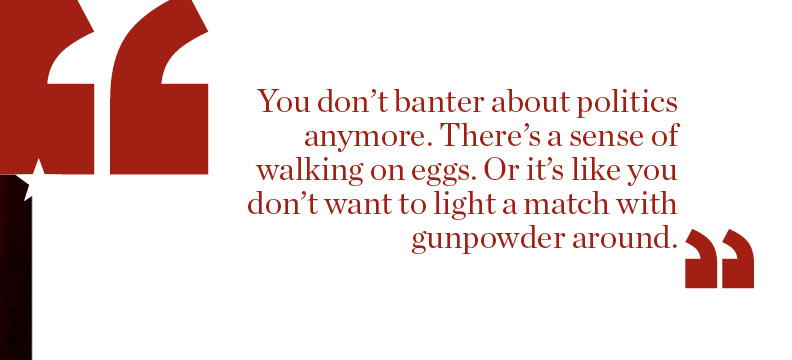 Today he notes how cautious everyone has become. "You don't banter about politics anymore. There's a sense of walking on eggs. Or it's like you don't want to light a match with gunpowder around."
In Glenview, Father Boland finds people seem more easily triggered in general. "I hear a pastor talk about a school board meeting that disintegrates or a parish council where people just overreact. I think it's because we're surrounded by people yelling and screaming all day long, and everything is questioning your sanity or your humanity if you disagree.
"If you're a preacher, there could be a fair amount of suffering [over how to preach] right now," he says. "But I think it's crucial that our Catholic teachings are in front of people."
At Precious Blood Church in Dayton, Ohio, Timothy Knepper, C.P.P.S., has tried his best to do just that, bringing up difficult issues when the readings invite it. A convert to Catholicism from the Baptist faith, Father Knepper is now the parochial vicar at several parishes. His pastoral approach often is rooted in memories of how he and the Baptists he grew up with saw Catholics. "We always knew the Catholics were the ones who were going to stand for the outcast, the unborn," he explains. For Baptists, Catholics opposing refugees or immigrants "is just weird. It's like Catholics against the Eucharist."
But Father Knepper finds it essential that his homilies speak to everyone. "I try to make sure that what I say challenges all of us, not just the conservatives or the liberals." And he works hard to be open to criticism himself. "They've been very good with me," he says of his parishioners. "They send me an email and say, 'Hey, you have your viewpoint, Father, but there's also this.' They do it in such a way that's very caring."
"I think it's crucial that our Catholic teachings are in front of people."
Many priests say that being a good preacher right now is about getting out of the way and letting Scripture do its work. "I do my best to understand what the word of God is saying," explains Kerze. "I really try to preach the Gospel."
Says Father Pietrzak, "I have never ever used the name of Donald Trump in any homily. And I haven't had to. The themes are there. You speak to the themes, and you speak to people's lives. And I think it kind of shows itself."
Father Pietrzak also emphasizes the intelligence of the flock. "They are very bright people, highly educated," he repeatedly points out. "They're looking for some sense of what's going to be the moral guide of their life, looking at the good news of the Gospel and open to being challenged by it."
During the weekend of the white-supremacist rally in Charlottesville, Va., Father Boland felt it would be irresponsible not to say something about racism and bigotry. After the Mass, he says, "I was really waiting to be creamed." Instead, people thanked him. He found a similarly warm reception in talking about climate change and "Laudato Si'."
Many also note how service trips, outside speakers speaking from personal experience and other chances for parishioners to engage with people in need have largely been met with welcome and the setting aside of political narratives. "It puts a face on the story," says Father Boland.
Sunday Mass itself offers a similar opportunity, he finds. "You get a church full of people and there's young people and old people and rich people and poor people," says Father Boland. "[It] resists the 'we versus they' mentality or simplistic generalizations about very complex issues."
"The people of God, they make us better Christians," says Father Knepper, reflecting on his own experience as a priest, but perhaps also on what the faith intends for all believers. "They make us into the people they need us to be."
Each night Ms. Leo prays for the grace to know where she saw God in her day. She finds the practice has challenged her to grow. "I used to keep everything, save save save, put it all in the bank. Now one of the things I want to do every day is be generous." Now in retirement, she continues to volunteer with students at Cathedral High School, serves as a eucharistic minister every Saturday night, and works as an auxiliary police officer in her community. In her role as an auxiliary officer, on Sept. 11, 2001, she stood at the 59th Street Bridge all day, directing traffic. Even as she describes that scene, what she remembers most is others' generosity. "People were so helpful, they brought food and water to us," she says.
"Why not just love each other and accept what we are to each other, go out and volunteer to the world?"
She does not much see the point of arguing politics in the church:"You can't persuade me and I can't persuade them, so why fight? Why not just love each other and accept what we are to each other, go out and volunteer to the world?"
As for Ms. Ashcroft, more than once in our conversations, she tells me that she feels like she was "an American born on the wrong side of the Atlantic." I ask her what she means.
"I totally believe in America," she says. "I love everything that it stands for. It doesn't sound like it, but I love everything, all of its warts and pimples and bumps. I love the diversity. I love what I saw here." She's equally committed to her faith community, bumps and all. "It has changed my life, no question," she says. "The teaching, it's endless, every day. It doesn't matter if it's a two-minute homily, every day is an aha moment."
"But that doesn't come just by sitting there," she says. "You have to read and go do it."
Jim McDermott, S.J., a screenwriter, is America's Los Angeles correspondent.
Correction, Nov. 4: Ms. Leo's age was inaccurate. The error has been removed.