Parish life still thrives at flood-damaged Houston church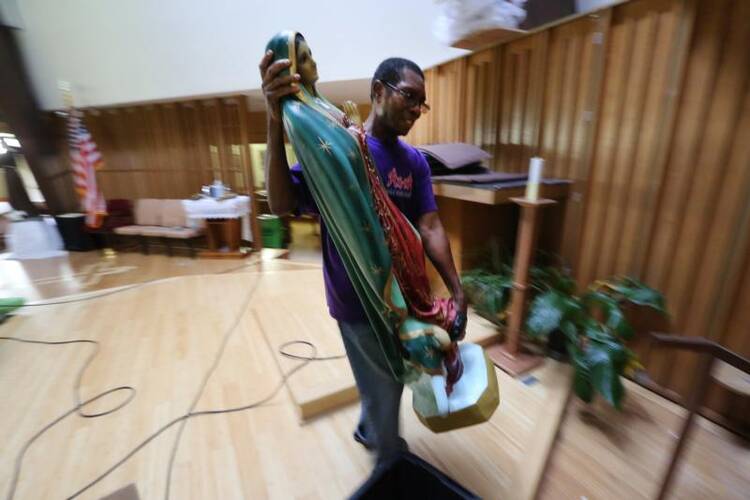 Father Martin Eke, pastor of St. Francis of Assisi Church in Houston, recovers a statue of Our Lady of Guadalupe on Sept. 6 that was severely damaged from the floodwaters of Tropical Storm Harvey. The parish is home to a large African-American community in the Archdiocese of Galveston-Houston. (CNS photo/Bob Roller)
HOUSTON (CNS) -- The 22nd week in ordinary time of the church's liturgical year has been no ordinary time for Father Martin Eke, a Missionary of St. Paul, or his parish, St. Francis of Assisi Catholic Church in Houston.
"Ever since the rain started ... my life has never been busier," Father Eke said Sept. 6.
The parish and its school, which serves a vibrant African-American Catholic community in northeast Houston, were covered in at least 4 feet of water from Hurricane Harvey rains and rising water from a flooded nearby bayou.
As the storm approached Houston, Father Eke kept vigil in prayer, watching the waters rise from his rectory window. A St. Francis of Assisi statue in a nearby prayer garden was his measure of the flood. As soon as the water reached the statue's waist, Father Eke pushed through the water to the church to save what he could.
When the church's lights went out, he waded to the rectory through rushing water for a flashlight, and then went back to save more church property. But when he saw more water inside the church, he knew he had to leave. In less than an hour, the water had risen above his waist.
Even "the door (to exit) was difficult to open," Father Eke said. "The water was rushing so fast," flooding into the church. At that point, all he could do was wait out the storm in his home.

"The door (to exit) was difficult to open," Father Eke said. "The water was rushing so fast."
Then, "I could do nothing but pray," he said describing the rectory as "a ship on a high sea." In the end, the rectory was just one of two parish buildings that didn't flood.
A few dozen yards away from the rectory, floodwater rushed into the St. Francis of Assisi Catholic School's library, science lab and gymnasium, where dozens of the school's basketball team uniforms, sports equipment and treasured championship trophies became drenched in muddy water.
When the water receded, parishioners came to help salvage what they could.
It wasn't until after the muck work -- the exhausting process of cleaning and demolishing damaged property after floods -- that Ronald Berard, longtime volunteer basketball coach and parish acolyte, could finally look at the gym's damage more closely.
"No matter how much washing you do, I would never let my team wear uniforms that had been in so much mold," Berard said, visibly stunned. "They're a total loss."
Almost hesitant to continue, he found his gym floors, installed only five years ago, in pieces. Water still pooled under the vinyl floors, as he navigated piles of equipment, chairs and kitchen appliances inside the gym.
In the science lab, library and school office, the concrete walls survived most of the flood, but the floors and countless teaching equipment and resources did not. Broken glass showed where looters broke into classrooms during the storm. Next to the school playground outside, shelving, furniture and debris splayed out in the sun.
After Harvey, the students were transferred to a nearby Catholic school to begin the school year, again. Most schools had just started classes, when Harvey's floods interrupted hundreds of schools in the region for weeks.
In the parish office, formerly the convent for the Sisters of Charity of the Incarnate Word who helped found the school, there was a gaping hole in the ceiling, mold on the walls and water bubbling up from below floor tiles.
More than a week after Harvey's wake, Father Eke made sure that St. Francis of Assisi parish life continued.
"We are running, no matter how small it is, we are running," he said.
Parishioners still meet for regularly scheduled parish activities inside the St. Josephine Bakhita Center, a trailer high enough to avoid the flood. The Bakhita Center, which honors the African saint who survived slavery and became a religious sister, is now home to morning Mass and adoration, a choir room, parish prayer groups and the parish office.
Work crews made quick work across the parish grounds, a scene replicated tens of thousands of times across the Texas Gulf Coast. Darwin Soares Jr., a Brazilian who currently lives in Orlando, Florida, and has been helping to clear the parish grounds, said coming to the Houston church was a blessing.
"Some people come for money, but I come with my heart. I can work in hotels, houses, but a church? It's special. Even if I have to work for free, I will. When I saw what was happening, I knew I had to come help."
Recalling his experiences of celebrating outdoor Masses in Africa, Father Eke encouraged parishioners who could safely get to the parish to attend an outdoor Mass Sept. 3.
"Bring your own chairs and I will bring the altar," Father Eke said.
In his homily, he urged parishioners to remain firm in their faith amid the challenges they were facing.
"It is such a time like this that genuine faith, love and generosity are put to test. Let no one walk away. Let no one be discouraged," he said. "This situation can only, temporarily, slow us down but will not stop us."