Sister Carol Keehan: G.O.P. health care plan 'cannot be fixed'
There is no fixing the American Health Care Act currently under review by a Senate committee of 13 Republican men. The whole package needs to be tossed. That is the blunt assessment of Carol Keehan, D.C., the president and chief executive officer of the Catholic Health Association of the United States.
"The Senate cannot just dicker around with it a little bit and then say, 'We fixed the worst parts of it,'" Sister Keehan told America on May 25. "It is really important to understand that this bill is so incredibly flawed, there is no fixing it."
"It is really important to understand that this bill is so incredibly flawed, there is no fixing it."
Earlier this month the A.H.C.A. was rushed through the House of Representatives before it could be "scored" by the nonpartisan Congressional Budget Office. An earlier version of the bill that did not draw enough support from fractious Republicans had fared poorly under a C.B.O. analysis, and the latest incarnation of the effort to "repeal and replace" Obamacare did only slightly better when a new analysis came out of the C.B.O. on May 24.
According to C.B.O. analysts, an estimated 51 million people under age 65 would be uninsured by 2026 under the latest version of the House Republican health care plan. That is one million less than would have been uninsured under the original bill, but it is 23 million more than Obamacare would leave uninsured by 2026 (presuming Congress does nothing before then to improve the program).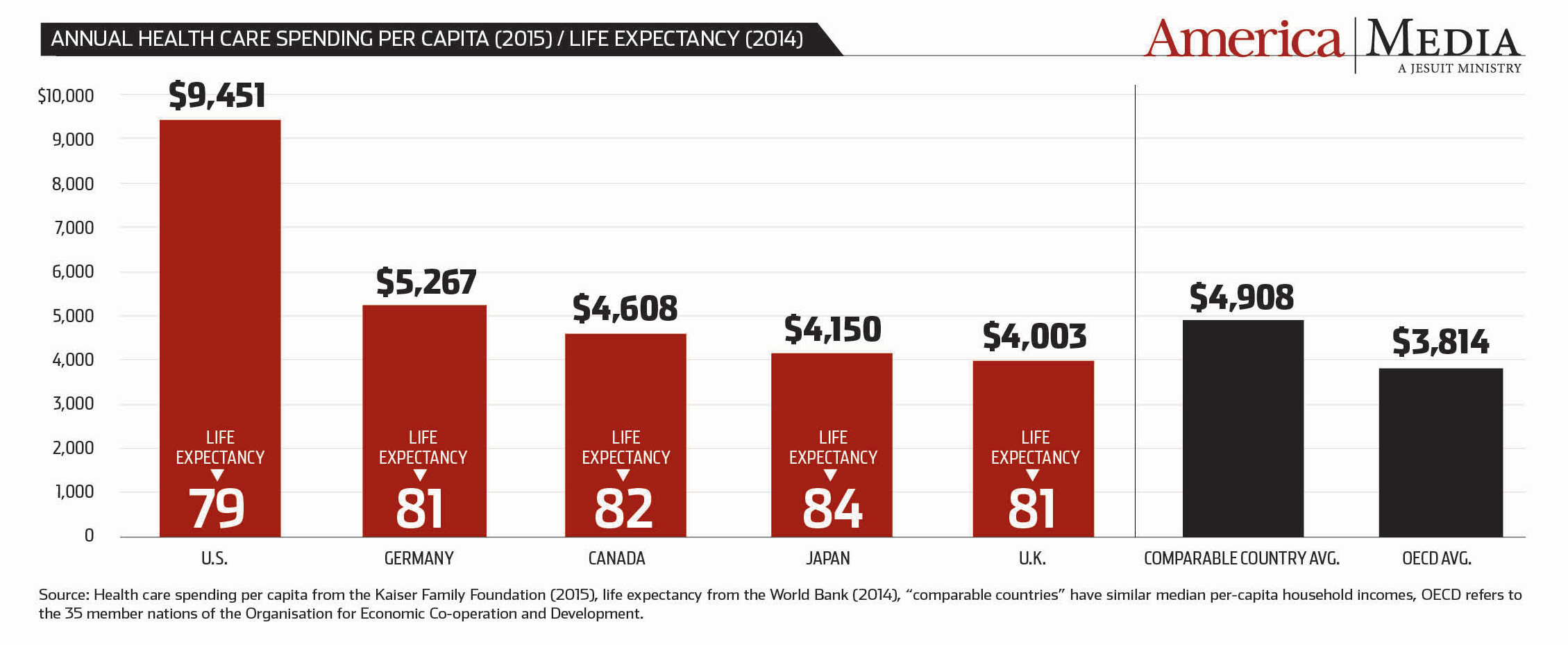 Congress is asking the nation to make "immoral choices," said Sister Keehan. The proposed $824 billion cut to Medicaid under the A.H.C.A. would only be exacerbated by the $600 billion more in reductions (both over 10 years) sought by the president's recent budget plan. The hits on health care, she argued, are "clearly for the purpose of finding the money to handle [G.O.P. proposed] tax cuts," pointing out that while 14 million people are dropped from Medicaid under A.H.C.A., the bill provides almost $16 billion in annual tax cuts for people who make over $1 million a year.
"These are just intolerable choices," she said.
The A.H.C.A. would "undermine in a huge way people who are very vulnerable," said Sister Keehan, "the working people, many of whom wait on us: They cut your hair; they do your nails; they work on our farms; they get your coffee. These are hard-working Americans."
Congress is asking the nation to make "immoral choices," said Sister Keehan.
Sister Keehan noted the Affordable Care Act's positive impact since 2010 on thousands of U.S. families who had been cut off from insurance because of pre-existing conditions or low income or who previously faced crippling debt because of lifetime limits on health benefits. "We have 20 million people who have for the first time just got health insurance, and now we are going to take it away?" she asked.
"We don't need to do this," Sister Keehan said. "You can't do a tax cut for corporate America and the nation's highest earning people on the backs of the poor; we cannot as a people tolerate that."
"You can't do a tax cut for corporate America and the nation's highest earning people on the backs of the poor."
By a couple of measures not related to health care, the bill scores well—if the primary aim were not to provide adequate coverage to as many people as possible but to reduce government spending or taxes on higher income Americans. The C.B.O. reports that as it reduces subsidies to low-income people to pay for health insurance, the A.H.C.A. would reduce the federal deficit by $119 billion over the next 10 years. And compared to President Obama's 2010 overhaul, average premiums for people buying individual policies under the A.H.C.A. would be lower, but the savings would be partly attributable to reduced benefits as coverage minimums are lifted.
Speaker Paul Ryan, a Republican of Wisconsin, was quick to celebrate the impact on the deficit reported by the C.B.O. score. But why is driving down the deficit the goal of "health care" legislation, Sister Keehan wonders, when it should be focused on finding a way to pay for something closer to universal health care for all Americans?
Cutting back on Medicaid expansion will certainly positively impact the deficit but so would not cutting $1 trillion in taxes, she points out. She marveled at "the stupidity of all this," after noting that cuts in benefits surely would translate into lower premiums but would result in "skinny" health insurance that was inadequate.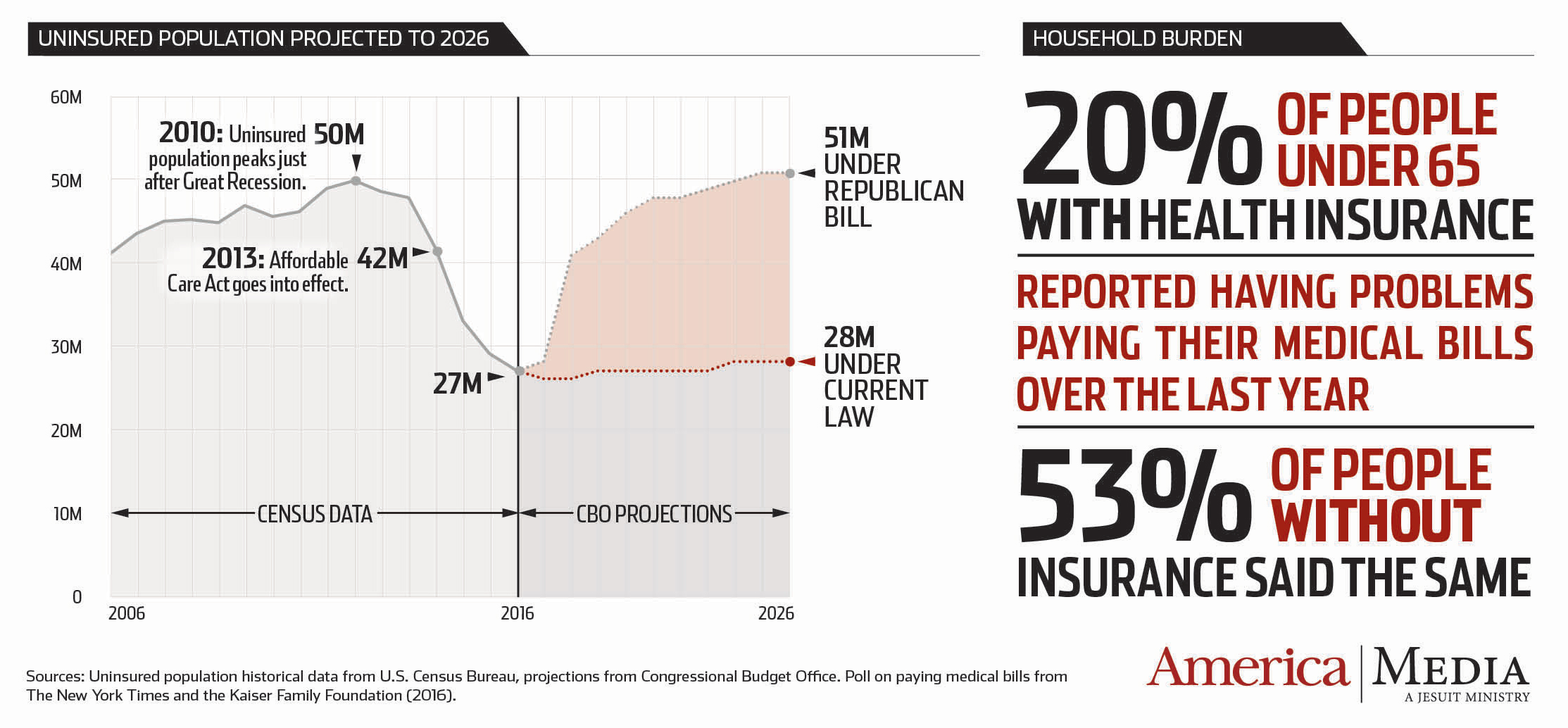 "You can bring down your household food budget, too, if you only eat twice a week," she said. She worries the G.O.P. plan would encourage employers to buy into such reduced benefit options, in the end undermining coverage even for people who receive health insurance at work.
Sister Keehan strongly disagrees with the argument that the A.H.C.A. is necessary now because the A.C.A. is failing. She argues Obamacare is flawed but that it was on a trajectory to stabilization before moves by congressional Republicans and now the Trump administration to undermine it. "It needs improvements," she said. "It is not a bill that I would have passed; it's not a bill [former President Obama] would have passed; it's a bill we could get passed."
But the A.C.A. has made "remarkable progress" toward the universal health coverage most industrialized states take for granted. Acknowledging that 28 million people would be uninsured by 2026 even under Obamacare, she argues: "We could have fixed that. Remember we have 20 states that have not accepted expanded Medicaid; if those 20 states accept expansion and we made the improvements we need to make, we could make a huge dent in that number [by 2026]."
For Catholic Americans, equitable, adequate health care cannot be considered a free-market deliverable but a basic human right.
She is especially troubled by the lack of consultation maintained through the rush to "repeal and replace" and continuing as reconciliation talks get underway in the Senate. Not only are congressional Republicans locking Democrats out of the process, they have not consulted with hospitals and insurance providers nor with average people who have come to rely on Obamacare. "That's no way to treat the health care of this nation," Sister Keehan said.
The best outcome of the current negotiations in Congress, she suggests, "would be for the Senate to stabilize the Obamacare program for a period of two to three years, at least, while they looked at what should we do for the future in a reasonable and responsible way with input from providers and patients."
"Let's take our time and get it right," Sister Keehan said.
That way, she added with a wry laugh, "by the time I am in a nursing home, you won't still have to be writing about this."
Because of the notoriously high costs of health care in the United States and its comparatively worse outcomes, "getting it right" might mean taking a harder look at models that have proved successful over decades among other peer industrialized states. "Maybe you could do Medicare for all or as Europe does, where everybody has the basics, but you can buy up [to higher benefit plans]" or other mixed private and public strategies, which have achieved universal coverage in other countries.
Sister Keehan added that however the nation manages to fund health care, for Catholic Americans the bottom line is that equitable, adequate health care cannot be considered a free-market deliverable but a basic human right. "Every one of the recent popes in our lifetime make it abundantly clear that health care is a human right," she said. "This particular holy father has been as blunt as he can be on the importance of health care as a human right and not letting money being the deciding factor in health care."