'The poor will always be with us' is no excuse to cut Medicaid.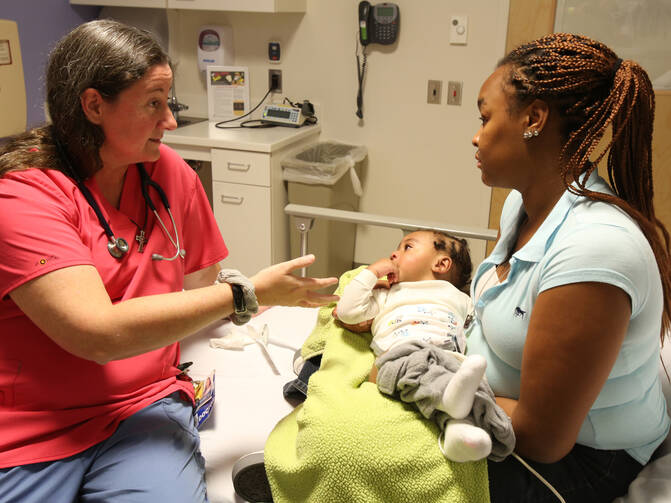 Mercy Sister Karen Schneider, who is a pediatrician, talks with the mother of a child in the emergency room at Johns Hopkins Hospital in Baltimore in 2014. U.S. health care seemed stuck in the waiting room for part of the year, holding out for its future prognosis from courtroom and political decisions. (CNS photo/Bob Roller) 
There are a lot of dismissive attitudes toward poor people in American political discourse, but rarely are they expressed as bluntly as by Congressman Roger Marshall.
"Just like Jesus said, 'The poor will always be with us,'" the Kansas representative remarked in a recent interview. "There is a group of people that just don't want health care and aren't going to take care of themselves."
He elaborated: "Just, like, homeless people.… I think just morally, spiritually, socially, [some people] just don't want health care. The Medicaid population, which is [on] a free credit card, as a group, do probably the least preventive medicine and taking care of themselves and eating healthy and exercising."
It is difficult to tell what Dr. Marshall (an OB-GYN physician) means by "the Medicaid population." Most people who qualify for Medicaid are pregnant women, children or disabled—all of whom tend to be more attentive when it comes to obtaining preventive care. Dr. Marshall may also be referring to poor people in general with this statement, but it seems disingenuous to complain about this population's disinterest in preventive care and then argue that their access to preventive care through the Affordable Care Act be taken away.
I can understand how certain experiences in the medical profession might have shaped the congressman's judgment. After all, any physician who works with patients on Medicaid will encounter people who wait too long to see a doctor. I have spent most of my career taking care of low-income patients, and it is my experience that they want health care and want to take care of themselves. People who do not take care of themselves inhabit every stratum of society—but it is the "Medicaid population" that faces more barriers to accessing care.
Poor patients might have difficulty finding a provider who will take Medicaid. They might not have a job with sick leave or family leave to take themselves or their children to the doctor. They might be living in a place where it is hard to find or store healthy foods. (I lived in the Sandtown neighborhood of West Baltimore for six years, and the produce within walking distance was overpriced and awful-tasting.) They might not have access to a gym to exercise. They might have experienced trauma in childhood, which has been proven to put them at higher risk of serious medical problems. They may have even lost their jobs because of health conditions—and only got back to work after they got health insurance through the A.C.A.'s Medicaid expansion.
"The poor you will always have with you" is not meant as a commentary on state welfare.
More troubling is Dr. Marshall's invocation of "the poor you will always have with you." This statement from Jesus is not meant as a commentary on state welfare. It is a rebuke to those who would use "what about the poor?" as an argument against doing beautiful things to honor Christ while he is with them. In fact, the full quotation from Deuteronomy that Jesus is citing here goes on to say that because there will always be poor people in the land, the Israelites should always be generous and open-handed with their neighbors. 
Health care is not a right like the right to life, but it is not a free-market commodity like soda. It is a social good that must be distributed justly in order to ensure American citizens do not needlessly suffer from preventable or treatable diseases. We can and should debate the wisdom of various approaches to ensuring that every American has the health care they need to survive and thrive. (I wrote about one such approach here.) However, at least when it comes to preventive care like vaccines and basic screenings, any approach other than the government directly paying for these basic services would be inefficient and unjust.
There are real concerns with helping poor people take care of themselves; giving everyone health insurance is not enough to get everyone eating healthier and exercising. If we want to change these things and cultivate the virtues that allow people to take care of themselves, we have to create communities where these virtues are shared. If there are moral, spiritual, or social deficits among us, cutting welfare programs while shouting at people from a distance to pull themselves up by their bootstraps will not fix these shortcomings. It will take love and sacrifice to bear the costs of healing us all.
The A.C.A. is not perfect, and more needs to be done in order to reform health care in the United States. But toxic attitudes towards the poor will not help. Rather, we need to think about how the government can ensure everyone gets the basic care they need and to create an environment where institutions like hospitals, churches and families can thrive and cultivate the virtues that allow us to care for one another.