Canadians seek to stop fake news at the border
From the White House's "alternative facts" about crowd sizes at President Donald J. Trump's inauguration to a viral false interview quote showing Mr. Trump insulting Republicans in 1998, the problem of "fake news" is dizzying for journalists and media consumers in the United States. While these and other stories create a complicated environment for news viewers and readers looking to sort fact from fiction, fake news has already had more violent consequences.
The "pizzagate" story became a stand-out of the genre after a North Carolina man drove to Washington, D.C., in December and fired a weapon in a pizza shop, all because of a fake news story. Fake news is not limited to the United States, however, and some in Canada are trying to figure out how to stop its spread.
Nick Kouvalis, the campaign manager for Kellie Leitch, a candidate currently running to lead Canada's Conservative Party who praises and is often compared to Mr. Trump, resigned earlier this February after admitting to intentionally spreading fake news about the Trudeau government. Immediately following the tragic shooting at a Quebec mosque, rampant speculation led to false reports about the identity of the shooter, suggesting the suspect was a Moroccan Muslim. The shooter was in fact a French Canadian with a history of xenophobic views. Prime Minister Justin Trudeau specifically chastised U.S. outlet Fox News for propagating the false narrative. Fox News eventually apologized.
"We saw what happened in the United States. The United States woke everybody up," said Hedy Fry, a Liberal member of Parliament, in December. Ms. Fry serves as the chair of the Standing Committee on Canadian Heritage, which considers the impact of media in Canada. The committee spent much of 2016 trying to think about how to negotiate the value of free speech and the need for reliable information and aims to deliver a report on fake news to Canadian Parliament in the spring.
In addition, Google and Facebook are trying out new tools for their Canadian services that might help users navigate trustworthy information. These conversations might lead to new tools for media consumers, but Canadians have a long tradition of thinking even more deeply about media.
Marshall McLuhan, who taught at St. Michael's College in Toronto and was compared to figures as influential as Newton, Darwin and Freud, made significant observations about news media in his 1964 bestseller Understanding Media. McLuhan ends a chapter in that book called "Press: Government by News Leak" with the following: "The owners of media always endeavor to give the public what it wants, because they sense that their power is in the medium and not in the message or the program."
Along the lines of his famous idea that "the medium is the message," McLuhan suggested the specific messages in the news, the reports, are less important than the medium of the news itself. Whether those reports are true or false is certainly of interest for responsible readers, but it is not necessary for those who own publishing industries to sift out truth or falsehood in order to gain and shape an audience.
"Real news is bad news—bad news about somebody, or bad news for somebody," McLuhan said, and the news is so effective because it is capable of shaping public sentiment. The news, as a medium, attempts to stir up its readers into a frenzy, which it often accomplishes by creating feelings of resentment, anger and fear. But if the news is a medium that often shapes its readers by using bad news, whether true or false, how are we to make use of and also resist the temptations of fake news leading to real consequences?
While McLuhan was honing his media theories, the Daughters of Saint Paul, a religious order started in Italy in 1915, came to Toronto in 1956. Dedicated to spreading the Good News of the church through the use of new media, the "media nuns," as they are known, have embraced new media forms while also providing resources for what they call "media literacy." The Daughters of Saint Paul have media centers, stores and workshops all around the world, promoting responsible engagement with today's media environment. They even have a resource for "praying the news."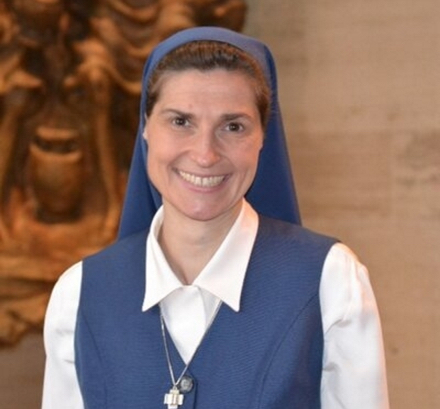 Sister Nancy Usselmann, F.S.P., director of the Pauline Center for Media Studies in Los Angeles, says the old rules of journalism no longer apply in the digital age, at least not in the same way. "Anybody can create news now," she says, and not everyone who creates that news is subject to editorial filters. Our problem, says Sister Usselmann, is a problem of accountability.
"On the internet, no one has to answer to anyone," she says, "but in reality we do need to answer to each other, together, as a whole human family. And we are responsible to each other. I think people forget that there is a need to answer to other human beings."
Navigating our news environment today, Sister Usselmann says we need to become what she calls "cultural mystics," who, instead of just reacting to stories, are able to practice "media mindfulness." Inspired by the work of 20th century theologian Karl Rahner, Sr. Usselmann says "we can't reserve mysticism to the cloistered religious or the great mystics of the past. You have to bring it into your everyday context, and every Christian today is called to be a mystic." For Sister Usselmann, the heart of this mysticism is a contemplative approach that resists being taken along by the lightning speed of viral stories. Such an approach, she says, is necessary if Christians are to take seriously the task of being media literate and speaking the Good News into a world of so much bad news.
New legislation or tools from private media companies like Google and Facebook might provide some helpful guardrails for ensuring verifiable information is circulated, but such tools are limited by the range of opinions and the public uses of the news. These efforts target the message, rather than the medium.
As McLuhan observed half a century ago, the medium of the news itself lends to stirring up public reactions. The Daughters of St. Paul, on the other hand, encourage us to be aware of how the medium is shaping us.
Sister Usselmann's encouragement to be "media mindful" allows us to take a step back. While new tools and laws might help, Sister Usselmann says "We really need to get back to an understanding of respect for the other persons, because only then will it change."
That goes, she says, for both the people responsible for creating the media and those consuming it.