The Political Gets Personal: Partisanship and consumerism are a dangerous mix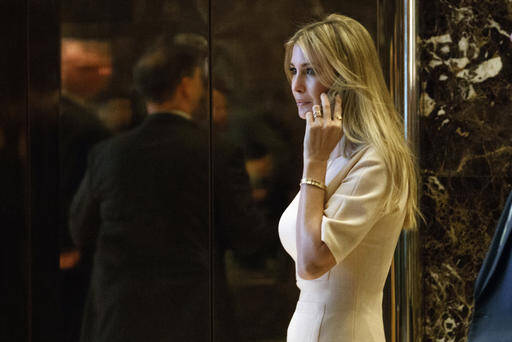 Ivanka Trump, daughter of President-elect Donald Trump, arrives at Trump Tower in New York. Nordstrom shares sunk after President Trump tweeted that the department store chain had treated his daughter "so unfairly" when it announced last week that it would stop selling Ivanka Trump's clothing and accessory line. (AP Photo/ Evan Vucci, File)
Uber or Lyft? Choosing which ride-hailing app to use—or which department store to shop at, or which hotel to visit—is no longer just a consideration of cost and convenience. Political warfare has moved from the campaign trail to our wallets and the inauguration of President Donald J. Trump has only exacerbated the problem.
Travis Kalanick, the chief executive officer of Uber, who was previously a member of Mr. Trump's economic advisory council, quickly learned the pitfalls of doing business under the Trump administration when the hashtag #deleteUber began trending on Twitter in late January. The company came under fire for its response to a strike by taxi drivers at Kennedy International  Airport during protests against the president's executive orders pausing refugee resettlement and banning travel from seven Muslim-majority nations. Uber's suspension of its normal practice of surge pricing was seen as an attempt to profit from increased demand during the strike. And Uber is not the only company facing pressure to pick sides. The Grab Your Wallet campaign encourages shoppers to boycott retailers that sell Trump-branded products or advertise on the "Celebrity Apprentice" TV series, for which Mr. Trump retains the title of executive producer. In recent weeks, big-name stores like Nordstrom and Belk have dropped Ivanka Trump's fashion line.
The key feminist insight that "the personal is political" has been taken to an unhealthy extreme.
C.E.O.s and shoppers alike have a right to vote with their dollars; indeed, from the food we eat to the cars we drive, what we buy can and sometimes should reflect our values. But like owning a Prius and eating organic, deciding whether or not to #deleteUber or to boycott Ivanka is a luxury most Americans cannot afford. Most people shopping at Walmart, one of the boycotted stores, are not trying to make a statement; they are trying to get by.
This unfortunate trend reveals the degree to which partisanship has infected nearly every aspect of American life. From the Super Bowl and the Grammys to the pulpit and the mall, the key feminist insight that "the personal is political" has been taken to an unhealthy extreme. When no area of our lives is fenced off from the rancor of hyperpolarized politics, it becomes increasingly difficult to build the solidarity needed to face today's very real economic and social ills.
What is needed now is not for the personal to be more political but for the political to become personal. "Government" is not simply a distant, faceless oppressor or a blunt instrument with which to impose one's will on others. It is a shared project of all citizens; its success depends less on the virtues conveyed in our spending decisions than in our commitment to seek the good of our neighbors, no matter their political persuasion.